When it comes to the world of cryptocurrency, there are plenty of options for buying and selling digital assets. However, when it comes to finding an easy-to-use exchange that makes the process straightforward, BloomX.app is one of the new ones that you can consider.
It can also be confusing and daunting for beginners of crypto trading. But don't worry. This article will walk you through BloomX, one of the newest crypto trading platforms in the Philippines, and how you can set up an account on BloomX.app to buy Bitcoin, Ethereum, and other coins and tokens.
What is BloomX.app?
BloomX is a Philippine-based cryptocurrency trading platform that lets users buy and sell over 250 cryptocurrencies in Philippine Pesos. You can directly buy these digital assets without converting your money to US dollars.
Withdraw your Pesos using the platform, as long as you connect your bank account or e-wallet. Binance, the world's largest cryptocurrency exchange, provides the technology of BloomX, making it easier and more convenient for users to trade online.
What are the Key Features of BloomX.app?
So why should you consider BloomX? Because of its great features, which include the following:
Buy over 250 cryptocurrencies in Philippine Pesos - You don't have to convert your money to US dollars to buy digital assets. Choose from any supported coins and tokens such as Bitcoin, Ethereum, Smooth Love Potion, Axie, etc.
Access the latest prices - You can view the latest prices of coins that you're tracking on the platform.
Easy integration with local banks and e-wallets - Connect your local bank and e-wallet such as Gcash to BloomX for an easy cash-in or deposit of funds.
Serves as a crypto wallet for coins - Traders can use the platform to store coins and tokens while trading.
Favorable for Axie breeders and players - For Axie Infinity breeders and players, you can directly buy Smooth Love Potion (SLP) token on BloomX.
Read more: How to Set Up Your MetaMask Wallet and Other FAQs
How Do You Set Up an Account on BloomX.app?
If you want to start buying Bitcoin and other cryptocurrencies, you can register for free on BloomX by visiting bloomx.app.[1] However, as of this writing, those interested in using the BloomX trading app in the Philippines can only join the waitlist.
1. Simply enter your email address and click 'Join the Waitlist'. Wait for the email confirmation from BloomX.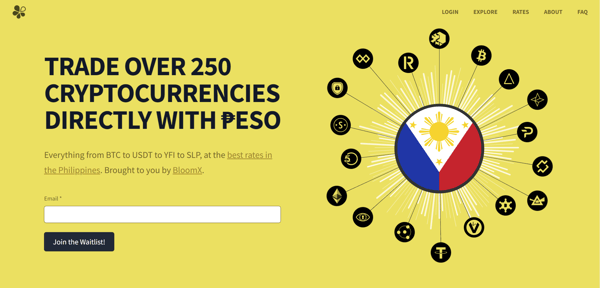 2. Once you receive the email, click 'Confirm email address'.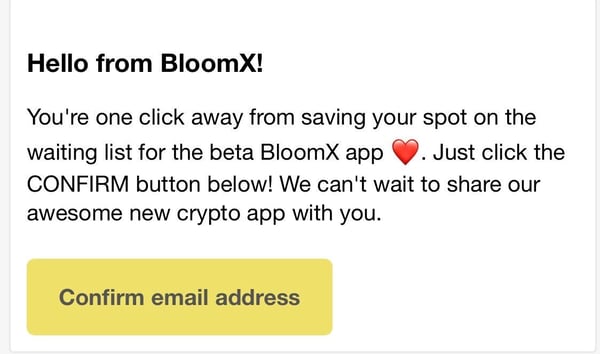 3. Registered users will receive their number on the waiting list via email. If you want to move up the list, share the referral link and invite your friends to join.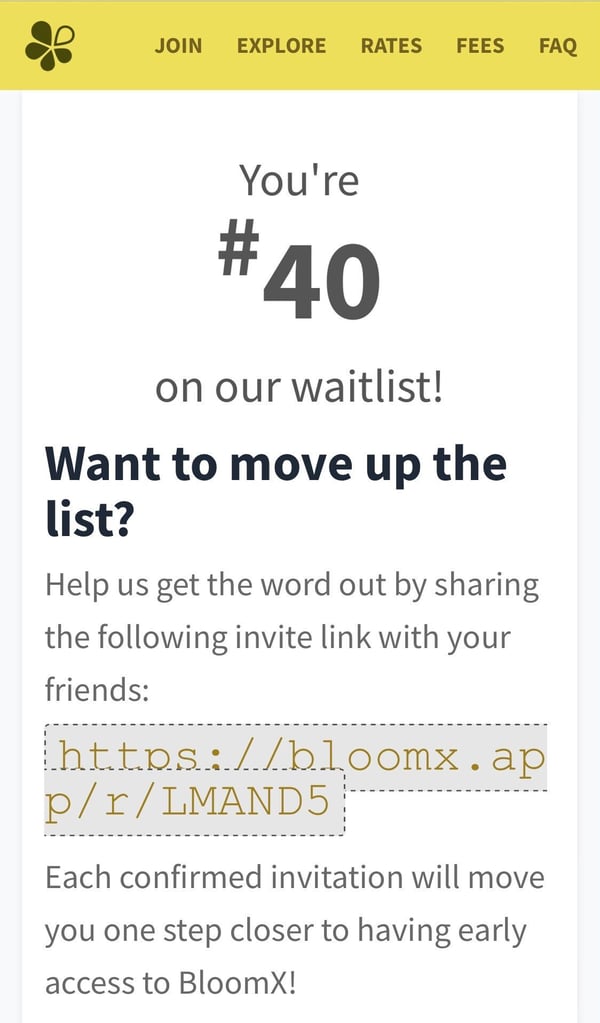 BloomX.app is much like apps like Coins PH that requires all new account holders to go through a verification process and submit a valid ID. Since BloomX must comply with the Banko Sentral ng Pilipinas' regulations against money laundering, it also needs to collect customer information.
How Do I Deposit Funds on BloomX.app?
If you're approved on the waitlist, then make sure that you receive an email from BloomX confirming you can start buying and selling crypto. To start depositing funds, here's how.
Go to the Deposit page. On the drop down menu, choose Deposit Cash.
Open the wallet that holds your coins and send your crypto from that wallet to the BloomX wallet address. Check the wallet address carefully before you send the coins.
Scroll down and click the highlighted button to scan for the deposit.
You can view the status of the deposit on the same page. BloomX will send a notification via SMS once your deposit has been added to your account.
What Cryptocurrencies Can I Buy on BloomX.app?
If you're looking to buy cryptocurrencies, BloomX is the perfect place for you. It offers more than 250 coins and tokens that you can fund and easily convert from PHP and vice versa.
You can buy Bitcoin, Ethereum, Cardano, and other large capitalization cryptocurrencies, including coins and tokens such as:
1. Solana (SOL)
This is a utility token that powers the Solana blockchain. The Solana blockchain is a high-performance decentralized platform that enables fast, secure, and scalable transactions. SOL tokens can also be staked to earn rewards for participating in the network's consensus process.[2]
2. Terra (LUNA)
Terra is based on the Tendermint consensus algorithm, a proof-of-stake algorithm. The team behind Terra believes that this will make it more scalable and faster than other cryptocurrencies. Terra also has its token called the Luna token, which is used to pay for transaction fees on the network.[3]
3. Shiba Inu (SHIB)
The native token of the Shiba Inu network is called SHIB. SHIB tokens are used to reward users for participating in the network and can also be used to tip other users or to post content. Users are also able to stake SHIB tokens to earn additional rewards, and the amount of rewards that they can earn is proportional to their staking balances.[4]
4. DogeCoin (DOGE)
This is a decentralized, peer-to-peer digital currency that enables fast and inexpensive payments anywhere in the world. Created in 2013 as a "joke currency" built around the popular Shiba Inu dog meme, DogeCoin has grown into one of the most widely used cryptocurrencies today.[5]
5. Smooth Love Potion (SLP)
SLP is an Ethereum-based token that Axie Infinity players earn in the game. Players can use this to breed Axie pets.
Read more: Game and Trade: How to Convert Your Axie SLP to PHP Using Binance P2P
Is BloomX.app Legit?
BloomX is a financial service provider licensed by the Banko Sentral ng Pilipinas. So yes, the BloomX crypto app is legally operating in the Philippines under the operations of BloomSolutions, Inc.
The company also requires users to go through a verification process to comply with the BSP's regulations on collecting customer information.
Are My Funds Safe with BloomX?
This is a valid concern for many investors and traders. After all, exchanges are frequent targets of hackers. And if your coins are stored on BloomX, they may be at risk.
However, this doesn't mean that you should never store your coins on the exchange. BloomX is built on Binance technology and stores the cryptocurrencies in ultra-secure custodial solutions.
But since the funds are technically in a hot wallet on the exchange, you're still responsible for securing your account with strong passwords and a two-way authentication factor. In short, you must be diligent in protecting your account from hackers.
Related reading: eToro for Beginners: A Quick Guide on Using This Crypto Trading Platform
Final Thoughts
BloomX.app is still in its early stages. And if you've registered your email address on the waiting list, then you can sign up for a free account and start buying and selling your favorite coins.
Remember that it's important to do your own research to find the right investment for you before investing your money. Make sure to keep learning about cryptocurrencies and blockchain technology because there's still a lot to discover.

Sources:
DISCLAIMER: Information published on this blog or elsewhere on www.moneymax.ph should be used for general information purposes only and does not constitute investment advice, performance data or any solicitation or recommendation that any security, investment product, transaction or investment strategy is suitable for any specific person. This material does not take into account your financial situation, risk tolerance level, investment experience or objectives; all of which are unique to you. Before acting on information on this blog, we suggest consulting an independent professional to advise you on the risks of any decision and the extent of any exposure to loss.