Trading digital currency can be a confusing and daunting task for newcomers. But with the right crypto trading platform and some guidance, it can be a fun and profitable experience.
In this article, we'll take a look at eToro, an online trading platform that offers crypto trading in the Philippines. We'll go over what eToro is, how to use it, and what are some of the benefits and drawbacks of using this particular platform for eToro crypto traders.
So if you want to have a good idea of whether or not the eToro platform is right for you, this article can help.
First Things First: What is Crypto Trading?
Crypto trading is the process of buying and selling cryptocurrencies. Note that cryptocurrencies are decentralized and not subject to government or financial institution control. In addition, crypto traders buy and sell cryptocurrencies to make profits from price fluctuations.
One thing that any new investor or trader should know is that cryptocurrency prices can be highly volatile, making crypto trading a risky investment. Traders must be familiar with the cryptocurrency basics and the technical aspects of blockchain technology and cryptocurrency to trade successfully.
Read more: Dabbling in Crypto? Learn More About Crypto Apps
What's eToro, and How Do You Use It?
eToro is a social trading platform that allows users to trade cryptocurrencies, global stocks, indices, and ETFs. It's a multi-asset brokerage with 10 offices worldwide, including the United States, Australia, Cyprus, Israel, and United Kingdom.[1]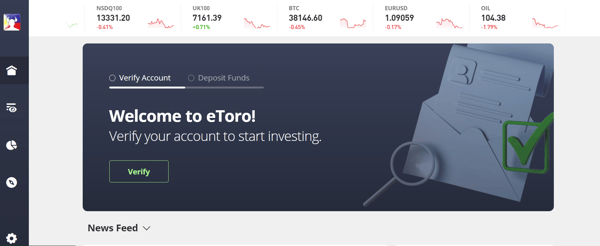 To use eToro, you first need to create an account by providing your email address and creating a password. eToro will require you to provide personal information, such as your full name, date of birth, and country of residence.
Once you've registered for an account, you need to complete a quick verification process. It involves uploading an image of your government-issued ID or passport. After verifying your account, you can start trading cryptocurrencies. But to do this, you first need to deposit funds into your account.
You can do this by clicking on the "Deposit Funds" button and selecting your preferred payment method. Once you've deposited funds into your account, you can start trading cryptocurrencies by clicking on the "Trade" tab and selecting the cryptocurrency you want to trade. eToro will direct you to a page to buy or sell that cryptocurrency.
What are the Features of eToro?
On eToro, you can follow other eToro crypto traders and copy their trades. This makes it easy for beginners to understand how to start crypto trading. eToro also offers a wide range of features, including:
Top cryptocurrencies to trade - eToro offers many top cryptocurrencies, including Bitcoin, Ethereum, Litecoin, Dash, and more. As of this writing, there are 56 coins you can buy on the platform.[2]
CopyTrader™ - eToro's CopyTrader™[3] feature allows you to copy the trades of other successful eToro crypto traders. This is an excellent way for beginners to start cryptocurrency trading because you can rely on professional traders' and investors' portfolios and knowledge, although this still includes risks.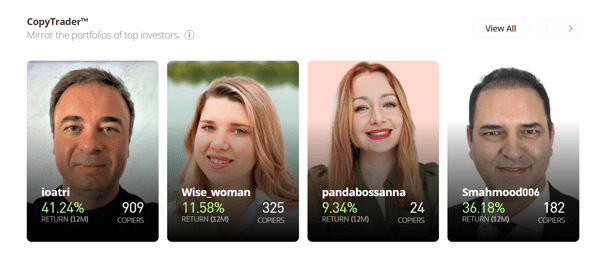 Social trading - Follow other eToro crypto traders and see their activity on the platform. You can also interact and share your trade ideas. Tag them whenever you have questions about their trades and technical analysis.
Easy to use platform - The eToro platform's easy to use, and it's perfect for beginners. It has a simple user interface and user experience to avoid being overwhelmed by the platform's charts, graphs, and prices.
24/7 customer support - eToro offers 24/7 customer support to help you with any issues you may have any time of the day.
Cross-platform to accommodate all devices - eToro supports all devices such as iOS, Android, Mac, and Windows, which makes it easier for traders to monitor market prices while on the go.
Virtual funds for beginners - Account holders receive $100,000 worth of virtual funds that allow eToro crypto traders to explore the platform and practice to how to buy and sell crypto before officially funding their account.
Related article: Trade Directly for PHP: An Intro to New Crypto Exchange BloomX
What's the Minimum Initial Deposit on eToro?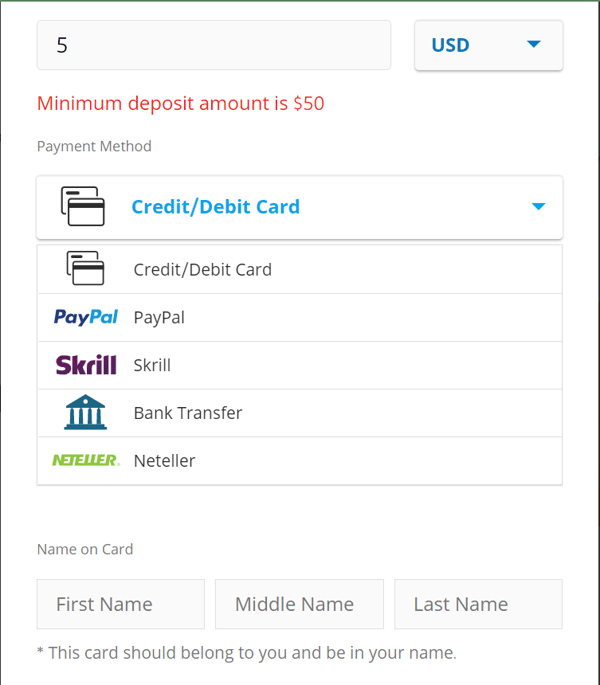 The minimum amount you can deposit is $50 (₱2,500). eToro is available in the Philippines, and account holders can connect their local bank account to fund their eToro account.
Other ways to top up your eToro account include credit and debit cards, PayPal, Skrill, and Neteller.
The additional eToro crypto fees are not yet included, so make sure to know the current exchange rates of PHP to USD, as well as the payment gateway transactions fees.
If you choose to fund your eToro account via local bank transfer, the minimum deposit required is $500 (₱25,000).
How Do eToro Crypto Traders Buy and Sell on the Platform?
Once your funds have been deposited, you can start trading by selecting one of the cryptocurrencies you want to buy. Alternatively, you can directly go to the Crypto Coins page and choose your coin.
For example, if you click Bitcoin, eToro will take you to its main page. You'll see the 'Trade' button at the upper right, so click that to start trading.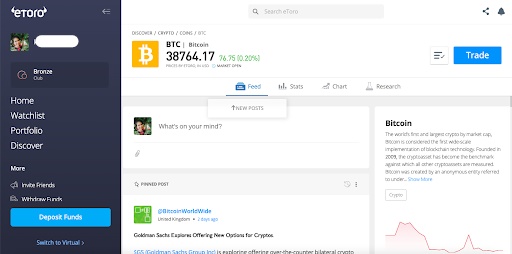 There are two ways to buy: Order or Trade. If you choose the Order option, you can set a target price—lower than the current market price—and eToro will automatically buy it for you once it reaches that price. Otherwise, you can choose the Trade option to buy Bitcoin at its market price.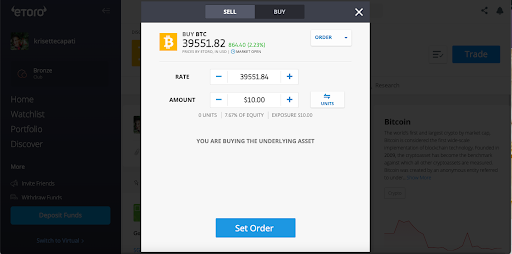 The same concept applies when you want to sell Bitcoin. When you choose the Order option, you can sell it at a high price.
What are the Drawbacks of Using the eToro Trading Platform?
Like any other platform, there are also some drawbacks you need to be aware of if you want to use eToro.
Lack of regulation — Cryptocurrency trading on eToro isn't regulated by the Securities and Exchange Commission (SEC) of the Philippines, which means there's no consumer protection for investors. If you lose your investment, there's nothing much you can do about it.
Higher fees than other brokerages — The platform charges a spread of 1% on all coins when buying and selling, which is higher than most other exchanges. Additionally, every withdrawal's subject to a $5 (₱250) fee for local banks.
Limited crypto assets for advanced traders - There are only 56 cryptocurrencies that traders can buy and sell, and they only support the USD pair.
Higher deposit required to maximize CopyTrader™ - To make the most out of the profits when copying traders, it's best to have a minimum of $1,000 (₱50,000) to get started. Professional traders also have a different minimum required amount to copy their trades.
Can I Make Money on eToro?
The short answer is yes, you can make money on eToro. However, how much you make will depend on several factors, including how well you understand the platform and how successful you are at trading.
That said, there are a few things to keep in mind if you want to make money on eToro. The first is to carefully research the cryptocurrencies you intend to trade. Another is to use stop losses and limit orders to minimize your risk.
Lastly, always remember to practice safe trading habits. Set a percentage of your stop loss according to your goals. If you do all of these things, you should be able to make a profit on eToro.
There's always risk involved in any trading, so never invest more than you can afford to lose.
Final Thoughts
So now that you know a little bit more about what crypto trading is and how to do it on eToro, the next step is to sign up for an account and start investing.
Keep in mind that the minimum initial deposit to get started is $50. But there are many features of eToro that will make it worth your while and your money.
For example, you can copy other eToro crypto traders' moves to benefit from their experience and expertise, or use the social media feature to interact with other investors about strategies and tips.
On the downside, the platform charges higher fees than other brokerages, so be sure to spend some time exploring all its capabilities before diving in headfirst.
Lastly, remember that cryptocurrency prices can be volatile. So if you can afford a two-digit percentage loss in a day, then trading cryptocurrencies on platforms such as eToro can be right for you.

Sources: