Editor's note: LYKA Philippines Solutions Inc.remains suspended since July 2021 when the Bangko Sentral ng Pilipinas (BSP) issued a cease and desist order against the social media platform for violating the National Payment Systems Act.

In March 2023, the Anti-Red Tape Authority (ARTA) denied LYKA's request for automatic approval to register the company with the Securities and Exchange Commission (SEC).[1] As per ARTA's notice, LYKA failed to submit the complete required documents.

The BSP reminded the public to deal only with BSP-registered operators of payment systems (OPS). This means you cannot transact with LYKA until it gets licensed as a payment service in the Philippines.
According to the Digital 2020 Global Overview Report, internet users in the Philippines spend an average of 9 hours and 45 minutes per day online.[2] And as internet lovers, Filipinos just keep discovering new social media trends and platforms.
In recent years, Pinoys have discovered the delights of new social apps like Kumu and TikTok, especially how to earn money on TikTok. But what has captured the attention of many this year is the LYKA app.
Many observers and social media pundits believe that the app's boom this year started when YouTube star Ivana Alawi vlogged about how she was able to buy her mom a new Ford car using the rewards she earned on LYKA.
Intriguing, right? Learn more about the LYKA app and how it works in this article.
Read more:
What is LYKA?
LYKA is a free social media platform that allows users to discover new material, share interests, and connect with friends. However, what makes it stand out from its competition is its rewards system.
Previously known as the Things I Like app, LYKA was established in 2017. Ryan Baird is currently the CEO. LYKA is also operating in Hong Kong.[3] The LYKA app is available for download on iPhones in the App Store and on Android phones in the Play Store.
What Does the LYKA App Do?
As a content creation platform, LYKA allows users to share pictures, videos, and text. It even has a chat function you can use to message your friends. If you look at its interface, you'll be reminded of other social apps, such as Instagram, TikTok, and Facebook.
LYKA App Features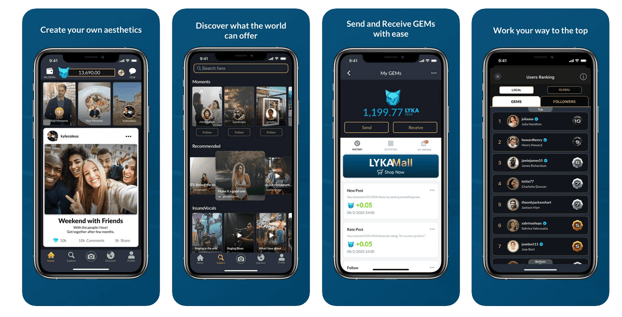 Like most social media platforms, LYKA has a Home feature that shows all updates from other users that you follow.
The Explore feature lets you discover recommended or interesting posts that you may like. In Explore, you can also find LYKA shop, LYKAmmercials, LYKAGames, Featured Merchants, Moments, VlogStars, and many more.
The Discover feature is where you'll find LYKA announcements or promotions. Lastly, the Profile feature is where you'll see your own LYKA Profile, your photos and videos, and your LYKA GEM address (QR Code).
What are the Benefits of Using the LYKA App?
Communication and connection are the main services of the LYKA app. But what makes it attractive is its Digital Point System. Such a system rewards users for different activities and engagements they start or participate in on the platform.
If you're familiar with the TV show "Black Mirror," there's an episode called "Nosedive"[4] where people can rate each other and affect their socioeconomic status. LYKA, on the other hand, lets you earn GEMs with every interaction or engagement you receive from other users. You're entertained and connected, and it's also a good way to earn online using your smartphone.
What are LYKA GEMs?
With every action you make on the LYKA app, you get a reward. Rewards that you receive come in the form of Giftcard in Electronic Mode or GEMs. LYKA calls GEMs the world's first paperless, contactless, and seamless social gift card.
Read more: 6 Simple Ways to Earn Money While on Lockdown
Do LYKA GEMs Have Actual Value?
LYKA's GEMs also work as an online currency. The GEMs that you earn in your LYKA wallet can actually be used as payment when you dine or shop at LYKA's partner brands and merchants.
The Philippines is the app's first country of operations. LYKA already has more than 10,000 partner merchants in the service, retail, food, and automotive industry. You can also find a list of merchants and online shops that accept LYKA GEMs on the app. Just go to Explore, click Merchants, and enable access to your location to find nearby merchants.
How Do You Get LYKA GEMs?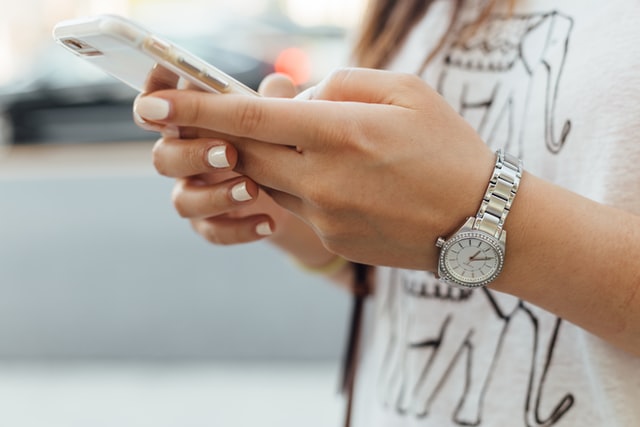 Earn GEMs by posting pictures, sharing content, and liking others' posts. So the more activities you engage in, the more GEMs you earn.
Currently, one GEM is equivalent to PHP 1. It may sound inviting and exciting, but GEMs are earned in increments. For instance, sharing a photo will earn you 0.05 GEMs. Liking someone's photo will earn you 0.02 GEMs. If someone likes your photo, you'll earn 0.05 GEMs.
Looking at this rewards system, it seems that social media influencers who have lots of followers have the potential to earn more GEMs. For regular users, it may take a while before you can earn enough GEMs to purchase items.
Alternatively, you can buy GEMs via the LYKA app.
Read more: 40 Money-Saving Tips for Everyone: The Ultimate Financial Hacks List
Can I Convert LYKA GEMs to GCash?
There's no in-app feature where you can convert LYKA GEMs to GCash credits. What LYKA app users do is find other users who are looking to buy some GEMs and then just pay for them through GCash.
How Can Businesses Benefit from LYKA App?
Individual users, such as influencers, are not the only ones who can make the most of the LYKA app. Brands and businesses that become part of LYKA's digital ecosystem may also get some benefits.
For instance, LYKA's loyal users will eventually become customers of the brand since they can use their GEMs only at partner establishments.
Partner businesses will also be part of LYKA's Merchant List, which in turn will add advertising and marketing mileage on their end.
Is LYKA App Safe to Use?
This question is clearly a valid discussion point since privacy is a big deal in this age of data. As a result, some tech organizations have warned users about the LYKA app's privacy issues.
In LYKA's Privacy Policy, a provision states that the company may disclose users' personal data to the company's partners and other service providers. It specifically states that marketing platforms such as Google, Twitter, Facebook, and Instagram will be the possible recipients of the users' data.
While the app is free, users are essentially giving their personal information in return. Some pundits say that the data will just help brands serve targeted ads. But things will get tricky and rather dangerous when the data falls into the wrong hands.
Should I Download the LYKA App?
There are two discussion points here. The first is safety. You can download and use LYKA if you're willing to take some risks. So far, the app has not reported any breaches, which is a good thing. However, just do your due diligence before installing it on your phone.
The second is the user's goals. The app incentivizes platform activity, so there's an earning potential waiting for you. The LYKA app is an ideal channel if it's your plan to become an influencer and build your own social empire. However, remember that earning lots of LYKA GEMs does not happen overnight. You need to build connections and make sure that the content you release is unique, interesting, and of good quality.
Read more: Living the Post-Pandemic Life: What to Do After COVID-19
Final Thoughts
There's no denying that Filipinos are quite frenzied when it comes to social media. That's easy to understand since Pinoys love to socialize, connect, and collaborate with others.
The LYKA app may be a good platform for virtual socialization. But before you get too deep into this new craze, check its website and read the Privacy Policy thoroughly.

Sources: