It's human nature to be curious about other people's lives and how they unfold. While most of us just want to know what it's like to walk in other people's shoes, some also want to live vicariously through others by watching their daily activities and routines on video.
Vlogs are very entertaining to watch, not to mention inspirational and a great source of information. They also bring like-minded people together online. Vloggers are usually very relatable, too, which make them resonate with different people everywhere.
This allure of vlogging is exactly what encouraged Yna Lopez, Moneymax's Business Development Manager, to start her own YouTube channel. In this third installment of our Women's Month series, we asked to Yna to share her experience as a YouTube vlogger and her practical tips on how to start a vlog. Read her full interview below.
What made you want to become a vlogger?
I've always wanted to start a vlog about travel, make-up, and fashion. For me, vlogging is a fun activity. But back then, I was very shy and so conscious of what other people would say about me.
But with the help and encouragement of my loved ones, I became more determined to embark on my vlogging journey. I knew it would change me for the better and help me overcome my fears and anxiety of speaking in front of a large audience.
Were there YouTube vloggers who inspired you?
I've been watching Camille Co, Kryz Uy, and Vern and Verniece Enciso for as long as I can remember. And I can say that I wanted to know how to be a YouTube vlogger because of them. They were the first YouTube vloggers to inspire me to start my own vlog. I really love their style and content, which are mostly travel, lifestyle, and fashion.
How did you get started on vlogging?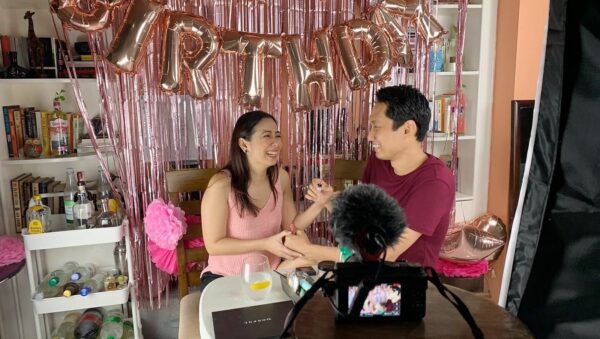 I always filmed our travels, and I've been doing this since 2017. But I never really had the courage to upload our travel videos and share them with the world.
And then as a spur-of-the-moment thing in June last year, which was my boyfriend's birthday, I decided to whip out my camera and vlog about that moment when I gave him his birthday gift.
After that, my sister helped me edit and upload the video. That ended up being my first video on my YouTube channel.[1] To my surprise, it garnered more than a thousand views! The rest, as they say, is history. No matter the hardships and obstacles, I never looked back.
What equipment and tools did you buy for your vlogging setup?
I started with very basic equipment, including my iPhone and a secondhand camera. After a few months, my boyfriend gave me vlogging lights as a gift to make my videos look more professional.
Read more: Legit Apps to Earn Money in the Philippines (and Other Ways to Earn with Your Smartphone)
What do you wish to share with your followers in your YouTube videos?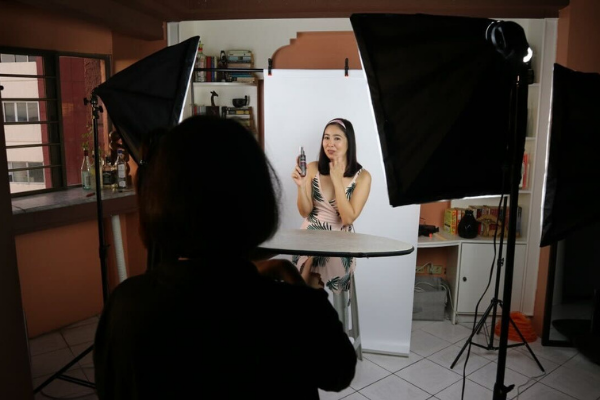 Mainly, I want to make more travel vlogs, which I didn't get to do that much during the community quarantines. But now that travel restrictions are beginning to ease up, I'd like to do more vlogs where I share tips and recommendations on budget-friendly travel. But of course, I still want to do skincare and make-up products reviews as well.
What is one thing that you always keep in mind when preparing your YouTube videos?
As simple as it may sound, I always remind myself to be natural, to just be myself. What you see in my YouTube videos is how I really am when I'm with my family and friends.
When it comes to planning my content, I have a content calendar. But sometimes, I just film whatever I feel like filming.
For example, I usually film what I do in a day as a Business Development Manager at Moneymax while working from home in this pandemic. Sometimes, I vlog about what I do on weekends, especially when there's a special occasion or when I go on a trip with my family or friends.
In your opinion, what kind of content works on YouTube?
It really depends. But it has a lot to do with finding your own niche, whether that's lifestyle, fashion, food, travel, gaming, and so on.
Many different types of content work on YouTube. You just need to find your niche and stick with it so that your audience will be able to associate you with that particular type of content.
What are the traits you should have to succeed at vlogging?
I think a great sense of humor is very important. Life doesn't have to be so serious or sad all the time, and you need to have a great sense of humor to get and keep the attention of your audience.
You should also have creativity. There are lots of content creators out there, so you need to be as creative as you can to stand out and attract audiences and potential followers and subscribers. Being creative is also handy when it comes to editing videos. The goal is to have videos that are not boring and are aesthetically pleasing.
As a vlogger, you should also radiate positivity and relatability. It's important to create content that a lot of people will resonate with and be inspired by.
Lastly, you need to engage with your audience, so responsiveness to comments online is also key. You can engage with them by simply replying to their comments and acknowledging them. Some of my viewers would actually send me emails or Instagram messages suggesting what vlogs they'd like to see on my channel.
Have you monetized your YouTube channel yet? If not, how do you plan to do it?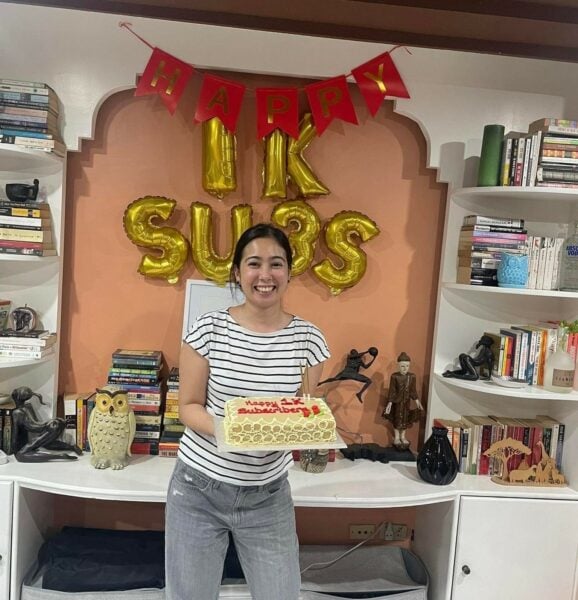 Not yet. For a channel to get monetized, you need to have 1,000 subscribers and 4,000 watch hours. Currently, I have 1,400 subscribers and 3,300 watch hours. So I still need 700 watch hours.
For me to reach this goal, I need to upload longer and more compelling videos that will make viewers excited to watch the succeeding ones.
Since I've only just begun my journey as a content creator, my next steps are to grow my audience and monetize my channel. I think I can do this by promoting giveaways, working with more brands, as well as collaborating with other content creators.
Read more: 6 Simple Ways to Earn Money While on Lockdown
Is there a downside to vlogging?
Yes, if there are advantages, there are also disadvantages. Like creative burnout. Starting a vlog is not easy because you constantly have to think of unique content to keep your audience hooked. And sometimes you just run out of fresh new ideas.
Investing in vlogging equipment is also expensive. You need to have a good vlogging camera, lighting and sound equipment, editing software, and backdrops. If you want to know how to start vlogging on YouTube, investing in good vlogging equipment is a big part of it.
Also, working a full-time corporate job while planning, shooting, and editing your vlogs is really time consuming. It takes a lot of work and energy.
Read more: 40 Money-Saving Tips for Everyone: The Ultimate Financial Hacks List
What tips would you give a beginner on how to start a vlog?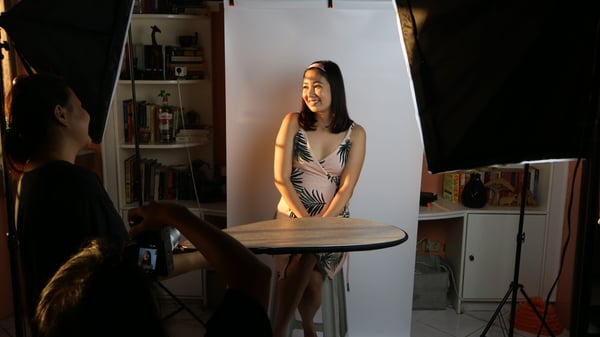 If you want to start your own YouTube channel, now's the best time to do it! To be a content creator, you need to invest a significant amount of time and energy into it. The recognition―if it comes at all―will not come immediately. So you need to have the patience and the persistence to carry on regardless of the obstacles along the way.
Want to know how to vlog on YouTube? Connect with your viewers by knowing what they want to see in your videos. There are many vlog content for beginners that you can try, so be ready to explore.
Always be consistent, too, so upload videos on a regular basis. When the gap between your last upload and your next is too long, your viewers might think you've stopped vlogging and may lose interest.
More importantly, be your true self and stay humble!
Final Thoughts
If you've always wondered how to start a vlog, Yna's experience proves that you can get started with just your smartphone camera and ebullient personality. Having professional vlogging equipment certainly helps―but it's your personality and your content that will shine through and make viewers come back for more.
So if there's anything that you're really passionate or knowledgeable about, perhaps it's time to start that YouTube channel, just like Yna Lopez did!
Editor's note: This is the third installment in our Women's Month series featuring boss ladies who take charge of their finances. Stay tuned for more inspiring stories of financially empowered women here on the Moneymax blog!

Source: [1] Yna Lopez's YouTube Channel