From a simple money transfer service, GCash has come a long way to becoming a top finance super app in the Philippines. In fact, it was among the few pioneering apps to usher in a revolution in personal finance that redefined how Filipinos managed their money.
To this day, GCash remains a reliable app that Filipinos can use for every financial need—from sending and receiving money to going cashless and paying bills online. GCash is perfect not only for those who want to manage their money with ease but also for those who wish to earn a little extra on the side. Over the years, it has integrated a lot of features that let its users make money while using the app.
If you're interested in learning how to earn money on GCash, you've come to the right place.
What Are the Requirements to Start Earning on GCash?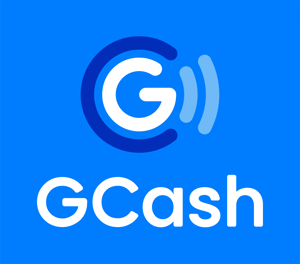 To start earning on GCash, you need access to its different features. And the only way to use its full suite of features is to get fully verified.[1] So, before anything else, make sure to take the extra steps to upgrade your account to the highest tier. This is free and just takes a few requirements to accomplish.
Whatever your age or nationality, you can create a GCash account and get fully verified. To get started, just prepare the following requirements and initiate the application process on the GCash mobile app.
GCash-registered mobile number
Valid government-issued ID
Selfie
Personal information (i.e., full name, address, birthdate, nationality)
Additional requirements may be asked of minors and foreign nationals.
The benefits of having a fully verified account make the extra requirements worthwhile. Not only will you get to legitimize your account and increase your wallet and transaction limits, but you also afford yourself access to all available GCash features and services.
While a basic GCash account only lets you cash in, buy load, pay bills, and use the scan QR code feature, a fully verified account gives you access to the following services—many of which allow you to make money using GCash.
Send Money
Bank Transfer
GSave
GInsure
GLoan
GGives
GCredit
GCash Padala
GFunds
GCrypto
GStocks PH
Global GStocks
GCash Card
Already have a fully verified account? It's time to make money off of it!
How to Earn Money on GCash in the Philippines
There are plenty of apps you can use to earn money. Many of them are legit, but there are also some scammy ones that can take advantage of your vulnerabilities. It's only right to be a bit skeptical of any informal or non-traditional means of earning an income.
As GCash is an inclusive app with a wide and diverse user base, it inevitably attracts online fraudsters and cybercriminals—but it is actively trying to combat that, so there's no need to worry.[2]
The point is, don't let yourself be fazed by scams. If you know how to detect them and what to do with them, you're all good. Focus on the many legit ways that GCash can help you earn some much-needed cash. Follow any of the tips below to beef up your GCash wallet straight through the GCash app.
▶️ Earn Interest Through Savings
An easy way to earn money on GCash is to use GSave, which is GCash's own digital savings feature. With the competitive rates of GCash's partner banks, you can leave your savings sitting securely in your account and just wait for it to accrue interest over time.
GSave has been around for a while now. It's legit because it's regulated by the Bangko Sentral ng Pilipinas (BSP). GCash's partner banks are also members of the Philippine Deposit Insurance Corporation (PDIC), insuring each depositor up to ₱500,000.
GCash has partnered with four banks to give you a variety of safe and competitive options. Below is a comparison of these banks' main features.
Eligibility requirements for each of GCash's partner banks vary. The base criteria are the following:
Filipino citizen
At least 18 years old
Fully verified GCash user
With at least one valid government-issued ID
Some of these banks may require you to submit your specimen signatures; others may ask you to verify your identity face to face. But, for the most part, the application process to create a GSave account is easy.
▶️ Invest in Professionally Managed Funds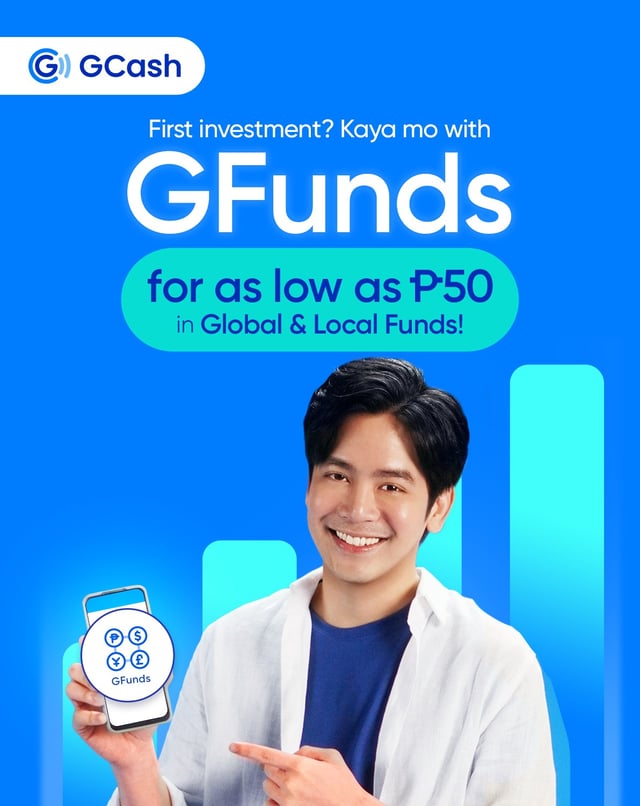 You can explore the different ways on how to earn money on GCash through GFunds, its own investment marketplace. With as low as ₱50, you can start buying, selling, and managing investment products from trusted investment companies.
When registering for a GFunds account, you'll be asked to accomplish a risk profile questionnaire to identify what type of investor you are. Your risk profile will help you determine the proper investment asset that will satisfy your requirements and expectations.[3]
Below is a comparison of the different professionally managed funds available on GFunds.
| | | | | | |
| --- | --- | --- | --- | --- | --- |
| Fund Name | Risk Profile | Fund Type | Minimum Initial / Additional Investment | Minimum Maintaining Balance | Annual Trust Fee |
| ATRAM Peso Money Market Fund | Conservative | UITF | ₱50 | ₱1 | 0.50% |
| ATRAM Total Return Peso Bond Fund | Moderate | UITF | ₱50 | ₱1 | 1.10% |
| ATRAM Global Health Care Fund | Moderately Aggressive | UITF | ₱1,000 | ₱500 | 1.20% |
| ATRAM Global Infra Equity Fund | Moderately Aggressive | UITF | ₱1,000 | ₱500 | 1.20% |
| ATRAM Philippine Sustainable Development and Growth Fund | Aggressive | UITF | ₱50 | ₱1 | 1.75% |
| ATRAM Global Equity Opportunity Fund | Aggressive | UITF | ₱1,000 | ₱500 | 1.20% |
| ATRAM Philippine Equity Smart Index Fund | Aggressive | UITF | ₱50 | ₱1 | 1.50% |
| Philippine Stock Index Fund | Aggressive | Equity Fund | ₱1,000 | ₱1,000 | 1% |
| ALFM Global Multi-Asset Income Fund | Aggressive | Feeder Fund | ₱1,000 | ₱1,000 | 1% |
| ATRAM Global Technology Feeder Fund | Aggressive | UITF | ₱1,000 | ₱500 | 1.15% |
| ATRAM Global Consumer Trends Feeder Fund | Aggressive | UITF | ₱1,000 | ₱500 | 1.20% |
To maximize your investment performance, diversify your portfolio instead of putting all your eggs in one basket. This will give you the flexibility to manage potential risks, explore different asset types, and ultimately increase your chance of yielding higher returns in the long run.[4]
▶️ Buy and Sell Local Stocks
Investing in the stock market is a form of passive income that lets you build wealth and grow your money exponentially. The way it works is you invest in a public company by buying stocks, and as that company generates profits, you get a share of the goods through dividends.
GCash lets you create this income stream through its GStocks PH feature. There are over 280 local companies available on the app, and you can become a shareholder in any of them without a bank account and with as little as ₱1,000 in your trade wallet.
To start investing, go to the GInvest feature on the GCash app, and register for a GStocks PH account. Top up your trade wallet and start buying shares from your preferred companies through GStocks' broker partner, AB Capital Securities.
Remember, the stock market can be volatile, so invest only what you're willing to lose!
▶️ Top the Leaderboard of an Online Investing Game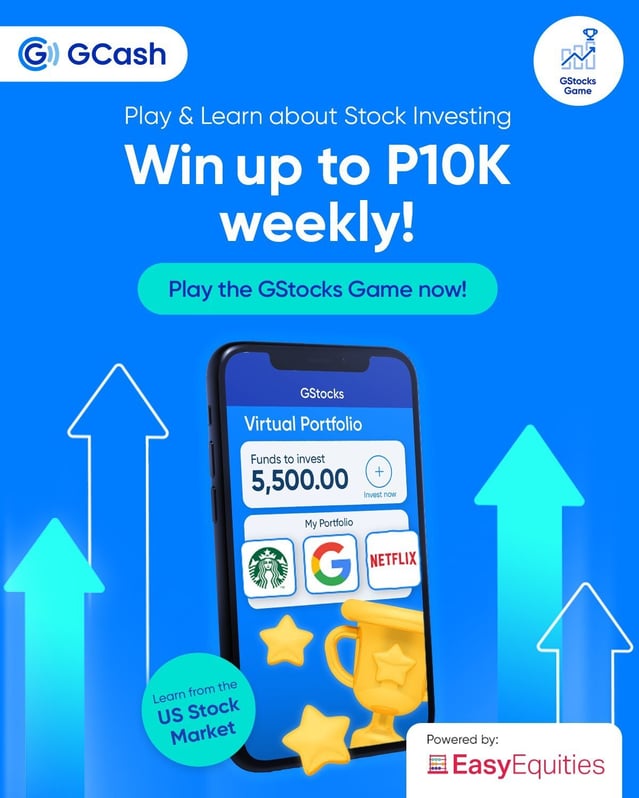 Wondering how to earn money on GCash by playing games? There's an easy, productive, and educational option for you, and that's the GStock Game Fantasy Challenge.[5] This online game makes investing more fun by mirroring the U.S. investment market in real time and giving each player demo money worth US$10,000 to invest away!
Your goal as a player is to have the highest net asset value (NAV) or the most valuable investment account at the close of the market each month. If you make it to the top of the leaderboard, you get to take home a sizable prize money.
The top three winners get ₱10,000, ₱7,500, and ₱5,000, respectively. Cash prizes are awarded up to the 15th-place winner.
This game is a good way to pass the time, learn how to trade stocks firsthand, and earn cash incentives every month.
▶️ Join Game Tournaments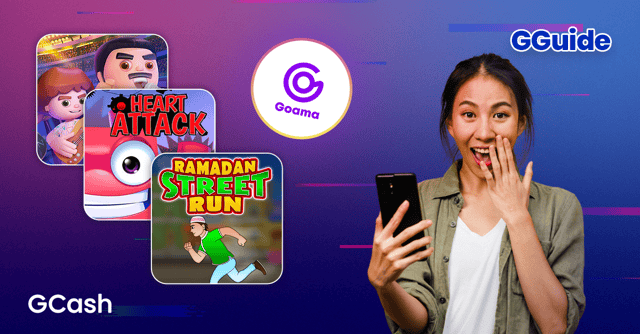 Did you know that there are play-to-earn games on GCash where you can join tournaments for a chance to bring home a cash prize? Goama, a leading mobile game developer and subscription service, provides a competitive gaming platform for GCash users to enjoy mobile gaming while earning rewards.[6]
You can take part in hyper-casual GCash games that reward up to the top 100 performers. Join free or paid tournaments every week or month to get a chance to win prizes and cash incentives.
Goama Games is also currently holding a Heroes Tournament, where you can play to win a cash prize of up to ₱10,000. The tournament will run until the end of October 2023.
To be eligible, you need at least 10,000 tickets, which you can gain by competing in as many tournaments as you can. The more tickets you earn, the higher you place on the leaderboard, which in turn gives you a higher chance of winning big prizes.
There are many game categories to choose from, such as Action, Adventure, Arcade, Puzzles, Sports, and Strategy. Some of the featured tournaments include Cube Jump, Dribble Master, Panda Sling, Stickman Pong, and Ball Warp. Each game has different payment tiers that correspond to a certain number of ticket prizes.
Pay ₱5 – win 45,000 tickets
Pay ₱10 – win 84,000 tickets
Pay ₱25 – win 104,500 tickets
Pay ₱50 – win 285,000 tickets
Pay ₱100 – win 455,000 tickets
Another gaming mini app within GCash is MGames, which currently runs a Spin the Wheel game on the app. To play, you just need one token, equivalent to 15 GCash, to spin the wheel, which gets you a chance to win tokens, a mobile phone, or a cash prize ranging from ₱1 to ₱10,000.
MGames also offers other seasonal games of various categories—from puzzle and strategy to arcade and shooter games. You can accomplish daily quests to earn tokens, energy, and tickets, which can increase your chance of winning more cash prizes.
▶️ Make Job Referrals
You've probably realized by now how many opportunities there are to earn money on GCash. The issue is that some of them require you to shell out money first. If you want to know how to earn money on GCash for free, here's a tip: go to the GJobs feature and start referring people to the jobs available on the app.
You get six referral credits per job opening, and each job posting has a corresponding referral fee that you can earn. Fees vary depending on the employer and the nature of the job. Current listings offer referral fees as high as ₱65,000—a pretty decent deal since all you have to do is provide the full name and contact details of the person you're trying to refer.
If you refer a friend, that friend can also refer someone else using your referral link. Referrals can be made up to the third degree—in which case, the referral fee will be divided among the three people involved. Check out the table below to see how referral fee cuts are allocated.[7]
| | | | |
| --- | --- | --- | --- |
| Referral Fee Cut | 1st Degree Referee Candidate | 2nd Degree Referee Candidate | 3rd Degree Referee Candidate |
| 1st Degree Referrer | 100% | 50% | 25% |
| 2nd Degree Referrer | 0% | 50% | 25% |
| 3rd Degree Referrer | 0% | 0% | 50% |
▶️ Collect Cashback Vouchers
You can use GCash to make money and save money. GCash has partnered with Alipay+ to give you a myriad of voucher options to choose from.[8]
For example, if you pay with GCash at Alipay+ partner merchants, you can get a free ₱25 voucher. There are other deals and discounts offered by different merchants, including Foodpanda, Jollibee, Viu, Lazada, CLiQQ by 7-Eleven, and Mobile Legends, among others.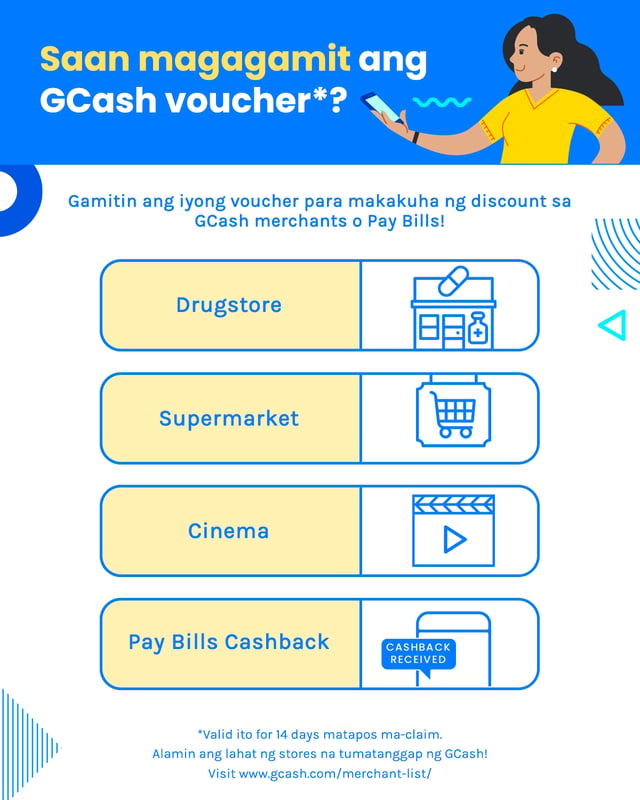 To check out all available vouchers, open the GCash app and go to A+ Rewards. Check in daily to earn rewards and collect badges. Use GCash and Alipay+ when you shop online to receive digital vouchers and boost your savings.
▶️ Invite People to Join GCash
The most classic way of earning money through GCash is by inviting people to join the app.
For every successful referral, you can get freebies worth ₱50. Share your referral link to friends by opening your GCash app, going to Profile, and selecting Refer a Friend. You have the option to share your referral code via Messenger, SMS, and QR, among others.
When your referee signs up, gets fully verified, and cashes in within 30 days, you'll receive your referral fee of ₱50 within five days. You can refer up to 25 users per month, capping your monthly earning potential at over ₱1,000.
The terms and conditions of this referral program may change, so the number of referrals you can do per month as well as the referral rewards you can receive may also vary.
▶️ Trade Cryptocurrencies
Another savvy app feature where you can potentially learn how to earn money on the GCash app is GCrypto. This GCash feature not only lets you buy and sell cryptocurrencies in real time but also gives you access to a curated collection of non-fungible tokens (NFT).
GCrypto is a safe and secure platform, as it is powered by the Philippine Digital Asset Exchange (PDAX), a local cryptocurrency exchange licensed and regulated by the BSP.
To start trading on GCrypto, fill out the registration form via the GCash app. You'll be asked to provide important information like your user profile, investment experience, and financial goals. As soon as you complete this, you're free to start your crypto journey.
Just be a responsible trader and do your due diligence to minimize risks and maximize the performance of your crypto investment.
▶️ Sell Prepaid Load
If everyone in your circle already has a GCash account, the preceding option of earning through referral codes is essentially now useless to you—in which case, you can explore how to earn money on GCash without inviting people.
One such way is by selling prepaid load to your family, friends, and neighbors. You can even incorporate this into your business if you have a sari-sari or convenience store. By adding a transaction or convenience fee on top of the load amount, you can get a reasonable profit from this venture, especially if you're able to sell load often.
GCash has partnered with different providers to offer an assortment of load types (i.e., network, internet, streaming and cable, gaming, social networking, and prepaid isurance), so it doesn't matter what kind of load you or customers need—you'll most likely find it on GCash.
▶️ Get Tickets for the Lucky Load Weekly Draw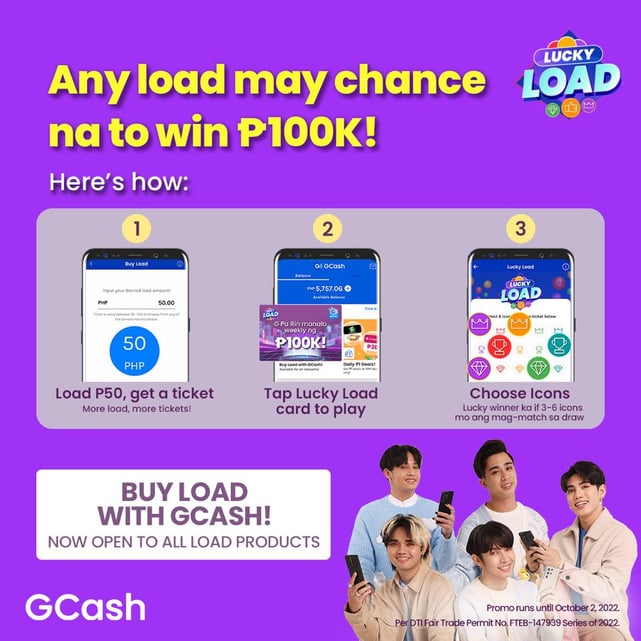 Did you know that you can earn money on GCash not just from selling load but also from buying load? Lucky Load is a simple game-slash-raffle-draw that awards you a ticket every time you purchase a load product worth at least ₱50.
You can use a ticket to play a luck game—which is essentially just choosing a combination of six icons that will serve as your raffle entry for the week. There's no limit to how many entries you can submit, so if you have a loading business, you have more chances of winning the weekly draw.
It's a savvy way to earn money on GCash as there's a fixed amount you can win every week—i.e., ₱100,000—which can stack up infinitely if no winners are announced in consecutive weeks.[9]
▶️ Offer Financial Services
Another option on how to earn money online via GCash is by offering financial services like bills payment and remittance transfers. The way it works is transactional—you offer products or services for a price, much like you would when selling on Facebook Marketplace or creating content on YouTube for brands in exchange for money.
Offering bills payment and remittance services essentially makes you a cash outlet operator—or, more specifically, a GCash Pera Outlet Partner. This is ideal especially if you have an existing government-registered business like a sari-sari or convenience store, which can facilitate these additional financial services.
To qualify as a partner, you need to provide proper documents like a barangay business permit, mayor's permit, and DTI registration. Upon successfully signing up, you can start offering cash-in and cash-out services, bills payment, and money transfer services, which can let you earn as much as ₱10,000 per month.[10]
How Much Can You Earn on GCash?
Now that you know the different earning opportunities available on GCash, you can gauge how much money you can make by using this super app.
There's no set amount that you can take home at any given time. Everyone's earning potential is different—yours depends on how you use your resources and what GCash features or services you capitalize on.
For example, earning interest from a savings account varies greatly from earning dividends through an investment portfolio. Likewise, relying on personal referral fees is a different experience and yields different returns from collecting job referral fees.
Even when you're playing GCash games, your earning potential will depend sometimes on your skills; other times, on your luck. Don't set a limit on how little or how much you can earn—just take every opportunity offered by GCash to make a little extra cash.
Tips on

How to Earn Money on GCash

in the Philippines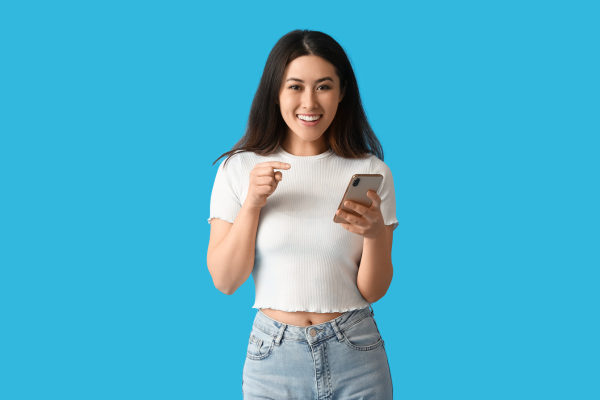 Here are some tips to help you master how to earn money on GCash.
Stay up-to-date on all GCash news – Always check the GCash app and follow GCash across all social media platforms to be the first to know when there's a new feature or update coming out. There are currently two features in development that you should watch out for—i.e., Gigs and Quick Rewards—both of which you can find when you tap on the Earn Money feature on the mobile app.
Exhaust all possible income streams – Don't limit yourself to just one option among many. You have a plethora of earning opportunities to choose from—explore as many as you can to improve your chances of making money and increase your earning potential.
Do your own due diligence – Regardless of what GCash feature you use to earn money, don't forget to take the time to learn more about it before you make any commitments. For example, if you decide to use GStocks for investment, make sure to review all potential companies' sales and profitability performance. You should also look into different strategies, like diversifying your portfolio and reinvesting your dividends, among others.
Final Thoughts
Now that you have an idea about how to earn money on GCash, you can explore the different options available to you and maximize the earning potential afforded by this super app.
While GCash's monetization options can't necessarily make you rich, some of them do offer decent returns that are worth looking into. If you're up to earning some extra cash, definitely check out those options and see which ones work for you.
💸 Compare and Find the Right Loan via Moneymax
Need a little help funding your raket? If you need extra cash to jumpstart a small business, explore these personal loan options in the Philippines:
| Personal Loan | Loan Amount | Monthly Add-on Rate | Minimum Annual Income | Approval Time |
| --- | --- | --- | --- | --- |
| UnionBank Personal Loan | | | | |
| UNO Digital Bank Personal Loan | | | | As fast as 7 banking days |
| Metrobank Personal Loan | | | | |
| BPI Personal Loan | | | | |
| RFC Loan | | | | |
| Tonik Flex Loan | | | | |
| Tonik Quick Loan | | | | As fast as 1 hour |
| Tonik Big Loan | | | | 7 days |
| Tala Loan | | | | 24 hours |
| HSBC Personal Loan | | | | |
| CIMB Personal Loan | | | | |
| Maybank Personal Loan | | | | |
| RCBC Bank Personal Loan | | | | |
| SB Finance Personal Loan | | | | |
| CTBC Bank Personal Loan | | | | |
| PSBank Personal Loan | | | | |
Sources: