Interested in exploring online spaces as a seller? You've probably heard of one of the more popular ones: Facebook (FB) Marketplace.
With Facebook topping the list of social networking sites across the globe, FB Marketplace continues to generate buzz. In fact, it currently has around 495.7 million users.[1]
If you're curious about how to buy and sell on Facebook Marketplace as a side hustle, this quick guide is right up your alley.
What is Facebook Marketplace?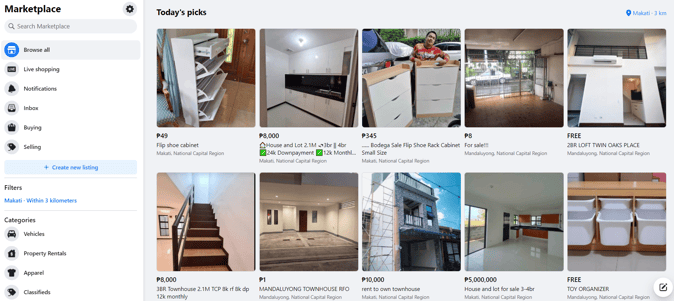 Launched in 2016, Marketplace is an e-commerce platform integrated into the Facebook app as a free feature. It was originally developed to capture the essence of the buy-and-sell group model on Facebook, but it eventually morphed into something bigger that makes buying selling, trading, and discovering items within local communities easier.[2]
As one of the more beginner-friendly platforms connecting buyers with sellers, Facebook Marketplace sports a simple look that attracts first-time users who are otherwise intimidated by complex interfaces. Simplicity is undoubtedly its charm.
Read more:
How to Set Up a Marketplace Account
The Facebook Marketplace in the Philippines is already within your reach. All you need is an active Facebook account, and you're all set!
To access the platform through a desktop browser, log into your active Facebook account and look for the storefront icon with a Marketplace tag on the left-hand navigation pane. Just click it and you'll find yourself directly on the platform.
To access FB Marketplace through your mobile device, log into your Facebook account, click on the Menu icon (top-right for Android and bottom-right for iOS), and look for the Marketplace icon. Tap on it once to open the platform.
You can also type Marketplace on the homepage search bar if the extra tabs and icons confuse you. The first search result is usually the correct one―but make sure it's accompanied by the iconic storefront.
Once you find your way in, you're ready to learn how to use Facebook Marketplace!
How to Sell on Facebook Marketplace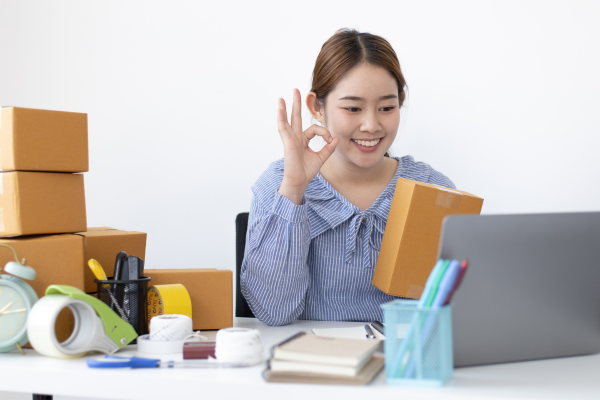 In the same way that you can score great deals from the platform, you can also make serious money selling stuff on Facebook Marketplace.
There's no need for any accreditation. Fees are also not a problem as you can list items on the platform for free. All you need is something worthwhile to sell!
Can you sell a house on Facebook Marketplace? Yes, you can—but note that you can't sell services, animals, healthcare products, recalled products, hazardous goods, alcohol, and more. Do the bare minimum of adhering to the Facebook Marketplace terms and conditions and Commerce Policies.[3]
Read more: Best Products to Sell Online as a Side Hustle This 2023
To start selling, follow these easy steps:
How to post items for sale on Facebook Marketplace? From the landing page, click on Create New Listing if you're using a desktop browser or Sell if you're on a mobile device.
Choose your listing type from three categories: Items, Vehicles, and Homes for Sale or Rent.
Add high-quality photos from different angles of your product. You can upload up to 10 photos for items, 20 for cars, and 50 for homes.
Fill out all other important fields in your listing, including the title, price, description, product tags, and location.
How to hide your Facebook Marketplace listing from friends? Just turn on the corresponding toggle button. If you haven't enabled the Hide from Friends option, you can cross-post your listing to different Facebook groups. Otherwise, your listing will only be publicly available on Marketplace―which still covers a wide scope as anyone on and off Facebook will be able to see your product posts.
Click Publish after double-checking all the information. Your listing will have to go through a standard review, which may take between a few hours to a few days. You'll get a notification once your listing is live.
How to boost your Facebook Marketplace listing? This option will be made available after publishing.
You may also refer to this YouTube tutorial on how to sell on Facebook Marketplace.
Tips to Improve Your FB Marketplace Listing and Sell Successfully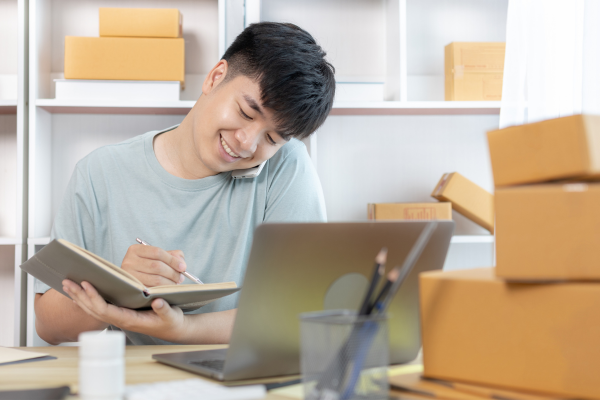 Although Marketplace doesn't require much from its sellers, you should still be diligent, honest, and responsible. If you wish to go beyond the basics, here are a few more selling and posting tips to consider:
✔️ Name Your Price
Always include your actual price upfront. Don't list your item as free unless you're truly giving it away. PM is not the key!
✔️ Use High-Quality Photos
Make sure the photo you upload on the first tile of your listing is eye-catching as it will be used as the default thumbnail for your post.
✔️ Give Complete and Accurate Product Descriptions
Do you only allow meet-ups? Do you require payment first before delivery? Include as much information in your listing as possible to avoid unnecessary back-and-forths with potential buyers. This covers not just information about your product but also your preferred payment, transaction, and delivery methods.
✔️ Don't be Vague About Your Listings
Be transparent about the condition of the item you're selling. The fastest way to lose customers is to surprise them with hidden product flaws that you weren't able to disclose.
✔️ Manage Your Customers' Expectations Regarding Shipping and Deliveries
Add a disclaimer about delivery or shipping if you don't want to be held accountable for delays and damages by couriers. Give your buyers reliable shipping options so they can confidently push through with their purchase.
✔️ Boost Your Listings
If you have the budget for it, boost your Marketplace listing to reach a wider audience. You can also share your listing to Facebook groups to broaden your reach.
✔️ Learn More About Facebook Marketplace
Do your own market and competitor research. Browse the platform to see how similar listings are priced. What makes your product better? What's missing from your post? What do your target customers respond to?
How to Buy on Facebook Marketplace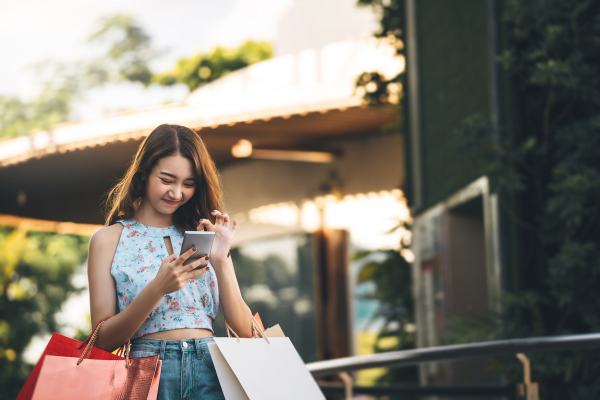 You're greeted with different items for sale on Facebook Marketplace right off the bat.

For a more targeted search, adjust your location and radius to capture all listings in your area. Choose among various categories―from antiques and collectibles to electronics and vehicles―to further narrow down your search.
Filter options that rank results based on your specified price range and item condition are also available. If there's a specific item you need to find, you can also search by keyword.

If an item catches your attention, tap the corresponding image to view all available details, including price, item condition, product description, seller information, approximate location, and additional photos.
You can save the listing for later, make an offer, create an alert for similar listings, or chat with the seller for more information.
Ready to make a purchase? Facebook Marketplace doesn't facilitate payments or deliveries, so you need to arrange this directly with the seller. Use online banks or mobile wallets like GCash, PayMaya, Coins.ph, or even cash on delivery.
Next, confirm with your seller which delivery methods work best. Typically, you can book online courier services such as Grab, Lalamove, or Mr. Speedy. Longer-distance deliveries can be accommodated through LBC Express, JRS Express, J&T Express, or even bus shipping.
❗ A Word of Caution When Buying on Facebook Marketplace
Since just about anyone can list an item on FB Marketplace, it's inevitable that there will be a few bad apples among the bunch. It's up to you to discern the legitimacy of a listing by checking the seller's Facebook commerce profile.
Is the seller rating high? Does the seller have badges? Are the reviews favorable?
Some legitimate sellers who are new to the platform understandably have commerce profiles that aren't too convincing, so this isn't the be-all and end-all of assessing the legitimacy of a listing. Still, it's a logical place to start. You can do more digging around to make sure you've covered all the bases.[4]
How to Keep Track of Your Facebook Marketplace Transactions
From the Facebook Marketplace landing page, click on the profile icon to view your commerce profile, recent activity, and other personalized information such as your approximate location and saved sizes for clothes and footwear. You'll also find everything you need as a buyer and seller.
As a buyer, you can view your:
Saved items
Recently viewed items
Similar listing alerts
Tags, shopping interests, sellers, and shops that you're following
As a seller, you can view your:
Marketplace followers
Listings, including the chats for each post
Marketplace insights on how your listings are doing
Options for quick actions such as deleting, renewing, relisting, and boosting your posts
Final Thoughts
With its convenience and accessibility, FB Marketplace will remain a mainstay for all types of consumers, many budding entrepreneurs, and established businesses. This platform is among the easiest places to start a business as it doesn't require a lot to get started.
Now that you know the fundamentals of how to sell on Facebook Marketplace, why not try it for yourself? You'll never use Facebook the same way again.

Sources: