Humans are visual creatures. That's why it's no surprise that we're drawn to video content more than any other media format. YouTube is a testament to that—just ask anyone who's ever been on the internet, and they'll swear by the power of this video-sharing leviathan.
Since its launch in 2005, YouTube has come a long way, with billions and billions of views to boast. No matter your interest—be it politics, celebrity gossip, education, or video games—you'll surely find something to your liking on the platform. That's how humongous YouTube has become.
With the influx of traffic it gets by the second, it's only natural that YouTube has grown into a money-making machine for its content creators. If you're looking for a side gig or a whole new career, check out this guide on YouTube monetization requirements and hacks.
How to Earn Money on YouTube: Monetization Requirements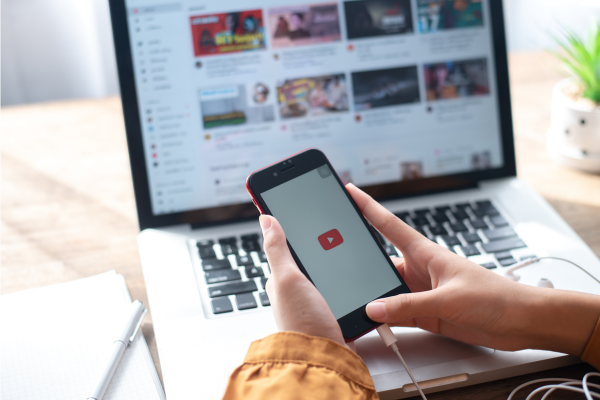 Simply uploading a video on YouTube won't earn you a dime. Also, you won't be monetized by default just because you've set up your own channel and have a handful of followers.
There's a minimum threshold for subscriber and view count that you must meet for you to start getting that coveted YouTube payout.
Want to know how to earn money on YouTube in the Philippines? Generally, you'll need to join the YouTube Partner Program (YPP).[1] To do so, your channel needs to meet either of these YouTube monetization requirements:
At least 1,000 subscribers with at least 4,000 valid public watch hours in the last 12 months; or
At least 1,000 subscribers with 10 million valid public Shorts views in the last 90 days
That means that to be qualified for monetization, you have to either stay on the platform long enough to rack up those numbers, or create something that goes immediately viral. Either way, you can't go wrong with a strategy centered around making great content.
You also need the following YouTube monetization requirements:
Residence in a country/region where the YouTube Partner Program is available (yes, the Philippines is included)
No active Community Guidelines strikes on your channel
2-Step Verification for your Google Account
Advanced features access on YouTube
Active AdSense account
Once you meet all requirements, here's how to apply:
Sign in to YouTube.
Click your profile picture on the top right corner. Click YouTube Studio.
Click Earn.
Select Apply.
Click Start. Review the terms.
Link your AdSense account or set up a new one.
Your application is now submitted. YouTube will get back to you in around a month.
4 Ways to Earn from the YouTube Partner Program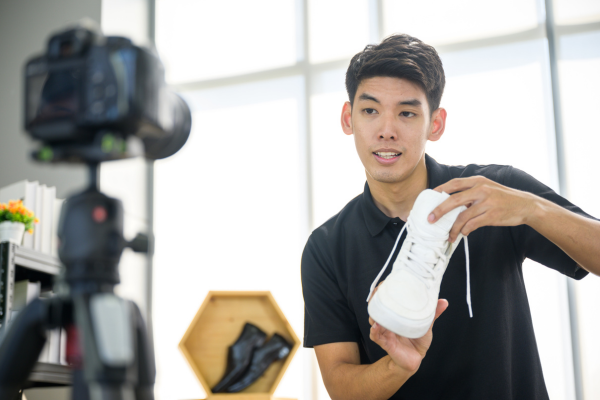 Let's say you already enjoy a solid following and decent viewership. You're now ready to unlock your earning potential on the platform through YPP.
YPP is what sustains the creator economy on YouTube. The program's revenue-sharing business model makes it a true partnership between the platform and creators.
Note that even after your application gets approved, YouTube will periodically review your channel to make sure that you're not violating any policies or guidelines. As a YPP member, you're expected to constantly remain in good standing with YouTube.
YPP is your gateway to multiple revenue streams on the platform, including the following:
💸 Advertising Revenue
If you ask any YouTuber about how to make money from YouTube videos, the most common answer you'll probably get is through ads. Advertising revenue is the primary means of generating passive income on the platform.[2]
But make no mistake—ad revenue doesn't correlate to your view count per video. The key is for your viewers to click on the ads and actually watch them. Also, your videos must meet YouTube's advertiser-friendly content guidelines.[3]
💸 YouTube Premium
YouTube Premium is a paid membership program that allows viewers to enjoy ad-free content. If you're a vlogger or content creator, this serves as a secondary income stream on top of your ad revenue.[4]
You don't need to do anything extra to be eligible for YouTube Premium monetization. You automatically get YouTube earnings per view when YouTube Premium subscribers watch your content. The more popular your videos are among YouTube Premium subscribers, the bigger your earning potential.
💸 Channel Memberships
Members of your channel pay monthly fees in exchange for special perks and content made available only to them. You can also offer exclusive benefits like custom loyalty badges and emojis to anyone who joins your channel. The beauty of this revenue stream is that you set the rewards as well as the membership fees.[5]
💸 Super Chat and Super Stickers
Another YouTube monetization tip is to use the Super Chat and Super Stickers features.[6]
Super Chat, which is enabled when you go live on YouTube, allows your viewers to connect with you by getting their chats highlighted in the chat stream. The more Super Chat purchases you get from viewers, the greater your added income.
Similarly, Super Stickers can be purchased by viewers to show their support more visibly during a livestream. It also works the same way as Super Chat—special stickers pop up to catch your attention during your livestream or premiere.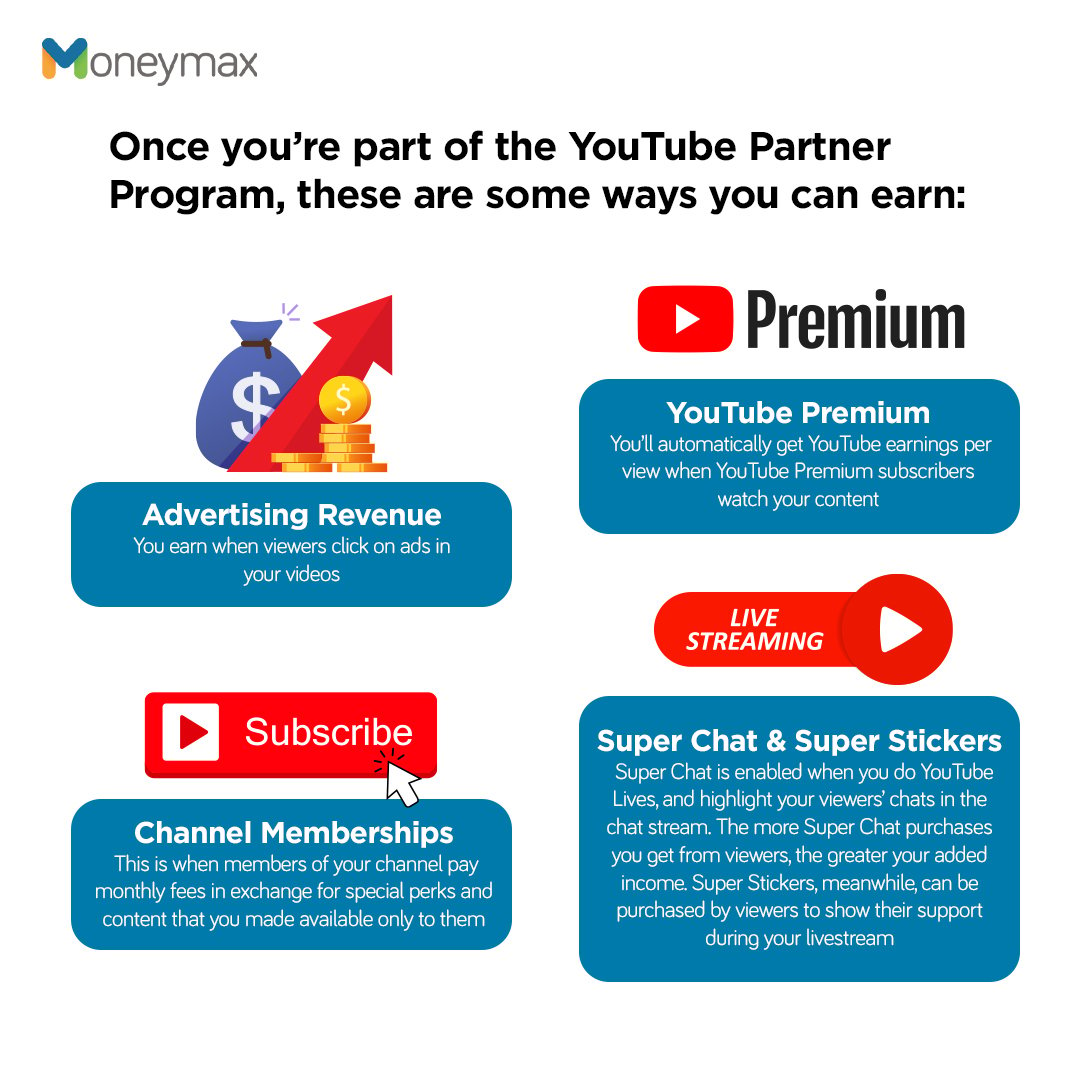 Related reading: Grow Your Customer Base: Learn How to Sell on Facebook Marketplace
Tips to Earn from YouTube: How to Create Content That Sells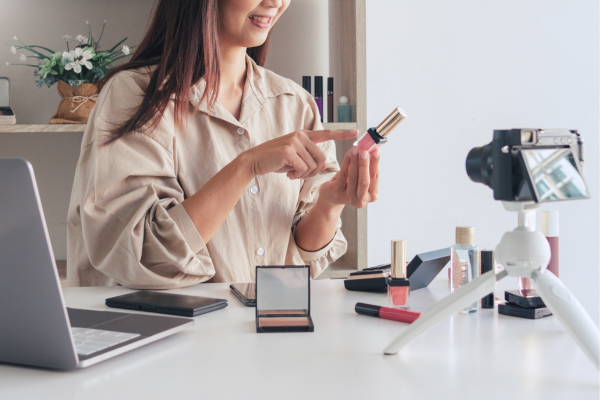 YouTube has made pop culture icons out of its homegrown talents. Just look at global influencers like PewDiePie, Liza Koshy, and Troye Sivan. Even in our own backyard, we have the likes of Mimiyuuuh, Raiza Contawi, and the Ongsee/Guerrero siblings bearing the local flag—and making good money out of it!
While it's true that YouTube as a platform has greatly contributed to these content creators' success, the content creators themselves are still fundamentally responsible for everything they've achieved. They've amassed a solid following for a reason—and it all boils down to their unique yet relatable content.
If you're looking for YouTube monetization tips, follow these content creation basics:
📽️ Understand Your Brand Essentials
Ask yourself the following questions:
What Do You Want to Do?
It must be something you're knowledgeable about or skilled at—and, of course, something you truly enjoy. That way, you can find your own niche and draw in an audience.
How Do You Stand Out From Other YouTubers?
Figure out why your target audience must give you a chance. What is it about you that can draw them in? Depending on the type of content you make, you can either inject your true personality into your work or create a screen persona that offers something new and refreshing.
Just be careful not to come off as a poser or a try-hard. Genuine trumps disingenuous every time, regardless of the platform.
What Content Format Do Your Target Viewers Respond to?
Look at what other content creators or vloggers are doing and find inspiration from that. If you want a share of their followers, understand what type of content flies best with their audience.
Are lists, how-to guides, or tutorials the most popular? Or maybe raw footage, streaming, or day-in-the-life videos? What about reviews, challenge skits, and unboxings? Try experimenting with using one format only or mixing it up.
Finding your own voice and style is crucial if you're planning to become a content creator. If you come in without a plan in a saturated place like YouTube, you'll immediately find yourself lost in the crowd.
Reflecting on the points above will lead you to important realizations that will ultimately shape your brand. This will give you the starting point you need to launch your YouTube career.
📽️ Invest in Tools, Technologies, and Techniques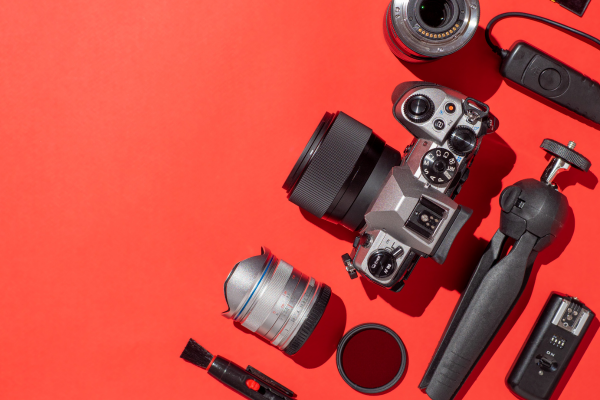 If you're in your early days as a vlogger, it's understandable if you don't have all the glamorous equipment that every social media influencer has. But how do you earn from YouTube with nothing but a mobile device?
Just look up filming techniques and install free editing tools to start making great videos. After all, it's not your equipment that will push you to the top—it's the quality of your content.
However, as your audience expands and your YouTube income grows, it's only natural to invest in more advanced tools, technologies, and techniques to produce even better videos. Make sure to make room for this investment.
---
🛍️ Fund Big Purchases, Celebrations, and Milestones with an #UNOnow Loan

Buying gadgets, tools, and equipment for work or business? Gearing up for life milestones such as a wedding or a baby? Looking for ways to fund your child's tuition fees?
If you want both convenience and high loan amounts, check out what UNO Digital Bank has to offer. With an #UNOnow Loan, you can borrow funds starting at ₱10,000 up to ₱200,000 with a low monthly interest rate of 1.79%. You can pay it back in six, 12, 18, 24, or 36 monthly installments.
Apply for an UNONow Loan via Moneymax now!
---
📽️ Optimize Every Upload
Don't miss an opportunity to optimize your content so that every upload reaches its potential. Some tips you can try:
Create a standard call to action at the end of every video. Invite your viewers to hit the like button and subscribe to your channel.
Add links in your video descriptions. Do you have a website, an online shop, or other social media accounts to promote? Are you also an affiliate marketer who earns commissions through sponsored links? Do you have a crowdfunding campaign you would like your viewers to know about? Include all relevant links in the description box.
Cross-promote to other platforms. Share each upload or a snippet of it on other social media sites like Facebook, Twitter, Instagram, and TikTok to maximize your reach.
Final Thoughts
YouTube's popularity isn't likely to wane anytime soon. The platform remains the undefeated champion of video-sharing apps, so this is the best time to look into YouTube monetization requirements.
If you're both a creative and an entrepreneur, you'll find yourself a perfect space on the platform to nurture your passion while also earning something on the side. Get started as a content creator today, and see YouTube's power unfold with your own eyes.
If you need a bit of financial help to get started, consider applying for a personal loan. Buy video equipment even without cash on hand through these loan providers:
| Personal Loan | Loan Amount | Monthly Add-on Rate | Minimum Annual Income | Approval Time |
| --- | --- | --- | --- | --- |
| UnionBank Personal Loan | | | | |
| UNO Digital Bank Personal Loan | | | | As fast as 7 banking days |
| Metrobank Personal Loan | | | | |
| BPI Personal Loan | | | | |
| RFC Loan | | | | |
| Tonik Flex Loan | | | | |
| Tonik Quick Loan | | | | As fast as 1 hour |
| Tonik Big Loan | | | | 7 days |
| Tala Loan | | | | 24 hours |
| HSBC Personal Loan | | | | |
| CIMB Personal Loan | | | | |
| Maybank Personal Loan | | | | |
| RCBC Bank Personal Loan | | | | |
| SB Finance Personal Loan | | | | |
| CTBC Bank Personal Loan | | | | |
| PSBank Personal Loan | | | | |
Sources: