Letting go of something is never easy. Case in point: the piles of clothes you don't wear anymore. What do you plan to do with them?
If you've heard of the KonMari method from the popular Netflix show "Tidying Up with Marie Kondo," you know what to do: let go of things that don't spark joy[1].
Filipino millennials have different ways of purging unwanted stuff. A 2017 YouGov survey[2] found that 70% of them pass on old clothes to family or friends, 47% donate to charities, and 16% sell online. One in eight adults (including older generations) or 12% have tossed used clothing in the trash bin.
Rather than throwing away your clutter and adding junk to landfills, consider selling or donating to people who might need them.
Where to Sell Old Clothes, Books, and Other Used Items
Garage Sale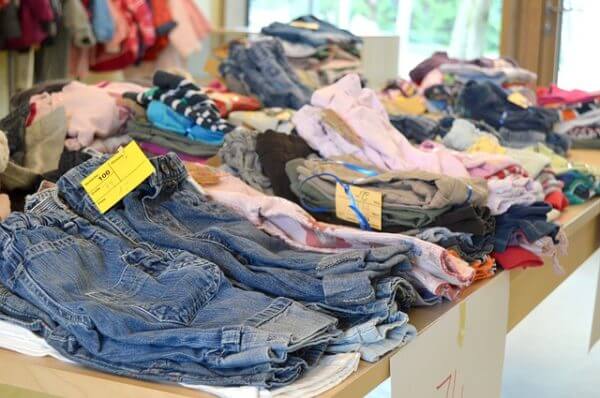 If you have the time and extra space at home, you can hold a weekend garage sale. Let your neighbors and friends know about it by distributing flyers and announcing the sale on your social media accounts.
You may even want to organize a bigger joint sale in your community. Coordinate with your neighbors, churchmates, or friends to bring all your stuff together and host a garage sale in a big venue, like a basketball court or function hall.
Online Marketplaces
No time to organize a garage sale? You can sell products online. Buy-and-sell sites such as Carousell, Shopee, and OLX allow selling of second-hand clothes, furniture, gadgets, books, and more.
These e-commerce sites make it easy for anyone to sell used items online. To start off, just create an account, upload photos of your goods, and provide the item description.
Social Networks
Selling on Facebook and Instagram is one of the fastest ways to get rid of your old stuff, especially if you have a lot of friends and followers.
Also, there are legitimate buy-and-sell Facebook groups such as Declutter MNL and Manila Furniture Buy And Sell where people can earn money from selling things they no longer use.
Charities in the Philippines Where You Can Donate in Kind
Caritas Manila's Segunda Mana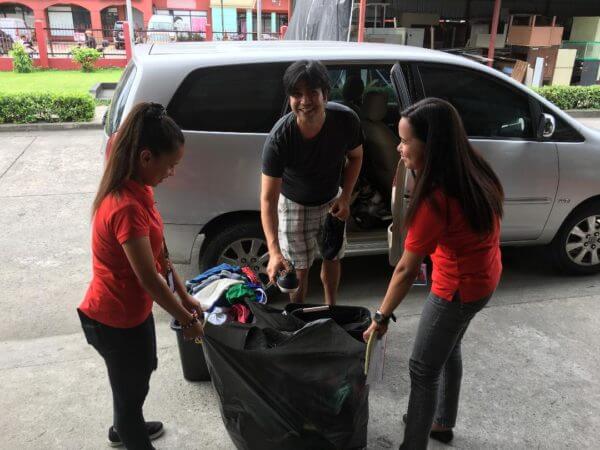 Segunda Mana is Caritas Manila's fund-raising project. Donations in kind are sold in bazaars; profits from sales are used to fund the charity's programs for the poor.
What you can donate:
Old but usable items
Used items with value
New items
Old stocks and non-moving inventories
How to donate: Call (02) 564-0205 or 562-0020 to 25 or send an email to segunda_mana@yahoo.com to schedule a donation pickup.
Citizens' Disaster Response Center (CDRC)
CDRC assists survivors of floods, fires, and other disasters. It accepts donations in kind, including used clothes in good condition, to help people in calamity-stricken areas.
What you can donate:
Old clothes
Kitchen utensils
Mats
How to donate: Visit or contact CDRC to inquire about donations.
Address: 72-A Times St., West Triangle Homes, Quezon City
Phone: (02) 929-9820
Fax: (02) 929-9822
Email: info@cdrc-phil.com
Operation Blessing Foundation Philippines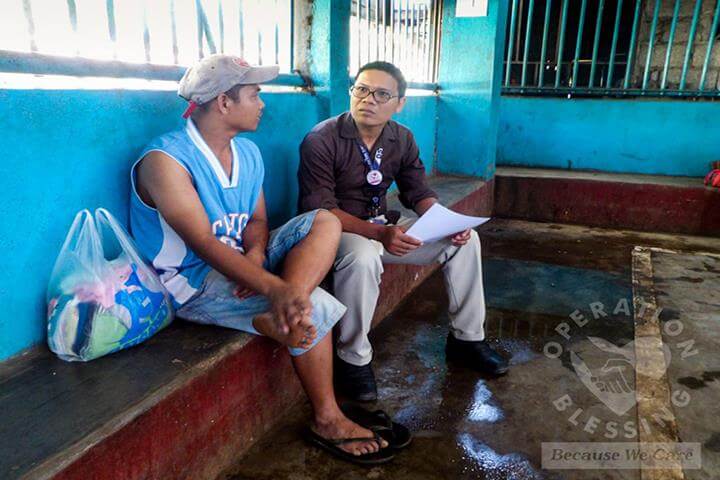 Operation Blessing is an NGO that helps disadvantaged people in the country. It accepts donations in kind.
What you can donate: Old clothes and other relief goods
How to donate: Bring your donations from Monday to Friday, 9 am to 4 pm at Operation Blessing's Manila or Davao office:
Manila office: C5 Road cor. Retelco Dr., Bagong Ilog, Pasig City (Phone: 477-7802 to 08)
Davao office: 119 Francisco Ave., Juna Subd., Matina, Davao City (Phone: 297-3080)
Precious Heritage Ministries Foundation, Inc.
If you have lots of clothes your children have outgrown, you can donate them to Precious Heritage, a non-profit organization that helps orphaned, abandoned, and less privileged kids in the Philippines.
What you can donate:
Clothes, shoes, slippers, or beddings
Utensils, pots, pans, and other kitchen essentials
How to donate: Send your donations to any of these Precious Heritage offices:
Manila office: 1340 Manuel Hizon Street, Santa Cruz, Manila
Antipolo office: Road 11, Sta. Rosa St. Purok 2, Penafrancia Hills, Cupang, Antipolo
Christian Mission Service Philippines (CMSP)
CMSP is one of the charities in the Philippines that helps the orphaned, abandoned, and less privileged children in the country. Support its cause by donating any second-hand items their beneficiaries can use.
What you can donate:
Clothes
Shoes and slippers
School supplies
Educational, sports, or recreational materials
How to donate: Deliver your donation to any of these locations:
Children's Village in San Roque, Naic, Cavite (Mobile: 0922-822-5161)
Pinagbuhatan Community Childcare at Esguerra St., Pinagbuhatan, Pasig (Mobile: 0922-843-7553)
Calaca Community Childcare in Camastilisan, Calaca, Batangas (Mobile: 0922-822-5162)
Sipocot Child and Youth Development Center in South Centro, Sipocot, Camarines Sur (Mobile: 0922-870-1238)
Project PEARLS
Project PEARLS is an NGO that helps impoverished children in the Philippines. If you have old but usable clothes your kids have outgrown, you can donate them to this charity.
What you can donate:
Slightly used summer children's and infant clothes
School supplies
Arts and crafts supplies
How to donate: Ship your donations to Juan Villa c/o Project PEARLS, 168 P. Zamora Street, Caloocan City.
Philippine Toy Library (PTL)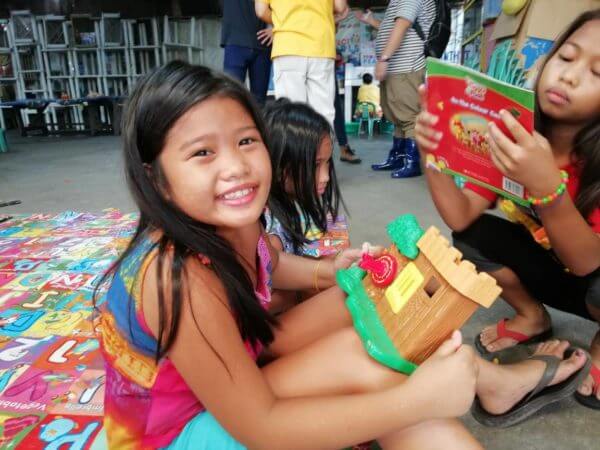 Looking to clear your home of toys your kids are no longer playing? Donate them to children in marginalized communities through PTL. The NGO also accepts books in good condition.
What you can donate:
Toys in good condition that don't promote violence (musical toys, stuffed toys, toy cars, doll houses, etc.)
Children's books appropriate for ages 3 to 10, story books, pop-up books, activity books, and picture books (Textbooks are not accepted.)
How to donate: Drop off your donation at 56 Esteban Abada St., Brgy. Loyola Heights, Quezon City from Mondays to Fridays, 9 am to 5 pm. If you'd like to send them on a weekend, email PTL first at info@toylibraryph.com.
Books For A Cause (BFAC)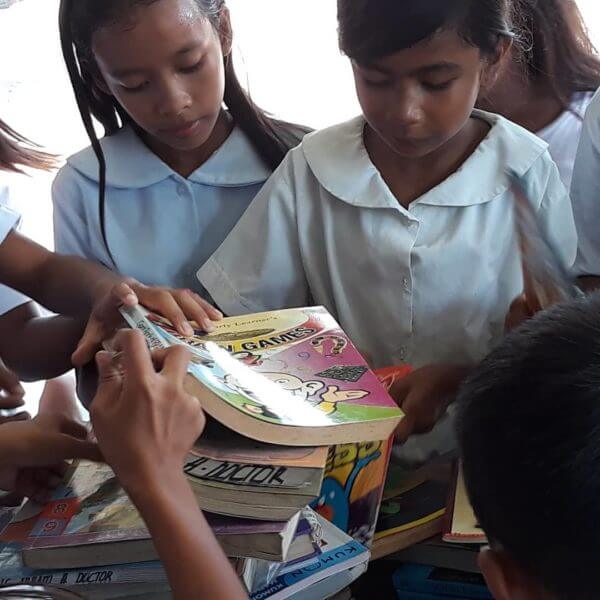 BFAC is an advocacy group that promotes literacy and love of reading[3] among children, public school students, out-of-school youth, and communities in highly depressed areas all over the Philippines.
What you can donate:
New or old books in good condition: K-12 textbooks, storybooks, other books, magazines, etc.
School supplies and learning materials
Stuffed toys
Music and movies in any format
Computers or gadgets (working or non-working)
How to donate: Send your donations to any of these BFAC locations:
BABUTS FARM, Baloy, Cuyapo, Nueva Ecija (Mobile: 0929-808-2664)
St. Pio Printing Services, 44 Plaridel St., Brgy. Dona Aurora, Galas, Quezon City (Mobile: 0917-828-5623 / 0929-808-2664)
Art Circle Cafe, Bahay ng Alumni, University of the Philippines – Diliman Campus, Magsaysay Ave., Diliman, Quezon City (Mobile: 0929-808-2664)
B42 L12 Newtnorn Drive, Robinsons Homes-East, San Jose, Antipolo (Mobile: 0929-808-2664)
Reading Club 2000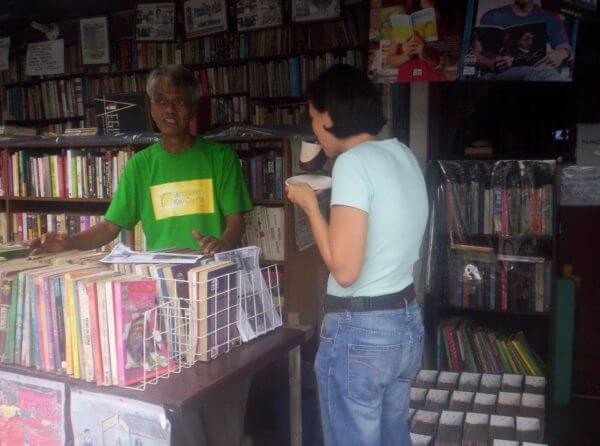 Hernando Guanlao, aka Mang Nanie, has gained media attention[4] lately because of his inspiring story. Almost 20 years ago, he converted his home in Makati into a 24/7 public library that's free and accessible to everyone. Anyone can drop by and take home an unlimited number of books.
Help Mang Nanie in his mission to provide access to books by donating your books.
What you can donate: Any books in good condition
How to donate: Visit Mang Nanie's library at 1454 Balagtas St., Brgy. La Paz, Makati and drop off your book donation. For other arrangements, you may contact him through 0935-153-3031 or send him a message at readingclub2000@yahoo.com or via the Reading Club 2000 Facebook page[5].
UP Diliman University Library
University of the Philippines alumni can give back to their alma mater by donating their old (but usable) books and other learning materials.
What you can donate: Books, DVDs, CDs, and VHS tapes in good condition
How to donate: Bring your book donations to the Acquisitions and Gifts and Exchange Section, 2/F Gonzalez Hall, University Library, UP Diliman (Phone: 981-8500 local 2853).
Habitat for Humanity Philippines ReStore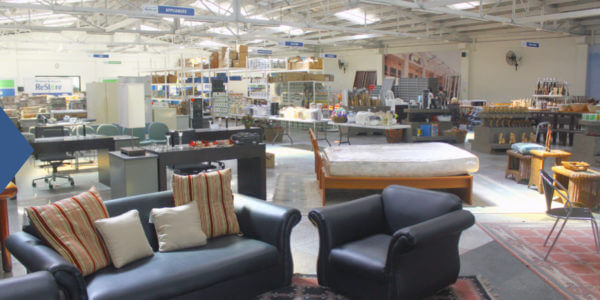 Habitat for Humanity's ReStore is where you can donate or buy cheap furniture and other home improvement items. Proceeds from selling donated home items are used to fund the housing advocacy of the non-profit organization.
What you can donate: Slightly used or gently used furniture, home appliances, home accessories, and building materials
How to donate: Drop off your second-hand furniture or appliances from Tuesdays to Sundays, 10 am to 7 pm, at Lot 2, Block 1, G-3, Alabang-Zapote Road,
Almanza Uno, Las Piñas.
ReStore also offer free pickup services from Tuesdays to Sundays, 10 am to 6 pm. To schedule a donation pickup, call 807-1169 or 856-9342 or email at restore@habitat.org.ph.
H&M Foundation
You can bring clothes you no longer wear at any H&M branch in the Philippines. In return, you'll get a 15% discount voucher per bag full of clothes (maximum of two vouchers at a time).
Depending on their condition, donated clothes are resold as second-hand clothing, repurposed into other products like cleaning cloths, or recycled into textile materials. Proceeds go to the social responsibility and recycling projects of the H&M Foundation.
What you can donate: Any used clothing from any brand, whether in good or bad condition
How to donate: Just drop off your old clothes at any H&M store nationwide.
Uniqlo Stores
Uniqlo customers can give their used clothes for donation to the United Nations High Commissioner for Refugees and other non-government organizations (NGOs). Donated clothes are given to disaster survivors, refugees, and other people worldwide who need them.
What you can donate: Old clothes from any brand
How to donate: Approach any Uniqlo staff at any branch nationwide to drop off your donation.
Final Thoughts
When you clear your home of things you don't need, you don't only create a minimalist, clutter-free living space. You also earn money on the side or support a good cause. So what are you waiting for? Start decluttering your home and sell or donate your old clothes, books, furniture, toys, and other stuff!

Sources: