The rise of cryptocurrencies and non-fungible tokens (NFTs) in the Philippines is unstoppable. One obvious testament to this is the popularity of Axie Infinity not only among gamers but also with investors. While seemingly technical, the game's actually simple and quite inclusive. In fact, it's so inclusive that it's appealing even to senior citizens.[1]
But the biggest draw of Axie Infinity is the earning potential. You can earn not just by waiting for the value of the Smooth Love Potion (SLP) to rise but also by trading them on peer-to-peer marketplaces, such as Binance P2P.
Binance P2P is one of the best platforms for selling your SLP because of its simple trading procedure. If you want to explore how Binance P2P works in line with your investment plans, here's a comprehensive guide worth checking out.
What is Binance P2P?

Binance P2P is a platform that facilitates crypto trading using your preferred currency, price, and payment method. It's basically an online marketplace where you buy and sell crypto from and to your fellow crypto investors. As such, all transactions are direct and don't require a third party.
In contrast with traditional crypto exchanges, Binance P2P doesn't have technical charts. This means that you'll need to rely on intuition coupled with personal research to ensure that you'll make money.
Read more: 5 Essentials for Cryptocurrencies: Get Started Now
Why Trade My SLP with PHP Using Binance P2P?
There are many reasons you should consider trading and converting your SLP to PHP using Binance P2P. But the bottom line is that you get to save money.
1. Transaction Fees are Considerably Lower
Using Binance P2P doesn't require you to pay humongous fees just for the transaction. According to Binance, takers won't have to pay anything while makers will be charged a small amount of fees in every completed order.
2. You Can Personalize Your Trading
You have the full authority over your trading, which means you can choose how to sell your crypto and who to trade with. When it comes to payments, Binance P2P has more than 300 methods and over 150 local currencies to choose from.
3. The Platform is Secure
Binance P2P assures traders that its platform is safe and secure. One measure that the company implements is the use of an escrow service. This means that once you find the right buyer, the crypto is just temporarily deposited until you confirm with Binance that the funds are already in your bank account.
4. You Can Name Your Price
Probably the best thing about P2P exchanges is that you have the freedom to trade your crypto at your desired price. Other than buying or selling assets on Binance P2P, you can also make your own advertisements to set your own prices.
How to Deposit SLP to Binance P2P?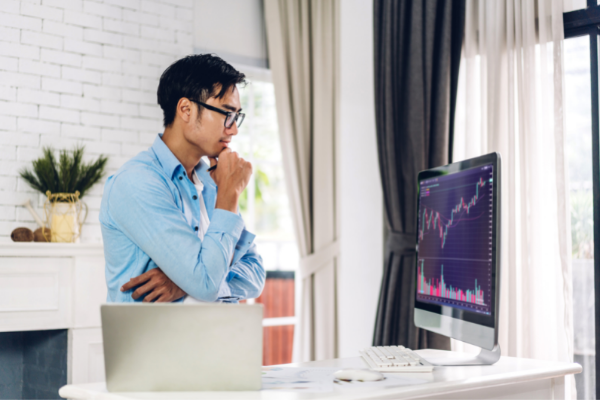 Before you trade and convert SLP to PHP via Binance P2P, you need to deposit your crypto to your Binance crypto wallet first. Here's how to do it:
On your Binance dashboard, click "Wallet" and select "Fiat and Spot."
Type "SLP" on the search bar. Then, click "Deposit."
Select a network. For this deposit, choose "Ronin."
Copy the deposit address.
On a separate window, log in to your Ronin account.
On your Ronin dashboard, select SLP, then paste the deposit address.
Input the amount of SLP you want to deposit into your Binance wallet.
Click "Next" and follow the prompt to finish the process.
How Do You Sell SLP via Binance P2P?
Basically, you have two options for trading and converting SLP to PHP on Binance P2P. Check out the following:
Direct Selling via P2P Method
Through this method, you'll be choosing a suitable buyer from the set of traders presented to you. Here's how to sell your SLP if you take this route:
On your Binance dashboard, hover over "Trade" and select "P2P."
On the next page, click "Sell." Make sure that your fiat currency is set to PHP.
Then, click the "SLP" tab.
You'll then be presented with buyers, their price offer, limit, and preferred payment method.
Once you've decided on a buyer, click "Sell SLP" and follow the prompt to finish the sale process.
Selling via Express Sell Mode
Binance's P2P express mode allows you to place an order by simply entering the fiat amount (PHP in this case) that you want to buy or sell. Here's how you can trade or convert your SLP to PHP via this Binance P2P method.
On your Binance dashboard, hover over "Trade" and select "P2P."
On the next page, click "Express Sell."
A Buy/Sell panel will appear at the center of the page. Click "Sell."
Under the "I want to sell" field, set the crypto to SLP. Then, input the amount that you want to sell.
Click the "Sell with 0 fee" button. You'll be then directed to a page showing the options on payment methods. On the same page, you'll see the best sell offer.
Select your sell offer then click the "Confirm Sale" button.
NOTE: To minimize risk, only sell your SLP to verified Binance users.[2] Verified traders have a yellow badge beside their username.
How Can I Cash Out My Earnings from Binance P2P?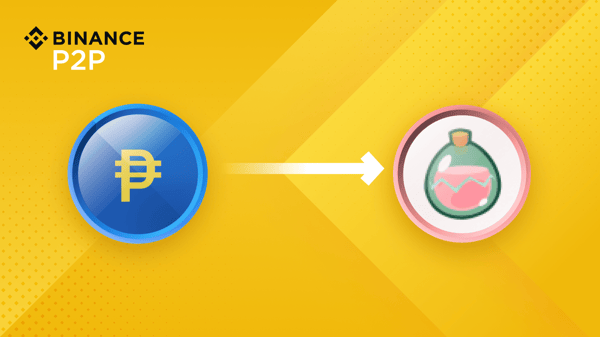 You can receive the proceeds of your sale via the payment method that you've nominated previously. The most popular ones are GCash, PayMaya, and Unionbank. After selling your SLP, check if the funds have already reached your bank account.
What's the SLP to PHP Conversion Rate?
As of this writing, one SLP is equal to ₱0.27. It's a lot lower compared to the rates in the past years, which were sometimes pegged at around ₱20. But that was during the height of Axie Infinity. Note that this conversion rate changes drastically and usually without prior notice. As such, you need to monitor the SLP value from time to time.
To guide you with your trading, you can always check the SLP price or the SLP to peso conversion rate on trusted crypto tracking websites, such as the following:
CoinMarketCap[3]
CoinGecko
Live Coin Watch
CoinCodex
CryptoCompare
Related reading: Making Money While Having Fun? It's Possible with These 30 Play to Earn Crypto Games
FAQs About SLP to PHP on Binance
Still got questions regarding the conversion of SLP to PHP on Binance, SLP value, and a few important things related to P2P trading? Read through the following, and you may find the answers that you're looking for:
1. What affects the SLP price or value?
Because SLP is a crypto, its behavior is determined by a set of factors that also affects the value of other cryptocurrencies. Much like fiat or real-life money, the price of cryptocurrencies is heavily influenced by supply and demand. For instance, the SLP value may get higher the more people get into the game.
A cryptocurrency's quality of being overbought or oversold is dependent on a lot of things. For instance, if a coin is deemed useful, many people will definitely want it in their arsenal. Endorsements by well-known personalities and media recognition may contribute to a crypto's high demand.
In the case of Axie Infinity, word of mouth has somehow driven the SLP value. A lot of Filipinos during the pandemic were looking for an extra income stream and have stumbled upon the game through recommendations and gossip. This caused both gamers and non-gamers alike to flock to the game, thus increasing the NFT and SLP value.
Two years after the Axie Infinity craze, the SLP value has undeniably gone down. This can be attributed to a variety of reasons. For one, the demand for the game might have dwindled. When more people are less interested in the asset, the asset's price falls.
2. How can I transfer my SLP from Binance to my Ronin wallet?
Purchasing items at the Axie Infinity Marketplace requires SLP. If you have SLP in your Binance account, you can transfer it to your Ronin wallet. Here's how:
On the Binance dashboard, hover over the "Wallet" tab. Then click "Fiat and Spot."
Look for SLP on your list of assets. Then click the "Withdraw" link found on its right side.
Open your Ronin wallet, copy your address, and then paste it on the address bar on your Binance account.
Replace the "ronin" tag in your address with 0X.
Under the "Network" drop-down menu, choose Ronin.
Enter the withdrawal amount.
Click the "Withdraw" button and follow the succeeding prompts to finish the transaction.
3. Are prices on the P2P platform final?
When you're trading SLP to PHP on Binance P2P, keep in mind that the SLP to PHP prices established between you and your buyer or seller are considered final and non-negotiable. As such, you need to be careful when naming or agreeing on a price.
4. Are multiple accounts allowed on Binance P2P?
Binance explicitly says on its P2P User Transaction Policy that using multi-accounts to trade on P2P is forbidden. When such accounts have been detected, Binance has the right to block all linked user accounts from trading.
5. I have a dispute with my seller/buyer. Will Binance help me resolve it?
According to Binance, the platform is not a party to the transaction between traders on P2P. As such, the disputes between the P2P traders will have nothing to do with Binance. This is because the platform neither has the rights or obligations to fix or help resolve such disputes. Moreover, it's not obliged to assume obligations, whether they're financial or non-financial in nature, to the parties involved.
6. I have an uncompleted order with the buyer. What should I do?
Trading SLP to PHP on Binance P2P may be convenient, but keep in mind that you're dealing with a real person here. As such, some problems may arise. In which case, Binance advises traders to keep their lines of communication open at all times via the email or phone number that they registered on the platform. Also, remember that Binance is not a party to the P2P transaction, which means that it has no obligation to resolve disputes between traders.
7. What are the grounds for being terminated from Binance P2P?
It's been discussed earlier that your access to Binance P2P will be blocked if you're detected using multiple accounts. But there are other grounds for the restriction, suspension, or termination of your P2P account. Here are some of them:
Binance has reasonable suspicions that you've violated the P2P User Transaction Policy.
Binance has found that you're using the platform in a way that negatively affects or prevents other users from taking advantage of the platform's services.
Binance has found that you're using profane language against other parties. It might have also been revealed that you've insulted, harassed, threatened, extorted other users, or violated or tried to violate their legal rights.
Remember that Binance can restrict, suspend, or terminate your account without notice and for a period at the platform's absolute discretion.
8. Are there other ways to strengthen the protection of my Binance P2P account?
Binance P2P is a secure platform by default. Nevertheless, it has some important guidelines that will help you enhance the protection of your account. These are also included in the P2P User Transaction Policy.
You should not include any personal details in your trading conditions or auto-replies. This information includes social networks and messengers.
You should not include "Binance," the name of the payment system or your local bank, or any sensitive words in your nickname.
Final Thoughts
Trading currencies has been around since time immemorial. It has certainly evolved and became much more inclusive, thanks to cryptocurrency. What's amazing about the modern-day trade is that it encompasses many interests, such as gaming.
If you're an Axie Infinity player or manager, you may consider trading and converting SLP to PHP on Binance P2P as another means of making money. However, always factor in the types of risks and weed out the cryptocurrency scams that are involved in this endeavor. After all, you're dealing with real people on this platform.

Sources: