Even if you're a crypto newbie, there's no excuse for not knowing Binance. After all, it's one of the leading crypto exchanges in the world. If you're dabbling in virtual currencies and looking for a place where you can trade, Binance may make a good choice of platform.
In this Binance tutorial for beginners, you'll gather everything you need to know about this massively popular crypto exchange. You can also check out our short guide on how to use the platform.
What is Binance and How Does It Work?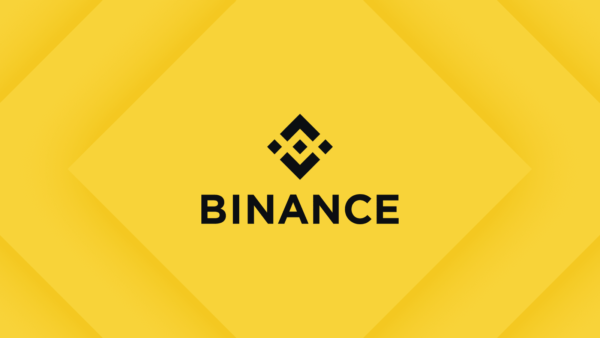 Binance is a crypto exchange founded in 2017 by Chinese-Canadian coder Changpeng Zhao or CZ. Various finance publications hail Binance as the world's largest crypto exchange, and the company has the credentials to substantiate that.
Binance claims about 1.4 million transactions are executed on the platform every second, and its website sees an average daily volume of two billion.[1]
What makes Binance unique is that its exchange works in conjunction with other Binance-branded services, thus forming a sustainable ecosystem. Here are Binance's other services:
Trust Wallet

: This is the official wallet of Binance where the exchange users can store their digital assets.
BNB Chain: This is Binance's blockchain software system, which is driven and run by community members, such as developers and contributors, around the world.
Binance Charity: This not-for-profit foundation advances blockchain-powered philanthropy and efforts. It also uses blockchain to support the United Nations' Sustainable Development Goals
Binance Academy: This is an open-access portal that provides users with learning resources and materials about blockchain in more than 20 languages.
Binance Launchpad: Users can take a peek at emerging crypto tokens with potential. These crypto tokens, which come from different projects, are thoroughly evaluated by Binance.
Binance Labs: This component identifies and invests in startups, entrepreneurs, and communities that show potential for helping the blockchain ecosystem grow.
Binance Research: This is a repository of institution-grade reports and data insights that crypto investors can use for their trade.
Read more:
Why Use Binance?
If you're looking for reasons to use Binance, check out the platform's top features below:
More Ways to Earn Money
There are more ways to make money than one on Binance. Besides trading on the exchange itself, you can hold your crypto funds and start earning. You can also do peer-to-peer (P2P) trading where you buy and sell your coins with other Binance users.
Advanced Security Features
Binance employs a host of security features to give its users peace of mind. These include the following:
Secure Asset Fund for Users (SAFU) – Binance keeps 10% of all trading fees in a secure asset fund to make sure that a share of user funds is protected.
Advanced Data Encryption – Binance uses end-to-end encryption to secure transaction data. Only you can access your personal information.
Personalized Access Control – Using the platform's advanced access controls, you have the power to restrict addresses and devices that can access your account.
Available on Various Platforms
Binance is available on mobile and desktop devices. Thanks to its availability on various platforms, you can easily trade wherever and whenever.
For mobile devices, you can download Binance from the App Store and Google Play. For desktop trading, the platform is available for macOS, Windows, and Linux. Moreover, you can access Binance via popular web browsers.
Accessible Support and Knowledge Base
If you ever have concerns and issues regarding the platform's usability, you can turn to Binance's helpline and resources. You can access 24/7 chat support on its website.
Its FAQs will provide you with detailed information on specific platform features. Moreover, Binance maintains a blog that publishes the latest stories and commentaries about the blockchain industry.
Binance Tutorial for Beginners in the Philippines: How to Create a Binance Account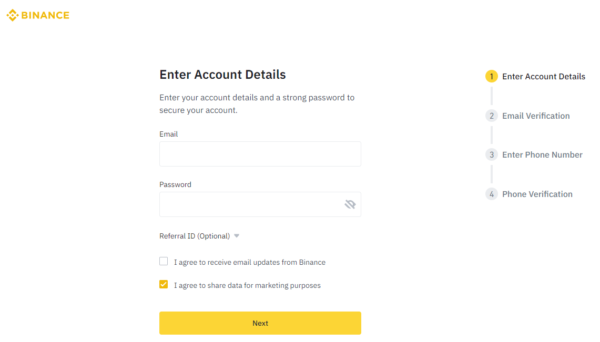 This Binance tutorial for beginners officially starts with creating an account. The good news is that Binance registration in the Philippines is surprisingly easy.
Just follow the instructions below if you don't know how to open a Binance account in the Philippines:
Go to Binance's homepage.[2]
Click the Register button found in the upper right corner of the page.
On the registration page, provide your email address and create a password.
You'll receive an email from Binance. Complete your registration by clicking the Verify Email link.
It's recommended that you secure your account, so set up your two-factor authentication right there and then.
How to Get Your Binance Account Verified
Just like other major financial institutions and crypto exchanges, Binance conducts a Know Your Customer (KYC) procedure or Identity Verification on all its new users. That way, the platform will be able to monitor suspicious behavior and prevent illegal activities.
Identity verification is an important part of this Binance tutorial for beginners. By completing the process, you get to enjoy a tier upgrade with higher withdrawal limits and lower fees. Here are the things you need to do: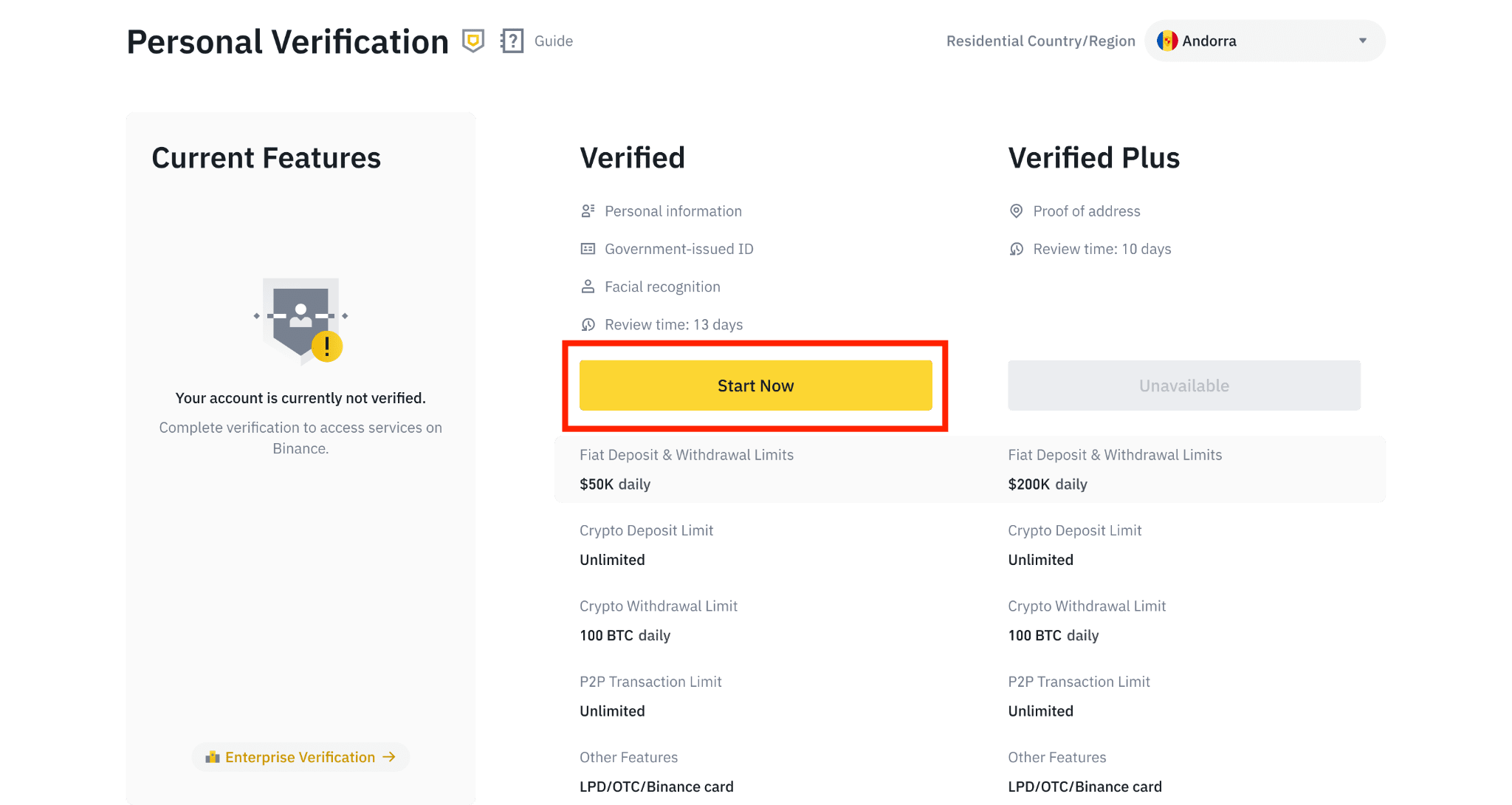 Log in to your Binance account and click the Identification link. If you're a new user, just go straight to the verification page by clicking the Get Verified button found on your homepage.
On the next page, you'll find different verification levels. Click the Start Now button of your respective verification level.
Choose your country of residence. You'll then find a list of verification requirements for your specific country or region. Click the Continue button.
Provide your personal information and click the Continue button.
Choose the type of ID you want to submit and its issuing country. Then upload pictures of your ID documents.
Once you upload the pictures of your ID, you'll be asked to take a selfie. Click the Upload File button if you have an existing one on your device.
Undergo complete face verification. Follow the system prompt and once you're done, click the Continue button. Alternatively, you can click the QR code found at the bottom right of the page. Scan it with your Binance app to finish the process.
Once you're done with the process, wait for an email from Binance. In case your Identity Verification is denied 10 times within 24 hours, try again in the next 24 hours.

How to Fund Your Binance Account
This Binance tutorial for beginners covers instructions on how to cash in Binance in the Philippines. You can add two kinds of funds to your Binance account: fiat money and cryptocurrencies. Here are the things you need to take note of:
Steps to Adding Fiat Money to Your Account
Fiat money is the legal tender issued by the government. In this case, it's the Philippine Peso. Do the following to add money to your account:
On your homepage, click the Wallet link and then the Overview link.
On the next page, click Deposit. Then click Deposit Cash.
You'll be then directed to the Deposit page. Click the Fiat tab, then choose the currency and provide the payment details, such as the amount that you want to transfer.
Click the Continue button.
A pop-up window will ask for your confirmation. Click on Confirm.
Copy the transaction's Reference Code.
Log in to your online banking account and start the transfer. Include the Reference Code in your deposit.
Read more: Coinbase Basics: How to Create a Coinbase Account, Trade Crypto, and More
Steps to Adding Crypto to Your Binance Account
In case you're an experienced investor, you can transfer crypto from your existing wallets to your Binance account. Initiate the transfer by following these instructions:
On your homepage, click the Wallet link and then the Overview link.
On the next page, click Deposit. Then, click Deposit Crypto.
You'll be then directed to the Deposit page. Choose the type of cryptocurrency that you want to deposit.
On the Deposit Network panel, choose the supported network.
Copy the deposit address on your clipboard. This address is found right below the QR code.
Log in to your other wallet or exchange account where the crypto will be coming from.
On the Withdrawal page of your other wallet or exchange account, paste your Binance account's deposit address. Specify the amount that you want to send. After that, hit Send.
Alternatively, you can directly buy coins using your credit or debit card. Here are the steps: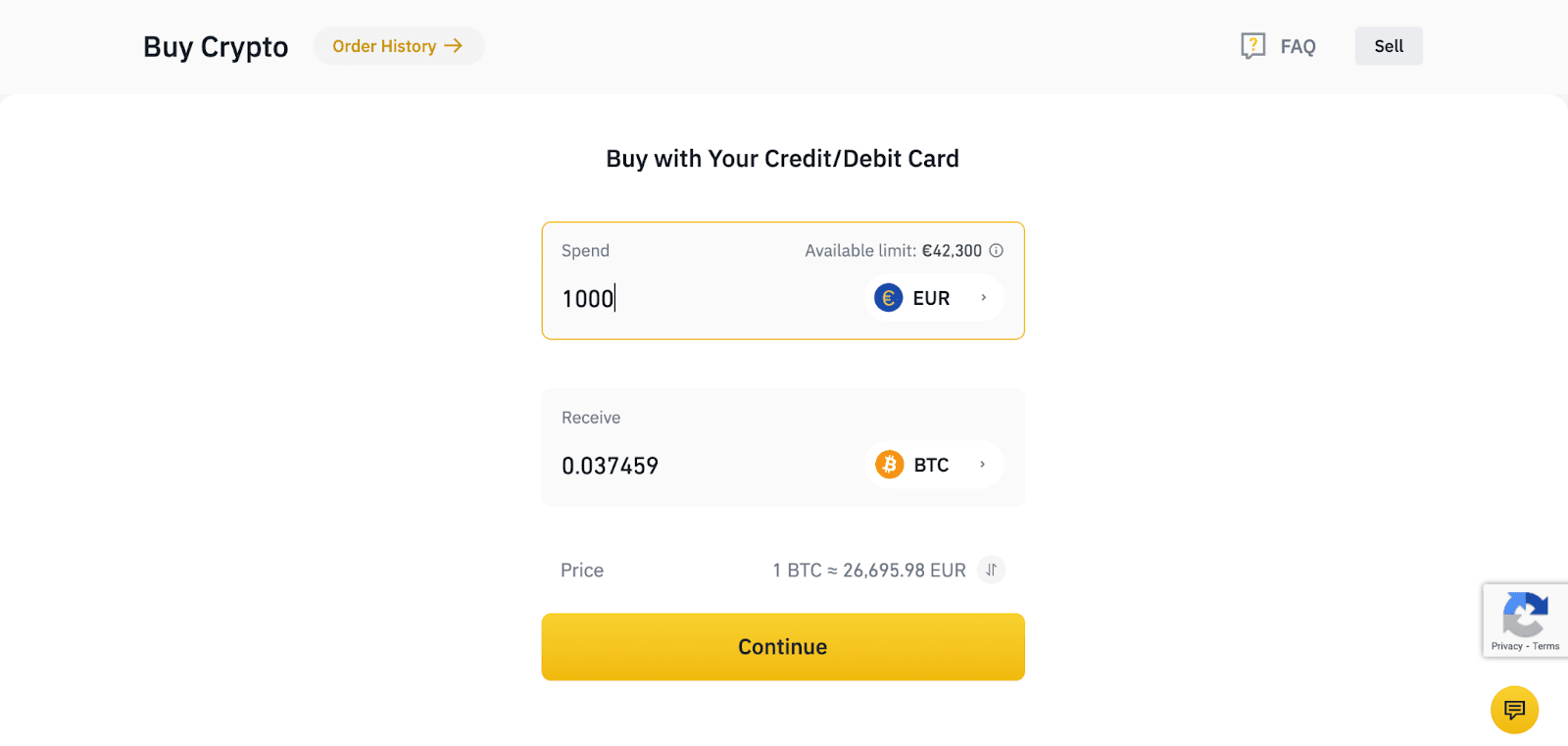 On your homepage, click the Buy Crypto tab.
Click Credit/Debit Card.
On the next page, select the coin that you wish to buy.
Enter the fiat amount that you want to purchase. While you're at it, you can choose the fiat currency that you want to use. Click Continue.
Click Add New Card. Provide your card details. Only use cards in your name.
Key in your billing address and click Add Card.
Check the order details. Click on Confirm to proceed.
You'll be redirected to your bank's OTP page. Follow the instructions to complete the payment process.
Wait for the crypto to be credited to your Binance wallet.
How to Use Binance App for Trading Cryptos
This section of the Binance tutorial for beginners will teach you how to use the platform for trading. At this point, it's important to understand that Binance has several trading methods, which can be quite complex and overwhelming.
With that, this guide will focus on basic trading. Here's how to trade in Binance Philippines:
On your homepage, click Exchange then click Basic.
Pick a trading pair. A trading pair consists of coins that can be traded for each other on Binance. For instance, if you choose an XRP/ETH pair, it means you can trade Ripple for Ethereum and vice versa.
After that, pick your type of trade. Binance offers a few kinds of trades, such as market orders, limit orders, and stop-limit orders. For simplicity, this guide will focus on market orders. When you choose this order, you can buy or sell coins at their current market price.
Indicate the Buy or Sell amount. Then, click the Buy or Sell button.
Read more: Game and Trade: How to Convert Your Axie SLP to PHP Using Binance P2P
Want to Earn Extra? Try Binance's Learn & Earn Program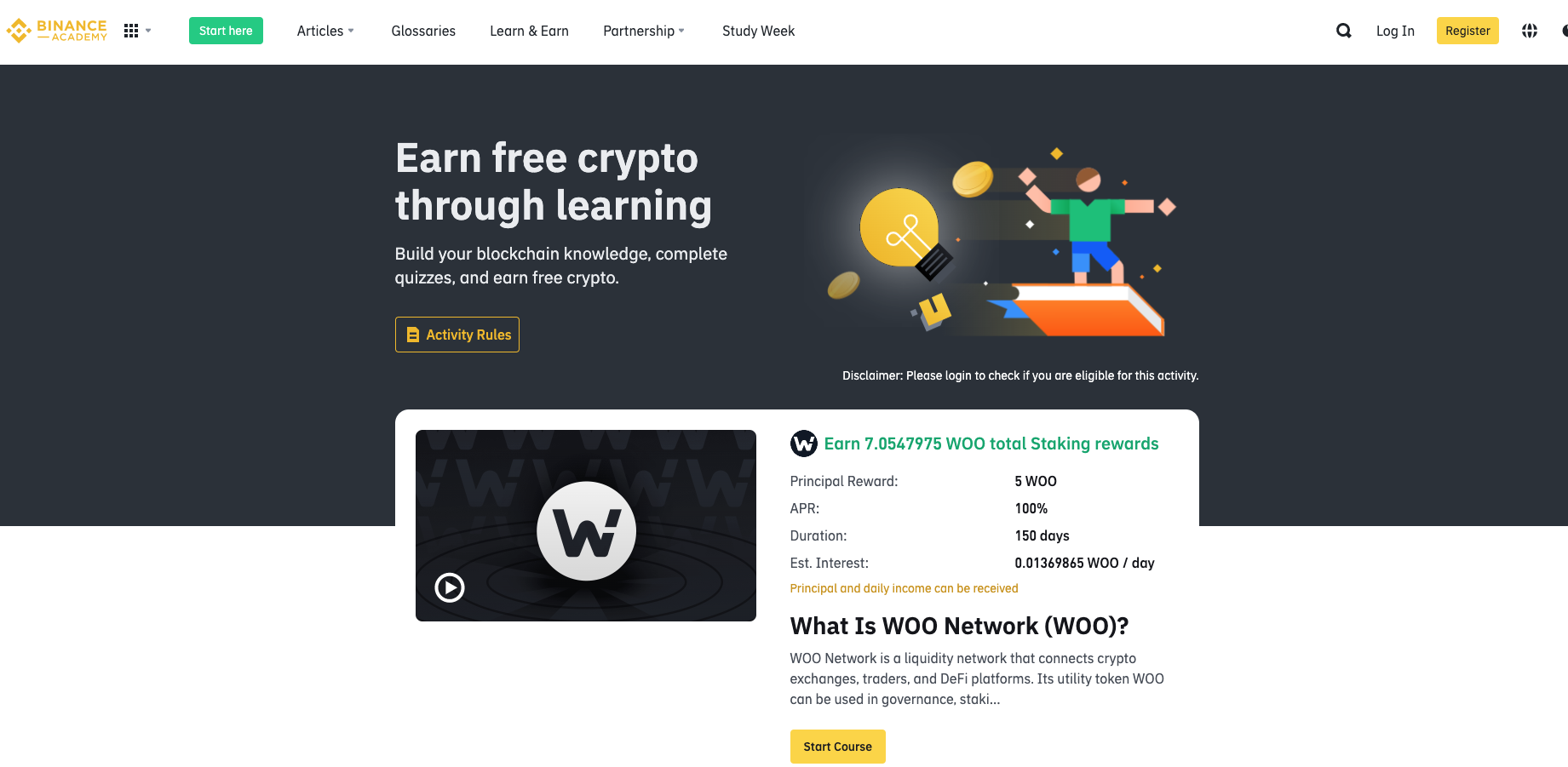 If you're a newbie, you may not find it easy to make money out of trading right away. However, you can actually earn through your inexperience! Enter the Binance Learn & Earn program.
Binance Learn and Earn is a Binance tutorial for beginners through which you can accumulate blockchain knowledge and complete quizzes for a chance to earn some free crypto. Want to participate? Here's what you need to do:
Log in to your Binance account.
On Binance Academy, click the Learn & Earn tab.
On the next page, you'll see a list of available courses. Each course comes with a specific crypto amount to earn at the end of the learning session.
Choose a course and follow the instructions to access the content.
Complete the quiz. If you pass it, you'll receive a token voucher. Note that the rewards are distributed in 48 hours if you pass the quiz or you're qualified for this program.
Click Reward History to see if the reward has already been distributed. The voucher is only valid for 14 days from the day of its distribution. As such, claim your tokens as soon as they're distributed.
Redeem your rewards by clicking Account then Reward Center.
Important: Only Binance users who completed their Identity Verification are eligible for the crypto rewards.
Binance Tutorial for Beginners FAQs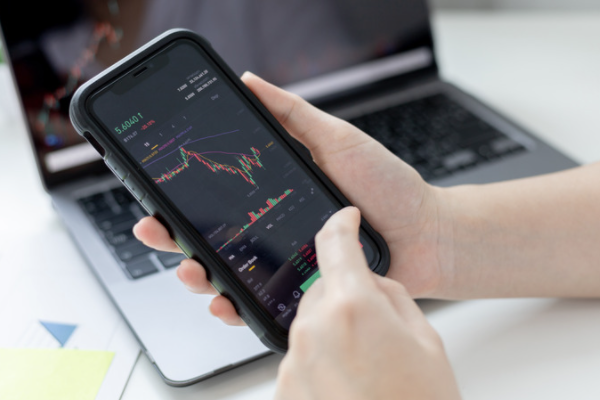 While you already have an idea of how to use Binance for beginners, you may still have some questions regarding the platform. Check out the frequently asked questions below if you want to clear some things up.
1. Is Binance safe?
For transparency's sake, Binance became a victim of hacking in 2019. Hackers stole more than US$40 million worth of Bitcoin from the exchange.[3] Despite that, Binance promised to cover all the losses with the help of its insurance fund. Since then, the exchange strengthened its security systems.
Even if you have confidence in Binance, you may want to strengthen your account's protection with the following handy tips:
Enable two-factor authentication (2FA). Binance recommends using Google Authenticator.
Use a strong and hard-to-crack password. Never ever share it with anyone.
Never answer calls from anyone who claims they're a Binance employee. Never send them money.
Using the Device Management tab in your account, check the devices authorized to access your Binance account. Remove devices you don't recognize. While you're at it, check the account activity and the IP address from where your account has been accessed.
2. Is Binance legal in the Philippines?
It's technically a gray area. Binance is a legitimate company based abroad with a global reach. But it isn't registered with the Securities and Exchange Commission (SEC) and Bangko Sentral ng Pilipinas (BSP).
Department of Finance Secretary Carlos Dominguez said that investors in the country using Binance cannot get legal protection from the BSP, since the platform is not supervised by them.[4]
On the other hand, Binance sought to procure two licenses in the country earlier this year. Binance claims its application process in the Philippines is going smoothly.
3. What coins can I trade on Binance?
Binance supports more than 350 cryptocurrencies. Other than the most popular ones like Bitcoin and Ethereum, you can trade the following coins and more at the exchange:
Tether (USDT)
Ripple (XRP)
Uniswap (UNI)
Cardano (ADA)
Solana (SOL)
Terra (LUNA)
Dogecoin (DOGE)
Avalanche (AVAX)
Polkadot (DOT)

Shiba Inu

(SHIB)
Polygon (MATIC)
Read more: eToro for Beginners: A Quick Guide on Using This Crypto Trading Platform
4. Does Binance charge fees?
One of the features that draw investors to Binance is its low trading fees. They're even considered some of the lowest in the industry. Binance doesn't charge fees when you make deposits into your account. On the other hand, withdrawal prices are determined by the blockchain network, meaning rates may fluctuate without prior notice.
Binance, nevertheless, gives its users some perks to help them save money. For instance, when you use Binance Coin to pay your trading fees, you also cut down your fees by 25%. For Bitcoin trading, select trading pairs will not incur any fees.
5. Can I store NFTs on Binance?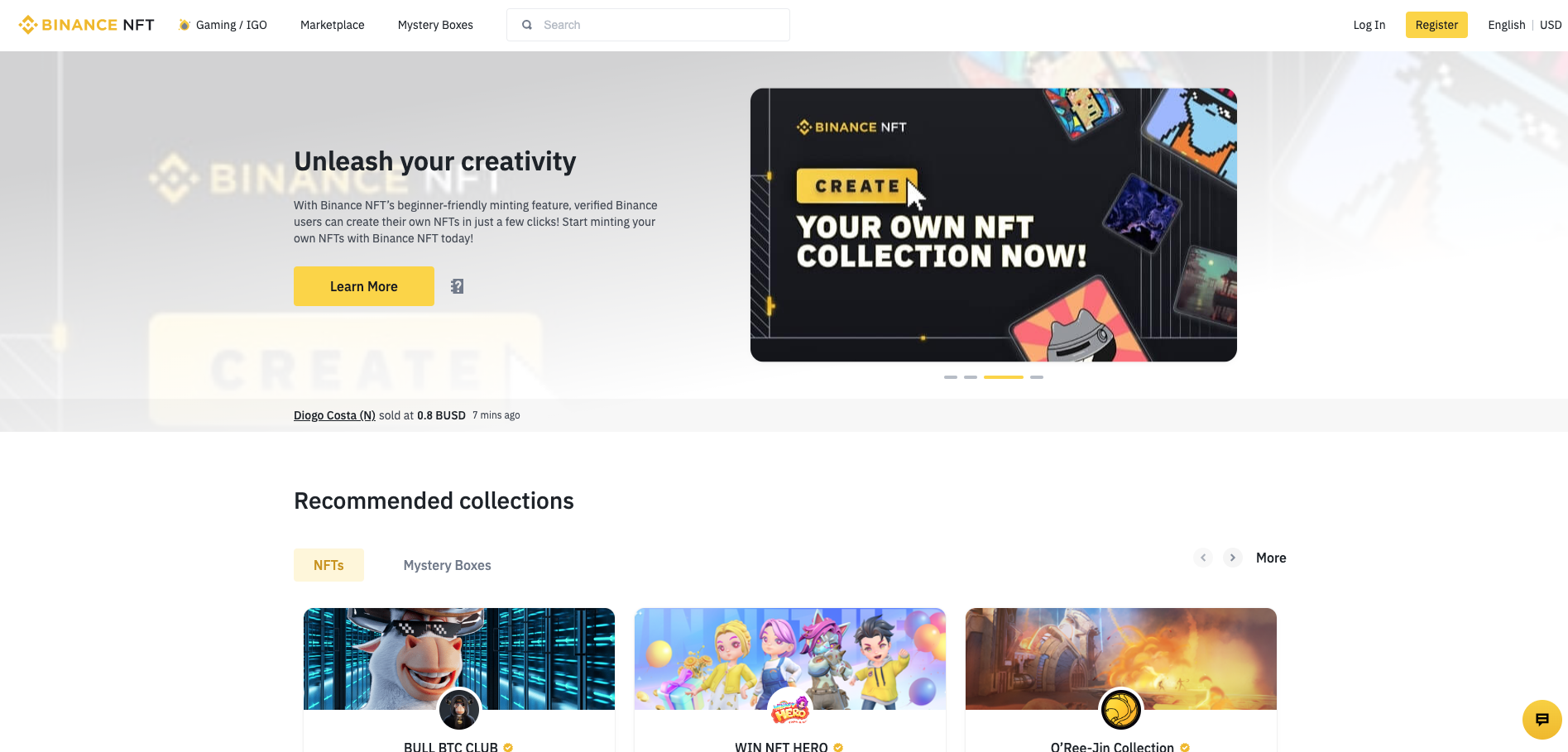 If you're investing in non-fungible tokens or NFTs, such as digital art or collectibles, you can deposit them into your Binance account. You can do so by logging in to Binance's NFT portal.[6]
Read more: From Digital Art to Music: These NFT Celebrities are Earning Serious Money
Final Thoughts
Learning how to use Binance can be quite overwhelming. What you've read here is just the tip of the iceberg. There are still a lot of things to cover, and we recommend that you look for supplementary Binance tutorial beginners.
When you buy or sell on the Binance trading platform, don't rush things out. The learning curve can be quite steep, but you have to be patient to avoid costly mistakes and losses.

Sources:
DISCLAIMER: Information published on this blog or elsewhere on www.moneymax.ph should be used for general information purposes only and does not constitute investment advice, performance data or any solicitation or recommendation that any security, investment product, transaction or investment strategy is suitable for any specific person. This material does not take into account your financial situation, risk tolerance level, investment experience or objectives; all of which are unique to you.
You should be aware that the value of virtual currencies (VCs) including cryptocurrencies may fluctuate greatly. As with any other type of investment, you should know and fully understand VCs before investing in such a product. You should only buy if you are prepared to accept the risk of losing all of the money you put into VCs.
Before acting on information on this blog, we suggest consulting an independent professional to advise you on the risks of any decision and the extent of any exposure to loss.