Think about the last time you made a purchase. Chances are, you used your debit or credit card to make the payment. But what if there was a way to make those purchases without giving out your personal information? Trust Wallet is a crypto wallet that allows you to do just that.
You can use it to store, send, and receive various cryptocurrencies. It's popular among Filipinos who want to invest in digital currencies because it's user-friendly and free. In short, it's a great crypto wallet option that allows you to store and manage various cryptocurrency holdings.
But there's more to Trust Wallet. In this article, learn what Trust Wallet is, what you can use it for, and how to set one up. More importantly, get the answer to your most burning question: is Trust Wallet safe?
What is Trust Wallet?

Trust Wallet[1] is a cryptocurrency wallet that allows users to hold, send, and receive digital assets. It supports major cryptocurrencies such as Bitcoin, Ethereum, Ripple, and Cardano, including more than 160,000 digital assets such as coins and tokens.
Moreover, Trust Wallet is a non-custodial wallet, which means that you're the only person who has access to your private keys and the only person responsible for securing them. It also has a simple and user-friendly interface that makes it easy for beginners to use.
Trust Wallet has a built-in exchange that allows you to exchange digital assets for other cryptocurrencies. Trust Wallet also supports staking where you can earn rewards for holding digital assets for the long term.
What Do You Use a Trust Wallet For?
There are a few different ways to use Trust Wallet. One is to store your cryptocurrencies. This is a safe and secure way to keep your coins off of exchanges and away from hacking attempts.
Another way is to store, buy, and sell BNB coins[2] and use them whenever you trade on Binance or swap them for other tokens. This allows you to trade directly from your Trust Wallet, which can be handy if you want to avoid high fees or trades being delayed due to slow confirmations.
You can also use your Trust Wallet to stake crypto assets if you want to grow the value of your money. Staking is a process where you can earn rewards for holding onto your coins or tokens for a period of time. This can be a great way to earn some passive income and help support the network of a particular coin or token.
You also don't have to pay for subscription fees. Just pay for the network fees whenever you transfer coins and tokens.
What else can you do with Trust Wallet? You can also do the following: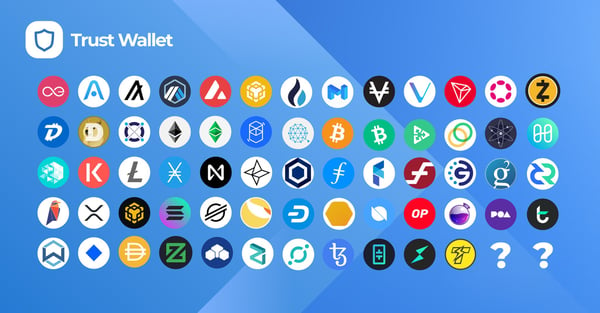 Buy and sell Bitcoin, Ethereum, Ripple, and other large-cap cryptocurrencies
View price charts of coins you follow for technical analysis
Exchange coins directly, like ETH to USD Tether, and just pay for the network fees (no more intermediaries)
Receive coins straight to your mobile app
Take advantage of decentralized finance tokens to lend or borrow
Use it as your mobile wallet to send crypto to other establishments and individuals that accept crypto payments
Explore decentralized applications and trade assets anonymously
How Do You Set Up a Trust Wallet?
Trust Wallet is very easy to set up. You just need a mobile phone that runs on iOS or Android platforms. For iOS users, you can download the Trust Wallet from the App Store[3]. Android users can download it from the Google Play Store[4].
1. After downloading the Trust Wallet app, launch it on your smartphone and tap Create a New Wallet.
2. Tick the box to agree to the Terms of Service and Privacy Policy.
3. You'll see the Secret Phrase (12 words). Write them down as these will allow you to retrieve your wallet. Secure your phrases and don't lose your copy. If you lose these 12 words, you can't recover your funds. And if you share them with anybody, there's a higher chance your funds might get stolen or hacked.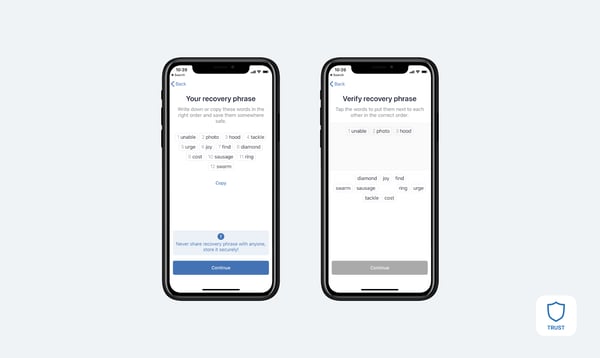 4. Tap Continue.
5. You'll see the main dashboard of the wallet. Now you can start buying and selling digital assets!
Read more: Investors, Beware: Common Cryptocurrency Scams and How to Avoid Them
How Do You Put Money in Trust Wallet?
Adding funds to your Trust Wallet is super easy. Simply tap the Receive button on the screen, and a list of coins and tokens will appear.
For example, if you want to add BTC to your Trust Wallet, just click BTC and you'll see a QR code or wallet address. Scan it, copy and paste it, or share it with the sender. You'll then receive BTC in your wallet.
The process is the same with other coins and tokens. But make sure you click the corresponding coin and copy the correct wallet address.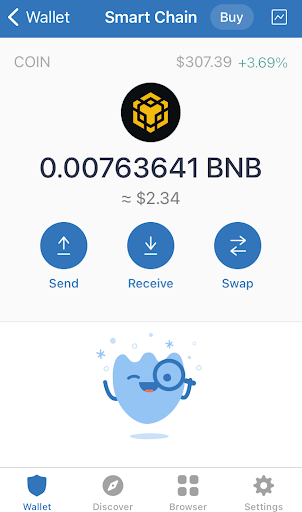 In addition, you can directly swap your Smart Chain to BNB and Binance Chain. It also works with other coins. For instance, you can swap ETH to other ERC20 tokens like Gala, OlympusDAO, and Floki, just to name a few.
Related article: What is Trezor Wallet? See If It's the Right Crypto Wallet for You
What are the Trust Wallet Fees?
There are generally no fees associated with using Trust Wallet. However, if you want to transfer your Trust Wallet balance to Binance, there's a small transaction fee. The fee amount will depend on the size of your transaction and the network conditions at the time. Typically, it will cost around $0.01 to transfer money from Trust Wallet to Binance.
Overall, Trust Wallet is an excellent choice for those looking for a wallet with low fees and is easy to use.
What is Trust Wallet Staking?
As earlier mentioned, staking[5] is the process of holding funds in a cryptocurrency wallet to support the operations of a blockchain network. Essentially, it involves locking up your tokens to receive rewards in return.
Staking allows you to earn interest in your cryptocurrency holdings. You must first deposit your cryptocurrency into a Trust Wallet account to do this. Depending on the interest rates per annum, you can then stake your holdings in the short or long term.
To find available tokens for staking, just tap the Discover button at the bottom to see the list. You can earn from 5.06% to 65.95% per annum from different tokens.
To stake Solana, for example, just tap the token and then Stake. Again, you must have Solana tokens in your wallet to do this.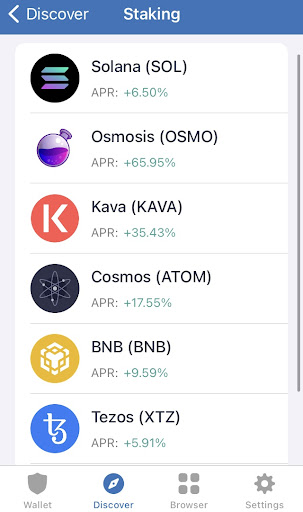 Is Trust Wallet Safe?
Trust Wallet is an official product of Binance, one of the largest cryptocurrency exchanges in the world. In July 2018, Binance acquired Trust Wallet, and the team remains in control of the development of the wallet.
Trust Wallet is a Hierarchical Deterministic (HD) wallet[6], meaning that it generates a new and unique address for each transaction. HD wallets provide increased security, making it more difficult for hackers to steal your coins.
In addition, Trust Wallet provides two-factor authentication (2FA) to help keep your coins safe. It's a safe and legit mobile crypto wallet perfect for storing Ethereum and Ethereum-based tokens. And the fact that it's an official product of Binance gives it even more credibility.
Trust Wallet is worth considering if you're looking for a safe and trustworthy mobile wallet. As long as you don't share your secret keys, login credentials, and even your smartphone with others, then your funds are safe.
Read more: Investments for Beginners: Find the Right Investment for You
Final Thoughts
Trust Wallet is one of the most popular cryptocurrency wallets out there, and for good reason. It's user-friendly, has a wide variety of supported coins, and doesn't charge fees.
But with great power comes great responsibility. Before you download and start using Trust Wallet, make sure you're fully aware of what it is and how to use it.
Trust Wallet is a safe crypto wallet. But as with any cryptocurrency-related product or service, it's always important to do your own research and stay up-to-date on the latest news and developments to make the most informed decisions possible about storing your digital assets.

Sources:
DISCLAIMER: Information published on this blog or elsewhere on www.moneymax.ph should be used for general information purposes only and does not constitute investment advice, performance data or any solicitation or recommendation that any security, investment product, transaction or investment strategy is suitable for any specific person. This material does not take into account your financial situation, risk tolerance level, investment experience or objectives; all of which are unique to you. Before acting on information on this blog, we suggest consulting an independent professional to advise you on the risks of any decision and the extent of any exposure to loss.