Are you thinking of investing in Bitcoin or other cryptocurrencies? If so, you'll need a reliable and safe place to store your digital assets like coins and tokens. And you may be wondering if Trezor is a good crypto wallet.
The Trezor hardware wallet has been around for quite some time now. It's often considered as one of the best crypto wallets. But does it hold true? In this article, we'll tell you what Trezor is, and we'll take an in-depth look at its features to know whether it's the right wallet choice for you.
What is a Trezor Wallet?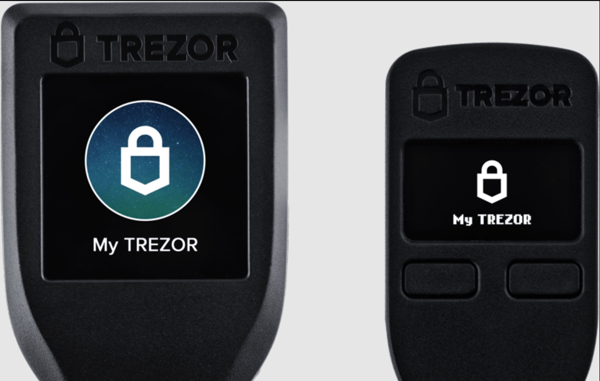 A Trezor wallet[1] is a hardware wallet that helps you store, send, and receive cryptocurrency. Unlike a software wallet stored on your computer or mobile device, a Trezor crypto wallet is a physical device that you can connect to your computer.
The Trezor wallet looks like a small USB stick and has a small screen that shows your balance and transaction history. When you want to make a transaction, you simply connect the Trezor wallet to your computer and enter your PIN.
It then generates a unique transaction address that you can use to send cryptocurrency. This small and portable hard wallet stores your private keys offline, so they can't be hacked.

Trezor also has a desktop app where you can enjoy its secure features all in one Trezor software suite. It's easy to use, making it a good choice for people new to cryptocurrency, especially those who want to invest in Bitcoin and other coins.
How Does a Trezor Wallet Work?
Trezor works by storing your cryptocurrencies offline in cold storage. This means that your private keys are never exposed to the internet and, therefore, cannot be hacked. The Trezor wallet also offers other security features such as a PIN code and passphrase protection.
To use Trezor, you'll need to connect it to your computer or mobile device via the USB port. Once connected, you'll be able to access your cryptocurrencies through the Trezor interface.
To send cryptocurrencies from your Trezor wallet, you'll need to confirm the transaction on the Trezor device itself. This is done by physically pressing the button on the device. This extra security layer helps ensure that your funds are safe even if your computer or mobile device is compromised.
Key Functions of the Trezor Wallet
Here are some of Trezor's other functions in case you're planning to get one for yourself.
Primary hard wallet for Bitcoin and other coins - It's one of the safest ways to store Bitcoin and other coins like Ethereum, Litecoin, DASH, Cardano, etc. in a single wallet.
Easy Ethereum integration - Easily connect MyEtherWallet using the same seed phrase protected with a secured technology.
Password manager features - Instead of saving your passwords on a web browser, you can try Trezor's password management app that lets you encrypt passwords and sync them directly to your private cloud.
Two-factor authentication - To make sure you're the only one who can access your account, Trezor supports two-factor authentication to secure all your online accounts.
Connect third-party wallets - Easily manage your transactions by connecting other crypto wallets securely. These wallets can't read your Trezor's private keys, but they display the balances of your wallet.
Related:
How Much is a Trezor Wallet?
So what's the Trezor wallet price in the Philippines? The Trezor Model T wallet costs €249 on the official website, which is approximately ₱14,000. You can also get the cheaper Trezor Model One for €69 (approximately ₱3,900). Unfortunately, Trezor isn't shipping orders directly to the Philippines. But you can still buy from resellers[2] in different parts of the globe, including Lazada.
Read more: Compare the Best Cryptocurrency Trading Platforms in the Philippines!
How Do You Set Up a Trezor Wallet?
You need to do a few things before you can use the Trezor wallet to transfer crypto coins from one wallet to another. Here's how to set it up:
Connect your Trezor device to your computer using the USB cable. You should hear a slight click if it's properly connected.
Open your web browser and go to trezor.io/start for a walkthrough on the process. Just follow the instructions on the screen.
Install the latest firmware on your Trezor USB device. Note: A new device shouldn't have a firmware already installed. Contact the Trezor Support Center[3] if you have a pre-installed firmware on your device.
Create a new wallet on your device and generate a unique seed or private keys that will protect all your assets. Remember these keys and never share them with anyone. Don't forget to create a backup of your wallet by writing down the recovery seed.
Label your device and set up your PIN code. You'll always be prompted to enter your PIN code whenever you initiate a transaction on your wallet to prevent unauthorized access.
Important note: Always remember your recovery seed or private keys. Write them down and keep them in a safe place. If you lose your wallet, you can still recover it using those same keys. But if you lose your keys, you'll lose your funds forever.
How to Transfer Crypto to Trezor Wallet
Trezor wallet supports more than 1,000 coins and tokens[4], so you can save as many as you like and HODL (a funny misspelling and popular term among crypto investors which means hold on for dear life). Its interface is straightforward and easy to use. Once you set up your wallet, you can already view your coins and balances.
To receive a payment or transfer coins, here's how to do it.
Select the coin. For instance, if you expect to receive Bitcoin, just choose Bitcoin on your wallet.
Click the Receive tab. You'll see the receiving address of your coin.
Click 'Show full address' to verify it.
Just copy the address and share it with the sender to receive the coins or tokens.
Trezor recommends creating a new address whenever you initiate new transactions to keep your wallet private.
Read more: Shiba Inu Coin 101: What You Need to Know About This Popular Coin
How to Send Crypto Using Trezor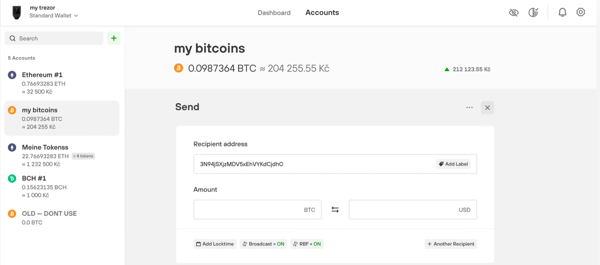 When sending coins to other wallets, just follow these steps.
Choose the cryptocurrency you want to send and the account you want to send the amount to.
Click the Send tab.
Manually enter the address or the QR code of the recipient, plus the amount you'll send.
Click 'Send'.
To confirm the transaction, press Confirm on your Trezor device.
Has Trezor Been Hacked?
When it comes to digital security, there's no such thing as being too careful. That's why many crypto enthusiasts choose to store their assets in a hardware wallet.
Hardware wallets are considered more secure than software wallets because they're offline and less vulnerable to hacking. But nothing's perfectly secure. So people also wonder, "Has Trezor been hacked?"
Kraken Security Labs has found some critical flaws in Trezor wallets[5] where they were able to extract seeds. The attack only took 15 minutes to complete. However, this doesn't mean that you shouldn't use this wallet anymore.
Although there are inherent flaws in the Trezor hard wallet, Kraken recommends that to protect your digital assets, you shouldn't let anyone access your wallet and to always enable the BIP39 passphrase as added security.
Final Thoughts
So now that you know what a Trezor wallet is, do you think it's the hardware wallet for you? It certainly has notable features that make it appealing. Moreover, it's been around for a while, a sign that many customers are confident in its capacity.
But as with any investment, always do your research before buying anything. Be more aware of cryptocurrency scams out there. Make sure you understand how the Trezor wallet works and how to use Trezor safely before investing your hard-earned money.

Sources:
DISCLAIMER: Information published on this blog or elsewhere on www.moneymax.ph should be used for general information purposes only and does not constitute investment advice, performance data or any solicitation or recommendation that any security, investment product, transaction or investment strategy is suitable for any specific person. This material does not take into account your financial situation, risk tolerance level, investment experience or objectives; all of which are unique to you. Before acting on information on this blog, we suggest consulting an independent professional to advise you on the risks of any decision and the extent of any exposure to loss.