Just got engaged? From picking the perfect wedding dress and assembling your wedding team to visiting different churches and choosing your wedding venue, you're up for a happy kind of stress. But don't get consumed by euphoria yet—remember that a wedding is a major expense you and your future spouse must prepare for.
So, how much does a wedding cost in the Philippines? Keep reading to learn what should be included in your wedding checklist in the Philippines and how to plan for it financially.
What to Do Before Planning Your Wedding
Before getting married, you and your partner should meet some legal requirements. According to Philippine law under Executive Order No. 209,[1] both you and your partner have to fulfill these marriage requirements in the Philippines in 2023:
Both parties must be at least 18 years old, male and female

If you or your fiancé is below 25 years old, you must get parental consent or advice

Marrying parties must not be related by blood, up to the fourth degree

Must not have any legal impediments
Once you're sure you fulfill these criteria, it's time to identify your needs and wants for your wedding checklist in the Philippines.
Church Wedding vs. Civil Wedding: Which Do You Prefer?
Before creating a budget and preparing the requirements, you need to identify which of the two options you want.
Both church and civil weddings require a marriage license. While the paperwork for legalizing your union as a couple doesn't cost much, it adds up to your total wedding budget. Here are the legal documents you need before getting married:
NSO birth certificates of the bride and groom

Certificate of No Marriage or CENOMAR

Community tax certificate or cedula

Certificate of attendance in pre-marriage seminar

Affidavit of parental consent or advice (for couples below 25 years old)

Marriage license
👉 How to Get a Marriage License in the Philippines
To get your marriage license, go to the Civil Registrar and pay the ₱330 fee, which already includes the processing fee. It takes 10 days before you get your marriage license because your marriage will be publicly posted to check if no one opposes your upcoming nuptials. After getting your marriage license, you can get married within 120 days.
Civil Wedding

Requirements

in the Philippines in 2023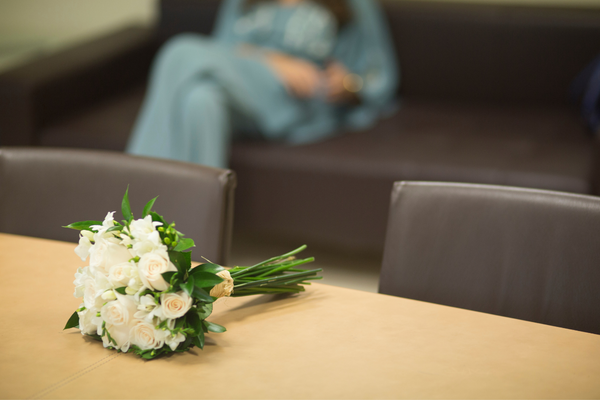 How much is a civil wedding in the Philippines? Compared to those of a church wedding, there are fewer civil wedding requirements. It's why couples opt for a civil wedding ceremony when they just want to get married and legalize their union.
If you're planning to have a simple wedding, here's a look at civil wedding requirements and costs.
💐 Civil Wedding

Requirements

2023
At least two valid IDs of the couple during their personal appearance

Certificate of Attendance in Pre-Marriage Counseling

PSA Birth Certificate

Certificate of No Marriage

Marriage License Application Form

Barangay Certificate

Community Tax Certificate

1×1 picture
Additional Civil Wedding Requirements for Foreigners
Certificate of Legal Capacity to Marry

Divorce Decree (if divorced)

Naturalization Paper (if a naturalized Filipino citizen)
💐 Civil Wedding Cost

in the Philippines
This type of wedding is ideal if you're on a budget because civil wedding expenses are significantly lower than those of a church wedding. You can get married in a simple civil wedding ceremony in your city's municipal hall. You can also hold the ceremony, followed by your reception, in a private venue.
So what's the price of a civil wedding in the Philippines? There's no magic number, but you'll do well to set aside around ₱10,000. This budget already includes the officiating fee and legal documents.
But if you hold the wedding in a restaurant with a private function room, the price will depend on how many hours you'll use the venue, the number of guests, and the food you'll serve. You can opt for a party menu package or order off the menu ala carte, prices of which typically start at ₱5,000.
Know your needs and preferences beforehand so you can set aside a decent civil wedding budget.
---
🛍️ Fund Big Purchases, Celebrations, and Milestones with an #UNOnow Loan

Buying gadgets, tools, and equipment for work or business? Gearing up for life milestones such as a wedding or a baby? Looking for ways to fund your child's tuition fees?
If you want both convenience and high loan amounts, check out what UNO Digital Bank has to offer. With an #UNOnow Loan, you can borrow funds starting at ₱10,000 up to ₱200,000 with a low monthly interest rate of 1.79%. You can pay it back in six, 12, 18, 24, or 36 monthly installments.
Apply for an UNONow Loan via Moneymax now!
---
💐 Who Can Officiate My Civil Wedding?
The following individuals can officiate a civil wedding:
Chief Justice and Associate Justices of the Supreme Court

Presiding Justice or Justices of the Court of Appeals

Judges of the Courts of First Instance

Mayors

Municipal judges

Justices of the peace

Priests, rabbis, ministers of any church, religion, or sect who are registered

Ship captains

Airplane chiefs

Military commanders

Consuls and vice consuls in special cases
Judge Fee for Civil Weddings
How much you need to pay for a judge to officiate your civil wedding will depend on whether you hold it on a weekday or a weekend, and where your ceremony will be held. Typically, judge fees for civil weddings start at ₱8,000.
Mayor's Fee for Civil Weddings
The mayor's fee for a civil wedding in the Philippines is usually free of charge if you plan to get married at the city hall. In other cases, you only need to pay a small amount (around ₱300) as a solemnization fee. The only downside is the mayor can cancel at the last minute when an emergency or an urgent matter arises.
Related reading: Marriage Contract in the Philippines: How to Get One After Saying "I Do"
Church Wedding Requirements in the Philippines in 2023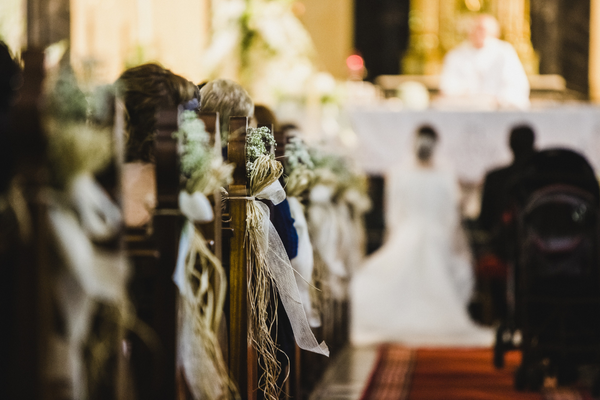 If you and your partner want a religious wedding ceremony, then a church wedding is a must. When choosing your church venue, think of a few considerations, like how meaningful it is to you and your significant other, as well as how spacious and accessible it is to guests. Balance out the sentimental with the practical.
Here are the church wedding requirements in the Philippines in 2023 and how much you need to prepare before the big day.
💐 Church Wedding Requirements
Secure the following documents as part of your requirements for a church wedding:
PSA Birth Certificate

Certificate of No Marriage

Baptismal and Confirmation certificates

Marriage License

Certificate of No Marriage (CENOMAR)

Marriage Banns

Canonical Interview

Pre-Cana/Marriage Preparation Seminar

Confession

List of Principal Sponsors and Entourage Members

Wedding Permit
💐 Church Wedding Cost in the Philippines
So how much is the cost of a church wedding in the Philippines?
Couples can wed in a church with a budget of ₱6,000 to ₱15,000. This cost already includes the officiating fee, the choir, and a simple altar and aisle floral decoration.
However, this sample church wedding budget in the Philippines is only for a small and simple event. Additional costs come in when you opt for more decorations, get singers to sing in the ceremony, add wedding videographers and photographers to capture special moments, or include more members in the entourage.
Wedding Checklist in the Philippines: Cost Estimate per Expense
After preparing the requirements and identifying if you want a church or a civil wedding, it's time for the nitty-gritty: setting up your budget.
Don't shy away from having a financial discussion with your significant other. This is the time to map out your future as a married couple. If you haven't discussed this at length before, now's the time to do it.
The cost of a wedding in the Philippines in 2023 depends on what you want on your big day. It can be as simple or as extravagant as you want, as long as the budget is within your means. But don't expect a ₱20k wedding budget in the Philippines to equal—let alone transcend—what a ₱300k wedding budget in the Philippines can achieve.
Here's a quick look at how much each expense might cost: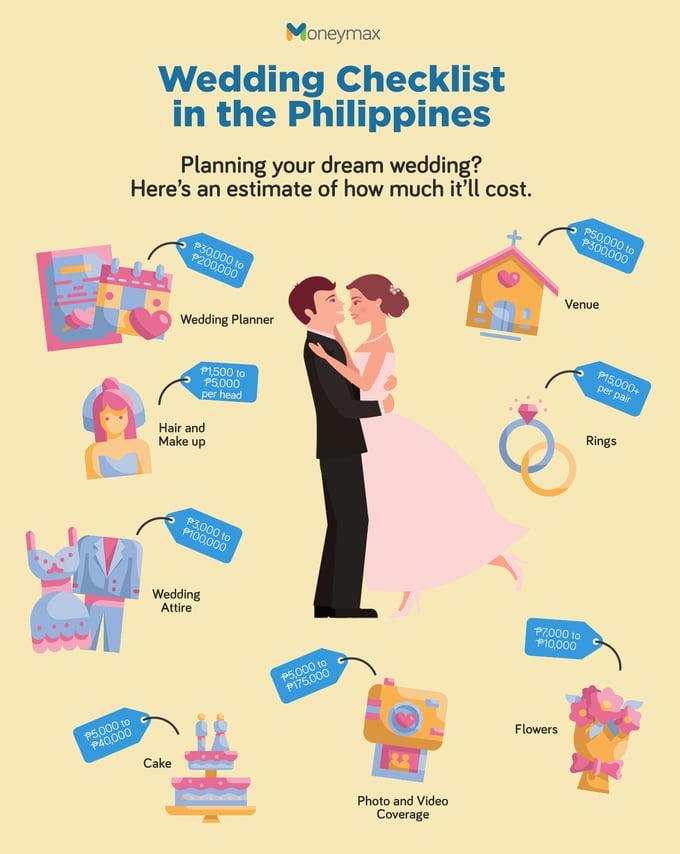 For a more comprehensive wedding checklist in the Philippines, check the table below:
| Wedding Checklist | Estimated Budget |
| --- | --- |
| Wedding Planner | ₱30,000 to ₱200,000 |
| Wedding Coordinator | ₱1,500 and up |
| Wedding Venue and Catering | ₱50,000 to ₱300,000 for 100 pax |
| Entertainment | ₱5,000 to ₱45,000 |
| Reception | ₱50,000 to ₱150,000 |
| Wedding Attire | ₱3,000 to ₱100,000 |
| Wedding Rings | ₱15,000 and up per pair |
| Hair and Makeup | ₱1,500 to ₱5,000 per head |
| Photo Coverage | ₱5,000 to ₱75,000 |
| Video Coverage | ₱20,000 to ₱175,000 |
| Hotel Accommodation | ₱2,500 to ₱10,000 per room |
| Souvenirs | As low as ₱50 per person |
| Invitation | As low as ₱20 per invitation |
| Wedding Cake | ₱5,000 to ₱40,000 |
| Ceremony Venue | ₱6,000 to ₱40,000 |
| Photobooth | ₱6,000 to ₱10,000 |
| Lights and Sounds | ₱6,000 to ₱15,000 |
| Entourage Flowers | ₱7,000 to 10,000 |
| Additional Flower Set-Up at Church | ₱5,000 |
| Mobile Bar | ₱8,000 to ₱15,000 |
| Fireworks | ₱5,000 to ₱50,000 |
| Emcee Fee | ₱8,000 to ₱65,000 |
Based on this list, the total wedding cost in the Philippines amounts to around ₱240,000 to ₱1.3 million.
While planning a wedding is exciting, it's also equally overwhelming. Couples can either crumble under the pressure of this hectic period or come out stronger.[2] That's why planning a wedding with your significant other—budgeting included—is an excellent way to test your financial compatibility as a couple.
The last thing you want is more headaches than necessary during this period. To help you organize your wedding, we prepared a free wedding checklist in the Philippines template.[3] Apart from the wedding budget checklist for the suppliers, we included the processional lineup, contact directories, wedding program, and more.
Read more: Dream Intimate Wedding with a P100K Wedding Budget in the Philippines? Yes, It's Possible!
Wedding Budget Breakdown in the Philippines
If you don't approach this with discipline, conviction, and a padded savings account, you might find yourself shell-shocked when it's time to count receipts. As early as now, check out saving tips for couples to prepare for this costly event.
Specifically, these are the costs you can expect:
👉 Wedding Planner or Coordinator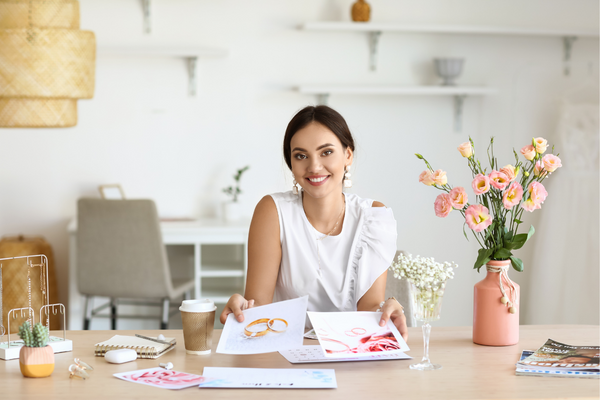 A wedding planner or coordinator can take a weight off your shoulders. A planner organizes your wedding-to-do list and manages the logistics. On the other hand, a wedding coordinator ensures everything goes smoothly.
Wedding planners to celebrities can charge up to ₱200,000 for full coordination. But on average, wedding planners charge from ₱10,000 to ₱50,000, depending on the tasks they have to do, while wedding coordinators charge from ₱1,500 and up.
Some couples hold weddings without hiring an event planner or coordinator, relying on family and friends to do the job for free instead. However, getting a professional team for your wedding is a better option, especially if you have 100 guests or more.
There are three kinds of wedding planning/coordination services: full, partial, and on-the-day (OTD) coordination services. Full and partial services are the most expensive and cater to couples who are based abroad or too busy to plan their wedding. OTD coordination is the cheapest and the best choice for couples who want to be hands-on with their wedding planning.
👉 Wedding Venue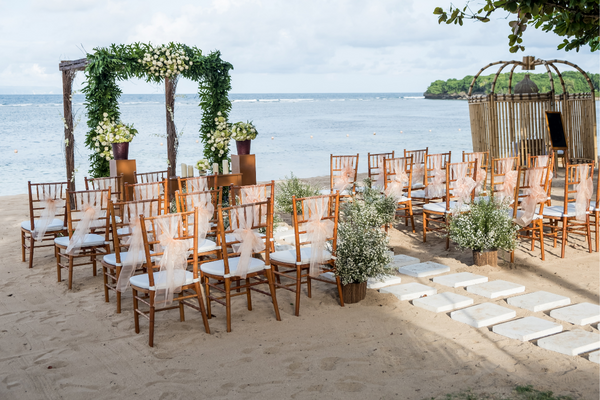 Where do you want to get married? On a farm? Beach? Or maybe you want a destination wedding? You can spend as little or as much as you want on the wedding venue, depending on your budget.
Holding the wedding ceremony and reception in the same venue can save you time, effort, and money. The cost depends on the number of people attending.
On average, the typical wedding budget in the Philippines for this type of setup costs around ₱50,000 to ₱300,000 for 100 pax. Depending on what you include and take out, that cost can still go down. If you go for a smaller venue with a low-budget wedding stage decoration, expect to shell out a smaller amount.
But if you insist on a garden wedding in a place like Hacienda Solange[4] in Tagaytay, you should brace yourself for the price. As of date, a wedding there would cost you ₱298,888. The package is for 100 guests and includes venue rental, wedding officiant, catering, flowers, event styling, photo and video coverage, emcee, lights and sounds, and on-the-day coordinators.
👉 Reception and Catering
A reception typically follows the ceremony. If you choose to have your wedding in a church or your town's municipal hall, you may have to book a separate venue for the reception.
Catering services typically charge ₱1,500 per head. The more guests you have, the pricier it becomes. Venue rental also costs from ₱50,000 to ₱150,000.
👉 Live Band, DJ, and Guest Entertainment
Whether it be a live band or a DJ, hiring people to take care of the music for your wedding can make all the difference between a fun celebration and an absolute flop. With good music playing in the background, you can ensure that your wedding is not a dud and is a pleasant experience for all guests.
The cost of hiring a wedding singer, DJ, or live band varies depending on their popularity, location, equipment, and other factors. But talent fees generally go as low as ₱5,000 and as high as ₱65,000 or more.
If you want to take your wedding celebration to the next level, plan other activities that resonate with you as a couple and that the guests would enjoy. For example, if you're both into poetry, you can invite spoken word artists to perform at the reception. This will keep your guests engaged without drawing their attention away from you.

Don't have a playlist for your wedding reception yet? Set a romantic vibe and keep your guests entertained with this wedding playlist from Spotify.
👉 Photo and Video Coverage
Your wedding photos and videos will make for a lasting souvenir. On average, wedding photography packages are priced from ₱5,000 to ₱75,000. The package may include three photographers, whole-day wedding coverage, a USB of edited pictures, and a photo album.
Video coverage costs from ₱20,000 to ₱100,000, depending on the package. It may include same-day edits, whole-day coverage, and aerial or drone shots.
👉 Wedding Attire
Every bride wants to look her best on her wedding day. If your heart is set on a specific design, look for couturiers who can turn your dream wedding dress into a reality. The cost of custom-made wedding dresses ranges from ₱10,000 to ₱100,000, which is another reason why wedding expenses in the Philippines can get so high.
But if you're the practical type, you can opt for ready-to-wear (RTW) wedding dresses priced from ₱5,000 to ₱20,000. Those on a shoestring budget can even buy a wedding gown in Divisoria for ₱3,000 to ₱40,000, entourage dresses included.
Accessories like a veil, cord, ring pillow, and garter are included in some wedding gown packages, so you won't have to buy them separately.
For the groom, the cost of wedding attire is generally cheaper. A wedding suit costs from ₱5,000 to ₱13,000, including the shirt dress, tuxedo, pants, and vest.
👉 Hair and Makeup
For the bride (and sometimes the groom), hair styling and makeup go hand in hand with the wedding gown to achieve the perfect look. These services usually cost ₱7,500 to ₱30,000 per package.
However, you can negotiate the price if you get a package for yourself and your entourage. It's worth the investment if you want to look extra beautiful and heart-stopping on your wedding day.
👉 Wedding Rings
A pair of wedding rings cost ₱15,000 and up. You can also design your own and have a jeweler make them for you. However, it will be more expensive than buying ready-made ones.
While you can get cheaper ones, remember that these rings will forever symbolize your union. It's best to choose rings that look great and stand the test of time.
👉 Souvenirs, Invitations, and Wedding Cakes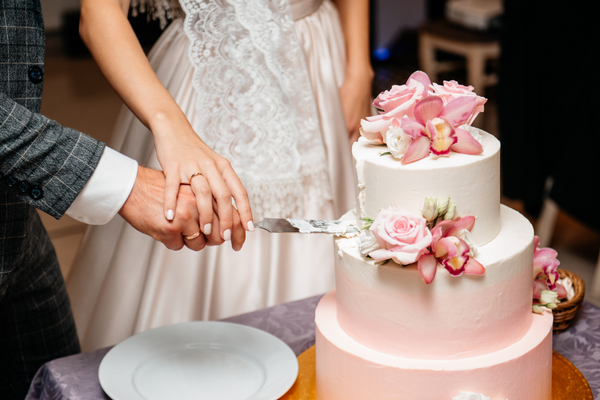 The cost of wedding cakes depends on the number of layers and the intricacy of the details. Prepare to spend anywhere from ₱5,000 to ₱40,000 for a four-tiered wedding cake.
For wedding souvenirs, the price can cost as low as ₱50 per person. You can go to Divisoria to buy low-priced but good-quality wedding giveaways or even make the souvenirs yourself. However, while it can cut costs, it can take up more of your time and energy when you're already working a mile a minute for your wedding.
For invitations, you can go to Recto and have them printed for as low as ₱20 per invitation. If you want someone else to design the invite, you may have to spend up to ₱5,000 to pay the artist. You can also design the invitation by using free websites such as Canva, Piktochart, and Design Bold.
👉 Hotel Accommodation
Do you live far from your venue or have a lot of relatives coming to your wedding? You may need to book hotel rooms for yourselves, your close family, or your entourage. Hotel accommodations typically cost ₱2,500 to ₱10,000 per room.
It helps to have a comfortable place to stay near your church and reception venue at least a day before the event. You'll have enough time for on-the-day preparations (like getting your makeup done, dressing up, and doing pre-wedding photoshoots) and ensure no one comes late to the venue.
Just be careful not to splurge too much on accommodation. You can save on wedding costs by carefully planning this expense. Comfort is paramount, but make sure not to waste money on luxuries that you can do without.
👉 Flowers
From bridal bouquets and boutonnières to floral decors and centerpieces, a wedding just doesn't feel right without these pretty things adorning every corner. You can hire a florist to make sure that everything goes well in the flower department. Or, if you'd rather do things on your own to save on costs, buy flowers in bulk in Baguio, the country's flower capital.
Another popular place you can check out is Dangwa in Manila. Vendors there also source their flowers directly from Baguio, so their prices are still relatively lower than the general market.
Entourage flowers can cost between ₱5,000 to ₱10,000, while church flowers can have a ₱7,000 to ₱15,000 price tag. Reception flowers are even pricier, ranging from ₱10,000 to ₱20,000.
But these are all just estimates. Actual costs will depend on many things, like how many flowers will be used, what kinds, and whether they're in season.[5]
👉 Bridal Car and Wedding Party Transportation
If you don't have your own vehicle and can't borrow one from a relative or friend, you have no choice but to rent a bridal car. Price varies per car rental agency, but you can typically get an all-inclusive car rental package for around ₱2,500. That's already good for up to five hours.
Some car rentals can even go as low as ₱1,000 or as high as ₱12,000, depending on the type of vehicle. Of course, if you opt for higher-end brands and luxury cars like a Mercedes Benz, Volkswagen, or BMW, expect the price to go higher.
Another thing you should think of is providing transportation for your wedding party. Check if your booked accommodation provides shuttle services. If not, you may have to rent separate cars for your wedding entourage.
Providing transportation is not strictly necessary, especially when the wedding venue is not that hard to get to. It's just a way to show courtesy and to ensure that key people for your wedding get to the venue safely and on time.
👉 Meals for Suppliers
Should you provide meals for your wedding vendors? Believe it or not, this topic is a little contentious, with people's opinions varying based on their culture and personal beliefs. In the Philippines, you'll hear more yeses than nos to a question like this.
Think of it this way: the success of your wedding celebration doesn't depend solely on you. Other people work on the sidelines to make it as perfect as possible. You may be paying these people cash in exchange for their services, but it's still good to show them a little courtesy by including them in your meal plans.
You don't need to give them the same menu available to guests unless you want to. A decent meal that can fill them up is good enough. For this, you can budget ₱150 to ₱300 per person for each meal.
Some vendors already have a meal clause in their contracts, so this takes the guesswork out of the equation. But for those without specifications, it's best to still include them in your meal budget.
Other Wedding Costs You Might Overlook
Sticking to your budget is easier said than done. No matter how carefully you plan your expenses, hidden costs can still sneak up and take you by surprise.[6] Some of these costs are inevitable, so make sure to pad your budget to make room for anything extra that may come along the way.
Also, talk with your partner about who will cover which expense. Sure, you'll merge your finances after marriage. But until then, wedding costs will be split between you two, so talk about this at length.
Below are some additional costs that you shouldn't forget to factor into your budget:
👉 Shoes and Other Accessories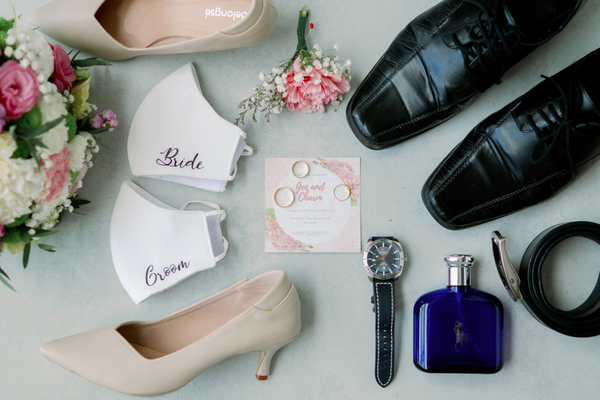 If you wish to wear a special pair of wedding shoes for your big day, make sure to account for them in your budget. Add other accessories that are often easy to write off, such as earrings, watches, belts, and cufflinks.
👉 Extra Catering Services
Read your wedding catering contract to know what it covers and what comes as an additional expense. One of the extra costs you can expect is the delivery fee for food prepared from an off-site kitchen.
Another one is the use of china or glassware. Some catering companies use disposable dinnerware by default and place extra charges for non-disposable items.
Services provided by bartenders and the waitstaff are also sometimes excluded from the catering contract, so double-check with your vendor to know whether to budget for this.
Presentation upgrades like chair covers and lounge furniture may also be billed as extra costs, so consider this before requesting upgrades. Also, check whether a corkage fee is required for food items and beverages from outside vendors.
👉 Gifts for Parents, Sponsors, and/or Entourage Members
Weddings aren't easy to pull off. Regardless of the outcome, you should give back to the people who were with you every step of the way.
First on the list are, of course, your parents or guardians. They're most likely your biggest supporters, so give them a special present that'll make them feel appreciated. It can be a personalized wedding photo album or something more immediate and fleeting, like a one-day pass to a popular travel destination.
Your wedding entourage should also be on the list. To show them how grateful you are for their efforts, you can give them gifts like engraved jewelry pieces or custom-etched wine bottles. You can also opt for simpler tokens like heart-shaped bamboo plants if you don't want your budget to suffer too much.
👉 Sound and Lighting Equipment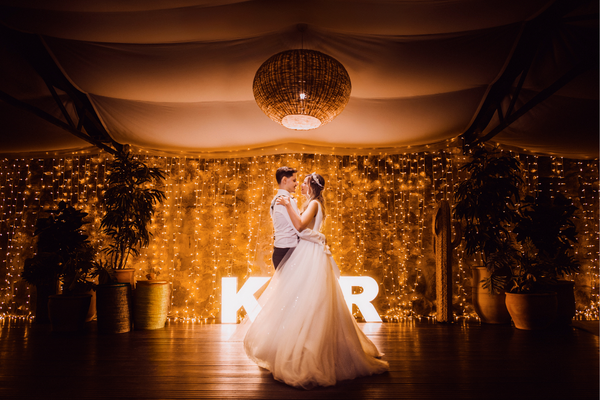 Different light and sound factors can affect the general atmosphere of your wedding. Make sure your lighting is immaculate, regardless of whether the event is indoors or outdoors. Check the sound system and keep the extension cords strategically placed and organized.
Also, have a generator for backup so you can still run things smoothly in case of any power interruptions.
👉 Upgrades and Customizations
Some venues already include tables, chairs, and linens in their wedding package prices. But some don't. And even when these things are included, they're sometimes either subpar or different from the theme or motif of your wedding.
You might be slapped with additional fees if you request upgrades or customizations. To avoid this, try to find a venue that embodies your desired vibe.
👉 Tips and Gratuities for Event Staff
It's easy to forget about tipping when more pressing wedding matters require your attention and money. But if you want to show appreciation for your wedding crew's hard work, you should allot a decent budget for tips for your hair and makeup team, caterers, waitstaff, and other hands-on vendors.
👉 Out-of-Town Fees for Suppliers
If your suppliers are from out of town, they might require you to pay for their transportation costs to get to the venue. This will all depend on what's included in the contract, so verify whether this is a cost you must prepare for.
👉 Parking Fees
If your venue has free parking, then all is well and good. There's no need to shell out extra cash for parking fees. But what if parking spaces come with a price? Should you pay for them?
It's up to you. Guests generally have the prerogative to get to the wedding venue any way they want. They can use public transport or bring their own vehicle. If they choose the latter, it's expected that they should be able to face the consequences (in this case, parking fees).
However, if your venue is a little far off and requires private transportation, you should think hard about letting your guests shoulder the extra cost of parking. If the location is inconvenient to access, just allot an extra budget for parking fees.
👉 Overtime Fees
When you're having the time of your life, you don't notice the clock ticking. That's why some wedding celebrations run longer than expected. When that happens, overtime charges usually apply, whether for the venue, caterers, photographers, or videographers.
Discuss this possibility with your supplier before the wedding to prepare for overtime fees. Also, make sure to put your agreement in writing.
👉 Setup and Takedown Fees
Post-reception cleaning includes dishwashing and garbage disposal. Some venues don't include staging and clean-up in their wedding package prices.
If you have your own team of friends and relatives who can take care of this for free, then good for you. If not, ready your wallet to pay for another extra cost.
👉 Non-Exclusive and External Vendors
Some venues partner exclusively with certain vendors to provide a complete wedding set. So if you choose to go with a different vendor (e.g., florist, caterer, or photographer) other than what they prescribe, expect to pay an upcharge.
If hiring an external vendor is unnecessary, just go with the venue's preferred vendors so as not to waste money on avoidable extra costs. Another option would be to go with a venue open to hosting different vendors.
8 Tips to Reduce Your Wedding Costs
If you're still planning your wedding, take note of these tips to help you downsize and further reduce your wedding costs.
✔️ Attend Bridal Fairs
Aside from having all the wedding suppliers you'll need under one roof, you can also get huge discounts and freebies if you book them at a bridal fair. You can save thousands of pesos on wedding packages, especially if you book at least six months in advance. You can get an all-inclusive wedding package, so you don't have to stress about wedding preps.
✔️ Keep Your Guest List Small
If you just want to make things official, you and your partner can get married in a civil ceremony with a no-entourage wedding. But if you want a church ceremony, you can have just your immediate family members and a pair of sponsors in attendance.
✔️ Opt for a Small But Beautiful Wedding
What you can save on catering or hotel accommodations, you can spend instead on your wedding rings, wedding photos, or your honeymoon. The bottom line is that a simple wedding budget in the Philippines can still create a beautiful and unforgettable event, depending on how you work with what you have.
✔️ Opt For an Outdoor Wedding
The great thing about an outdoor wedding is that you have natural lighting and ventilation, and you don't need a lot of wedding decor, especially if it's in a garden or a beach. Al fresco dining is also effortlessly elegant and cozy at the same time.
✔️ Use Electronic-Only Wedding Invites
Now that almost everything is done electronically, printed invitations are a thing of the past. You're also helping the environment by avoiding printing out unnecessary collaterals.
✔️ Ditch the Wedding Rental Car
You can skip the bridal car rental altogether if you're staying at your wedding venue. Another option is to book a Grab car instead if your venue for wedding preparations is just a few minutes away from your wedding venue.
✔️ Let Your Entourage Pay for Their Attire
Avoid the drama of bridesmaids secretly hating their bridesmaid dresses because it's not flattering or doesn't match their personal style. Although your family might expect you to pay for the entourage attire, it's not an alien concept to let your bridesmaids and groomsmen pay for their own dresses and suits.
Just let them know your wedding motif. Show them swatch colors and sample looks so they'll be guided accordingly.
✔️ Do Away with the Wedding Program
Getting married is something to celebrate, so why not just have a party where everyone can eat, drink, dance, and sing the night away? You won't have to hire an emcee, a band, a wedding singer, or a string quartet. Just let the music play while you enjoy the food and the presence of the special people in your life.
Final Thoughts
Creating a wedding checklist in the Philippines is the easiest part. Achieving your dream wedding without going over your budget is another thing. But with financial discipline, the right mindset, and people to help you implement it, you can plan a wedding to make your big day more memorable.
Find the Right Loan for Your Wedding at Moneymax!
Need additional funds to cover your wedding expenses this year? Consider getting a personal loan for your wedding. Check out these options from reputable lenders in the Philippines and apply through Moneymax now!
| Personal Loan | Loan Amount | Monthly Add-on Rate | Minimum Annual Income | Approval Time |
| --- | --- | --- | --- | --- |
| UnionBank Personal Loan | | | | |
| UNO Digital Bank Personal Loan | | | | As fast as 7 banking days |
| Metrobank Personal Loan | | | | |
| BPI Personal Loan | | | | |
| RFC Loan | | | | |
| Tonik Flex Loan | | | | |
| Tonik Quick Loan | | | | As fast as 1 hour |
| Tonik Big Loan | | | | 7 days |
| Tala Loan | | | | 24 hours |
| HSBC Personal Loan | | | | |
| CIMB Personal Loan | | | | |
| Maybank Personal Loan | | | | |
| RCBC Bank Personal Loan | | | | |
| SB Finance Personal Loan | | | | |
| CTBC Bank Personal Loan | | | | |
| PSBank Personal Loan | | | | |
Sources: