Your wedding is one of the biggest days of your life. You want it to be special and memorable. And because you're spending a lot of money, you want everything—down to the last detail—to be as perfect as possible.
To make that happen, you need to enlist the help of reliable suppliers. But where can you find them? At a bridal fair!
Wedding expos and bridal fairs bring various events vendors together. You get to talk to them in person, learn about past weddings they organized, and even taste food samples.
If it's your first time attending a bridal fair in the Philippines, here are some of the biggest events you shouldn't miss. We've also listed some tips on choosing your wedding suppliers.
5 Upcoming Wedding Expos and Bridal Fairs in 2023
Attending a bridal fair is basically going window shopping for your wedding. Dedicate a day to this purpose, as each fair features countless suppliers. Here's a schedule of upcoming wedding expos in 2023:
💑 Toast Wedding Fair
Dates: February 18 to 19, 2023 and May 27 to 28, 2023
Location: SMX Convention Center, Mall of Asia Complex, Pasay City
Entrance fee: Free for attendees who pre-register online
Organized by Bride and Breakfast[1] and the Trendsetter Team, the Toast bridal fair will be happening on two dates, one in February and one in May.
Expect to meet these types of suppliers at this bridal fair in 2023:
Gown and suit designers
Souvenir makers
Photographers and videographers
Fashion stylists
Florists
Caterers
Coordinators
Event stylists
Food and mobile carts
Hotels and resorts
Other than meeting quality suppliers, you can win great deals and discounts. While waiting for the event, check out suppliers featured on Toast's official Facebook page. These suppliers always hold giveaway contests with prizes such as discounts or services free of charge.
Read more: Marriage Contract in the Philippines: How to Get One After Saying, "I Do"
💑 Wedding Expo Philippines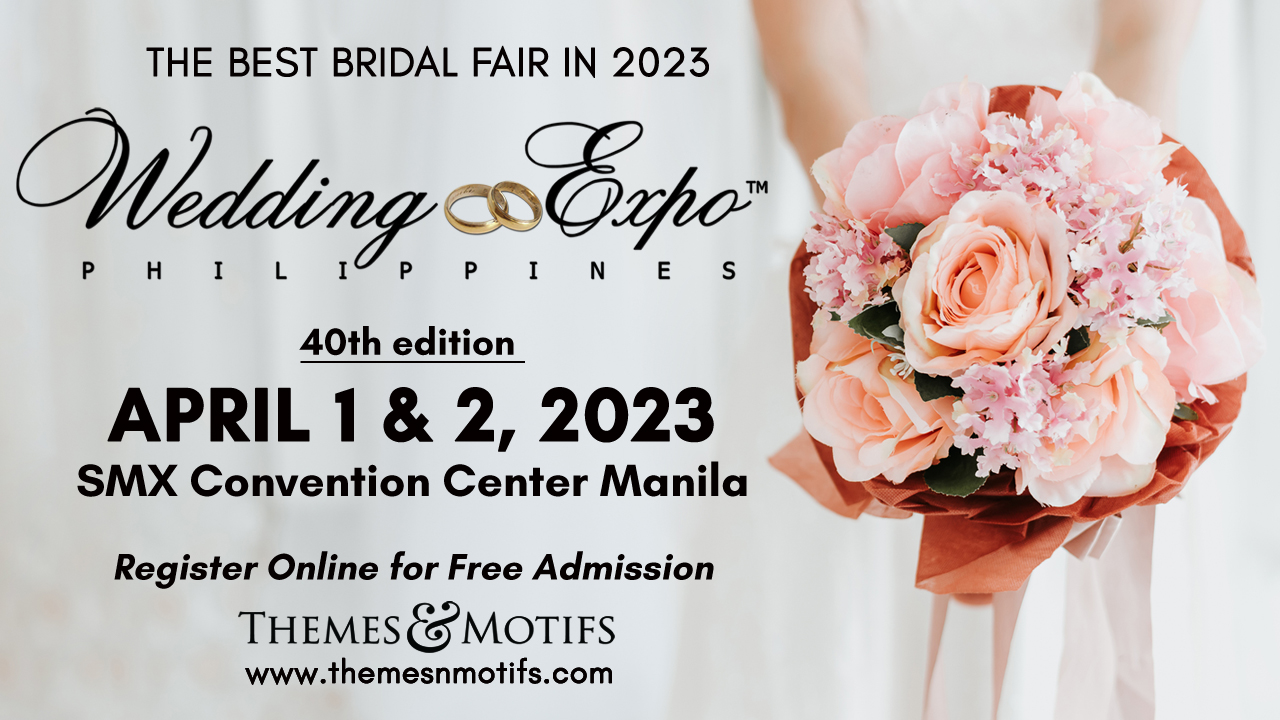 Date: April 1 to 2, 2023 and September 9 to 10, 2023
Location: SMX Convention Center, Mall of Asia Complex, Pasay City
Entrance fee: Free for attendees who registered online
Wedding Expo Philippines dubs itself as the biggest, longest, and most comprehensive bridal fair in the country. Exhibit dates are in April and September, perfect for those having their wedding next year.
To get an idea of possible suppliers at this bridal fair in 2023, just visit Wedding Expo Philippines' official Facebook page.[2]
This bridal fair in SMX also holds events for both experienced and aspiring wedding suppliers. It invites industry veterans, such as premier wedding planner Christine Ong-Te and wedding photographer Lito Sy, to give talks.
💑 Before I Do Wedding and Debut Fair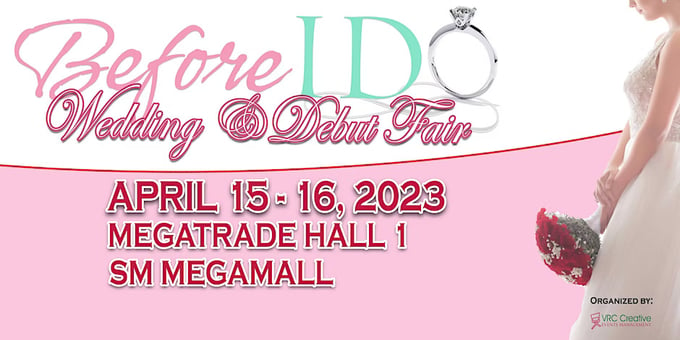 Date: April 15 to 16, 2023
Location: Megatrade Hall 1, SM Megamall, Mandaluyong City
Entrance fee: Free
Before I Do Bridal Fair[3] is a series of four wedding expos, with one happening in April. Organized by VRC Creative Events Management Corp., each event has a projected guest number of 2,500. Around 110 of Manila's reputable and up-and-coming suppliers will be present.
This fair, usually held at SM Megamall, caters to not just wedding clients, but also debutantes. So if you have a daughter or a niece turning 18 this year, you may also scout for the right suppliers here.
💑 Getting Married Bridal Fair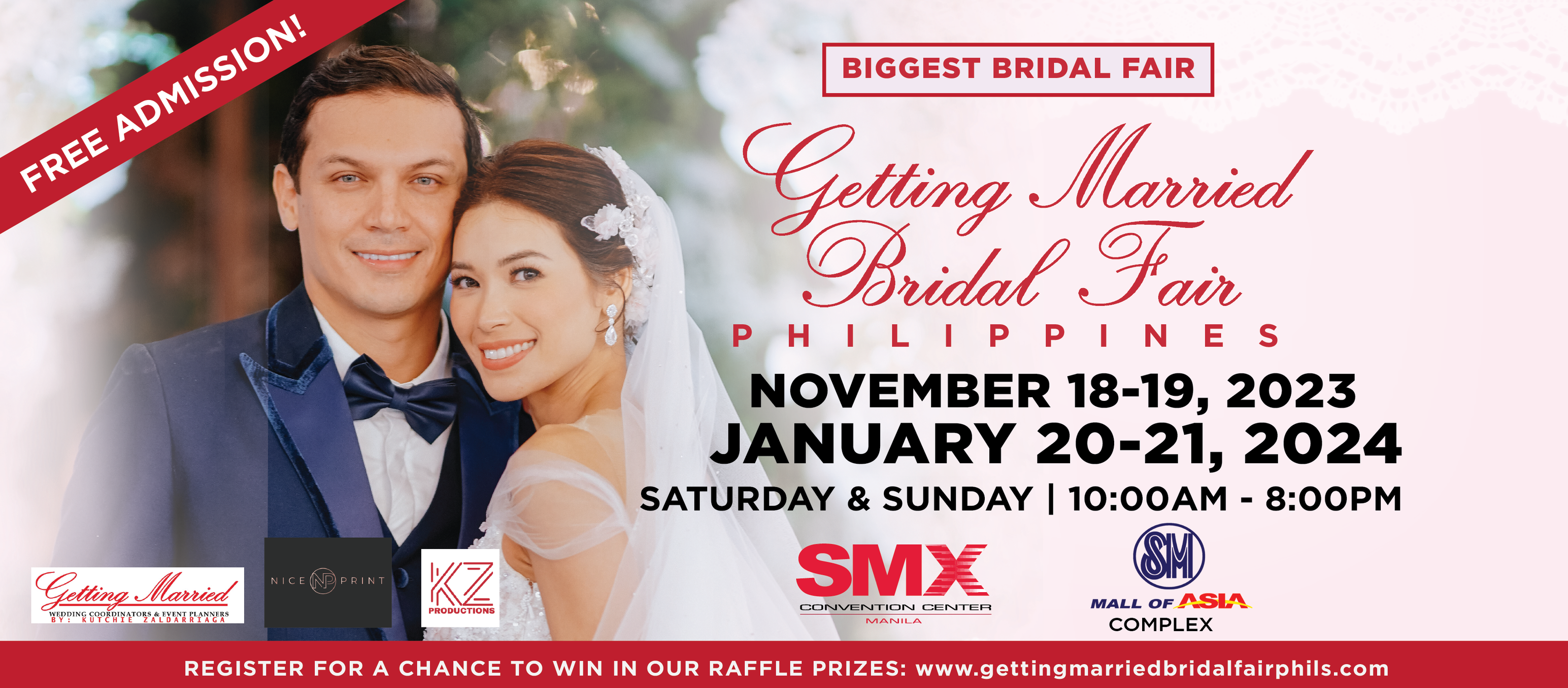 Date: November 18 to 19, 2023 and January 20 to 21, 2024
Location: SMX Convention Center, Mall of Asia Complex, Pasay City
Entrance fee: Free
One of the most popular wedding expos in the Philippines, Getting Married Bridal Fair[4] has a reputation for bringing the industry's cream of the crop. Known vendors include Suit It Up Manila, Francis Libiran, RJ Ledesma, Hizon's Catering, and Moment Catering, among others.
Getting Married Bridal Fair has a collective of trusted suppliers across the following event aspects:
Cakes
Cars
Caterers
Choreography
Couturiers and shoes
Events host
Fireworks
Florists
Giveaways
Hair and make-up
Hotels
Invitation
Lights and sounds
Jewelry
Photo and video
Livestream
Musicians
💑 Weddings and Beyond Events Fair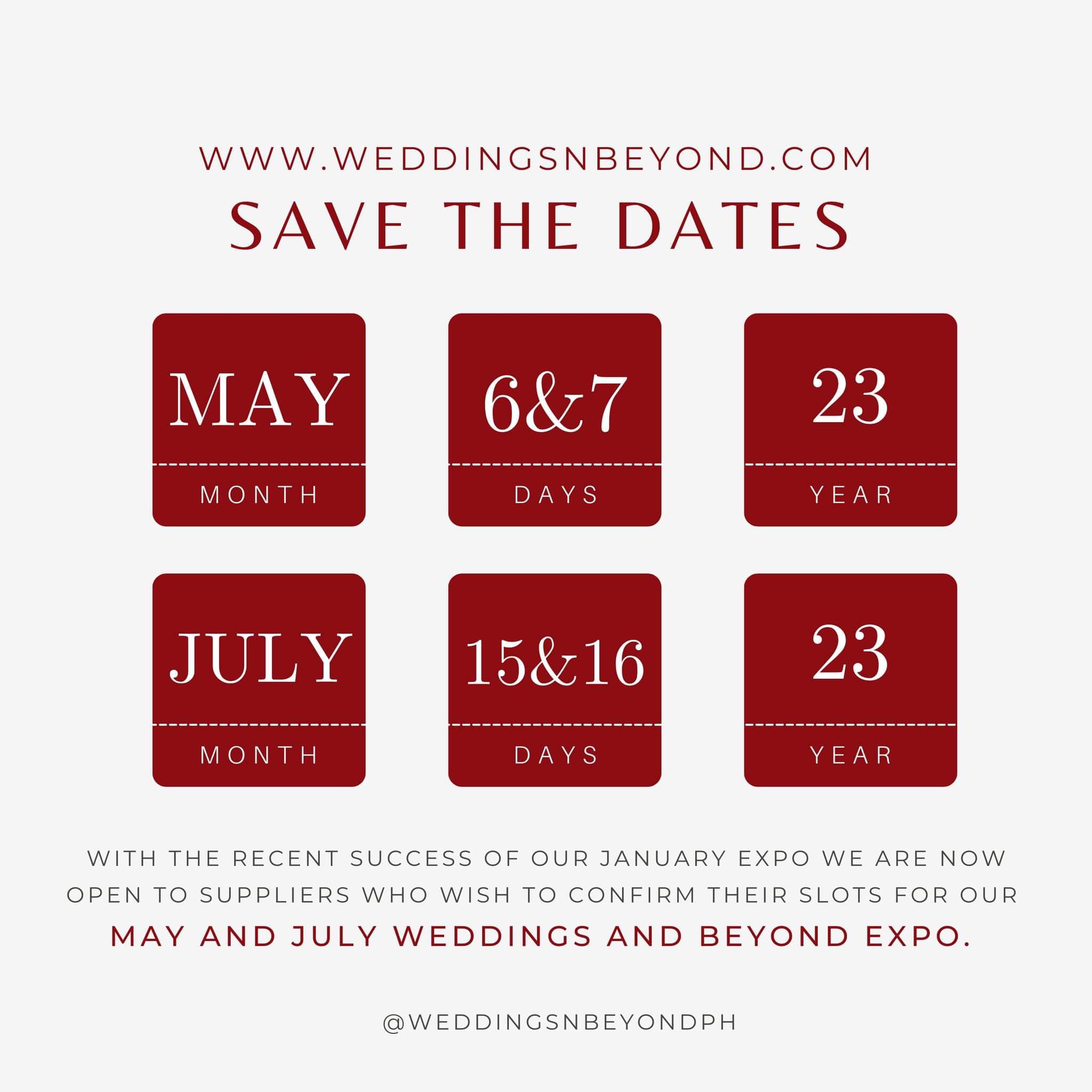 Date: May 6 to 7, 2023 and July 15 to 16, 2023
Location: To be announced
Entrance fee: Most likely free for those who registered online
Weddings and Beyond's[5 bridal fair, held last January 28 and 29, 2023 at Okada Manila, was a success, resulting in two more fairs slated for May and July. Under this expo's roster of suppliers are Felipe and Sons, Irene's Embroidery Barong de Calado, Bambbi Fuentes, Hizon's Catering, Ibarra's Catering, Sofitel, and Dusit Thani, among others.
If you want to score some cool prizes, just give Weddings and Beyond a follow on Facebook. Every now and then, this bridal fair for 2023 holds exciting contests.
Read more: Money's No Problem with These 10 Financial Tips for Couples
How to Choose Your Wedding Suppliers
Once you've picked a bridal fair to attend, the next challenge would be to assemble your wedding team. This can be quite challenging since the choices are overwhelming. Here are some tips to keep in mind:
👉 Set Your Budget in Advance
A bridal fair usually features attractive suppliers that may tempt you to spend beyond your means. Set a wedding budget in advance to avoid falling into the trap of choosing expensive vendors. Doing so may limit your options, but it'll help you choose easily and quickly.
You'll also discover your financial compatibility as a couple in the process.
👉 Ask for Referrals
If you want to speed up choosing your suppliers, you can always ask your friends or relatives for recommendations. Aside from the suppliers they ultimately picked, they surely had other candidates in mind. List down their referrals and start your research from there.
👉 Read Reviews Online
These days, it should be easy to do your due diligence on wedding suppliers, thanks to online reviews. Check your potential suppliers' Facebook pages and read what past clients have to say. You can also watch vlogs on YouTube that review different suppliers. You may even get some insider tips along the way.
👉 Meet the Team in Person
The suppliers you have your eye on may have five-star reviews. But will they be comfortable to work with? To find out, meet them in person. Attending bridal fairs this 2023 is the best way to do that, so make some time. Prepare a list of questions and try to see their vision for your wedding.
👉 Fight the Urge to Overthink
Overthinking is just a normal part of the wedding planning process. But you need to curb it, as it may delay decision-making. When that happens, your potential supplier may choose to work with another client.
Final Thoughts
When it comes to wedding preparations, you need to work with the best teams possible. Scouting for the right suppliers may take some time, but if you know where to start, you can speed up the process—in which case, a bridal fair is a must-visit for every engaged couple.

Sources: