No event in your life will be as big as your wedding. It's a momentous occasion that celebrates your union with your significant other and marks your new life together as a married couple. It only makes sense to hold it somewhere special—i.e., in an unforgettable place that you can keep in your memory for a long time.
Destination weddings are the trend today. Couples go the extra mile to find the perfect venue, even though it may cost them more than a typical church or a local city hall would. You need to save up for your dream wedding to be able to afford a more premium and picturesque location.
Below are some of the top wedding venues in the Philippines to help you decide where to exchange your vows.
Best Wedding Venues in the Philippines
The Philippines has lots of great spots for gatherings and events. We've rounded up a few of them here:
Garden Wedding Venues
Do you ever dream of walking down the aisle with birds chirping in the background and a stretch of lush scenery sprawling all around you? If green landscapes are your thing, check out these options for a quaint garden wedding venue in the Philippines:
Jardin de Miramar – Rizal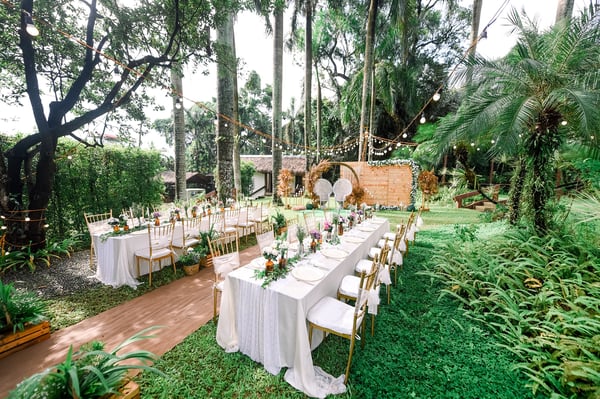 Jardin de Miramar in Antipolo is just a stone's throw away from the Metro, so you can enjoy a quick wedding getaway without traveling too far. This Rizal wedding venue has 12 themed wedding spots that suit different tastes and budgets.[1]
You can go for a modern Filipiniana motif, a fancy floral concept, or even an Intramuros-inspired theme if that's what suits you best. No one will stop you from breathing your own personal style into the venue. Paradise on your wedding day is just within arm's reach with Jardin de Miramar's heritage charm and opulent greenery.
El Jardin de Zaida – Batangas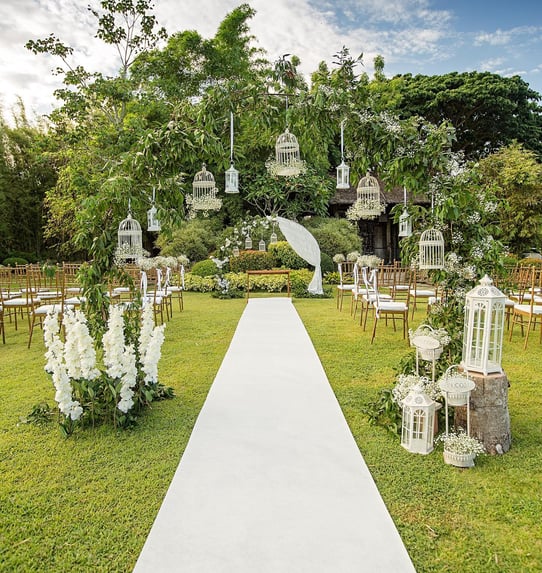 Beaches, mountains, forests—Batangas has it all. This place won't let you down if you're looking for a serene location for your wedding, away from the usual hustle and bustle of city life. For a garden ceremony, check out El Jardin de Zaida. This Batangas wedding venue has 11 hectares of breathtaking landscapes perfect for intimate celebrations.[2]
El Jardin de Zaida is a resort, spa, and events place combined, so you can enjoy everything you need all in one place. It has a villa, a pool, a restaurant, and even picture-worthy spots like a bahay kubo, a scenic bridge over a man-made lake, a gazebo, and a calamansi orchard. Of course, the main attractions are the private gardens and pavilions that can accommodate between 20 to 500 guests.
The Forest Barn – Cavite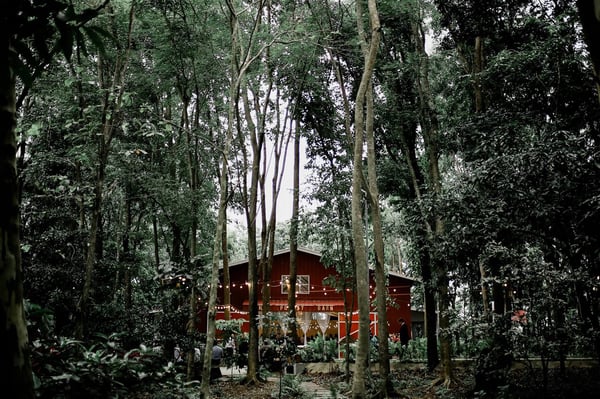 The Forest Barn is a six-acre property nestled in the woods of Alfonso, Cavite. Its vintage and rustic charm makes it the perfect venue for a forest wedding in the Philippines. Everything about this place is reminiscent of the countryside. It has a tavern basement, a gazebo, and a big red barn right in the middle of a grove of towering trees.
This place is also just a few minutes away from Tagaytay, so the climate is cool and the atmosphere is cozy. You can tie the knot here with up to 300 guests in attendance. They'd appreciate the crisp air and refreshing ambiance as they bear witness to your union.
Island or Beach Wedding Venues
Having an affordable beach wedding in the Philippines is not impossible. But if you want to splurge a little bit, here are some of the best beach wedding venues in the country:
El Nido Resorts in Lagen Island – Palawan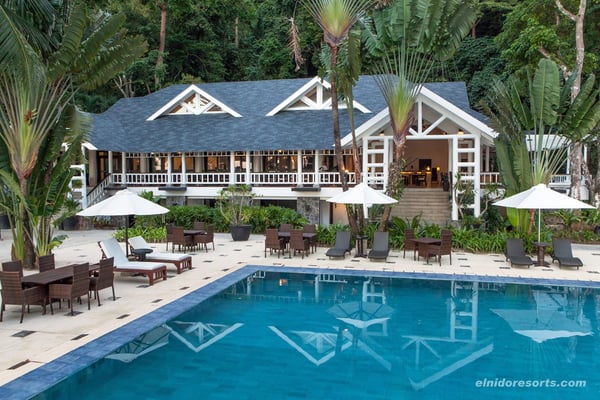 One of the most practical travel tips for couples, especially if you're trying to save up, is to schedule your travels around other errands, activities, or occasions. A wedding and a travel getaway folded into one is a great idea because it balances the excitement of prepping for a wedding with the breeziness of going on a trip.
For a restful wedding getaway by the beach, book El Nido Resorts in Lagen Island in Palawan.[3] You'll get a private island with an unsullied beach exclusive to you and your guests. This secluded wedding venue is just what you want for a more intimate beach wedding in the Philippines. You can do the ceremony in a cove surrounded by limestone walls, with the sound of the sea lending music to the atmosphere. And once you've officially tied the knot, you can go straight to vacation mode with your loved ones.
Mithi Resort and Spa – Bohol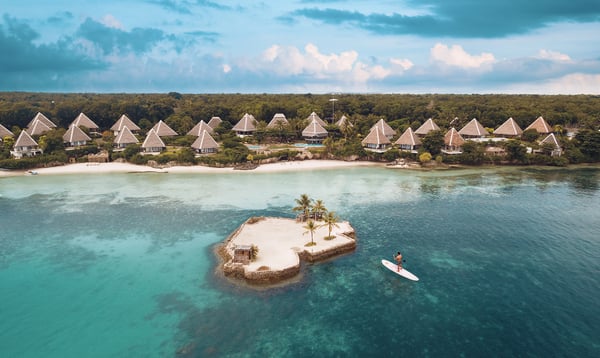 Mithi is a stellar resort in Bohol with countless amenities like a spa, fitness gym, swimming pool, tennis court, bar, and restaurant that your guests will surely enjoy. Different wedding packages are also available to accommodate everything you need for your dream wedding.
But what makes Mithi a standout venue for a beach wedding in the Philippines is the Dream Islet, a small private island a quick boat ride away from the resort.[4]
The Dream Islet can accommodate up to 200 guests. It's the place to go if you want to say your sacred vows in a secluded spot surrounded only by your close family and friends. Throughout your wedding ceremony, you'll be treated to a 360-degree view of the sea. You'll get a glimpse of the white shores on one side and of the clear horizon on the other. Everywhere else is crystal-clear water.
Shangri-La Boracay – Aklan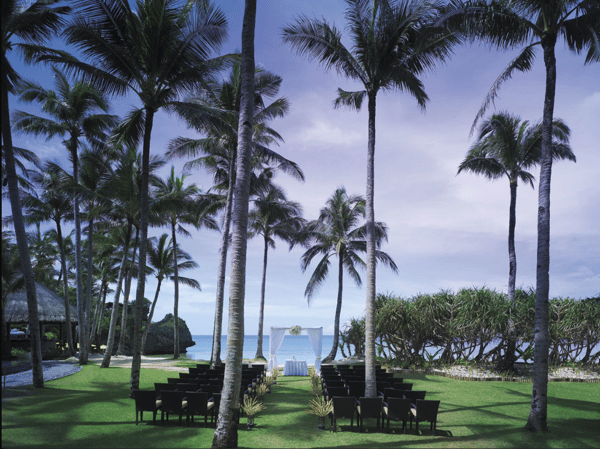 When you think of wedding venues in the Philippines, nothing beats the immaculate beaches of Boracay. Many couples, both from local and foreign shores, continually choose this place for their intimate and grand celebrations.
One of the top Boracay wedding venues is Shangri-La, a five-star resort that offers bespoke wedding packages to help you turn your vision for a dream wedding into reality.[5]
Shangri-La has two private beaches that are closed off from the public and are exclusive to guests. You can choose to exchange your vows on the beach or in a cliffside pavilion overlooking the sea. Since everything that Shangri-La offers is premium, you'll have to save up to afford access to this high-end resort. Check out different saving tips for couples to help with your budgeting.
Church Wedding Venues
If you want to uphold tradition and get married in a church, you won't run out of options to choose from. Here are a few of them:
Mt. Carmel Chapel – Batanes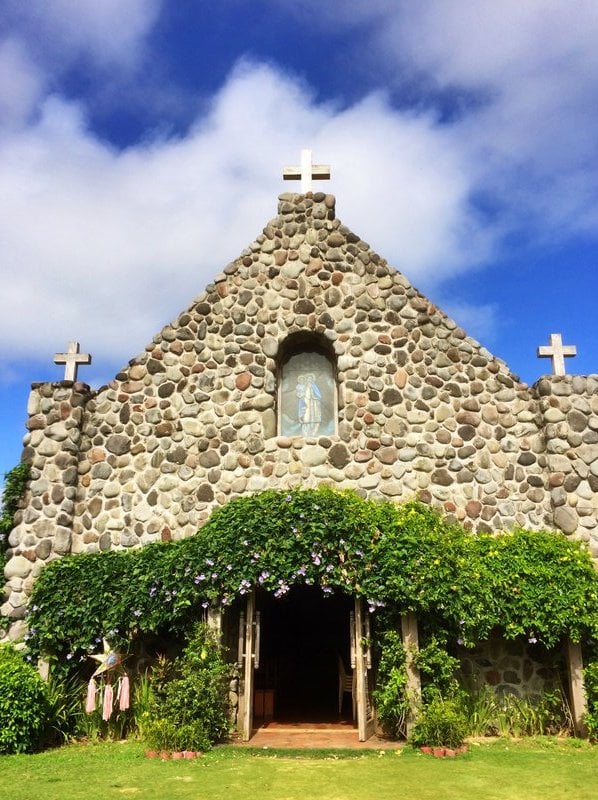 This idyllic chapel in the highland village of Tukon is perched on top of a hill, with Mt. Iraya serving as backdrop. The structure itself is Ivatan-inspired, with a stone facade and wood interior. The ceiling and the altar are adorned with frescoes of the six municipal patron saints of Batanes.
This church is one of a kind, making it the perfect setting for a Batanes church wedding. There are other nearby attractions that you can visit for your wedding photoshoot, reception, and other activities. Two of which are the Marlboro Hills and Boulder Bay.
San Agustin Church – Manila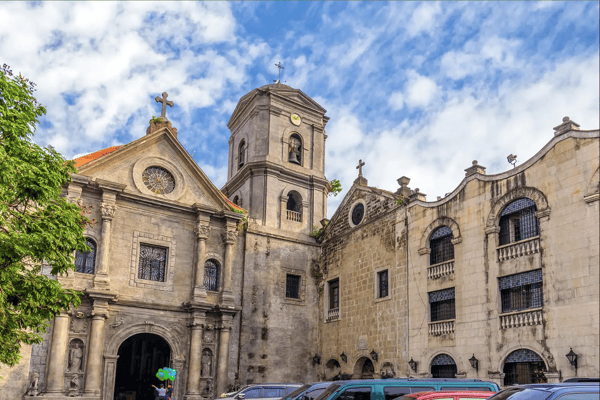 There are plenty of small chapels in Manila for wedding ceremonies. If you want something grander, the San Agustin Church in Intramuros is an iconic option as it's the oldest church in the Philippines. It's also considered a World Heritage Site by UNESCO. And along with three others in the country, it has been officially labeled as one of the "Baroque Churches in the Philippines."
San Agustin Church has lived through several earthquakes since its construction in 1907. It's a symbol of resilience in Manila—that's why couples often choose this place to celebrate their union.
St. James the Great Parish – Muntinlupa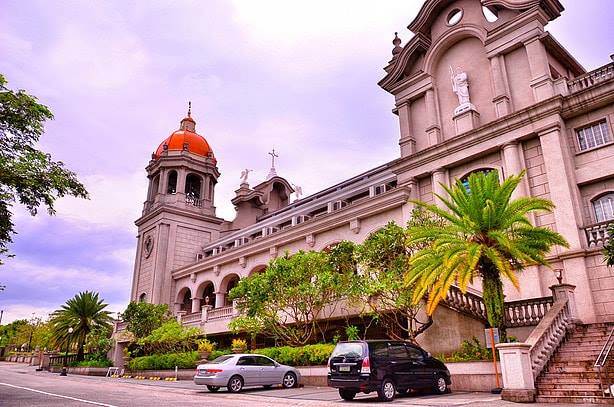 This church is a go-to venue for a solemn and intimate church wedding in the metro. Located in a subdivision in Alabang, St. James the Great Parish can provide the security and exclusivity you need for your wedding.
The church itself exudes a majestic elegance that brings to mind the old churches of Rome. You'll have access to a landscaped courtyard outside, complete with a fountain, for your post-wedding photoshoot. There's also a multipurpose hall that can hold up to 100 guests on the lower ground for your wedding reception. If you need a more spacious venue, there are other places nearby perfect for bigger celebrations.
Unique Wedding Locations
Need out-of-the-box wedding venue ideas for an unconventional start to your marriage? Level up your wedding from a typical event to a whole new experience with these unique wedding location ideas:
Callao Cave – Cagayan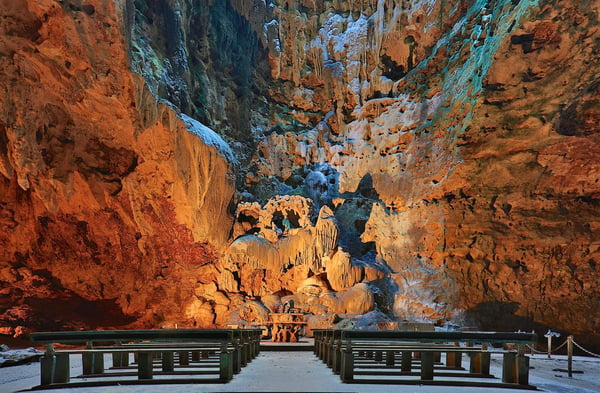 Weddings and spelunking don't usually go hand in hand. But if you go for a Callao Cave wedding, you can do both at the same time.
The Callao Cave in Cagayan houses a small, skylit chapel with a natural roof crevice that invites warm sunlight inside. It makes for unparalleled wedding visuals in an exceptional location.
After the ceremony, you can go on a wooden boat ride along the nearby river. If you're feeling more adventurous, go river rafting, kayaking, swimming, or fishing to enjoy the full experience.
Basco Lighthouse Cliff – Batanes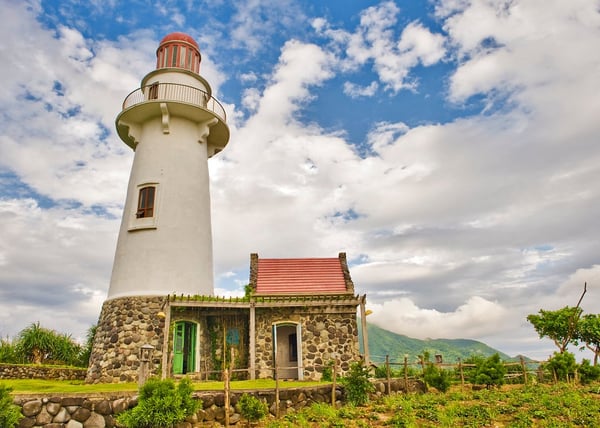 Batanes is so stunningly otherworldly that it deserves a second mention on this list. The province has everything you need for a memorable wedding ceremony. If you want to explore something unique like a cliff wedding in the Philippines, look no further than the Basco Lighthouse Cliff in Naidi Hill.
You'll be treated to a breathtaking view of limestone cliffs, rolling hills, and verdant scenery. There's no need for any extra decorations if you choose to get married here, as the ravishing landscape is more than enough to make your wedding look and feel magical.
Masungi Georeserve – Rizal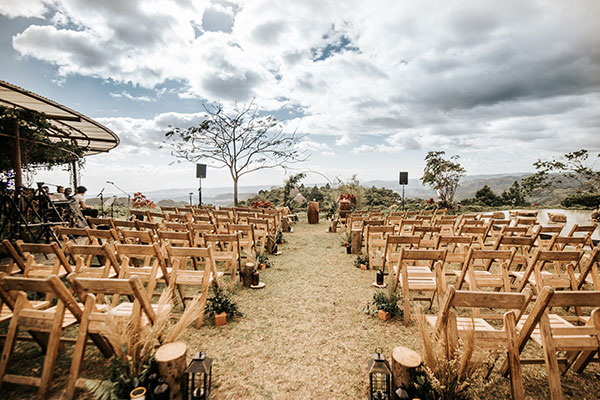 Who says a conservation area can't be a wedding place? Masungi Georeserve is more than just a rock garden you can explore for leisure activities. Couples are also welcome to tie the knot here in a minimalist and low-impact event with no more than 100 guests.[6]
Masungi has lots of beautiful spots where you can commune with nature. It has a hilltop area, hiking trails, a reflection pond, chapel, pine patch, and a full-glass restaurant that overlooks the Laguna de Bay, Sierra Madre, and the Masungi limestone pinnacles.
Hundred Islands Underwater – Pangasinan
Ready to take the plunge with your partner, both literally and figuratively? There's nothing more unique than an underwater wedding ceremony where everything you know about a traditional wedding is thrown out the window.
Not sure about what wedding gown or suit to wear? Stress no more—scuba diving gear is all you need underwater.
Hundred Islands in Alaminos is no stranger to underwater weddings. So if you want a whole school of fishes to watch you sign "I do," this is the place to go. Scuba divers will stay with you down there to witness the event while your guests will wait for you on land after the ceremony.
The Party Yacht – Manila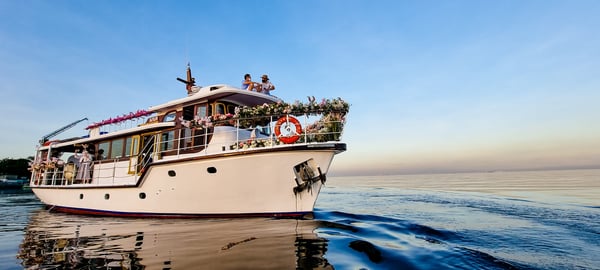 Imagine exchanging your vows on the deck of a boat, with the orange sunset right behind you. Sounds like a dream? You can make it come true by renting a yacht in Manila Bay.
A yacht is one of the small intimate wedding venues in the Philippines that will make your wedding day feel all the more special. It's not your typical wedding venue, but it's also not entirely unconventional. It has the right balance of unique and familiar, making your celebration stand out.[7]
Commercial Aircraft – Anywhere in the Sky
This is perhaps the most uncommon wedding idea out there, as not a lot of people can say that they were able to wed at 30,000 feet altitude. In fact, the first such wedding in the Philippines happened only recently during the pandemic onboard a commercial flight to Caticlan.[8]
This type of wedding is not easy to arrange. The first couple to ever do it in the Philippines was only able to do so because they were part of the cabin crew of Air Asia, who greenlighted this novel idea. Even in other countries, getting married in the sky is not as easy as it seems. Still, this idea is worth a shot!
Final Thoughts
Your wedding venue plays a huge part in setting the overall tone of your wedding. If the venue is fun and hip, the mood will reflect that vibe, too. If it's solemn and majestic, guests will pick up on that aura and also act accordingly. Make sure to choose your venue carefully and deliberately, factoring in its appeal, its significance, and your own budget.
Remember to rein in your spending and not splurge where you shouldn't. You need all the extra funds you can save to find the perfect house for newlyweds and start building your life together as a married couple. Keep looking ahead and don't forget that your wedding is just the beginning. Now you have a whole new future to prepare for.

Sources: