When you think of weddings, you immediately envision pretty magical lights, lavish floral arrangements, and stunning bridal couture. If money were no object, everyone would have that kind of wedding. But all that style can be very expensive.
Good thing we've got this article on how to save money on your wedding, with which you can save up to thousands of pesos. More importantly, these wedding budgeting tips won't sacrifice your aesthetic or style.
How Much Should I Save for My Wedding?
The answer will depend on how big you want your wedding to be. The more guests you invite and the fancier your venue, the more you need to save. If it's an intimate wedding, perhaps your savings will be enough to cover it.
How to Save Money on Your Wedding Venue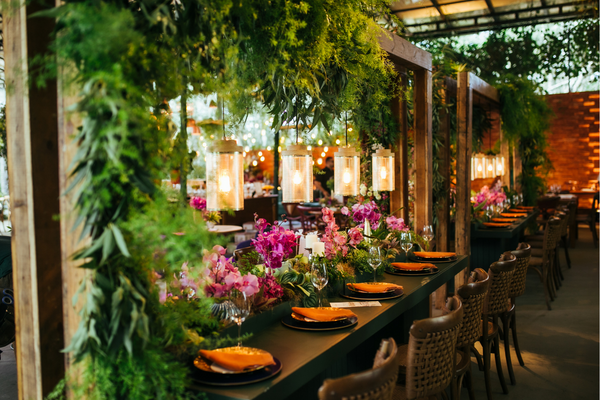 A beautiful wedding venue is a must, but you don't need to spend hundreds of thousands for it. Here are some wedding tips to save money on your venue.
Opt for a Non-Traditional Wedding Venue
Well-known wedding venues cost a lot. Why not have your wedding in a non-traditional venue, like a bed and breakfast, beach house, speakeasy bar, brewery, library, or cafe?
These unusual wedding venues will instantly give your wedding a special and unique feel. Choose one with beautiful decor or interior to match the theme you have in mind to shave off thousands of pesos on wedding decorations. More importantly, make sure it offers the right facilities for a big event like a wedding.
Use the Venue's Resources
Once you've booked your venue, ask what's included in the package. If you can use the chairs, tables, lights, sound system, microphones, and video projectors, that's a lot of savings for you, too.
How to Save Money on Your Wedding Dress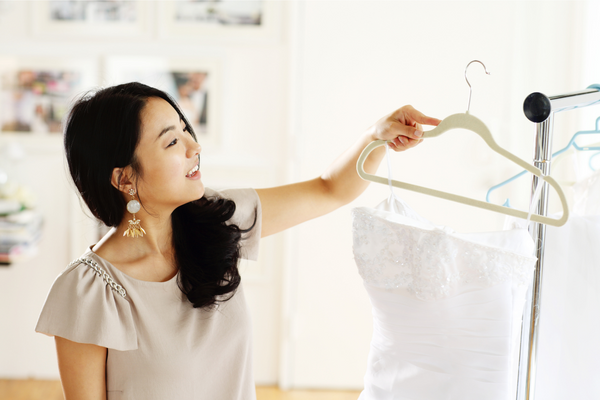 You don't always have to say yes to the dress, especially if you can buy a house for newlyweds for the same price. Check out these wedding hacks to save money on your wedding dress:
Keep Your Bridal Squad Small
This is no problem if you have a small circle of friends. But if you're Miss Congeniality, it's time to face the challenging task of trimming your bridal party list.
Doing so will significantly reduce your wedding costs. The fewer people you have to make bridesmaid dresses for, the lower your spending.
Consider a Rental Dress
Renting a wedding gown is more convenient and less time-consuming. Go to any wedding rental shop to find a dress you like. Schedule a fitting appointment, make any necessary alterations, pay, and wait for it to be delivered before your wedding day.
You won't need to worry about preserving the dress. Simply bring it back to the shop after the wedding. It's cheaper than buying a designer dress you'll never wear again and just store at the back of your closet.
If this is something you're okay with, start Googling gowns for rent or wedding dress rentals near you.
Opt for a Short and Lightweight Dress
Short, cocktail-style dresses are cheaper than full-length wedding dresses. A short and lightweight wedding dress is also more suited to Philippine weather. You'll feel more comfortable and free to move because you're not weighed down by a long and heavy dress. You won't have to spend as much, but you'll still be every bit a stylish and elegant bride.
Buy a Simple Dress and Alter It
Another wedding hack to save money is to buy a simple wedding dress and alter it based on your personal style. This way, you can easily buy something off the rack but also wear a dress that's uniquely your own. Just pay for the additional fabric or embellishments and the seamstress' fee.
Buy a Bridesmaid Dress
As absurd as it may sound, it's actually a very good wedding hack. After all, there are bridesmaid dresses that can pass for wedding gowns.
Go for a bridesmaid dress in ivory or white. It's a lot cheaper but carries a similar aesthetic. So instead of shopping for bridal gowns, check out the bridesmaid collection.
Get a Citi Personal Loan for Your Wedding Expenses

Wedding Tips to Save Money on Food and Drinks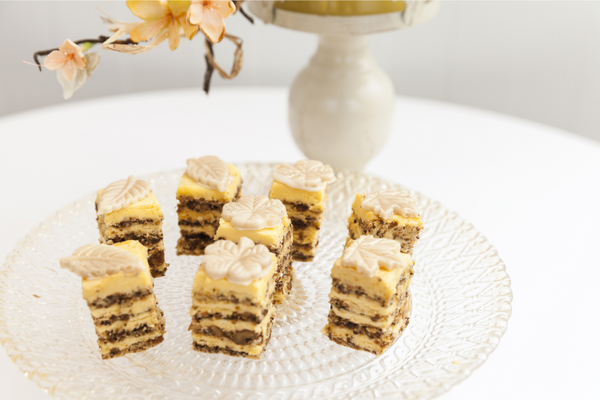 It's important to keep your guests well-fed on your wedding day. Thankfully, there are inexpensive and less traditional options that you can consider.
Do It Buffet or Family-Style
Need more tips on how to save money on your wedding? Review your catering options. Formal sit-down and plated meals tend to be more expensive. If you want something more budget-friendly, skip the waited table service and opt for a buffet or family-style meal.
Go for a Light Fare
You can even keep it casual by serving light bites. Keep your guests full without spending a fortune by serving light fare.
You can also hire food trucks at your reception, outdoor picnic or Sunday barbecue-style. Your guests will surely enjoy socializing while eating tacos, hotdog sandwiches, and pizza slices.
Or why not opt for a brunch wedding and serve delicious breakfast food? Waffles, pancakes, and silog meals are always a great idea.
Got a favorite restaurant or snack joint? You can ask them to cater your wedding, too. These are all creative, fun, and budget-saving ideas you should explore.
Cut Costs on Cake
Did you know that the more tiers to a wedding cake, the more expensive it is? Stick to a small two-tier cake, or even a sheet cake, to save on costs. Alternatively, you can replace a layer or two of real cake with faux ones to cut costs.
You can even opt for a store-bought wedding cake. Not only is it delicious, but it's also beautiful and costs a lot less. If you want to personalize it, buy a plain one in a flavor you like and decorate it with flowers and unique toppers. Your guests won't know the difference. Not all of them would eat the cake, anyway.
Or skip the wedding cake altogether and opt for donuts, cupcakes, or pies. Serve them on pretty trays and place them on a dessert or coffee table. It's an affordable, unique, and cute wedding idea that'll add a special touch.
Other Ways to Save Money on Your Wedding
So many things go into planning a wedding. Here are more ways to save money and stay within budget.
Use Your Network
Do you have a friend who does make-up for a living? Ask if they can give you a discount. If your cousin is good at making short films, ask them if they'd like to cover your wedding.
There's always someone in your personal or professional network that you can reach out to for wedding advice, recommendations, or discounts. This way, you can personalize your wedding and help others showcase their skills and talents.
Go Paperless
Save time and money when you send e-invites instead of paper invitations. Set up a wedding website or Facebook event page, so you can post announcements or interact with your guests as your big day approaches. You can also answer your guests' wedding-related questions right on the site.
Get the Look for Less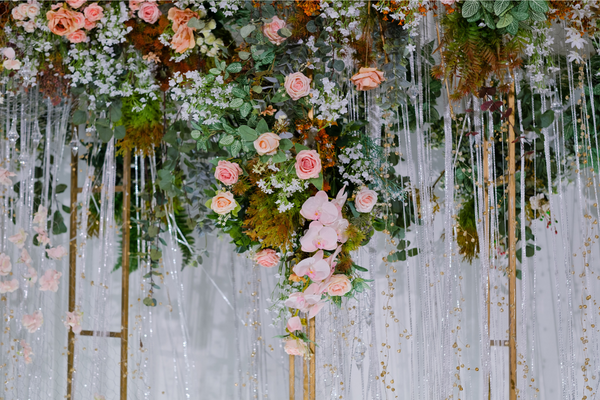 Wedding flowers cost a lot of money. Sadly, after a few hours of appreciating their beauty, we usually toss them in the trash. Spending so much money on something that doesn't last is truly a waste.
Instead of a room full of small floral arrangements that people will likely pass by and miss, why not make a flower wall instead? Place it in an area where guests usually gather, like the entrance, dance floor, or bar. It'll be a perfect spot for selfies and group photos.
Cut your flower costs by filling the room with candles and tea lights in short glasses. It will definitely up the cozy and romantic vibes.
You can even use different-sized balloons instead of flowers. They look sweet and whimsical in wedding photos, especially for daytime outdoor weddings. For evening weddings, try using paper lanterns and clear Christmas lights.
You can also consider foliage as another stylish but inexpensive option. Not only is it beautiful and popular, but it also adds a lot of charm and coziness to any place. Use greens as garlands on tables and chairs. You can even use them as table centerpieces and bridal bouquets.
For your wedding bouquet and boutonnieres—especially if you're allergic to flowers—consider non-traditional alternatives like leaves, paper, satin, or burlap. You can DIY it or buy a handmade bouquet from Lazada or Shopee. Aside from being cheaper than real flowers, it can last and be one of your most cherished wedding keepsakes.
Curate Your Wedding Playlist
It's one of the easiest wedding hacks to save money, especially if music is not your priority. DJs, string quartets, and live bands can truly set the mood, but they're also costly.
So create your own wedding playlist! Ask your music-loving friends to help you curate a list of songs to play at the reception. You can also check YouTube, Spotify,[1] or Apple Music for wedding playlist ideas.
Borrow or Buy Secondhand
List down wedding items that don't have to be brand new, then start scouring secondhand shops. From wedding decor to wedding attire, you can find everything online.
Moreover, borrow what you can to reduce wedding costs. If there are chairs and buffet, cake, and gift tables you can borrow, go ahead. Maybe you can borrow your uncle's vintage car instead of renting a wedding car. How about borrowing family heirlooms to wear as wedding accessories?
Take advantage of these opportunities to save money and get your 'something borrowed' covered. That's a whole lot of savings for your wedding.
Do Your Hair and Makeup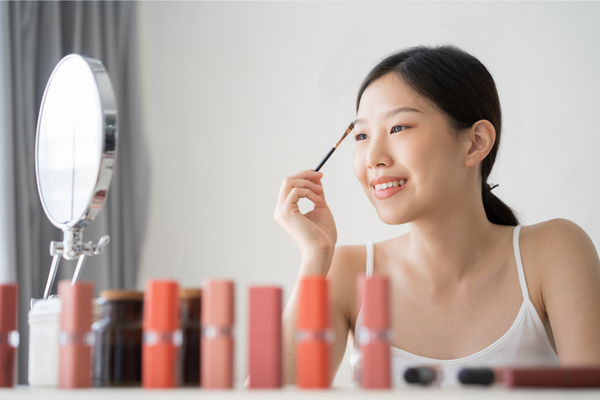 There are so many online hair and makeup tutorials, so you don't have to go in blind. Months before the wedding, research hairstyle and makeup looks you'd love to wear. Then find online videos that teach you how to achieve just that.
You can find tons of inspiration online, whether it's soft curls, fancy updos, or dramatic or natural bridal make-up. So experiment, practice, and perfect the look and style before your big day.
Skip the Wedding Favors
Let's face it: wedding favors often just get discarded by most guests. So skip them and save a few thousand pesos on your wedding budget.
If you want to give your ninongs and ninangs a small token of appreciation, consider simple and edible wedding favors they can enjoy right after your event. Some great examples include milk and cookies, cold brews, coffee beans, cupcakes, chocolates, and homemade jams.
Related reading:
Final Thoughts
It can't be said enough: The best way to save money on a wedding is to keep the guest list small. Limit the number of plus-ones, too.
If your parents or in-laws insist on inviting more people or try to take over the wedding planning, sit down for a respectful discussion. Hear out their ideas, but decide on what you think is best and suitable for your budget. Present a united front with your partner so that there'll be no ill feelings.
You can also consider getting a personal loan to cover some or all of your wedding expenses. Compare and find the best loan in the Philippines through Moneymax.
Save money without cutting corners. Try these non-traditional wedding ideas to save money and give your wedding a special touch. These tips on how to save money on your wedding can be easily achieved if you know the inexpensive yet tasteful alternatives.

Source: [1] Top 100 Wedding Songs 2022 (Spotify)