When couples get married or move in together, they naturally take shared responsibility for each other along with their finances. But misunderstandings about money can't always be avoided. By following practical financial tips for couples, both partners can iron out common money problems.
Still, you should lay out financial plans early on to avoid any future tension in the relationship. For instance, you should discuss how to split your finances from the get-go. How should you manage your expenses and save up for your goals?
There's no one-size-fits-all rule, so here are some financial tips for couples to help you meet your financial goals together.
Effective Financial Tips for Couples
It may come as a surprise that you and your partner don't always meet eye to eye on money matters. This doesn't mean you need to break up, or that you're going to be financially miserable together. You can succeed financially together with the following financial tips for couples.
✔️ Understand Each Other's Money Personality
The key to good financial health and a smooth-sailing relationship is understanding each other's views and behavior toward money. Discover your money personality[1] as well as your partner's. If you know what to expect, you can make compromises, and there won't be as many unpleasant surprises along the way.
Personality Type
Characteristics
Solutions

Spender

Loves branded clothing, new gadgets, and nice cars

Not necessarily bargain shoppers
Always fashionable, likes to take risks, and not afraid of debts

Deal with long-term benefits and not short-term satisfaction

Spend only on items or things you can actually use

Debtor

Spends more than they earn

Doesn't track their spending and doesn't have a budget system to follow

Get finances in order and start paying off debts before spending


Create a budget plan and strictly follow it

Saver

Sometimes mistaken as a cheapskate

Buys things only when necessary
Turns off unused electrical appliances
Doesn't have huge debts

Go for moderate savings so as to not sacrifice things that reward hard work

Shopper

Finds joy in spending money even when not necessary

Can't resist bargains and will do everything to purchase a great buy

Spend only the money you have

Avoid debts that might accumulate and earn huge interest

Investor

Money-conscious

Spends to earn profit

Comfortable with the risk of putting hard-earned cash into something that can allow it to grow

Plan investments

Beef up emergency funds
Save up for important things before investing
You and your partner may not necessarily fall into these categories, but you can check how things can be resolved or improved. Knowing your money personality is one useful money-saving tip for couples. You can better understand your actions and avoid making further mistakes in the future.
Read more: 5 Signs of Financial Compatibility
✔️ Set Your Financial Goals Together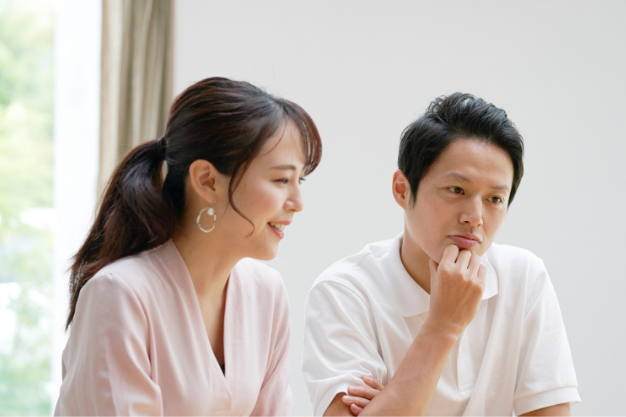 One of the most important financial tips for couples is talking about financial goals. Identify what you want to achieve together and how you'll get there. Here are some considerations you must discuss with your partner:
How to budget your daily household expenses
How to split living expenses and bills
Whether to pay off debts separately or together
How to handle financial emergencies
How to create saving and investment strategies
But before you can do this, there are several things you need to discuss as a couple:
Identify the Pain Points
Do you have outstanding debts at the beginning of your relationship? Did you apply for a loan to pay off your car or home down payment? Do you worry about your different earning capacities and spending habits? Identifying the pain points in your finances will also help set your financial goals as a couple.
Categorize Your Expenses
Not all expenses are shared. But electricity bills, groceries, and travel can be considered shared expenses. On the other hand, individual expenses can include new clothes, the money you send back home to your parents, and repayment for debts incurred before you two got together.
When you identify your expenses, you can trim down the complexity of money management.
Sort Your Goals and Problems
What's achievable or doable for you and your partner in the long term? What financial problems can be resolved immediately? For instance, can the issue of different earning capacities be resolved if you put up a small business together? Can you encourage your partner or spouse to look for other streams of income?
Create a Budget Plan
A budget plan can help you stay on top of your expenses. Designate an amount you can spend for goods, take-outs, entertainment, and personal expenses. Include your bills, other debt obligations, irregular payments, and money for your emergency fund in the budget plan.
This is one of the best money-saving tips for young couples who want to be on top of their expenses.
Make an Action Plan
You've sorted out your pain points, expenses, and financial goals. Now it's time to create an action plan on how to resolve these problems and realize your financial goals. Your action plan should include a timeline and a favorable action, like the following:
Opening a joint savings account
Building another source of income
Gradually paying small debts
Checking your investment options
Planning big purchases
✔️ Find a Money Management Strategy that Works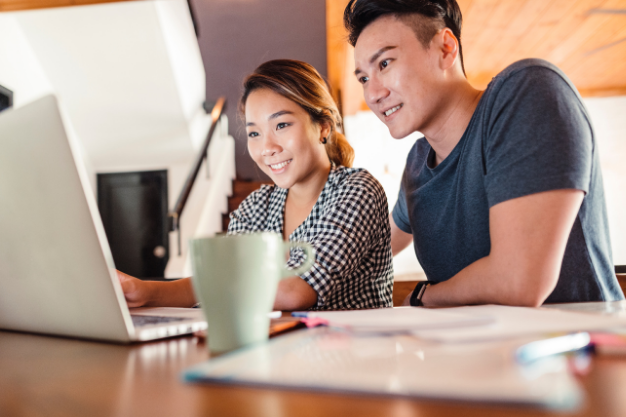 Decide on a strategy for managing your money together based on your shared financial goals. Consider these five strategies when exploring how to share finances as a couple:
Keeping your finances separate
Combining finances completely
Managing joint and individual accounts
Living off of a spouse's income
Living off of a spouse's income and saving the other's income
| Strategy | Pros | Cons |
| --- | --- | --- |
| Keeping your finances separate | You and your partner have a clear idea on how much to share each month and how much of your total earnings will be left for your individual needs. | Undisclosed earnings may be a problem, especially if there are debts that need to be paid. One partner can claim insufficient earnings. In this case, the other may be forced to cover for the deficit all the time. |
| Combining finances completely | You get an idea of your total income together. | Since you and your partner may have different earning capacities, the one with the higher income might see it as unfair. |
| Managing joint and individual accounts | You and your partner have visibility on savings and expenses. | Managing multiple accounts can be taxing and time-consuming. |
| Living off of a partner's income | Unless voluntarily, the partner with the higher income can cover all expenses. | Shouldering expenses alone can be a stressful obligation for the partner-in-charge of all the expenses. |
| Living off of a partner's income and saving the other's income | Sounds like an ideal savings tip for couples. There's a clear boundary of what you can spend and what needs to be saved. | If one partner's income doesn't come as expected, then either your savings or your expenses may be compromised. |
The best money management strategy depends on your preferences, priorities, current income, and other obligations outside of your relationship. Some couples may still have to provide for their nuclear family's needs, like sending their siblings to school or paying for their parents' utility bills. But regardless of what strategy you choose, you need to mutually agree on it and honor the agreement no matter what.
Related: How to Prevent Dependence on OFW Family Members

✔️ Identify Needs vs. Wants
Sit down with your partner and determine your needs and wants as a couple. Make sure you both agree on what you can and can't live without. Compromises are important in any relationship. If the other person isn't fully on board, discuss why and how you can create a middle ground.
Also, don't forget to allot a small amount to treat yourselves.
✔️ Set Guidelines for Spending
You may want to watch a movie this weekend, but your partner prefers to stay home and binge-watch on a streaming service. Maybe you'd like to save for a summer getaway, which your partner isn't too keen on because they'd rather save the money for a special occasion.
Frequent or repetitive disagreements on spending can take a toll on your relationship, so set some spending guidelines. For example, you both can agree to dine out twice a month or to travel once every three months. You can also agree to buy household appliances at a certain price limit you both agreed upon.
This financial tip for couples can help make your financial planning a lot easier.
✔️ Maximize Your Benefits
Know each other's company-sponsored benefits, (e.g., HMO and benefits for dependents), government-mandated benefits (e.g., PhilHealth and SSS maternity benefits), and life insurance policies. Discuss how you can maximize them to save money when one of you gets hospitalized. Make sure to enroll each other (and future kids) as dependents, if possible.
✔️ Discuss Job Security
Talk with your partner about handling your finances in case unemployment strikes. Create a financial blueprint and discuss how you can cut back on expenses and which plans involving money can be delayed. While no one wants to lose their job, it's still best to be prepared should it happen.
✔️ Decide If You're Financially Ready to Have Kids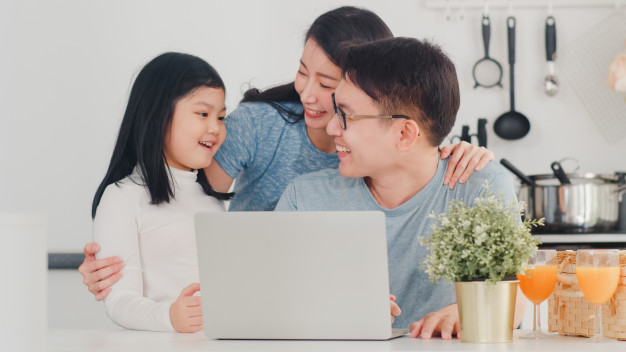 Raising children is fulfilling but can also drain your finances. You have to prepare for your kids' living expenses, medical needs, and education. Discuss with your partner whether you can afford to have one or not right now.
This is one of the best financial tips for couples who are planning to start a family soon.
Read more: Planning to be a Parent? Here's How Much You Might Spend on Raising a Child
✔️ Establish an Emergency Fund
Build an emergency fund for unexpected events such as unemployment, a broken-down car, or a trip to the hospital. Experts suggest saving three to six months' worth of living expenses. In addition, make sure your emergency fund is easily accessible to both of you. Why not keep it in a joint savings bank account where it can grow?
✔️ Review Your Finances Regularly
Discuss your budget, income, and spending at least once a month. Talk about what your budget looks like and if your money management system is helping you achieve your financial goals. These meetings can help you identify what you can do to improve your finances.
This money-saving idea for couples can also help strengthen your communication and trust level since you know you've got each other's back.
Related reading: Cold Feet or Something Else? 10 Signs You're Not Ready for Marriage
Final Thoughts
These financial tips for couples aren't the end-all-and-be-all of money management. Communicate your needs and thoughts while creating a budget plan, so you can customize your money management strategies.
There are a lot of tips on how to save money as a couple out there. But no matter how well you manage your finances together, you may still face a few hurdles along the way.
Don't let budgeting cause a strain on your relationship. It takes open communication, honesty, and the willingness to compromise to achieve your financial goals as a couple.
This article also appeared in The Manila Times.

Source: [1] 5 Money Personality Types: Which One Are You? (Investopedia, 2021)