For many of us, celebrating Mother's Day is a big deal—and it should be! With all their sacrifices and unspoken hardships, mothers deserve to be loved, revered, and celebrated every single day.
Thankfully, there are many unique ways to celebrate Mother's Day. Here are some Mother's Day surprise ideas she will surely appreciate and remember for years.
13 Mother's Day Surprise Ideas
With a bit of creativity and thoughtfulness, you can create a memorable Mother's Day. Let these Mother's Day ideas serve as your starting point.
❤️ Sweat It Out Together
Get Mother's Day off to a great start on an invigorating note. Sweat it out with Mom and get your blood running. Activate the happy hormones through physical activities like jogging around the neighborhood, hiking, or exercising at the gym.
If your mom prefers low-impact exercises, you can take a morning swim or do yoga or pilates. You can even master a new TikTok dance challenge together!
❤️ Have a Spa Day
Make the most of the day by giving your mom a relaxing and refreshing spa experience. Book her a session at a health and wellness spa where she can get a full body massage plus a foot spa, manicure, and pedicure.
If you have a tub in your bathroom, you can turn it into a spa with scented candles, flowers, and music. Draw up a bubble bath for her and sprinkle some rose petals. For a real treat, bring in a bathtub caddy with a charcuterie board, wine, and a tablet to watch movies or read an ebook from.
❤️ Cook a Fancy Meal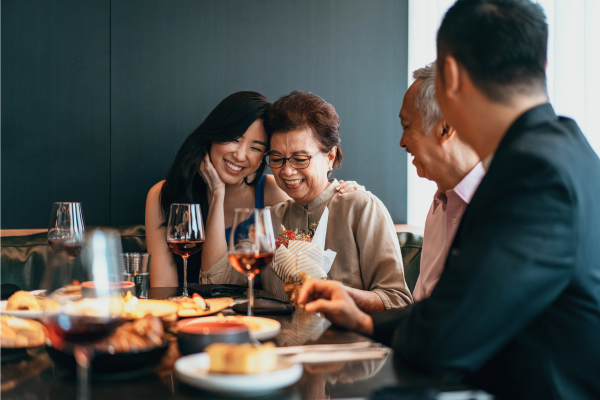 While you can always book a table at her favorite restaurant, go the extra mile by preparing a special meal from scratch. Cook everything yourself or get some help from your siblings. The effort that each family member puts in will surely touch your mom.
If you intend to make a restaurant-grade meal, consider making a classic roast chicken—tasty, lavish, and easy to make. You can go all-Filipino by roasting it over charcoal a la lechon manok or just season it with lemon, thyme, and rosemary.
Try Porchetta if you want something different for your lechon belly. This Italian dish requires you to season the pork belly with herbs and aromatics (peppercorns, thyme, rosemary, or sage). Once seasoned, roll the pork belly into a tight log before roasting it in the oven.
❤️ Order Her Favorite Food
If you don't have the time to cook, that's alright. You can always order your mom's favorite food, which will still be a great Mother's Day treat.
❤️ Enroll Her in a Class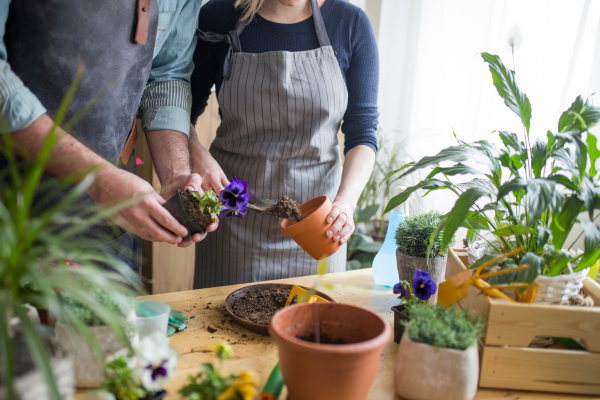 Take notice of your mom's interests so you can get an idea of what to gift your mom for Mother's Day. For instance, if she loves flowers, you can enroll her in a class where she can learn flower arrangements.
Sign her up for a barista course if she loves coffee or dreams of someday having a coffee shop.
For a more fun Mother' Day surprise idea, you can even do it together. Take cooking or baking lessons, or book a paint-and-sip class for you, your mom, and her friends to make it a session to remember!
❤️ Write or Perform a Song
Are you the artsy or musical type? Why not write your mom a stirring and emotional song?
She'll love it if you perform the song live, but if you're too shy, you can also record it). If you have no time to record a song or think you don't have the musical chops, print the song in a poem format, frame it, and gift it to your mom.
❤️ Shoot a Heartfelt Video Greeting
A video greeting is one of the best Mother's Day surprise ideas. It's a sweet way to remind your mom how much you love her.
You can include the greeting as part of a more significant celebration. Make it more special by collating individual video greetings from other family members, relatives, and even your mom's friends. Include throwback pictures and embed a memorable track (or perhaps your mom's favorite song) to set the mood. Don't forget to capture your mom's reactions as she watches the video!
❤️ Book a Staycation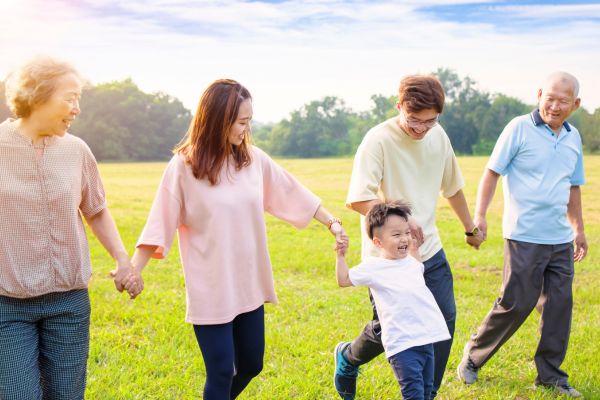 Sometimes it's good to leave the house and go somewhere you've never been. Booking a weekend getaway is one of the best Mother's Day treat ideas that any mom will love.
Get out of the city and let Mom enjoy some sun and fresh air. Book a room at a place near the ocean or the mountains. Take a dip in the water, walk by the shore, and then enjoy a sumptuous seafood meal!
You can also book a hotel room in the city and explore the local sights and sounds. Shop, dine, or just lounge around in the massive hotel bed and order room service.
❤️ Hold a Mom Trivia/Game Night
It's just like a pub quiz night, only you're hosting it at home and asking mom-related questions (or anything about Mother's Day). It will surely bring belly-aching laughter to the whole family when moms need to explain themselves for any juicy bit of trivia.
Moreover, you can enjoy a wholesome trip down memory lane as you discover special and little-known details about your mom.
You can also play games like Pinoy Henyo, Family Feud, Pictionary, or Charades and. Customize each to make it Mother's Day-themed.
❤️ Do a Self-Photo Shoot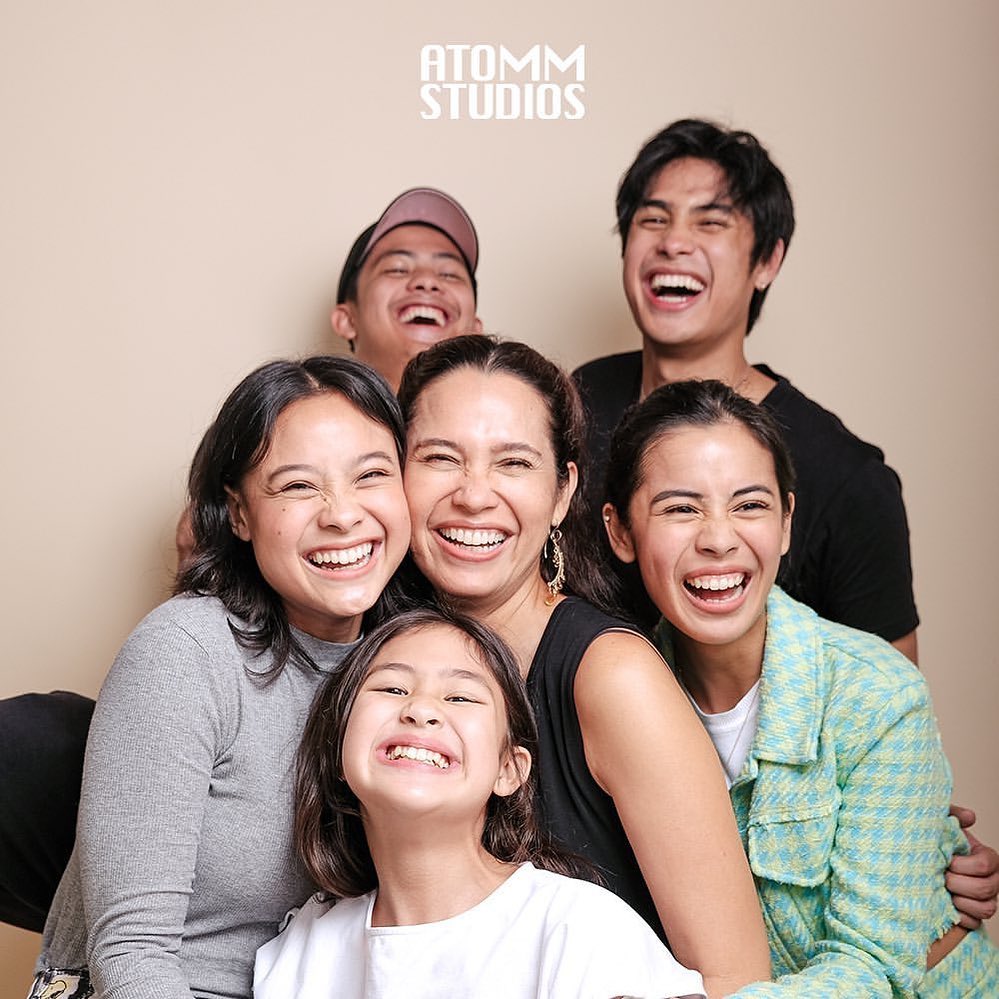 Photo: @atomm.studios (Instagram)
You can always take quick snaps and selfies from your phone. But there's something special about going to a studio with a professional set-up, especially when it's you and your mom being photographed.
For self-conscious moms, self-photo shoots are perfect. You have the whole studio to yourself, and you just click on the camera remote when you're ready for the shot. Take unlimited photos and choose the best ones to print and frame.
You won't just share a great moment with your mom. You'll also capture the special memory in a photo you can both enjoy for years.
❤️ Schedule a Movie Date Night
When did you or your mom last watch a movie that's not on Netflix or other streaming services?
Take your mom to the cinemas, complete with popcorn and soda. If anything's good and worth seeing in 3D, treat Mom to a 3D movie experience, too!
It's a great way to relax, be entertained, and escape the real world for a few hours. You can also dissect the movie afterward and enjoy talking to your mom well into the night.
❤️ Go to Karaoke
It's not a celebration without karaoke, is it? You can set up your karaoke at home or book a room at any karaoke bar or KTV restaurant in the metro.
Since it's Mother's Day, let Mom hold the mic and dish out the greatest hits from different decades. Make sure to hype her up on the money notes when she starts on the Mariah, Whitney, Adele, and Beyonce belters!
❤️ Dress Up in Mom's Iconic Looks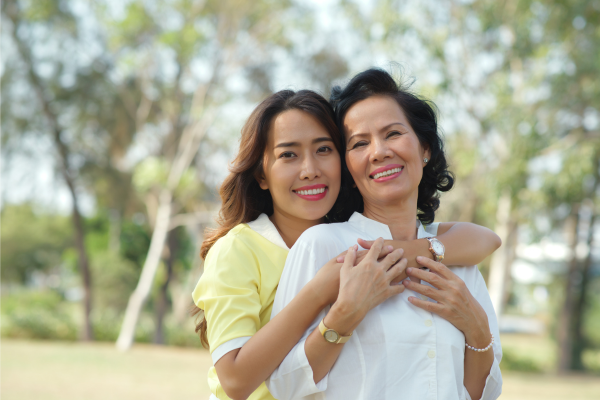 Whether it's her '70s flower child era, her '80s acid wash jeans phase, or her obsession with the '90s Demi Moore hairstyle, surprise your mom by recreating her most unforgettable looks.
Let your creativity run wild by raiding her closet. You can even go thrifting to find similar fashion pieces to achieve the same look. Count yourself lucky if your mom prefers house dresses (also known as dusters). Just pluck her favorite one from the closet and wear it as your mom does!
Related reading:
Final Thoughts
Let this list of Mother's Day surprise ideas inspire you to make your mom's day memorable. Don't forget, though―even a few hours of uninterrupted sleep, a day with no plans or chores, and some peace and quiet can be a fantastic Mother's Day treat for all busy and hardworking moms!
Use the Best Credit Cards for Shopping and Dining this Mother's Day
While planning this year's Mother's Day surprise idea, use the credit cards below to enjoy discounts, get cashback, and earn points:
💳 UnionBank Classic Visa Card
1 reward point for every ₱35 spend
Up to 36 monthly installment terms at 0% interest
💳
HSBC Red Mastercard

4x reward points on online, shopping, dining, and overseas spend
1 reward point for every ₱20 spend
6% rebate on first Caltex fuel spend; 3% rebate year-round
💳
HSBC Platinum Visa Rebate

5% rebate on every shopping and travel transaction
6% rebate on your first Caltex fuel spend, 3% year-round
Free purchase protect insurance coverage up to ₱15,000
💳
BPI Amore Platinum Cashback Card

4% cash back on dining and online delivery spend
1% cash back on supermarkets and department store spend
Up to 0.3% cash back on other international and local retail spend
Exclusive perks and deals at any Ayala Malls nationwide