Expenses never end, and sometimes, you may find yourself in a bind. It's either your business requires additional funding or one of your parents needs financial assistance for their surgery. Sourcing quick cash can be difficult, especially when you've already exhausted your government loans and your relatives or friends are also short on money. But if you have a car, you may consider applying for a car title loan for cash.
When it comes to pawning your car title, it's best that you rely on reputable loan companies, such as Asialink Finance Corporation. Asialink's OR/CR loan is definitely one of the best and most practical choices in the market today.
Want to find out more? Check out this comprehensive guide to the Asialink OR/CR loan.
What is Asialink OR/CR Loan?
The Asialink OR/CR Loan is a type of collateral loan that requires borrowers to temporarily surrender their asset in exchange for cash.[1] In this case, the collateral is the car title (also called Official Receipt/Certificate of Registration or OR/CR). If you borrow money through a car title loan, the lender will release your vehicle's OR/CR once you've fully repaid the loan.
What are the Advantages of Asialink OR/CR Loan?
The OR/CR loan from Asialink has four appealing features that may convince you to apply.
1. Your Car Stays With You
While some car title loan companies require borrowers to surrender their car, Asialink does not. You'll only be required to turn in your OR/CR. With that, you can still use your car. This feature is especially helpful for those who use their vehicles as a source of income.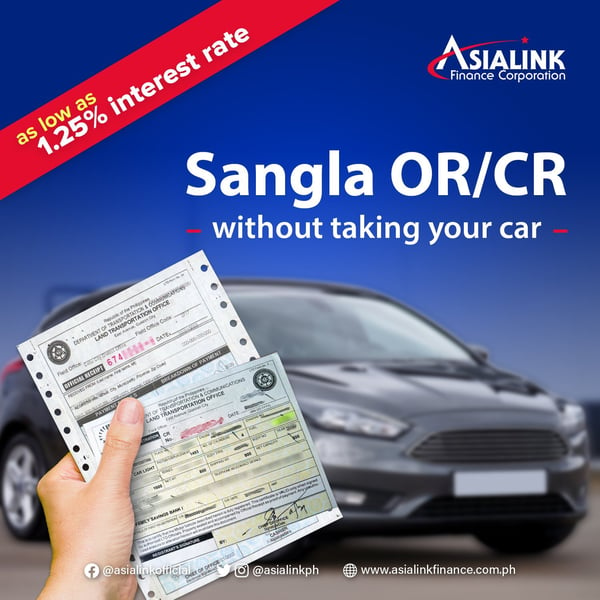 2. The Loan Program Accepts Old Car Models
If your car is 16 years old or so, you'll be glad to know that Asialink accepts 2005 car year models and above. However, make sure that your auto loan is already fully paid for, as the company doesn't accept encumbered units. On the other hand, if you're using a truck as collateral, any make and year model will be accepted.
Read more: Fully Paid Car Loan? Here's What You Should Do Next
3. It Also Accepts a Wide Variety of Vehicles
Asialink accepts not only cars but also other types of vehicles, such as trucks, public utility vehicles (PUVs), public utility jeepneys (PUJs), taxis, multicabs, tricycles, and motorcycles (only select brands like Honda, Kawasaki, Suzuki, and Yamaha).
4. The Loan Has Low Interest Rates
Paying back the loan shouldn't be much of a burden since Asialink's car title loan has low interest rates. Take note, though, that the interest rates will depend on the type and age of the vehicle.
Check this table to weigh your options.
| Loan Product | Term | Interest Rate |
| --- | --- | --- |
| Car Mortgage - Sangla OR/CR (2010 and above year models) | 12-36 months | 1.25% |
| Car Mortgage - Sangla OR/CR (2005-2009 year models) | 12-36 months | 1.50% |
| Truck Mortgage - Sangla OR/CR (all year models) | 12-36 months | 1.30% |
Read more: 7 Costly Mistakes You Make When Getting a Personal Loan
What are the Requirements of Asialink OR/CR Loan?
The car, truck, or any acceptable vehicle must be owned by the borrower. Again, the car loan of the unit should be already fully paid.
When it comes to Asialink's car title loan requirements, here are the documents you need to submit:
Two primary IDs (e.g., Philippine passport, PRC ID, SSS card, UMID card, among others)
Proof of billing (latest water or electric bill)
Copy of the Official Receipt and Certificate (OR/CR)
Proof of TIN
Documented proof of income
For employed:
Certificate of Employment
Company ID
Payslips for the last three months
Payroll bank statement
For self-employed or with business:
Mayor's Permit
DTI Certificate of Business Name Registration
Bank statements for the last three months
Note: Asialink may require you to present additional requirements upon credit evaluation.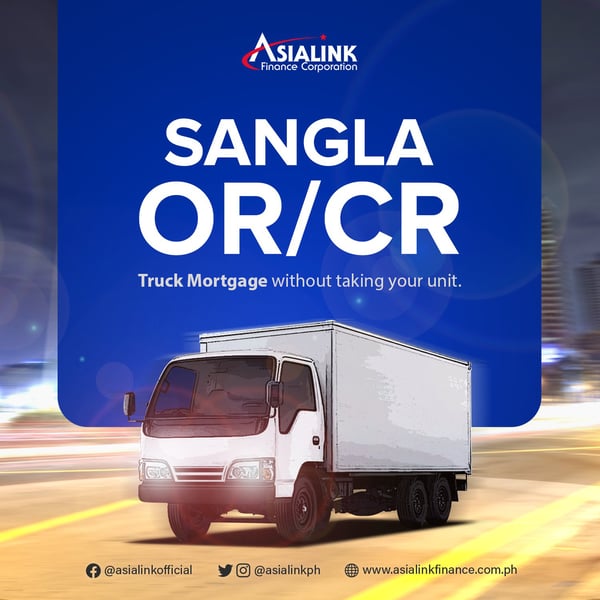 How Can I Apply for an Asialink OR/CR Loan?
There are four ways to apply for an Asialink OR/CR loan. Pick the one that's most convenient for you:
1. Loan Consultant
Asialink has deployed accredited loan consultants all over the Philippines. If you happen to know one near you, you can ask them about a particular loan you're planning to apply for. If you're ready to apply, schedule a meeting with them and bring your requirements.
2. Telephone
Asialink also allows borrowers to initiate their loan application via phone. Here are the phone numbers that you may use:
Customer Service
Telephone: (02) 8709 7777
Globe: (0917) 847-3639
Smart: (0908) 886-8780
Loans Department
Telephone: (02) 8631 4380
Globe: (0917) 862-8657
3. Online
You can also apply for a car title loan online through Moneymax. Asialink's car title loan process is simple and straightforward:
On the Moneymax website, click Loans and select Asialink. Click Apply Now.
You'll then be redirected to an online application form. Fill it out, and once you're done, hit Submit.

4. In Person
For faster processing, just head over to the nearest Asialink branch. All you need to do is bring the required documents.
How Will I Know If the Loan is Approved?
Asialink personnel will contact you if your application is confirmed. And if it's approved, you'll receive further instructions on claiming the loan proceeds.
The money, on the other hand, will be disbursed via check, direct deposit, or cash card.
Are There Other Fees or Charges to Cover?
There's no application fee. Asialink application forms are also not for sale. So be wary of loan consultants who are charging fees for their assistance.
However, processing your application comes with a fee. A 4% processing fee is applied to both car and truck mortgages.
Can I Renew My Loan Even If I Have an Outstanding Balance?
Yes! Asialink does not require borrowers to pay fully off their loan before they can apply for a renewal. If you have already paid at least 50% of the original loan, you'll be allowed to apply for a new one. Remember, though, that the outstanding balance will be deducted from the proceeds of the new loan application.
Related reading:
Final Thoughts
If you're in need of quick cash, don't just get it from anywhere. Consider the reputation of the lender and of course, the stakes involved. So if you're pawning your car title, go for the likes of Asialink Finance Corporation. Asialink's car title loan will not only give you a sizable payout but will also let you keep your car. Now, that's a win-win deal!

Source: [1] Definition of Collateral (Investopedia)