No matter how prepared you are, unexpected expenses can take a toll on your finances. Thankfully, you can always turn to online lenders that offer flexible loans. One of the best things about them is that the application process is quick and easy.
Online Loans Pilipinas is one of the many online lenders that help cash-strapped Filipinos get by. But is it legit? What are its features? How can you apply for a loan?
You'll find about that and more in this Online Loans Pilipinas review. Let's dive right into it!
What is Online Loans Pilipinas?
Also known as OLP, Online Loans Pilipinas Financing, Inc. is a financial technology or fintech platform that offers micro and consumer loans online. You can access this lender's service via its website and app. With this feature, borrowers can apply for a loan anytime, anywhere.
The Online Loans Pilipinas app is available on Google Play, the App Store, and Huawei AppGallery. The lending company claims that the app already has over one million downloads.[1]
Is Online Loans Pilipinas Legit?
Is Online Loans Pilipinas SEC-registered? Yes. Its registration number with the Securities and Exchange Commission is CS201726430, CA No. 1181.[2] It's also recognized by the National Privacy Commission or NPC.
These credentials make Online Loans Pilipinas legit.
What is an Online Loans Pilipinas Loan?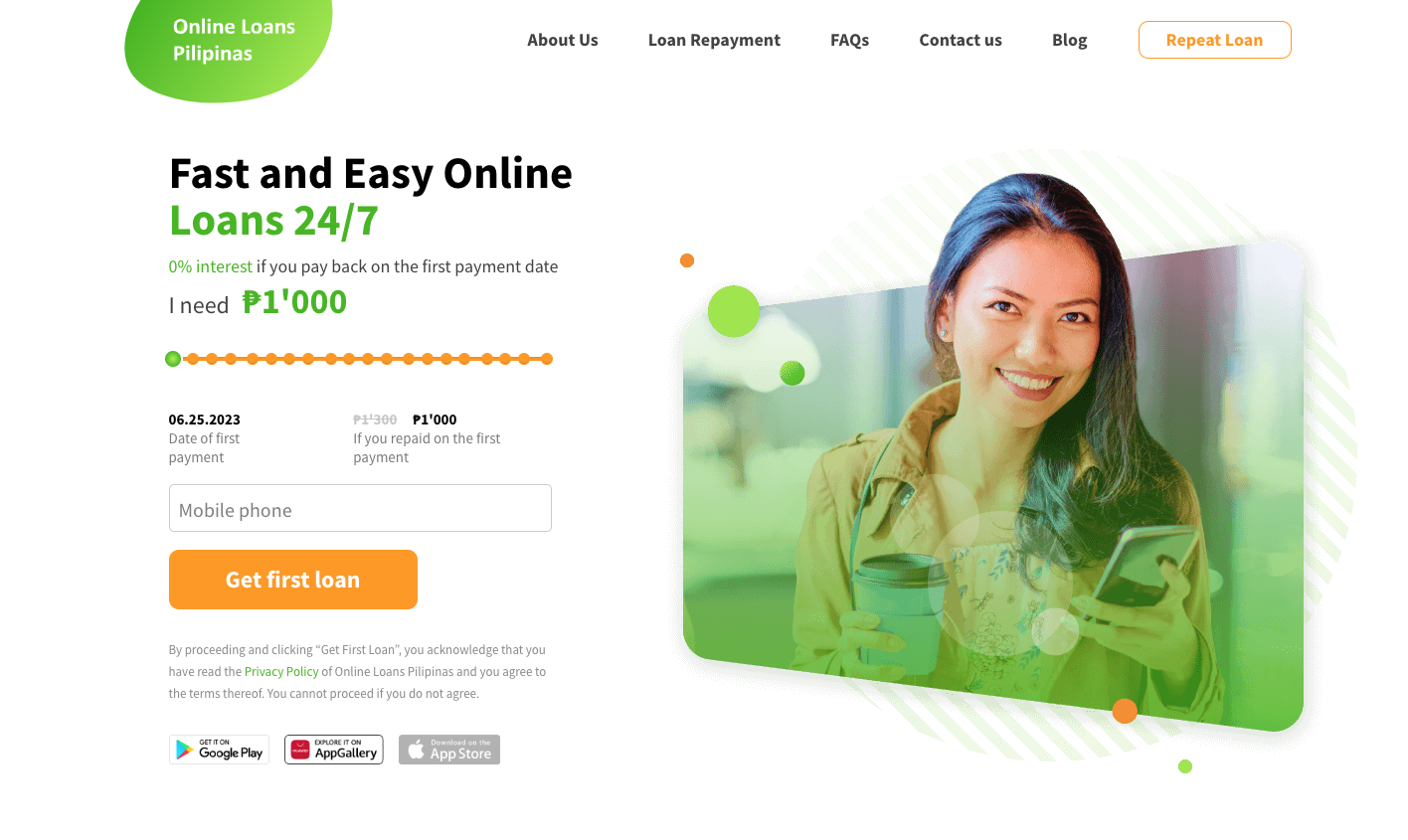 An OLP loan is the money lent to borrowers who need fast cash. You can use it to finance your needs or emergencies, from rent and medicines to groceries and your kid's education.
The minimum loan amount is ₱1,000 while the maximum loan amount is ₱20,000. However, the maximum loan amount for first-time borrowers is ₱7,000. You can only apply for a loan amounting from ₱8,000 to ₱20,000 if you're a repeat borrower.
The loan term is up to thirty days. But in case of unforeseen situations through no fault of the borrower, the term can get a 30-day extension.
The Online Loans Pilipinas interest rate is 0% if you pay back on your first payment date. According to one user, the maximum interest rate per month is 15%.
The Pros and Cons of Borrowing from Online Loans Pilipinas
If you're considering OLP, it would be wise to weigh its advantages and disadvantages. Check out the following:
👍 Pros of Borrowing from Online Loans Pilipinas
The entire loan application is done online. Just download the app, input your details, provide the required documents, and select your loan amount. OLP claims that you can complete the application process in three minutes.
OLP doesn't require collateral. This means that you don't have to surrender an asset to get cash.
You can get an estimate of the fees in advance. Use the Online Loans Pilipinas calculator to see the fees before committing yourself to a loan.
👎 Cons of Borrowing from Online Loans Pilipinas
OLP offers small loan amounts. You can only access higher loan amounts if you're a repeat borrower. But even the maximum loan amount may not be enough to cover your needs or emergencies.
The fees are high. Former users report that the interest rates are high. Late payment also comes with a penalty fee.
The Good and the Bad: Online Loans Pilipinas Reviews
OLP features a lot of positive reviews from former users. According to some borrowers, the company's loan product helped them buy their medicines and pay their bills. One former client even commended OLP for helping her afford food when she had nothing else in her pocket.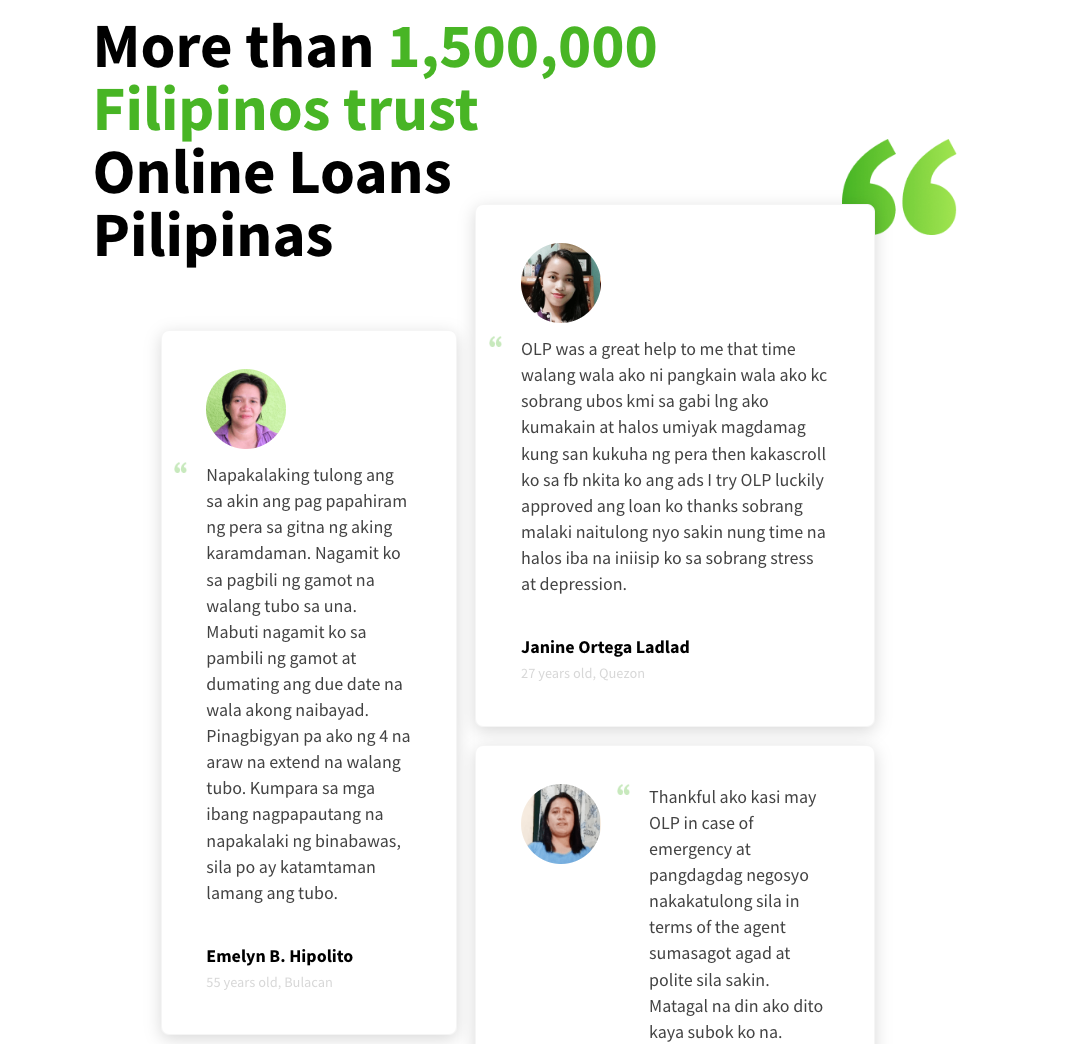 On the other hand, there are also plenty of Online Loans Pilipinas complaints. On Google Play, many give OLP a one-star rating, citing the unusability of the app, high interest rates, and unreasonable transaction fees as the usual pain points. One Online Loan Pilipinas feedback reported receiving loan proceeds less than what they applied for.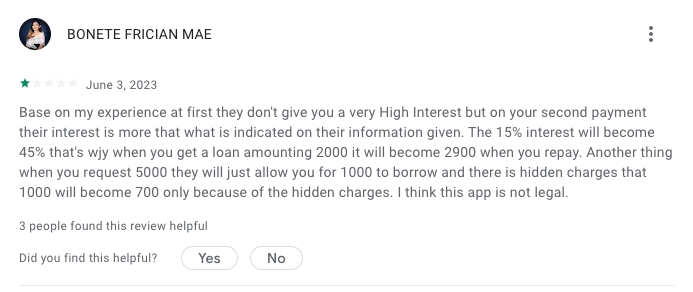 Some borrowers even called OLP a scam since it asks for high repayment amounts. However, one reviewer explained that borrowers can significantly reduce the repayment amount by unchecking the Preferred Borrower Bundle feature in the app.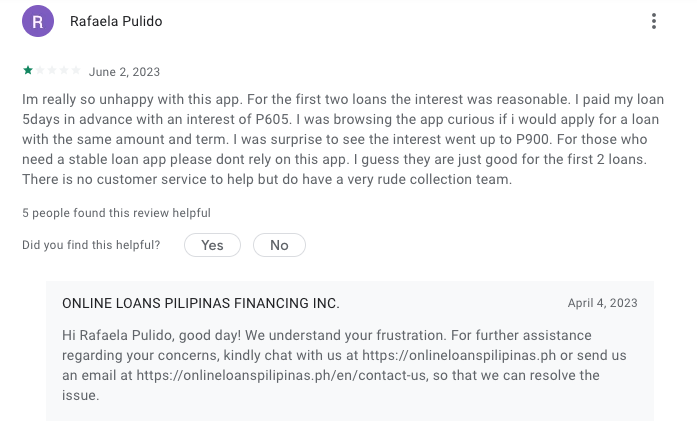 What are the Online Loans Pilipinas Requirements?
Interested in applying for an OLP loan? The Online Loans Pilipinas requirements are straightforward. You just need to comply with the following:
Must be between 22 and 70 years old
Must be residing in the Philippines
Must be employed
Must have a valid mobile number
Must have a valid ID (passport, driver's license, PhilHealth ID, SSS ID, Postal ID, UMID Card, PhilSys ID, PRC ID, TIN ID, and Voter's ID)
Must have a valid bank or e-wallet account
How to Apply for a Loan in Online Loans Pilipinas
Here are the steps to take when applying for a loan in OLP:
Download the Online Loans Pilipinas app.
Launch the app. Read the notices, Terms and Conditions, and Privacy Policy. Then click the Accept button.
On the homepage, choose your loan amount. Click the Apply button.
On the next page, input your mobile phone number and click the Send Me Code button. Then enter the OTP sent to your mobile number.
Supply the required information. Click Next.
On the next page, enter your province and full address. Click Next.
Upload your valid ID. The OLP app has a list of accepted documents.
Take a selfie with the ID that you nominated for your application.
Enter your bank account or e-wallet details. Click Get Money.
Online Loans Pilipinas Review: FAQs
At this point, you've already read through this Online Loans Pilipinas review. But if still have some questions about this app, this section may give you the answers you're looking for.
1. How long is the Online Loans Pilipinas loan approval?
Online Loans Pilipinas approval is fast. According to OLP, you can receive the decision on your application in just a few minutes. You'll also get the loan proceeds within less than five minutes, 24/7—even during holidays.
2. How to pay Online Loans Pilipinas?

You can process your Online Loans Pilipinas payments via these channels:
7-Eleven
Bayad outlets
Robinsons Business Center
SM Malls
Cebuana Lhuillier
LBC
RD Pawnshop
Palawan Express
Coins.ph
Maya
GCash
You may be wondering how to process an Online Loans Pilipinas GCash payment, which is a popular repayment method. Here are the steps:
Sign in to your GCash app.
Click Pay Bills.

Click Loans.
Select Dragon Loans.
Supply the required information and enter the payment amount.
Click Next then Confirm.
3. What happens if you don't pay your Online Loans Pilipinas loan?
If you aren't able to repay the loan due to unforeseen circumstances (as long as the borrower isn't at fault), OLP offers a 30-day extension.
4. How can I contact Online Loans Pilipinas customer service?
Online Loans Pilipinas' contact number and email address aren't available on their website, but you can fill out the form on onlineloanspilipinas.ph/contact-us if you have concerns. You can also directly message them by clicking the chat icon on the website's bottom right side.
Related reading:
Final Thoughts
With this Online Loans Pilipinas review, you can easily decide if this app is for you. You can make it one of your options just in case times get rough. But before committing yourself to a loan, always read the terms and conditions carefully and borrow only what you can repay.
If you're looking for other reputable and trusted lenders, you can find them here on Moneymax. Compare your options below and apply right away once you've found a suitable offer:
| Personal Loan | Minimum Loan Amount | Maximum Loan Amount | Monthly Add-on Rate | Minimum Annual Income | Approval Time |
| --- | --- | --- | --- | --- | --- |
| UNO Digital Bank Personal Loan | | | | | |
| Metrobank Personal Loan | | | | | |
| UnionBank Personal Loan | | | | | |
| BPI Personal Loan | | | | | |
| RFC Loan | | | | | |
| Tonik Flex Loan | | | | | |
| Tonik Quick Loan | | | | | As fast as 1 hour |
| Tonik Big Loan | | | | | 7 days |
| Tala Loan | | | | | 24 hours |
| HSBC Personal Loan | | | | | |
| CIMB Personal Loan | | | | | |
| Maybank Personal Loan | | | | | |
| RCBC Bank Personal Loan | | | | | |
| SB Finance Personal Loan | | | | | |
| CTBC Bank Personal Loan | | | | | |
| PSBank Personal Loan | | | | | |
Sources: