So many goals, so little time. And often, not enough money to make these goals a reality, too.
Good thing there are plenty of loan options in the Philippines to help you achieve these goals. One is an ACOM loan that allows you to borrow money with no collateral or co-maker, pay in flexible terms, and request an additional loan amount.
What is an ACOM Loan?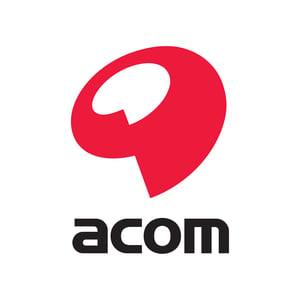 ACOM Loan is a fast cash loan from ACOM Consumer Finance Corporation, a financing company in the Philippines that was established in July 2017 with ₱500 million in capital.[1]
Its parent company is ACOM Co., Ltd. (Japan), which was incorporated in 1978 and was listed on the first section of the Tokyo Stock Exchange in 1996.
Today, ACOM has around 29 branches and booths in Luzon and an online loan facility where Filipinos can apply for an ACOM loan, particularly the REVOMAX Loan.
What is REVOMAX?
REVOMAX is ACOM's online loan that offers low interest rates, a long repayment period, and an increasing credit limit depending on the result of your credit assessment.
You can borrow anywhere from ₱3,500 to ₱500,000 for your first ACOM loan.
This ACOM revolving loan allows you to borrow an additional amount within your credit limit (up to ₱500,000) during your repayment period. Thus, you can use your REVOMAX loan consecutively with just one contract.
Moreover, your loan amount or credit limit will increase depending on your credit evaluation.
Is ACOM Legit?
Yes. ACOM is one of the leading personal loan companies in the Philippines and Japan that's registered with the Securities and Exchange Commission.[2] This means that ACOM is duly authorized by the SEC to operate as a financing company in the Philippines per the Financing Company Act of 1998.

7 Reasons to Apply for an ACOM Loan
Here are the features and benefits of an ACOM Loan that will help you decide if it's the right financial product for you:
Fast approval - Your loan application can be approved in one day, depending on your credit evaluation.
No collateral or co-maker required - Just provide a valid government-issued ID, proof of income and employment, and TIN. Plus, there are no requirements for repeat borrowers.
Easy monthly repayments - You can pay before your due date and higher than your required payment.
Flexible terms - Choose to pay your ACOM loan in six to 10 months.
Increasing loan coverage - Depending on your credit evaluation and good payment history, you can increase your credit limit to up to ₱500,000.
Competitive interest rates - An ACOM's fast cash loan interest rate ranges from 3.315% to 4.563%.
Multi-purpose - Use your ACOM loan proceeds to pay for your children's tuition, fund your small business, upgrade your appliances or furniture, renovate your house, pay for travel expenses, and more.
Who Can Apply for an ACOM Loan?
To qualify for an ACOM Loan, you need to meet the following eligibility requirements:
Filipino citizen
21 to 65 years old
Employed for at least three months
Earning at least ₱7,000 monthly
Has a work landline and personal mobile phone number
ACOM Loan Requirements
Employed borrowers only need to submit these three documents when applying for an ACOM loan:
A valid government-issued ID - PhilSys ID, UMID, passport, etc.
Proof of employment - Company ID or original Certificate of Employment (issued not more than three months ago) and payslip within 15 days
Proof of TIN - Company ID, payslip, recent BIR 2316, or TIN Card
How to Apply for an ACOM Loan
The ACOM loan process is pretty straightforward, and you have two options: visit any ACOM branch or booth[3] during business hours to apply in person or online.[4]
👉 Walk-in ACOM Loan Application Process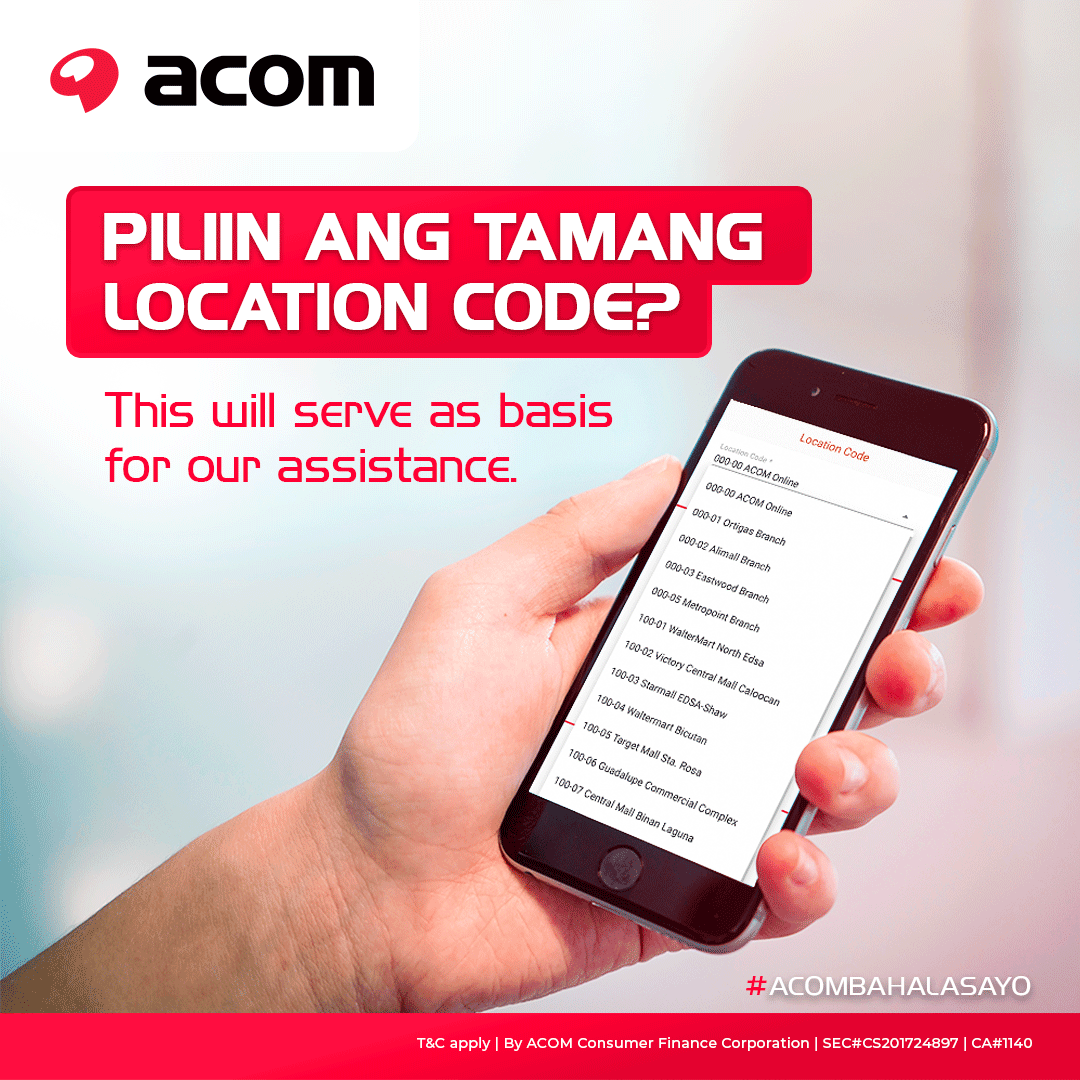 To apply for a loan personally, proceed to any ACOM location and submit your loan requirements. ACOM has branches and booths in the following cities and provinces:
Bulacan
Caloocan
Cavite
Laguna
Makati
Mandaluyong
Manila
Muntinlupa
Nueva Ecija
Pampanga
Pangasinan
Parañaque
Pasay
Pasig
Quezon City
Rizal
Tarlac
Valenzuela
👉 Online ACOM Loan Application Process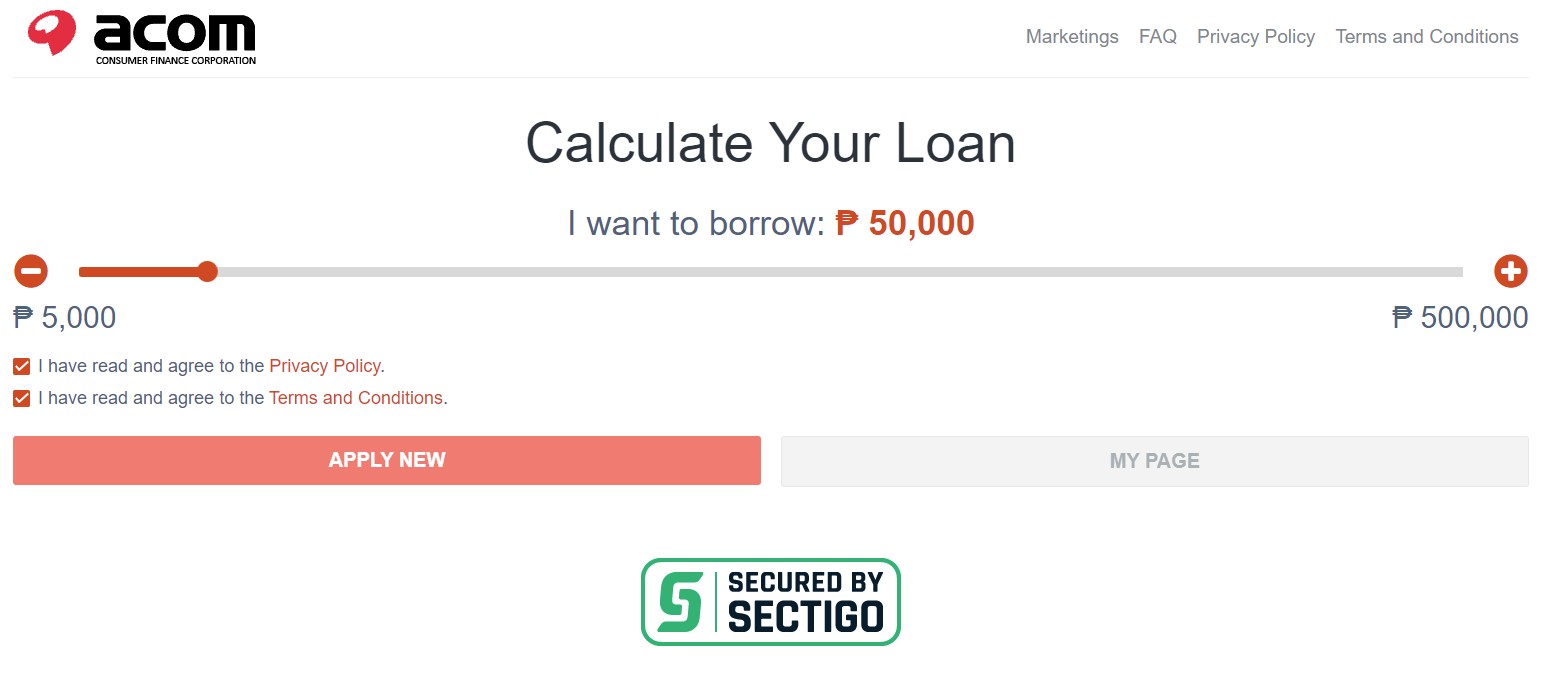 Do you prefer the convenience and speed of filing your loan application online? Here are the steps you need to take:
Click on Apply Online on the ACOM website.
Slide the bar to the amount you want to borrow.
Tick the Privacy Policy and Terms and Conditions boxes, and then click on Apply New.
Choose how you want to sign in from the options.
If you want to sign up with your email, enter your email address, and your first and last name, and then set a password.
Click on Save.
Choose your location code (the ACOM branch that will handle your loan application). Click on OK.
Fill out the online form with your personal and work or business information, loan purpose, Facebook account, and preferred borrowing method (LBC, bank transfer, GCash, or Maya).
Depending on your chosen borrowing method, you must also provide the bank name, branch, account name, and account number.
On the Declaration page, tick the Terms and Conditions, Privacy Policy, agreement, and Letter of Authorization boxes.
Affix your signature. Click on Next.
Upload the photo of your valid ID, proof of income and employment, and a selfie with your ID.
Click on Finish.
Alternatively, you may apply for a loan from ACOM through its mobile app, which you can download on Google Play or App Store.[5] Simply fill out the form on the app, attach the requirements, and submit your application from there.
Related reading: Apply Easily for These Legit Online Loans in the Philippines
👉 How Long is the ACOM Loan Approval and Processing Time?
Your ACOM Loan can be approved in just one day and be processed within three to five days. This will depend on your credit evaluation and ACOM's verification processes.
👉 How to Check My ACOM Loan Status
Once you've submitted your loan application, all you need to do is wait for the ACOM loan approval confirmation via SMS. ACOM will also notify you if your loan is not approved.
How Do I Get My Money from ACOM Loan?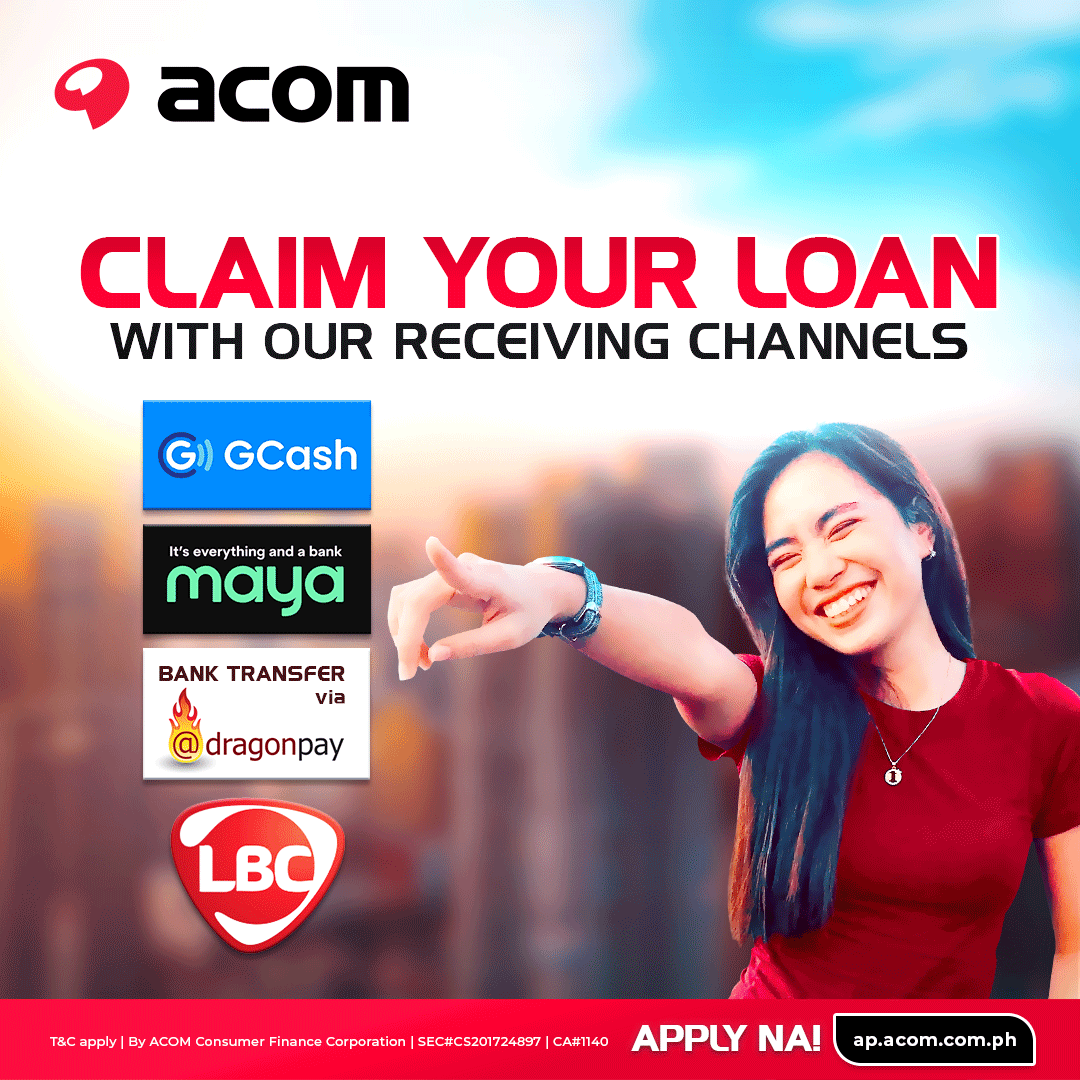 Depending on your chosen ACOM loan disbursement method, ACOM will send your loan proceeds via LBC, bank transfer, GCash, or Maya.
Once the funds are available in your account, you can withdraw them anytime.
ACOM will send a 20-digit LBC reference number you'll need to provide on the LBC encashment form. Submit the form and present valid proof of identification to receive your loan proceeds.
Where to Pay Your ACOM Loan
Repaying your ACOM loan is easy and convenient, and you can do it at the following repayment channels:
Bayad Center
7-Eleven (via the CLiQQ App or CLiQQ Kiosk)
GCash
Maya
ShopeePay
Lazada Wallet
👉 How to Pay ACOM Loan via GCash
Your ACOM loan due date is every first of the month except weekends and holidays. To pay your loan via GCash, follow these steps:
Log in to your GCash account and tap Bills.
Choose Loans, and select ACOM from the options.
Enter the amount to be paid, your 11-digit account/membership number, your registered 11-digit mobile number, and your email address.
Tap Next.
Note: There will be a service fee of ₱15 for the GCash transaction.
Read more: Getting a GCash Loan in Minutes: Here's What You Need to Know
👉 How to Pay ACOM Loan in 7-Eleven
To pay your ACOM Loan in 7-Eleven, proceed to the CLiQQ Kiosk and follow these steps:
Tap Bills Payment > Loans > ACOM.
Enter your 11-digit ACOM membership number (it starts with 0001), your registered mobile number, the amount to be paid, and the receiving mobile number.
Verify the information you just entered.
Get your stub, and then make your payment at the counter.
You'll receive an SMS confirmation once your loan payment has been processed.
You can also pay your ACOM loan via the CLiQQ App. Here's how:
Launch your CLiQQ App and tap Pay Bills.
Tap Loans > ACOM.
Key in your 11-digit ACOM membership number, which starts with 0001.
Enter your ACOM-registered mobile number.
Key in the amount to be paid.
Tap Confirm.
Present the barcode to the 7-Eleven cashier and pay the amount due.
ACOM Loan FAQs
1. Are there other ACOM fees or charges I need to pay for my loan?
There will be a one-time charge of ₱1,000 as a processing fee and ₱500 as a lending fee. ACOM will charge no fees for loan applications that don't get approved.
2. How to check my ACOM loan balance?
You can check your ACOM loan balance by subscribing to the ACOM SMS service.
Text ACOMLOAN and send it to 09176261063 for Globe subscribers or 09088114439 for Smart subscribers.
A text menu will appear—reply 1.
Text BAL [space] Membership Number [space] Mobile Number. Example: BAL 00010543210 09127654321
Send it to 0917 626 1063 (Globe) or 0908 811 4439 (Smart).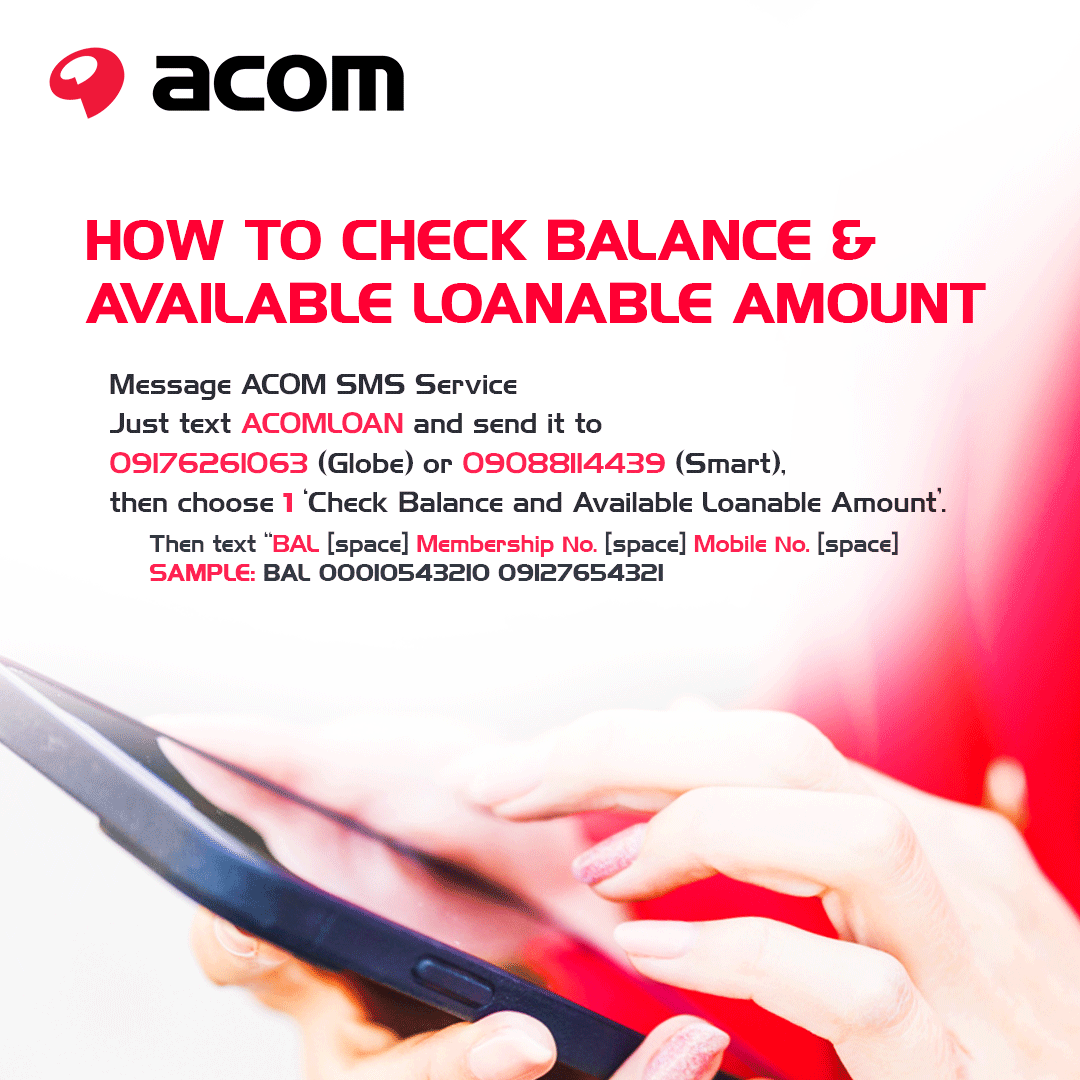 3. How to cancel my ACOM loan application?
You may call ACOM at (632) 5304-5200 for further assistance. However, you can't cancel the loan once the loan proceeds have been disbursed.
4. What happens to an unpaid ACOM loan?
For every month of your unpaid ACOM Loan, you'll be charged ₱500. ACOM will send your Statement of Account via post or email 14 days before your due date, so repay your loan as soon as you receive it to avoid late payments and penalty charges.
Read more: Ask Moneymax: What to Do When You're Threatened by Lenders? SLAP!
5. How do I contact ACOM for assistance or other inquiries?
There are many ways to get in touch with ACOM. Call these numbers from Monday to Friday, 9 a.m. to 6 p.m.:
Landline: (+632) 5304 5200
Mobile (calls only):


Globe: 0917 713 9761
Smart: 0919 077 6787
You may also send an email to customer_service@acom.com.ph or send a message via ACOM's FB Messenger.[6]
Check other online loan application guides:
Final Thoughts
Consider an ACOM Loan when you need a financial boost. Just remember your responsibilities as a borrower. Being a good payer will benefit you, as you can borrow again from ACOM with no more requirements. Moreover, you can enjoy a higher credit limit and lower interest rates.
Still looking for other loans to meet your financial need? Check out these personal loans from legit providers in the Philippines. Compare loans and apply for the right one through Moneymax!
Personal Loan Provider

Minimum Loan Amount

Maximum Loan Amount

Minimum Annual Income

Approval Time

Metrobank

₱20,000

₱1 million

₱350,000

7 days

BPI



₱

20,000

₱2 million

₱

300,000

5 to 7 banking days

EasyRFC

₱

10,000

₱150,000

₱

120,000

As fast as 24 hours

Maybank



₱

50,000

₱1 million

₱

300,000

Apply online in just a few clicks

RCBC



₱

50,000

₱1 million

₱

360,000

5 to 7 banking days

SB Finance




₱30,000

₱2 million

₱180,000

5 banking days

CIMB



₱

30,000

₱1 million

₱

180,000

24 hours

HSBC



₱

30,000

₱500,000 or 3x gross monthly salary, whichever is lower

₱

168,000

5 to 7 banking days

CTBC



₱2

0,000

₱1 million

₱

180,000

3 to 5 banking days
Sources: