While you may already be familiar with GCredit, GCash also has GLoan and GGives that make it easier for users to borrow money and improve their financial condition.
If you're a frequent GCash user, here's a quick guide on the important things you need to know about GLoan and GGives in GCash.
GLoan Guide: Everything to Know About Getting a Cash Loan Using GCash
What is GLoan?
GLoan is a lending feature for GCash users. With this personal loan, you can borrow up to ₱25,000 which you can use to pay bills and purchases at GCash non-partner merchants. You can also cash out the loaned amount which can be directly credited to your dedicated bank account.
What are the GLoan Features?
Before checking your GCash app for a loan pre-qualification, know more about GLoan's features below.
GLoan Approval is Based on Your GScore
When it comes to a GCash loan application, there's no need to credit-check or verify your creditworthiness. Your application approval will be based on your GScore,[1] which is computed based on how active you are in using GCash.
You'll be assessed according to your GCredit payments, wallet balance, and bills payment history. The GScore doesn't only qualify you for a GCash loan online. It will also let you get up to ₱30,000 credit line, a 3% interest rate, and exclusive benefits and perks.
You Can Get Up to ₱25,000
The loan amount for GLoan is ₱5,000 to ₱25,000.
Enjoy Easy Payment Terms
You can pay your GLoan for as low as ₱2,730 per month for nine to 12 months.
What is the GLoan Interest Rate?
The interest rates vary for each GCash user. However, based on this GLoan example, the GCash loan interest rate is 2.89%. Here's how you can compute your GCash Loan and generate the amount due, processing fees, and monthly installment.
1. Select the amount you want to borrow from ₱5,000 to ₱25,000 by dragging the cursor to your desired amount.
Take note that the calculator presets loans from ₱5,000 to ₱15,000 to be payable in nine months, while loans amounting to ₱16,000 and above are payable in 12 months.
2. Enter the interest rate set by the GCash app based on your GScore. For this example, the interest rate is 2.89%.
3. Choose the date of your loan.
4. Click the Calculate button. Should you want to change any of the previous information, select Reset.
5. Your loan summary will appear on the right corner of your screen.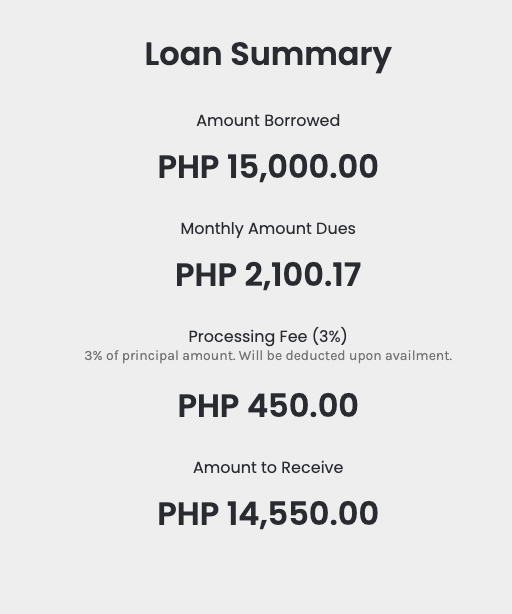 GLoan comes with a processing fee which is 3% of the loaned amount. This will be deducted from your total loan receivable. If you want to borrow ₱20,000, the processing fee of ₱600 will be deducted from your loan proceeds. Your total loan amount receivable will be ₱19,400.
Looking at the example of a ₱15,000 loan, you'll be paying ₱2,100.17 for nine months, which translates to a total payment of ₱18,901.53. Deduct the initial loan of ₱15,000 from your total payment and you'll get ₱3,901.53, then add the ₱450 processing fee. You'll then come up with ₱4,351.53, which sums the total fees and charges of your GCash loan.
Related article: Zuki by SB Finance: How to Get a Loan in Just a Few Taps
What are the GLoan Requirements?
You need to fulfill the following minimum requirements when applying for a GLoan on GCash:
Must be a Filipino citizen and 21 to 65 years old
Good credit history
Qualified GScore[1]
Valid email address
Fully verified GCash account
Valid government-issued ID
How to Apply for a GLoan
Qualified GCash users can apply for a cash loan using GCash. Simply follow these steps:
1. From your GCash dashboard, select View all GCash Services.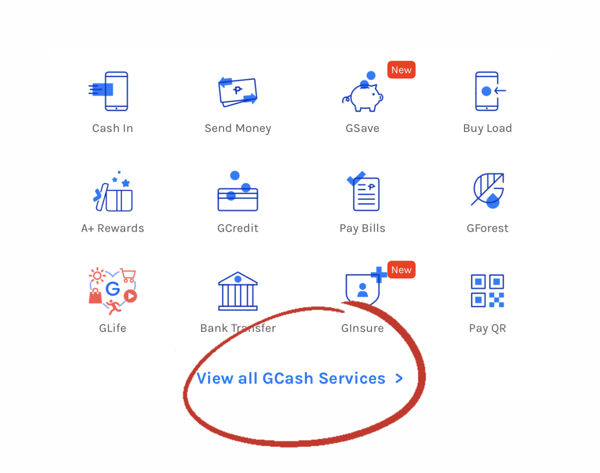 2. Look for GLoan under the Financial Services option.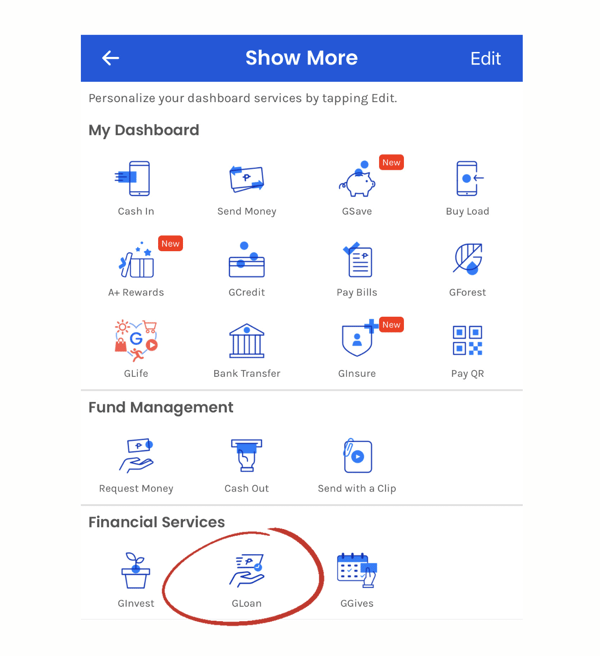 3. Select the Get Started button.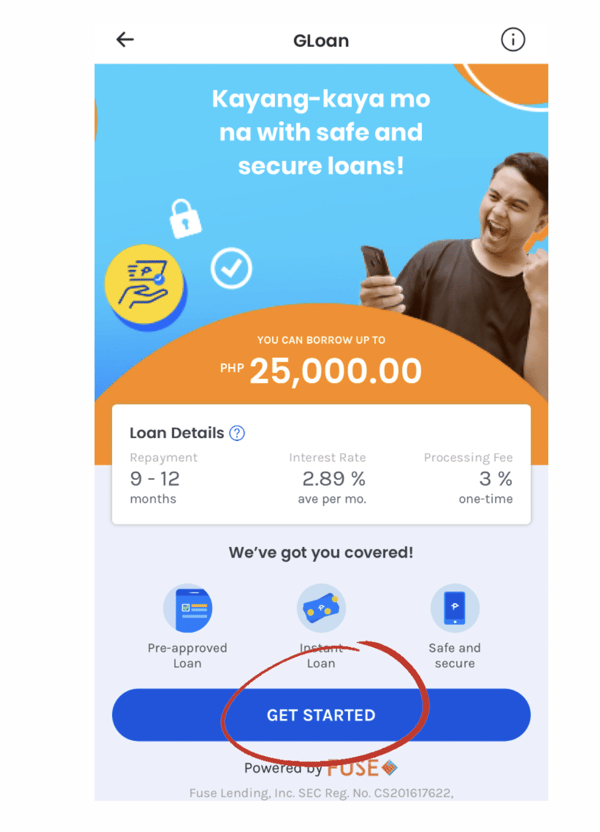 4. Drag the cursor to your desired loan amount then select the loan tenor.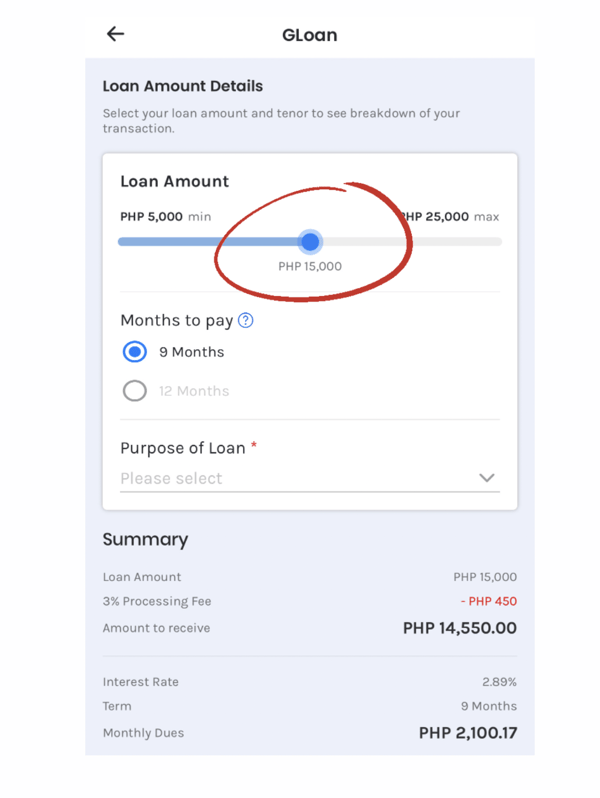 5. Select the purpose of your loan. Options include business expenses, debt consolidation, emergency, medical, educational, travel, special occasion, general expenses, and bills payment.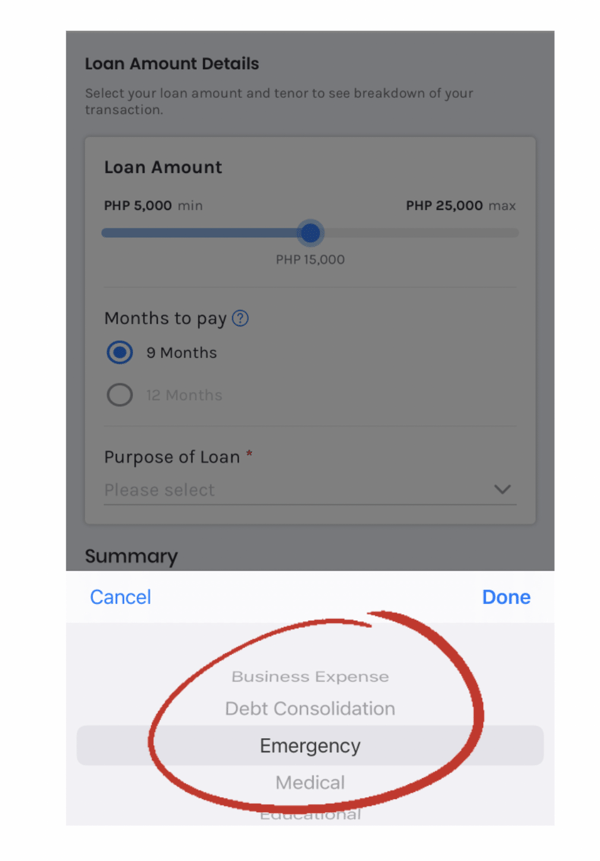 6. If you agree to all the details of the loan, click Get This Loan.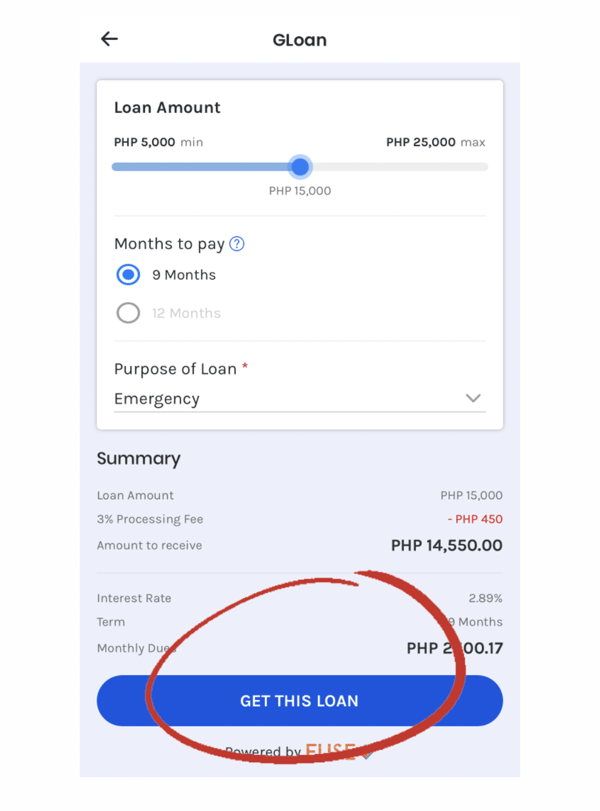 7. Review all the loan details then click Continue.
8. Check your personal information then click Next.
9. Click the button if you agree to the Data Privacy Agreement, Disclosure Statement, and Loan Term Conditions.
11. Confirm the loan amount you'll receive. Upon confirmation, a 6-digit authentication code will be sent to your registered mobile number. Enter the verification code.
12. That's it! You've completed your GLoan application. Just wait for an email or SMS confirmation then your loan amount will be sent to your account within 24 hours.
Related: All Digital, No Hassle: How to Get an ING Loan in the Philippines
How to Pay Your GLoan
Paying your monthly installments for your GCash Loan can be made on the GCash app itself. Simply launch the app, choose GLoans under Financial Services, then click the Pay for GLoan button. You'll be prompted to enter the repayment amount and then confirm it. After confirmation, GCash will notify you that your GLoan payment is successful.
GGives Guide: How to Use It to Buy Now, Pay Later in GCash
What is GGives?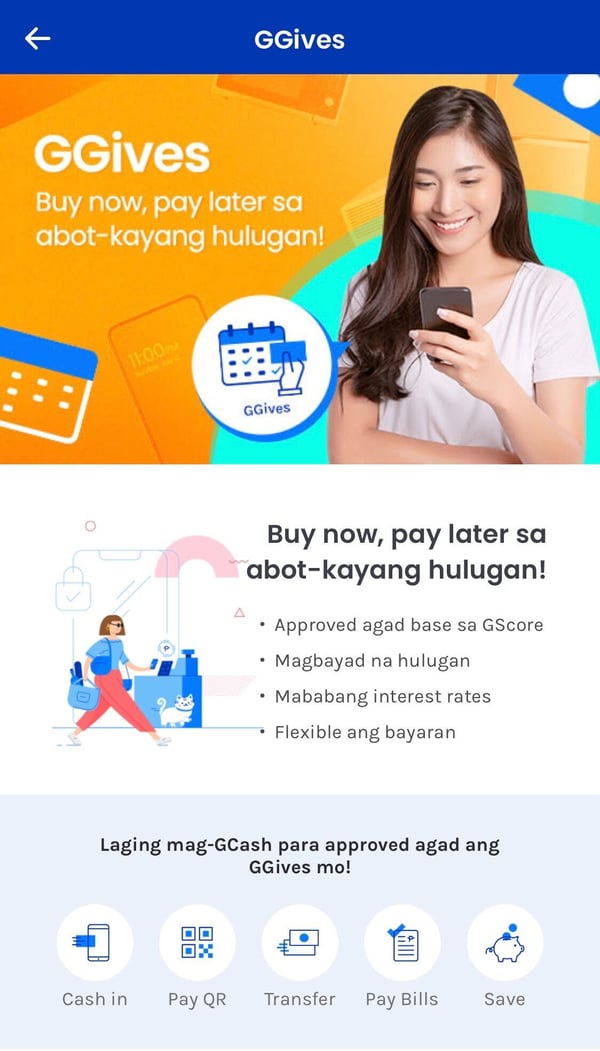 GGives is an installment loan product that allows you to purchase an item from GCash partner merchants and pay in installments. To put it simply, it's a buy now, pay later mode that can be beneficial if you're planning to purchase big-ticket items or need to make an urgent purchase.
How Do You Qualify for GGives?
Currently, GGives is not available for all GCash users. To qualify, you should:
Be a Filipino citizen between 21 to 65 years old
Have a fully verified GCash account and good GScore
In good credit standing
Have never been involved in fraudulent transactions
How to Sign Up for GGives on the GCash App
If your account is eligible, the GGives option on your dashboard will appear. You can start your registration by following these simple steps below:
Open your GCash app.
From the dashboard, select View all GCash Services.
Tap GGives under the Financial Services category.
Check that your pre-filled personal information is correct. For any changes, tap the User Profile and modify the details you wish to change.
Review the details of your registration.
Agree to the Terms and Conditions and the Data Privacy Agreement.
Wait for the prompt on your screen confirming that your GGives application is successful.
How Do You Use GGives?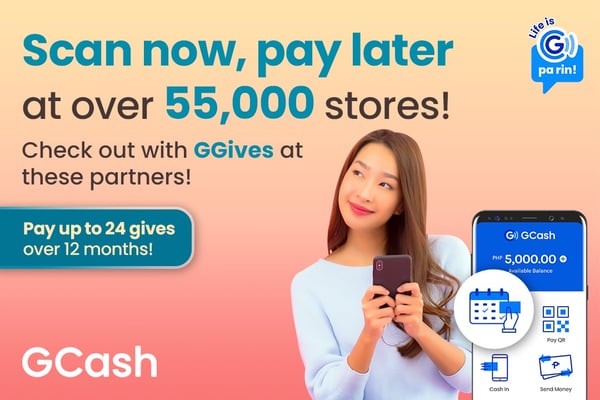 To use GGives payment for purchasing an item, here are the steps:
Open the GCash app.
From your dashboard, tap the QR option.
Focus your phone's camera on the merchant's printed QR code.
Input the amount of the item or items you wish to buy.
Select GGives as the payment option.
Review the transaction details then agree to the Disclosure Statement.
Click Pay to confirm.
A confirmation receipt will appear on your screen once your payment is successful.
FAQs on GGives
1. Where can I use GGives payment?
GGives can be used in more than 55,000 partner merchants including supermarkets, pharmacies, transportation, and convenience stores.[2]
2. What's the interest rate for GGives?
Depending on the loan term and your GScore, interest rates for GGives vary from 0% to 4.99%.
3. Are there penalty charges and fees for using GGives?
Yes. GGives charges a ₱100 penalty fee one day after your due date when the amount due is not paid. An additional 0.15% of your Daily Outstanding Principal Balance will be applied to your account for each day after your due date.
4. Can I pay for online purchases using GGives?
No. You can only use GGives offline by scanning the merchant's QR code. You can't use it for online purchases.
5. Can I make a refund for my GGives purchases?
Yes. You can refund purchases made with GGives. Just make sure you meet the following requirements:
The refund request is made within 30 days from the date of purchase.
You should make a full refund request.
No payments for the loan should have been made before the refund.
GLoan vs GGives
Having a lot of options can be confusing, so here's a quick comparison of these two products so you can easily find a loan that will work best for your needs.
| Feature | GLoan | GGives |
| --- | --- | --- |
| How often can you apply for the loan? | You can apply if you don't have any existing or active GLoan and if you have a fully verified GCash account. | You can apply if you don't have any existing or active GLoan and if you have a fully verified GCash account. |
| How do you receive the loan amount? | Credited to your GCash account (no need for a separate GCash loan app) | Released directly to the merchant |
| What is it best for? | Buying big-ticket items from non-partner merchants | Buying big-ticket items from partner merchants |
| How much is the maximum loanable amount? | ₱25,000 | Up to ₱30,000 |
| What are the available payment terms? | 9-12 months | 3, 6, and 12 months |
| What is the interest rate? | 2.49% - 4.99% | 0% - 4.99% |
| Is the loan renewable? | No. Borrowers need to reapply after full payment of the previous loan. | No. Borrowers need to reapply after full payment of the previous loan. |
Read more of our personal loan articles:
Download the GCash App
Got no GCash app yet? GCash is available for both Android and iOS devices. You may download the app via the links below:


Final Thoughts
Choosing between GLoan and GGives shouldn't be difficult, especially if you understand how each GCash loan works. Improve your chances of getting approved. Increase your GScore. Make sure you don't have unpaid or delinquent GCredit accounts. Moreover, actively use your GCash account to increase your GScore―the primary basis for GCash loans eligibility.

Sources: