From your kid's unexpected field trip to your car's sudden breakdown, emergencies are a fact of life. You can try to predict them, but you can't stop them. And when you're caught off guard, chances are stress will get the best of you.
Thankfully, online lending platforms are a dime a dozen these days. They offer quick and easy personal loans that can tide you over.
The JuanHand online cash loan app is one such lending app, drawing in millions of borrowers. Want to learn more about this platform? Read this quick JuanHand loan app review.
What is the JuanHand Loan App?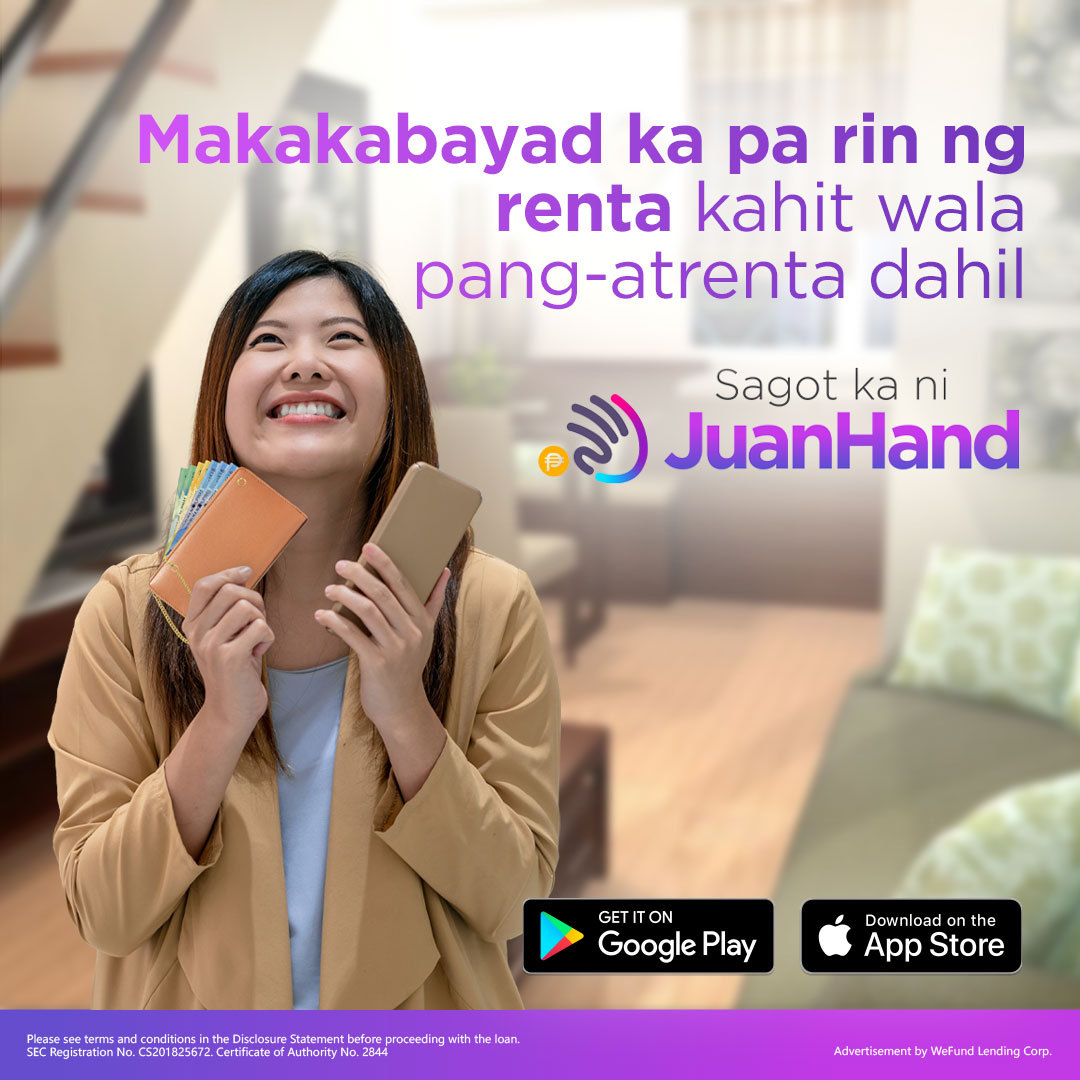 Owned by WeFund Lending Corporation, JuanHand is a financial technology or fintech company that offers Filipinos online loan products. It primarily targets underserved yet creditworthy individuals.
You can access this lending platform using your smartphone. The JuanHand loan app is available on Google Play and the App Store.[1]
Currently, it has more than 5.7 million app downloads, over four million successful loans, and around 1.7 million active loans.[2]
What is a JuanHand Loan?
A JuanHand loan is the amount of money lent to qualified individuals who need quick cash. Clients can use the loan proceeds for various purposes, such as groceries, education, gadget purchases, rent, and emergencies.
The minimum loan amount is ₱2,000. Meanwhile, the JuanHand maximum loan amount is ₱15,000.
Just like with other apps, your JuanHand first loan amount will start small. But you can expect a higher amount if you repay on time.
The JuanHand loan interest rate ranges from 9% to 12%. Nevertheless, your interest rate may get lower if you show good repayment habits.
Meanwhile, the JuanHand loan term is up to 90 days or three months. This gives you enough time to return the borrowed money.
Is the JuanHand Loan App Legitimate?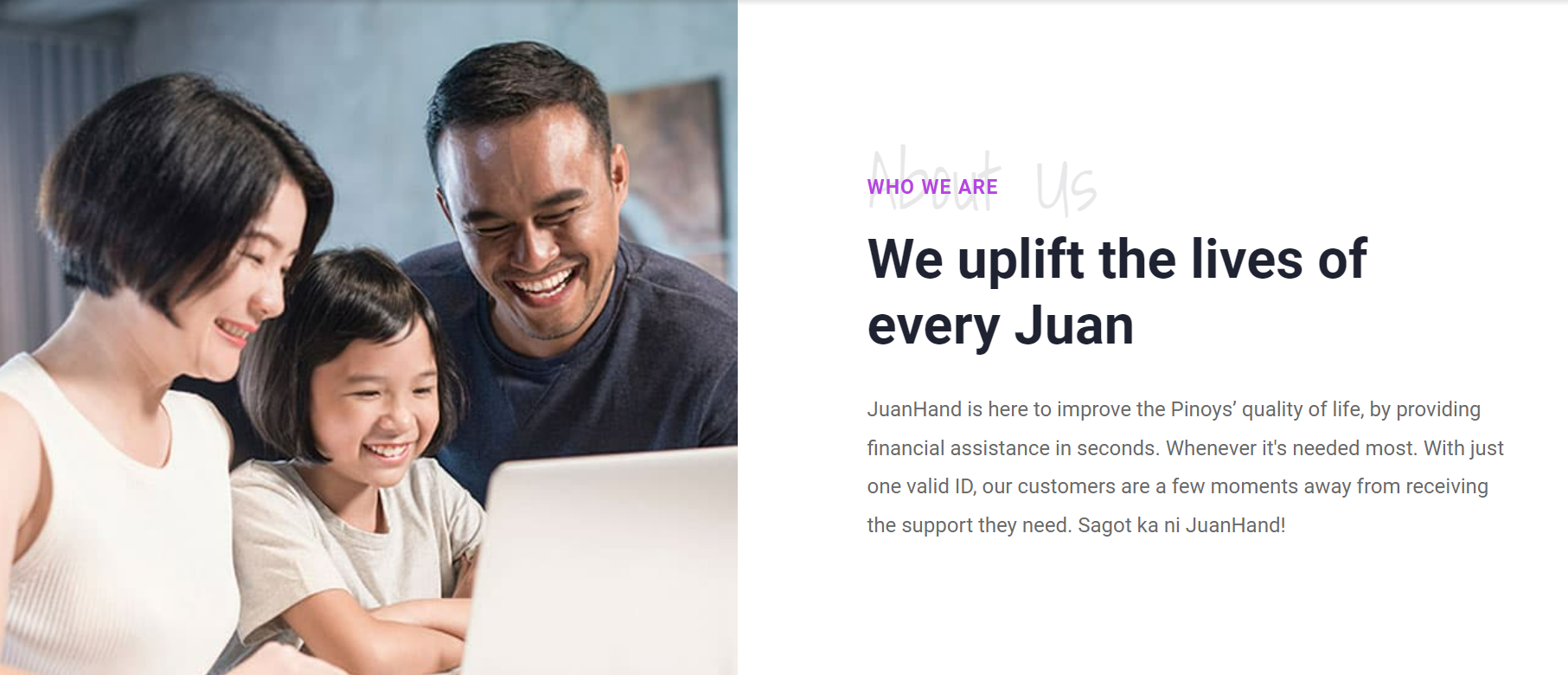 Is JuanHand loan legit? Yes, JuanHand is a legally established business in the Philippines. WeFund Lending Corporation, its mother company, is registered with the Securities and Exchange Commission (SEC) with SEC Registration Number CS201825672.
It also has partnerships with government organizations and private companies, such as the following:
National Privacy Commission (NPC)
Bureau of Internal Revenue (BIR)
Credit Information Corporation
UnionBank
Lazada
Sun Life Grepa
Multisys
Why Should I Apply for a JuanHand Loan?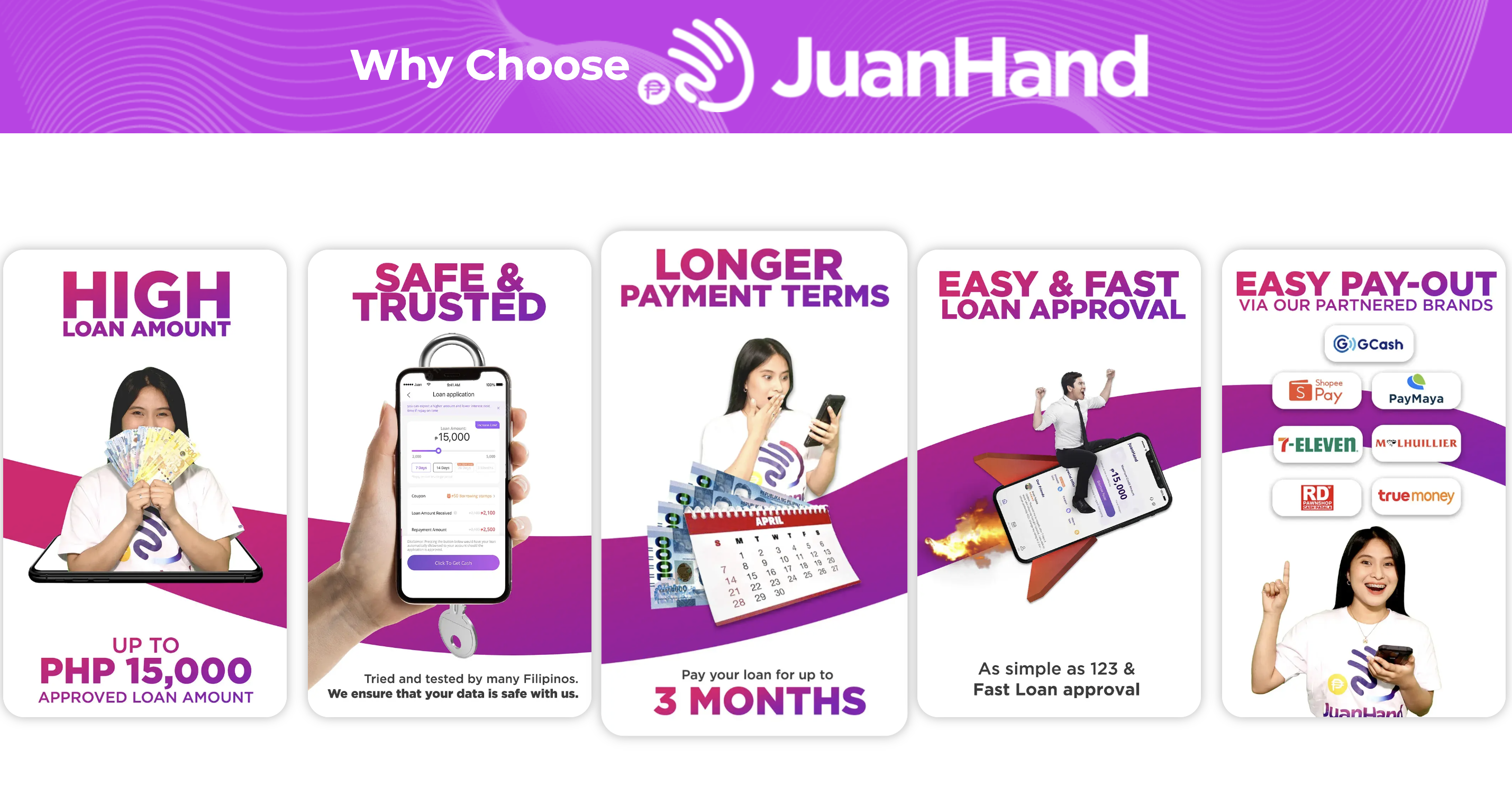 Thinking of installing the JuanHand loan app? Check out its features below:
✔️ Quick and Easy Application
The JuanHand cash loan application process is easy. You just have to download the JuanHand app, provide basic information, select a loan amount, and wait for the approval. Because the entire process happens in the app, there's no need to go to the bank or lending center to complete your application.
✔️ Safe and Trusted
JuanHand claims that its service is secure. All client data is protected and encrypted, fully complying with NPC regulations.
✔️ Flexible Customer Service Channels
JuanHand prides itself on being client-friendly. Clients can contact the platform's customer service department seven days a week via phone and email. This means you can get in touch with JuanHand even during weekends.
✔️ No Collateral Required
JuanHand doesn't require clients to pawn anything of value to get a loan.[3] All you need to do is submit an application form and wait for loan approval.

JuanHand Online Loan App Review
JuanHand lists positive reviews on its website. According to a glowing JuanHand loan app review, the platform has an easy-to-use interface. Another satisfied client says the loan application is easy and approval is quick.
But JuanHand is not without its share of negative reviews. One YouTube vlogger[4] shares that JuanHand used to not fully credit the borrowed amount. For instance, you'll receive only around ₱1,480 if the loan amount is ₱2,000.
Nevertheless, the said JuanHand loan app review reveals that the platform has changed for the better. It even claims that the app's interest rate has decreased.
Related reading:
What are the JuanHand Loan Requirements?
It's easy to comply with the JuanHand loan requirements. It requires borrowers to meet only the following:
Filipino citizen
Between 20 and 60 years old
Have a stable source of income
Have at least one government-issued ID
How to Apply for a Loan in JuanHand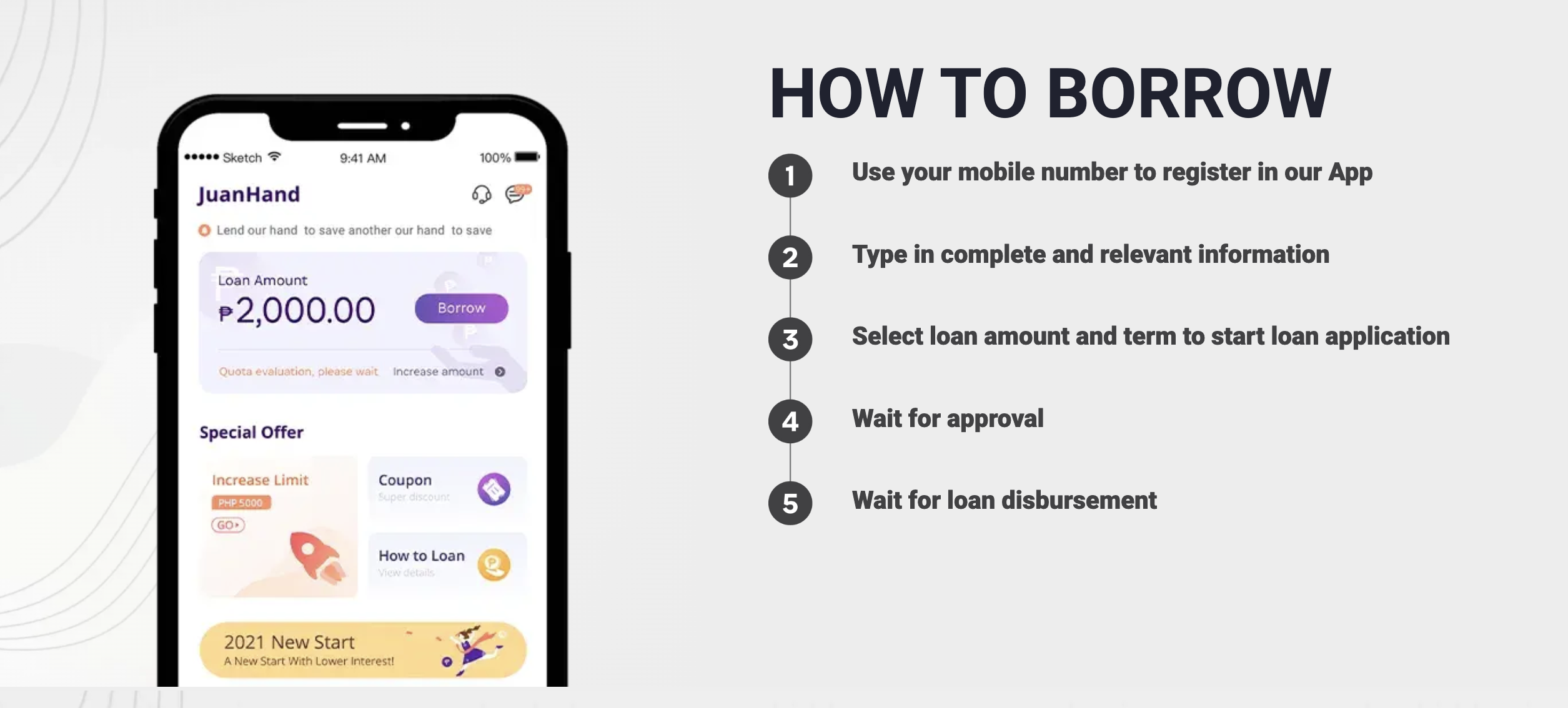 If you want to know how to apply for a loan in JuanHand, here are the steps that you need to take note of:
Download the JuanHand app.
Launch the app. Provide your mobile number, then click Let's Go.
On the next page, input the verification code sent to your mobile number. Click Sign Up.
Read and agree to JuanHand's Privacy Policy and Service Agreement.
Set your password.
On your homepage, click Borrow Now.
On the next page, provide the required information.
Undergo facial verification.
On the next page, provide your ID details. You'll also be asked to take a picture of your ID.
While waiting for JuanHand's assessment of your application, select your withdrawal method and set it up with JuanHand.
After JuanHand's assessment, your initial credit limit will appear. If you're fine with the initial credit limit, click Click to Get Cash.
Wait for the approval. If your application has been approved, the loan proceeds will be credited to your e-wallet. You can also choose to withdraw it over the counter.
JuanHand Loan App FAQs
1. How long is the JuanHand loan approval?
The approval of a JuanHand loan application is pretty fast. Normally, applicants get a result between one to two days.
2. What to do if my JuanHand loan application is rejected?
JuanHand will send you a notice via the app if your application has been rejected. Included in the said notice is a reminder that you can reapply for a loan after a few days.
3. How to pay a JuanHand loan?
If you're wondering how to make a JuanHand loan payment, you can choose from different channels offered by the company. You just need to use a repayment code and present a valid ID to complete the repayment.
Online payment channels – Coins.ph and GCash
Over the counter – RD Pawnshop, M Lhuillier, 7-Eleven
Banks (via InstaPay) – UnionBank, BPI, Metrobank, AUB, Maybank, PNB, and RCBC, among others
Read more: Ask Moneymax: What to Do When You're Threatened by Lenders? SLAP!
Final Thoughts
In case you're cash-strapped, JuanHand is one of the many online lending platforms that can provide immediate help. It offers a decent starting loan amount, and the loan application process isn't complicated. Moreover, you can make repayments easily since there are many channels available.
If you still have some reservations, read other JuanHand loan app reviews or talk to family members or friends who have already used the app.
In the meantime, you can also check out other personal loan providers. Compare your options and apply easily through Moneymax:
Personal Loan Provider

Minimum Loan Amount

Maximum Loan Amount

Minimum Annual Income

Approval Time

Metrobank

₱20,000

₱1 million

₱350,000

7 days

BPI



₱

20,000

₱2 million

₱

300,000

5 to 7 banking days

EasyRFC

₱

10,000

₱150,000

₱

120,000

As fast as 24 hours

Maybank



₱

50,000

₱1 million

₱

300,000

Apply online in just a few clicks

RCBC



₱

50,000

₱1 million

₱

360,000

5 to 7 banking days

SB Finance




₱30,000

₱2 million

₱180,000

5 banking days

CIMB



₱

30,000

₱1 million

₱

180,000

24 hours

HSBC



₱

30,000

₱500,000 or 3x gross monthly salary, whichever is lower

₱

168,000

5 to 7 banking days

CTBC



₱2

0,000

₱1 million

₱

180,000

3 to 5 banking days
Sources: