Sometimes, cash-strapped people tend to borrow money from the first lender they come across. It's understandable if the borrower is dealing with an emergency. After all, most banks in the Philippines require you to wait at least a week just to get your loan approved.
But what if you really need the money? That's when you should start looking at non-bank loan providers. Just remember not to borrow money from random lenders, especially loan sharks. You should compare personal loan options only from reputable providers in the Philippines.
This is where Radiowealth Finance Company (RFC) comes in. If you're looking to fund a need and don't have the luxury of waiting, this guide will help you get your RFC loan application started.
What is RFC?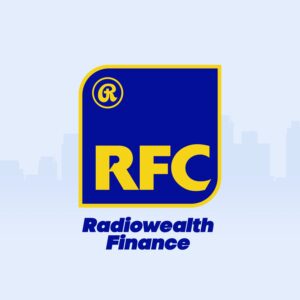 Radiowealth Finance Company (RFC) is one of the most trusted and long-standing loan institutions in the Philippines. Founded in 1935, the company has gone a long way from being the pioneer of appliance financing to becoming a lending institution that offers a wide range of loan products in the Philippines.
RFC seeks to empower and help underserved Filipinos to optimize their potential and achieve growth through alternative sources of funding. Because it's a non-bank financial institution, its main stakeholders are Filipinos who don't have access to banking services or can't avail of banks' credit and loan products because of lack of financial documents and/or ineligibility issues.
RFC expanded its loan offerings in 2015, adding business and personal loans to its catalog of financial products. Two years later, it shifted its focus toward building online networks, making it more convenient for borrowers to get the loan they need. Today, applying for an RFC personal loan can be done in just a few clicks.
What is an RFC Loan?
An RFC loan is an online loan from the Radiowealth Finance Company[1] that gives Filipinos an affordable and easy way to get personal or business financing.
With an RFC loan, you can borrow money for almost any reason. Whether you need one for emergency or business purposes, there's an RFC loan option that will fit your immediate need and paying capacity.
You can borrow money from ₱10,000 up to ₱5 million, depending on the type of loan you apply for. You also get flexible payment terms ranging from three to 36 months.
If you own properties and other valuable items, you can use them as collateral to get lower interest rates and higher loan amounts. You can also renew your loan, provided you're in good credit standing with RFC.
Why Should I Apply for an RFC Loan?
If you urgently need cash, here are the top three reasons you should choose RFC.
1. Wide Range of Loans
RFC offers loan products for a variety of purposes. In fact, its offerings are much more varied than other banks. Whether you're looking to fund a medical emergency or are planning to buy equipment for your business, you'll find a loan product that will fit your specific needs. You'll learn more about how diverse RFC's business and personal loan products are later in this article.
2. Easy Application Process
RFC is known for implementing an easy and smooth application process. You can actually apply for an RFC loan online via Moneymax! This means you don't have to leave your home and expose yourself to pandemic risks just to borrow money.
3. Established Company
RFC has been a financial institution in the Philippines for almost 60 years. The company has lasted long because it knows what Filipinos need and how it can address them. And because it's already established, you know that you can rely on RFC for your immediate cash needs.
What Types of Loans Can I Get from RFC?
You can choose from three types of loans within RFC's loan scheme for various financial needs: financing loans, multi-purpose loans, and business loans.
1. RFC Financing Loans
Loan amount: ₱10,000 to ₱3 million
Loan term: 3 to 36 months
RFC Financing Loans[2] are for borrowers who need to fulfill financial goals like buying their dream car, upgrading their appliances, procuring office and business equipment, and more.
Here are the different financing loans that Radiowealth Finance offers:
Motorcycle, Tricycle, and E-Bike Loan – Through this loan, you can buy a motorcycle for business or personal use.
Personal Vehicle, Car, and Van Loan – Better prepare your RFC car loan requirements early because this is a budget-friendly way to purchase a new vehicle.
Public Utility Vehicle Loan – Need a vehicle for your business? Get an RFC loan to purchase jeepney, trucks, and other public utility vehicles.
Home Appliance / Gadget Loan – Enjoy easy installment plans at RFC's partner merchants such as Robinsons Appliances, Anson's, and Western Appliances.
Machineries and Heavy Equipment Loan – This online loan provides instant cash for the purchase of different types of equipment needed for business operations.
Farm Equipment Loan – Farmers and farm owners looking to buy, upgrade, or replace their equipment can avail of this financing loan from RFC.
Medical Equipment Loan – This type of loan is for clinics and medical facilities that need to update their medical equipment to better serve their patients.
Special Equipment Loan – This loan helps small businesses get the tools to improve their employees' productivity and overall efficiency.
2. RFC Multi-Purpose Loans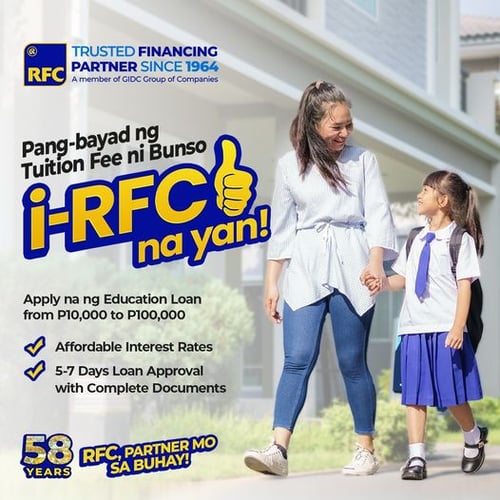 Loan amount: ₱10,000 to ₱100,000
Loan term: 3 to 18 months
Formerly known as EasyRFC personal loan, the wide range of multi-purpose loans offered by RFC gives Filipinos access to quick cash for urgent or critical needs.
Compared to RFC Financing Loans, RFC Multi-Purpose Loans have a shorter maximum loan term of 18 months, with loan amounts capped at ₱100,000.
You can avail of any of the following RFC personal loans:
Education Loan – Borrow money to pay for your child's tuition fees and other school expenses.
Home Improvement Loan – Get the financing you need for renovating your home to accommodate your growing family or design your ideal work-from-home setup.
Vehicle Modification Loan – You can get this loan for restoring your car or upgrading your vehicle to reclaim its peak performance.
Salary Loan – This RFC product is an institutional loan type availed by employers as a benefit for their employees who need to cover any financial emergency.
Emergency Loan – Is this month's salary not enough to get you through the next payday? With an RFC Loan, you can borrow money to make ends meet before your next paycheck.
Medical Assistance Loan – You can also get an RFC personal loan for unexpected medical emergencies. Pay for hospitalization, check-ups, and other medical-related expenses.
Professional Loan – This RFC personal loan is intended for professionals who need extra money for funding any important expense related to their practice of profession, such as travel costs, business meals, and office rental fee.
Lessor's Loan – Individuals and companies that lease their office space to other companies can apply for this loan online.
OFW Loans – OFWs can avail of a loan from RFC to cover their personal or business expenses.
3. RFC Business Loans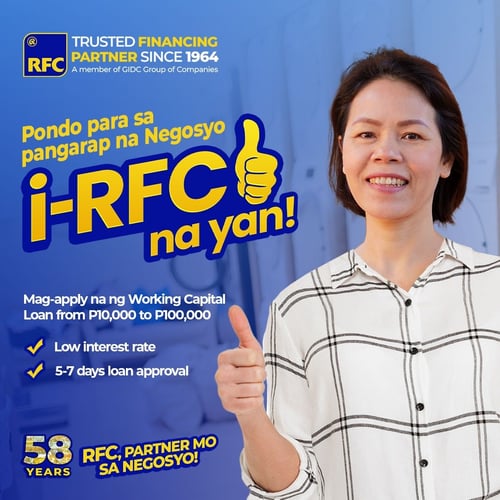 Loan amount: ₱10,000 to ₱5 million
Loan term: 3 to 36 months
RFC also offers business loans to Filipino entrepreneurs who wish to start or expand their own businesses. Borrowers may opt to avail of either a no-collateral loan or one with collateral.
Here are the types of RFC Business Loans[3] to choose from:
Working Capital Loan – This RFC business loan provides additional funding for acquiring assets important to your business' day-to-day operations.
Inventory Financing Loan – You can borrow cash for expanding or maintaining your inventory to make sure that your business operates smoothly and that you can give your customers what they need anytime.
Contractor's Loan – This business loan is for boosting your capital to cover operational expenses, enabling you to complete your job on time.
Pondo Para Sa Pag-Unlad – Through this RFC loan, small businesses (and even larger ones) can have access to capital for running or expanding their enterprises.
Franchise Loan – Entrepreneurs who need more money to start their own franchise business in the Philippines can apply for this RFC business loan.
Check out other online loans in the Philippines:

What is the RFC Loan Interest Rate?
The interest rate you'll be charged depends on the type of loan you avail of, the amount you borrow, and your chosen repayment period.
A shorter repayment period results in higher monthly installments but lower interest payments over the loan term. On the other hand, if you opt to pay over a longer loan term, the total interest payment is higher, but it's easier on the monthly budget because the installment amount is lower.
How to Use the Online RFC Loan Calculator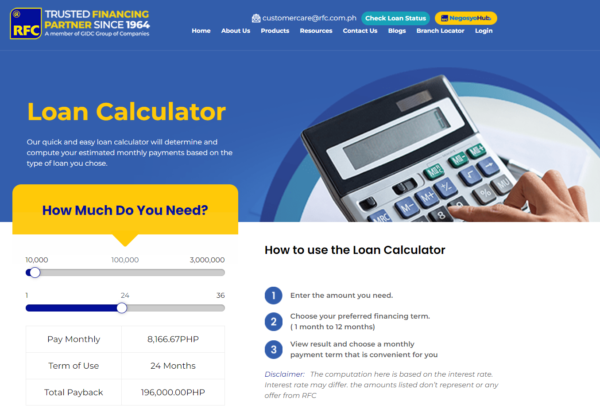 To estimate how much you'll repay monthly, use the RFC loan calculator. It quickly computes your monthly installments based on the type, amount, and term of the loan you choose.
Go to the loan calculator page on the RFC website.[4]
Use the first slider to indicate the amount you want to borrow.
Use the second slider to indicate the number of loan terms in months.
The monthly payment and the total amount you need to pay back will instantly appear on the table below the calculator.
Note that the computation provided on this calculator won't be the final loan amount. Your monthly loan payments will still depend on the final interest rate identified by RFC.
How to Apply for an RFC Loan in the Philippines
It's easy to qualify and apply for any loan from RFC. The income requirement is low, and only minimal documents are required. This makes RFC loans ideal for Filipinos with bad credit or no credit history. Overall, the RFC loan application process is convenient for most borrowers.
Radiowealth Finance Loans Requirements
Who Can Apply for a Loan from Radiowealth Finance?
Filipino citizens 18 years old and up
Residency of at least two years, except if the applicant is a new homeowner
Good character and reputation
A stable source of income

For employed applicants: You must be working with your current employer for at least two years, with a minimum basic monthly salary of ₱18,000.
For self-employed/professional applicants: You must be in the same profession or running the same business for at least three years. The business must also be operational for at least two consecutive years with profitable operations.
What Documents are Required for an RFC Loan Application?
Basic Document Requirements for RFC Loan
The requirements you need to provide depend on the kind of loan you're applying for. Nevertheless, the basic requirements are:
Two valid government-issued IDs (including company ID for employees)
Proof of billing (utility bills)
Proof of income (payslips for the last three months)
Residential, Business, or Employment Business Map
Certificate of Employment
Business Barangay Permit / Business Permit / DTI Certificate of Registration (for business owners)
Additional RFC Loan Requirements for Employees
One-month payslip
Certificate of Employment
Additional RFC Loan Requirements for Self-Employed
Business Barangay Permit / Business Permit / DTI Certificate of Registration
Income Tax Return (ITR)
Two ID photos (1 x 1 or 2 x 2)
Passbook (active for at least six months)
Additional RFC Loan Requirements for OFWs
Latest three-month proof of remittance or passbook
Copy of active and valid employment contract
RFC Loan Application Steps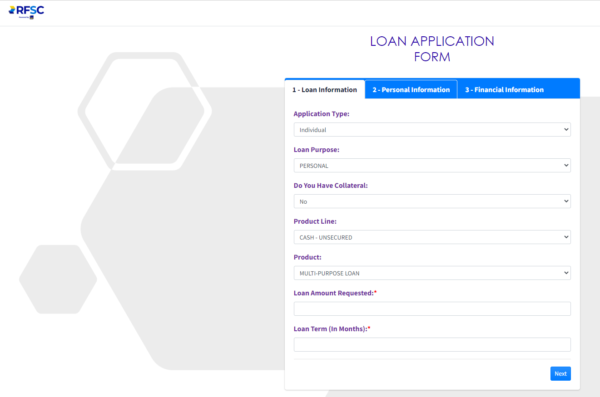 Borrowing money from the Radiowealth Finance Company is a quick and straightforward process over the internet. Similar to the process of getting a Citibank Personal Loan, you can also apply online via Moneymax.
How to Apply for an RFC Loan Online
Access the online RFC loan application form[5] and fill it out with the required information.
Upload all the required documents for your RFC loan application.
Wait for a text confirmation of your RFC loan approval. If you're approved, you can get your cash within the next three to five business days.

If you prefer to apply for an RFC loan in-branch, you can do so at any of Radiowealth Finance's 100+ branches nationwide.[6] However, we recommend filing your application online as it's much safer, given the risk of COVID-19 these days.
RFC Loan FAQs
1. How do I check my RFC loan application status?

You can check your loan application status on the RFC website's loan status page.[7] Just type in your reference number in the search bar located in the upper left corner. The status of your loan will be displayed in the table below.
2. How will I know if my application is approved?
A representative from RFC will give you a call to inform you that your application is already approved. They'll also provide you with instructions for claiming your loan proceeds. Be wary of representatives who give you dubious instructions and ask for ridiculously large fees for their service.
3. Will I have to pay an application fee?
If you file your RFC loan application online, you don't have to pay for anything. Also, remember that the application forms at RFC branches are not for sale. However, there will be upfront charges, such as a notarial or processing fee, should you decide to file your application in person at the nearest branch.
4. Where will my RFC loan be disbursed?
You can choose to have your RFC loan disbursed through the following disbursement channels:
Cash Pickup

Cebuana Lhuillier
LBC
Pera Hub
RCBC

Bank Credit

AUB
BPI
China Bank Savings
Landbank
Metrobank
PNB
RCBC
Robinsons Bank
Security Bank
UCPB
UnionBank

Mobile Wallet - GCash
5. How will I repay my loan?
You can settle your monthly repayments and the corresponding service fees at Radiowealth's payment partners.
Note: Post-dated checks (PDCs) will be required for repayment of loans amounting to ₱100,000 and above.
6. I'm having problems with payment. How do I contact RFC?
You can send an email to RFC at customercare@rfc.com.ph, or you can contact the following numbers to connect you to RFC's account executives.
Globe: +63945-833-7483
Smart: +63 961-136-1160
Landline: (+632) 8584-6033
7. I'm planning to renew my loan. What should I do?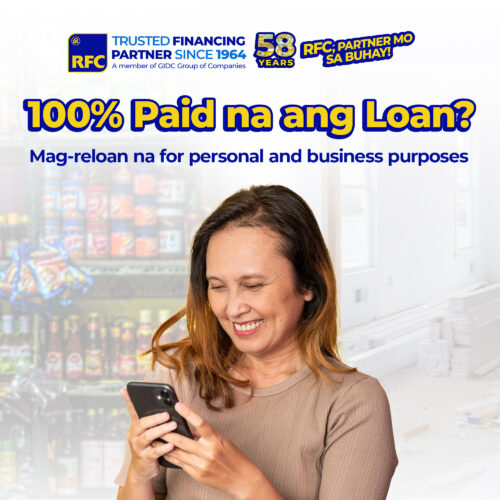 Contact a Radiowealth Finance Company representative using the contact details above. They'll have to check first your eligibility for a loan renewal.
In case you're eligible for loan renewal, the only requirement that you'll have to turn in is the latest proof of your income or bank statement.
8. I want to renew my loan but I'm not done paying it back. What should I do?
You don't need to pay back your remaining balance. If you already paid at least 50%, you can apply to renew your loan. Note that the balance will be deducted from the final amount of your new loan.
9. Will I get a refund if I pay my loan through acceleration?
Yes, you'll receive a refund if you pay your loan through acceleration. Contact the branch that handles your loan so they can compute the refund you'll receive. You can also contact RFC using the contact details above.
10. Do I need collateral to apply for an RFC loan?
While it's not required, RFC recommends presenting collateral when applying for a loan. Having collateral can give you lower interest rates and higher loan amounts.
RFC accepts the following as loan collateral:
Real estate properties
Motor vehicles
Select appliances
Sea vessels
Motorized boats
Livestock (cows, horses, buffalo)
Final Thoughts
RFC loans prove that financial help is accessible to everyone, even to underserved Filipinos. Your days of running to loan sharks are over. If you have the patience to compare and assess personal loans from trusted institutions like Radiowealth Finance, you can borrow much-needed cash that won't cost you an arm and a leg to pay back.
Before you submit your RFC loan application, make sure to choose a loan amount that you can afford. If the loan offerings from RFC somehow don't fit your needs, compare other personal loan providers via Moneymax. Check out our list of the best personal loan options below.
Personal Loan Provider

Minimum Loan Amount

Maximum Loan Amount

Minimum Annual Income

Approval Time

Metrobank

₱20,000

₱1 million

₱350,000

7 days

Citibank

₱2

0,000

₱2 million

₱

250,000

As fast as 24 hours

Note: This product is sold by Union Bank of the Philippines, using certain trademarks temporarily under license from Citigroup Inc. and related group entities.

BPI



₱

20,000

₱2 million

₱

300,000

5 to 7 banking days

EasyRFC

₱

10,000

₱150,000

₱

120,000

As fast as 24 hours

Maybank



₱

50,000

₱1 million

₱

300,000

Apply online in just a few clicks

RCBC



₱

50,000

₱1 million

₱

360,000

5 to 7 banking days

SB Finance




₱30,000

₱2 million

₱180,000

5 banking days

CIMB



₱

30,000

₱1 million

₱

180,000

24 hours

HSBC



₱

30,000

₱500,000 or 3x gross monthly salary, whichever is lower

₱

168,000

5 to 7 banking days

CTBC



₱2

0,000

₱1 million

₱

180,000

3 to 5 banking days
Sources: