You're living in a world where you can access almost everything with just a few taps on your mobile screen. You can shop, buy plane tickets, and transfer money without leaving the comfort of your home. The lending industry knows that mobile is the future, which is why a lot of banks and financial institutions offer online loans.
SB Finance, a partnership between Security Bank and Thailand's Bank of Ayudhya (Krungsri), developed a masa-friendly mobile app called Zuki through which one can conveniently apply for a personal loan.
If you want to learn how to apply for a personal loan using Zuki by SB Finance, here's a guide to help you out.
What is Zuki by SB Finance?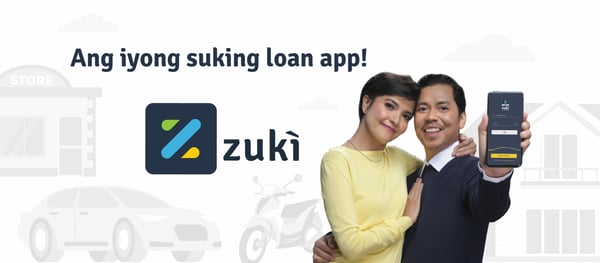 Zuki is a mobile app that customers can use to apply for SB Finance's loan products. The app was created as a response to consumer behavior that in turn led to lenders' digital transformation, according to SB Finance President and CEO Abigail Casanova.[1]
Because you're applying for a loan online, there's no need to go to the lender's physical office. Even the submission of the required documents is done online.
Zuki by SB Finance is available on Google Play and App Store.
Why Should I Use the Zuki App by SB Finance?
Here are a few reasons to use the Zuki app to apply for an SB Finance loan:
✔️ Legit
No need to worry because SB Finance is registered with the Securities and Exchange Commission. It holds SEC Registration No. CS0017174A and Certificate of Authority No. 1142.
✔️ User-Friendly
Zuki is a very straightforward app with a simple and easy-to-use design. There aren't many technical terms and jargon, thus allowing customers to understand the features, benefits, and terms of SB Finance's loan products.
Moreover, the app is open to non-Security Bank clients. You don't need an account with Security Bank to use Zuki.
✔️ 4 Different Loan Options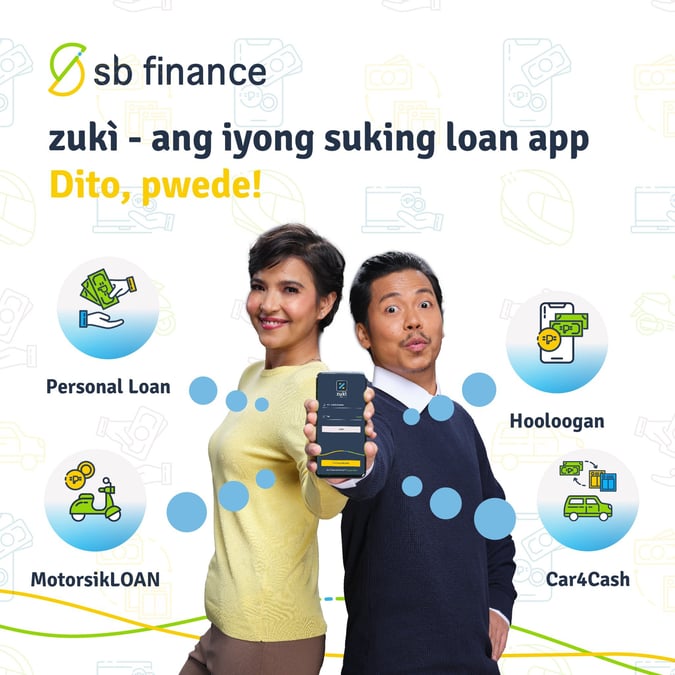 Zuki responds to its clients' varied needs by giving them access to four loan products:
Personal Loan – This is a cash loan that you can use for different purposes, from education and emergency expenses to business and travel.
Car4Cash – You can pawn your car's OR/CR for cash. The good thing about this product is that you don't have to surrender your car to SB Finance.
Hooloogan – Buy at SB Finance's partner merchants and pay for the purchase in easy installment terms.
MotorsikLOAN – Planning to get a bike? You can easily buy either a regular motorcycle or a high-end one with this loan. Those planning to buy a pre-owned motorcycle can also use this product.
SB Finance Personal Loan Features
Through Zuki by SB Finance, you can apply for a personal loan amounting from ₱30,000 to ₱2 million. The payment terms are also flexible. You can choose from 12,18, 24, or 36 months. The interest rate is pretty low at 2% per month as well.
Aside from the convenience of online application, applying for a personal loan using the Zuki app has two other benefits.
👉 No Need for Collateral
You don't need to worry about surrendering any of your personal assets to apply for a loan. Once your application is successful, you can get your cash right away.
👉 No Need for a Credit Card
SB Finance doesn't require you to provide your credit card details to approve your loan. So, be wary if someone asks you to supply such information.
Learn more about this personal loan by clicking the button below:

Meanwhile, explore more online loan options in the Philippines:
Requirements for Loan Application via Zuki by SB Finance
Below are the eligibility and documentary requirements you need for your personal loan application. Note that employed and self-employed applicants have different sets of requirements.
📌 Eligibility Requirements
Filipino citizen
At least 21 years old at the time of application but should not be more than 65 years old when the loan matures
If employed:

Metro Manila-based applicants must have a monthly income of ₱15,000
Applicants outside Metro Manila must have a monthly income of ₱12,000

If self-employed:

Loan applicants must be the owner or the majority owner of the business with at least a 40% stake
The business must be operating profitably for at least two years with at least one trade reference
Applicants must have a minimum gross monthly income of ₱60,000
📌 Documentary Requirements for Employed Applicants
Completely filled-out application form
One valid government-issued ID with a photo
Valid income documents, any of the following:

Latest one-month pay slip
Certificate of Employment and Compensation (at least issued within the last six months)
Latest Income Tax Return (ITR)
📌 Documentary Requirements for Self-Employed Applicants
Completely filled-out application form
One valid government-issued ID with a photo
Latest one-year Audited Financial Statement (AFS) with at least the previous year's financial records
DTI Certificate/SEC Registration
Mayor's Permit/ Business Permit
Latest three months' bank statements
List of three trade references (at least 1 supplier and 1 customer) including their contact details
If a corporation, the latest General Information Sheet (GIS)[2]
How to Apply for a Personal Loan via Zuki by SB Finance
Applying for a personal loan via Zuki by SB Finance is easy. Here are the steps you need to follow.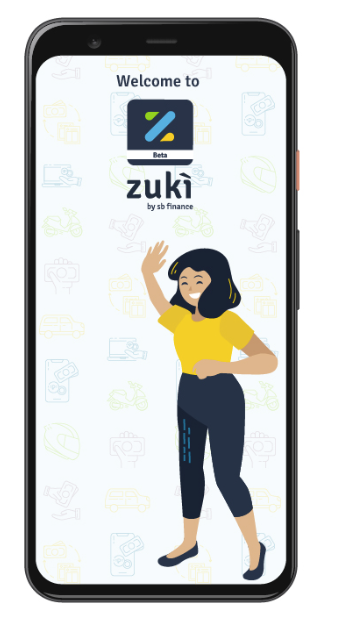 Download the Zuki loan app.
Tap the Register Now button.
After reading the Privacy Policy, tap the Next button and supply the required information.
Log in using your provided information and tap the Apply tab to access the loan products.
Select your loan product. In this case, tap the Personal Loan tab.
After choosing the loan product, read and accept the Terms and Conditions. Then tap the Next button.
Scan one valid ID with a photo and signature.
Take a selfie for verification.
Once done, you'll be asked to fill out an application form. Make sure all the details are correct.
Upload the required documents.
Wait for the notification from the Zuki app informing you that your application is approved. The app will also include important details, such as the loan release schedule. An authorized SB Finance representative will also contact you for the confirmation of your loan release schedule.
Zuki by SB Finance: FAQs
1. How long will it take for my Zuki by SB Finance Personal Loan to get approved?
After you submit the complete requirements, expect the Zuki app loan processing and approval to take around five to seven business days.
2. How do I check my application status?
Haven't received any word from SB Finance regarding your application? Email zuki@sbfinance.com.ph using your registered email address or call their Customer Service Hotline at (02) 8887-9188.
3. How will I receive the loan proceeds?
Your loan amount will be disbursed to your chosen bank via InstaPay or PESONet.[3]
4. What are the fees and charges?
SB Finance will charge you the following fees:
Processing fee – ₱2,000
Notarial fee (for loans worth ₱100,000 and up) – ₱300
Documentary stamps (for loans worth ₱250,000 and up) – ₱1.50 for every ₱200
Pre-termination processing fee – ₱2,500
Late payment fee ­­– 3% of the amount or ₱500, whichever is higher
5. Can I re-avail of an SB Finance Personal Loan?
Yes, as long as you've already paid off at least half of your original loan and never missed a payment. Note that your remaining loan balance will be deducted from the proceeds of your new loan.
Final Thoughts
Applying for a personal loan shouldn't be a bother these days, especially with mobile apps like Zuki by SB Finance. While the medium for application is newer and more convenient, conventional wisdom still applies: borrow money only when you actually need it.
Moreover, borrow what you can pay. In this regard, you must already have a strategy for repayment even before you apply for a loan.
Looking for Alternatives? Check Out These Personal Loans in the Philippines
Still haven't decided which loan to avail of? Here are other options from reputable banks and private lenders:
Personal Loan Provider

Minimum Loan Amount

Maximum Loan Amount

Minimum Annual Income

Approval Time

Metrobank

₱20,000

₱1 million

₱350,000

7 days

BPI



₱

20,000

₱2 million

₱

300,000

5 to 7 banking days

EasyRFC

₱

10,000

₱150,000

₱

120,000

As fast as 24 hours

Maybank



₱

50,000

₱1 million

₱

300,000

Apply online in just a few clicks

RCBC



₱

50,000

₱1 million

₱

360,000

5 to 7 banking days

SB Finance




₱30,000

₱2 million

₱180,000

5 banking days

CIMB



₱

30,000

₱1 million

₱

180,000

24 hours

HSBC



₱

30,000

₱500,000 or 3x gross monthly salary, whichever is lower

₱

168,000

5 to 7 banking days

CTBC



₱2

0,000

₱1 million

₱

180,000

3 to 5 banking days
Sources: