If you're strapped for cash, taking out a loan is a quick fix that can temporarily bail you out of a financial emergency.
While government agencies and banks are a popular option to borrow money from, they're not always the easiest and most convenient. Strict income requirements and long processing times are more than enough to leave people running in the opposite direction in search of other alternatives.
Lucky for you, online loans in the Philippines have risen in popularity in recent years. Digital lending apps tend to offer quicker, easier, and more convenient loan application experiences—giving you access to some much-needed cash right when you need it.
An example of an online loan provider is UnaCash. To learn more about it, check out the following UnaCash loan review.
What is UnaCash?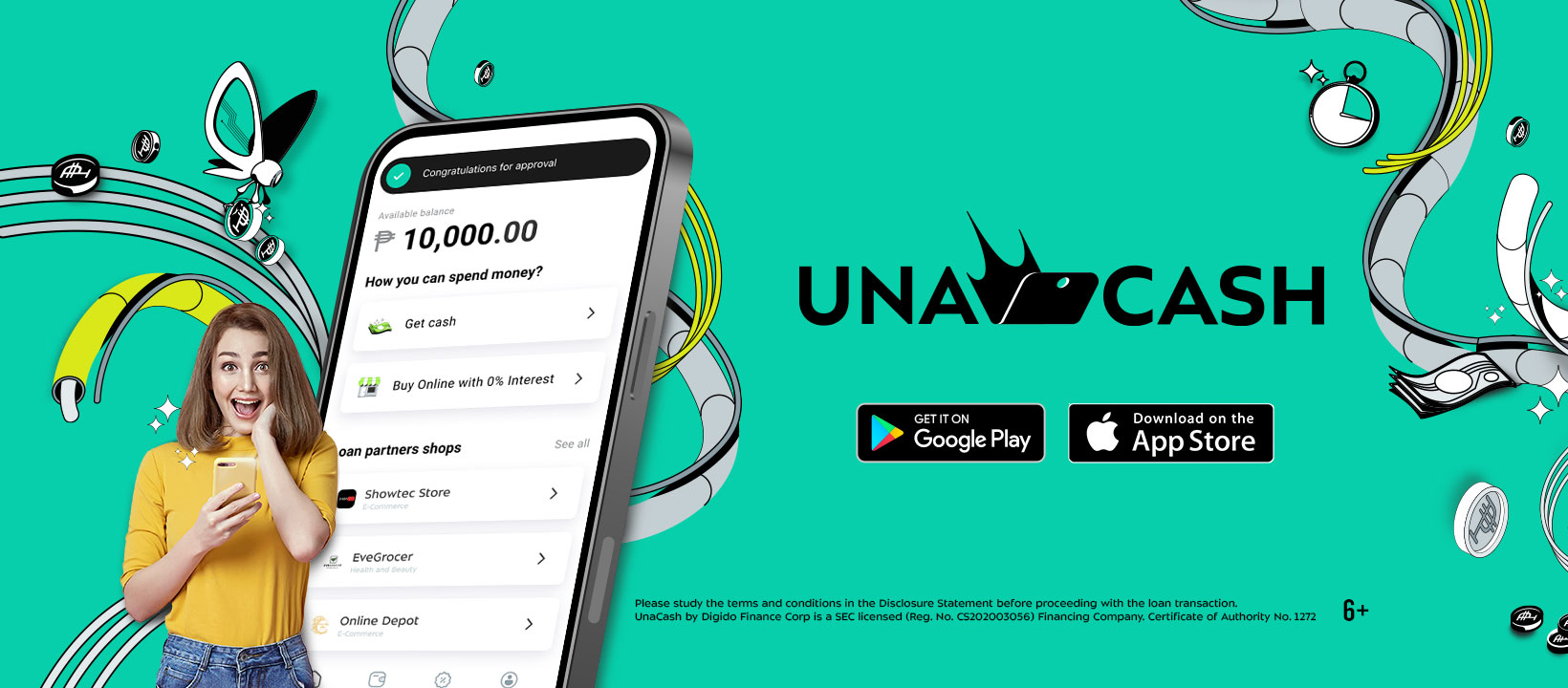 UnaCash is a mobile loan application operated by Digido Finance Corporation, a financing company that offers digital financial solutions to underbanked and underserved Filipino consumers.
Launched in December 2021, the credit-based UnaCash app shares a few similarities with other local cash loan providers like Cashalo, JuanHand, and Tala. Apart from providing cash loan options, UnaCash also offers a personal credit line that provides access to online installment shopping as well as Lazada wallet credits.
Is UnaCash Legit?
Yes, UnaCash is a legitimate lending app. Digido Finance Corporation, the company that runs it, is registered with the Securities and Exchange Commission (SEC) with SEC No. 202003056 and Certificate of Authority No. 1272.
Moreover, Digido is part of the Robocash Group, a Singapore-based financial group of companies that provides robotic financial technologies and services in the alternative lending market. Robocash services millions of clients in key markets across Europe and Asia.[1]
What are the UnaCash Loan Options?
Before applying for your first UnaCash loan, here's a quick guide on the two types of loans you can get using the platform.
📌 UnaCash Quick Cash Loan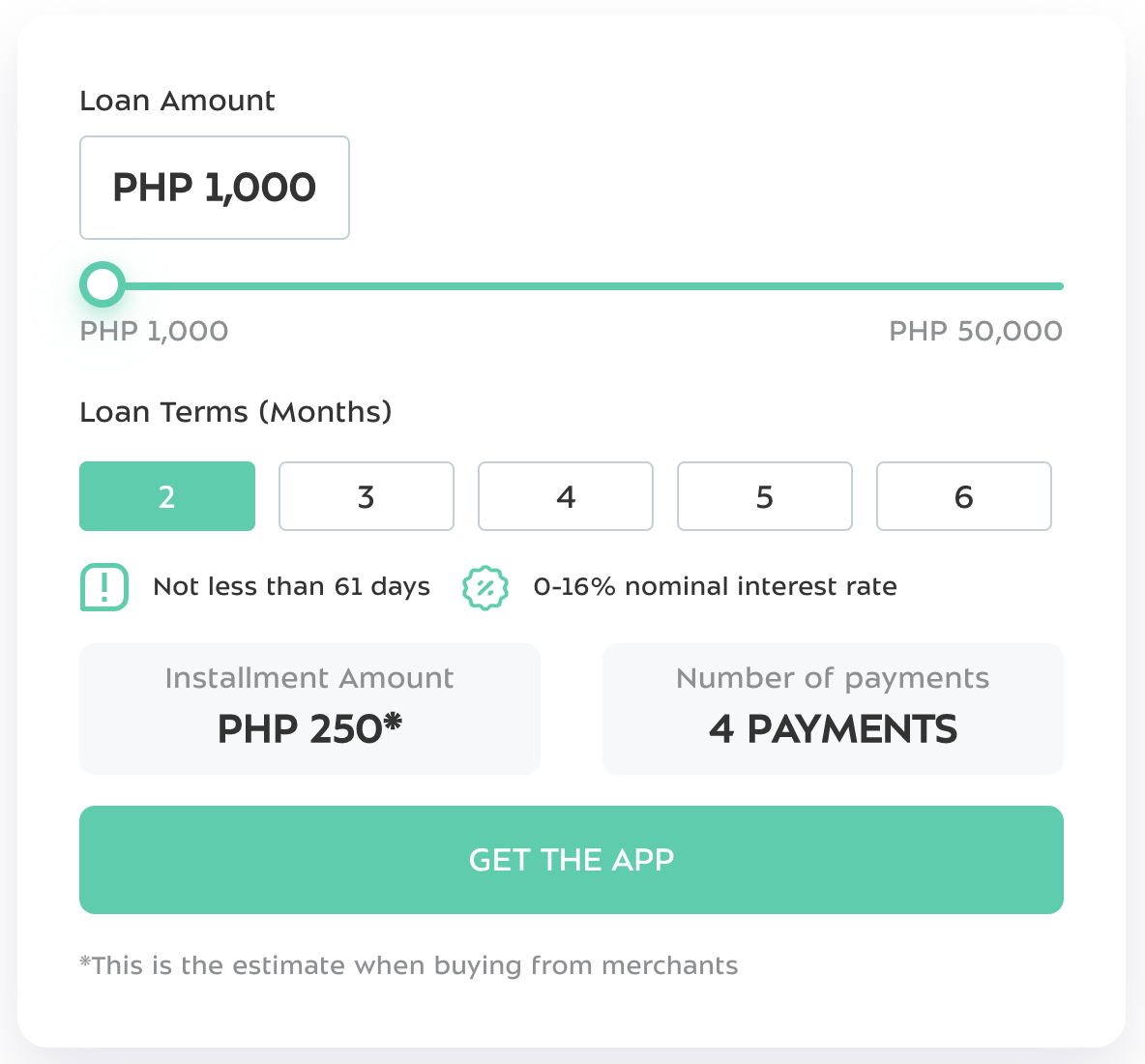 UnaCash offers loan amounts up to ₱50,000 with flexible loan terms of two to six months.[2] You may also apply for a credit line that will enable you to buy items from UnaCash's partner merchants.
You can check out the features of this loan further down below.
📌 UnaCash Supply Chain Financing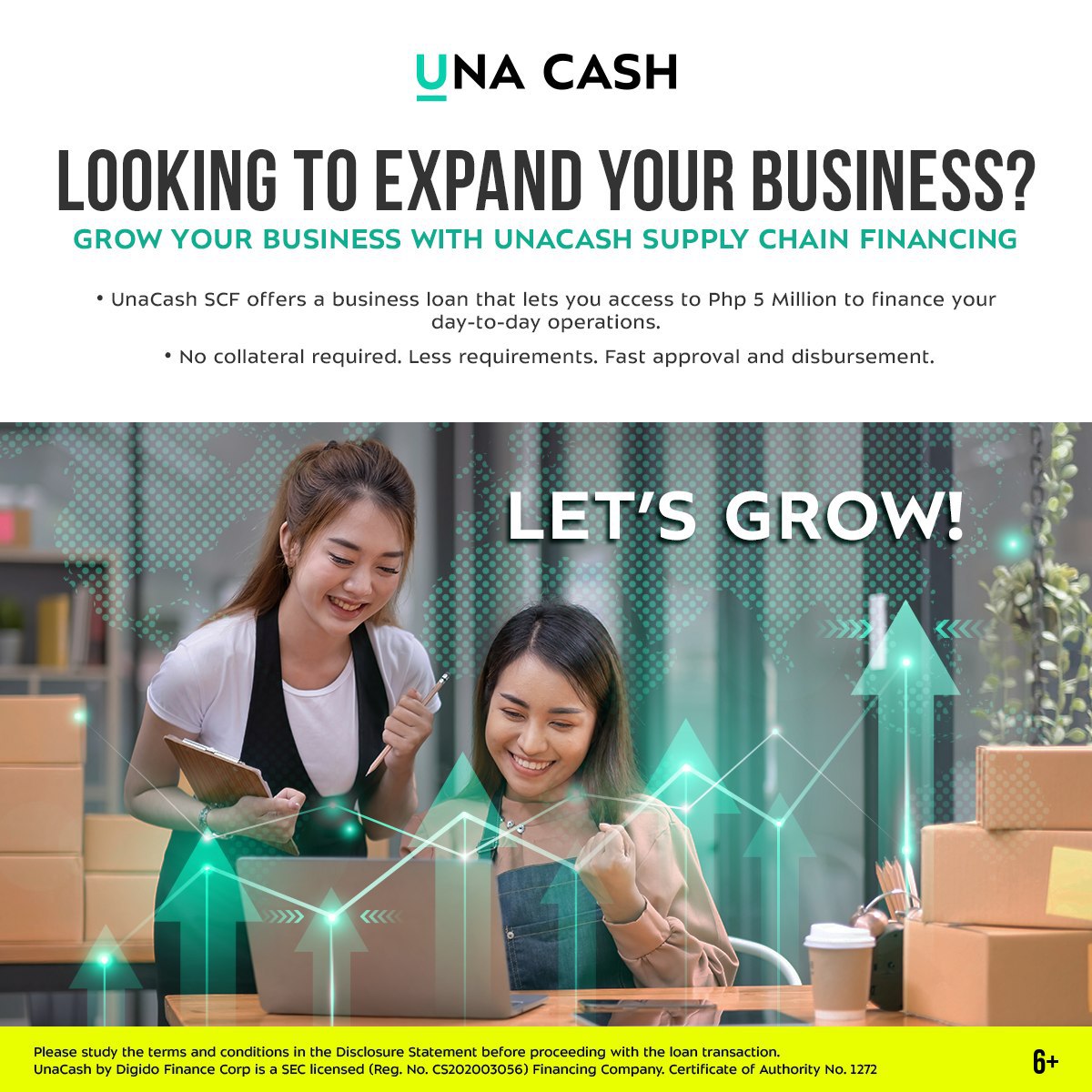 UnaCash offers a Supply Chain Financing (SCF) product that gives you access to up to ₱5 million to finance your business operations.[3]
The UnaCash SCF is a financing solution designed to enhance your ability to respond to customer demands, improve your cash flow and profitability, and ultimately grow your business. It requires zero collateral and fewer requirements.
Apart from giving your business quick access to funds, here are other benefits you can expect from UnaCash's SCF solution.
Flexible Payments – As a buyer, you are given the option to choose longer payment terms. This gives you more financial flexibility to manage, consolidate, and optimize your business finances.
Decreased Supply Chain Risk – UnaCash SCF helps lower any supply chain risks and mitigate liquidity problems by providing both buyers and suppliers a solution to late payments and other supply chain disruptors.
Increased Working Capital – With longer payment terms, you can improve your business's working capital, which in turn gives you more opportunities to invest and improve your business operations.
Stronger Buyer-Supplier Relationship – By improving both the buyer's and supplier's working capital, an SCF solution often leads to better buyer-supplier relationships.
Why Choose UnaCash for Your Loan Needs?
UnaCash app downloads have breached the one-million mark on the Google Play Store alone. People are evidently been drawn to this mobile lending app's features—and you'll know why shortly.
Below are some of UnaCash's features, as advertised on this platform's website and Facebook page.[4]
✔️ Online Application and Approval
UnaCash is an all-digital financial provider, so applying for a loan can be done remotely with zero face-to-face interactions.
You can set up your account and process your loan application within minutes. Once all requirements have been submitted, approval takes less than 24 hours. Loan disbursement is also relatively fast, making UnaCash a handy tool during financial emergencies.
✔️ Flexible Loan Amount and Loan Terms
You can apply for a maximum loan amount of ₱50,000. Loan terms are also flexible at two to six months.
✔️ Personal Credit Line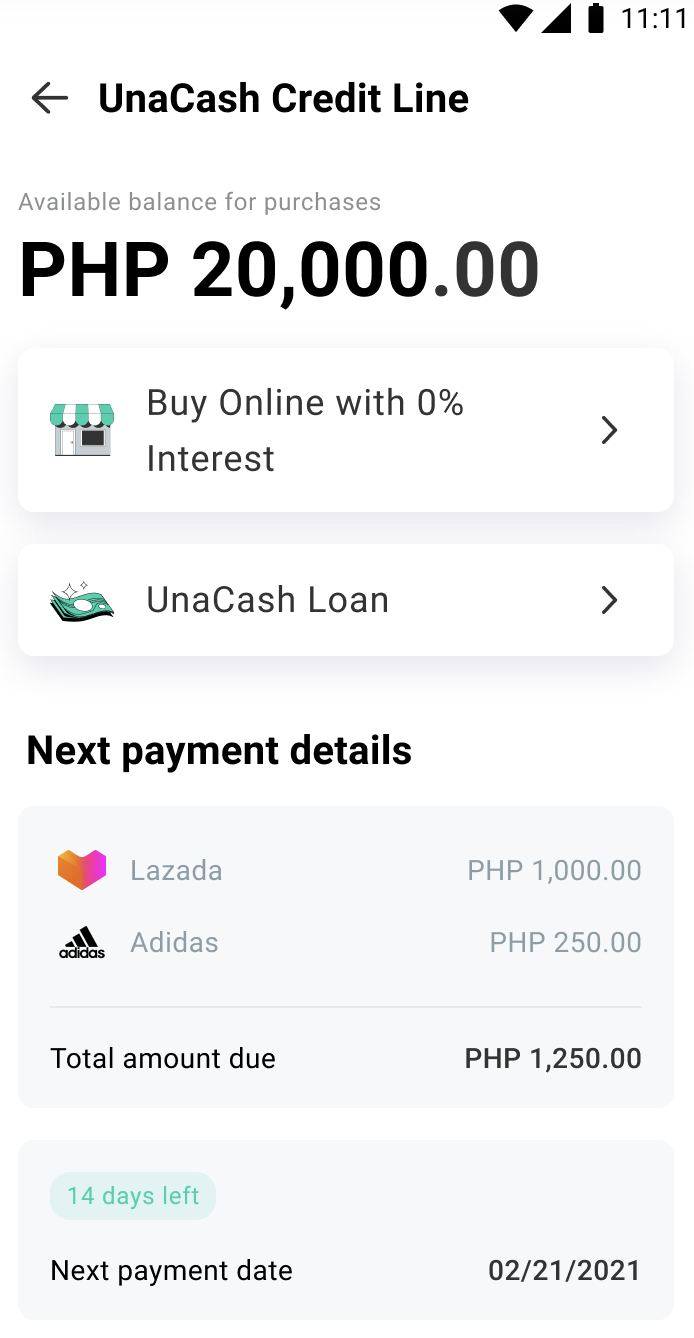 UnaCash offers a personal credit line, which you can use to apply for a cash loan, a Lazada loan, or a shopping loan installment scheme.
To use your credit as a fast cash loan, simply transfer it to your bank account after loan approval. You can also use your personal credit to shop at Lazada. Just remember to first convert your UnaCash credit to Lazada wallet credits.
Moreover, you can avail of a shopping loan installment plan using your UnaCash personal credit. You can score different items like gadgets, automotive accessories, home essentials, beauty products, and groceries, which you can pay for in installments.
✔️ No Downpayment for Shopping Installment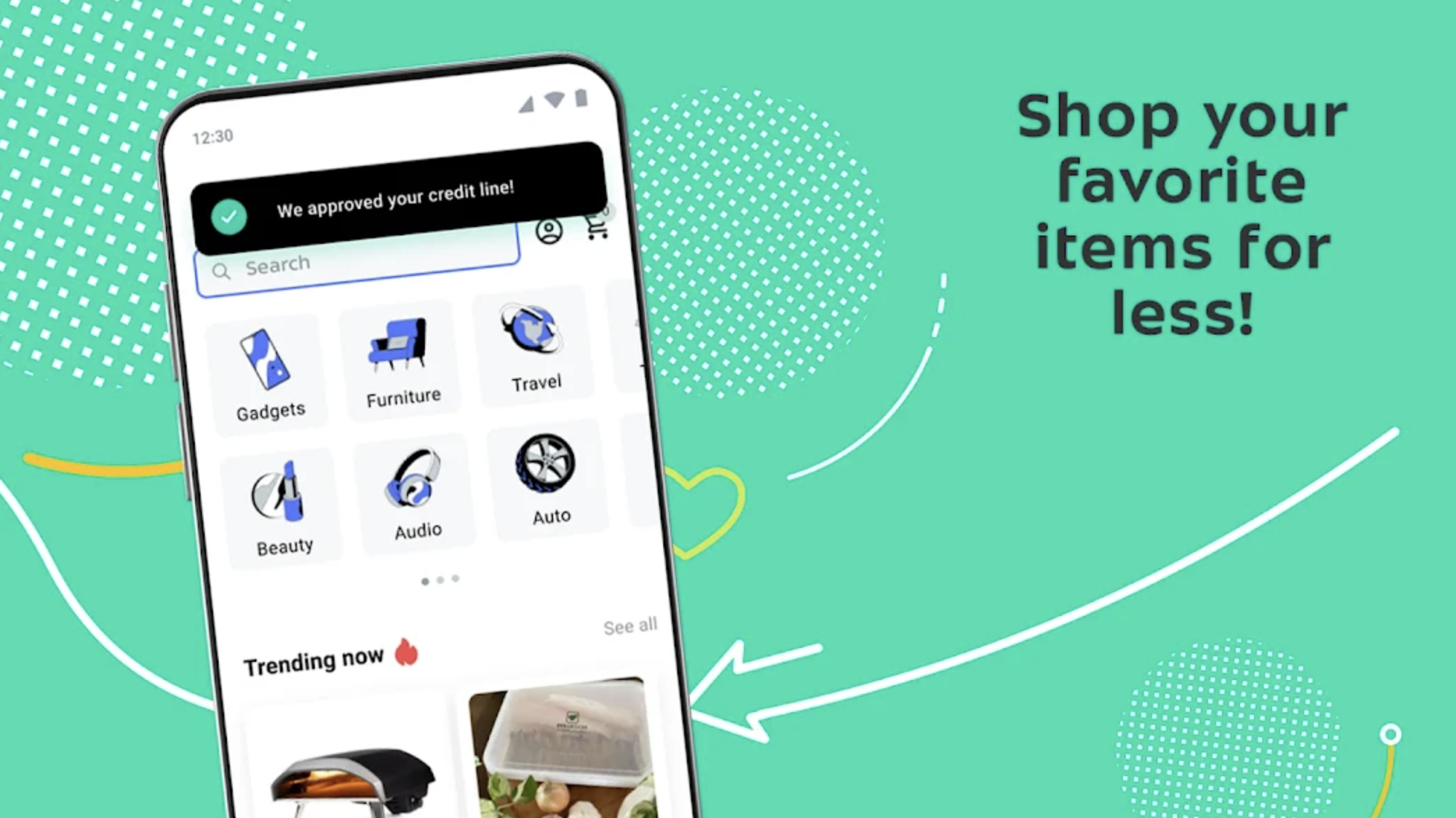 You can shop from UnaCash's online marketplace and purchase products from the app's partner merchants—all without shelling out any money for the downpayment. Not having any cash upfront won't be an issue as UnaCash promises to get you the items you need right away.
✔️ Low Interest Rates
UnaCash claims to offer one of the lowest interest rates in the market, ranging between 0% to 16% per month, depending on your credit standing and ability to pay.
Charges are set based on your individual profile. Your credit score is a big factor. You can find the interest rate for your loan in your disclosure statement.
✔️ Safe and Secure Platform
Security is a top priority for UnaCash. The team behind the app uses state-of-the-art data encryption to ensure that any information disclosed by clients is kept safe and is never shared with anyone.
✔️ Easy Repayment Process
Upon receiving your loan amount, you will be given an amortization schedule. Payments will be made twice a month, with the first payment date falling on the 16th day after disbursement.
✔️ Automatic Credit Renewal
After making a repayment online, your credit will automatically get replenished. No need for any extra steps to ensure that your credit is renewed.
✔️ No Hidden Charges
UnaCash has no disbursement fees, processing fees, and other hidden charges, so you can be sure that you're getting the full amount of your loan.
✔️ Upcoming Personal Wallet Feature
UnaCash is currently working on a free personal wallet feature on the app. Details are not yet available, but this feature is definitely something to look forward to.
UnaCash Loan Review: What are People Saying About UnaCash?
UnaCash loan app reviews on the Google Play Store run the gamut from high praise to sheer disappointment. In the typical fashion of online reviews, users have given the app stars ranging from a flat 1 to a perfect 5. Some even insisted they would have given the app no stars if only it were an option.[5]
With everyone claiming to have a different experience with the app, it's only fair to be critical and objective when reading UnaCash reviews. Below are some of the most common observations users have made about the app.
👉 The App Is Easy to Use

Many users have expressed their delight in learning that UnaCash is as convenient to use as it claims to be. They encountered no trouble at all while using the app. Everything was seamless from registration all the way to loan disbursement.
👉 Getting Verified and Approved is Difficult

Equally just as many users have aired out their frustrations about not being able to get approved at all. There were some who submitted the registration form but were immediately denied even though they had complete and correct documentation.
There were also those who claimed that the loan application and approval process was not as fast as advertised. One user shared that, three days after registration, their account was still under validation.
👉 Partner Merchants are Limited in Number
UnaCash offers a "buy now, pay later" (BNPL) feature where users can shop at partner stores and buy products that they can pay for in installments. Users generally like this feature—they only have one issue, and that's the limited number of stores accredited by UnaCash.
By adding more merchants to its small roster, UnaCash can entice more customers to use its BNPL feature.
👉 Payment Reminders are Too Persistent
While some users appreciate being reminded of their financial obligations, others find UnaCash's constant reminders to be excessive.
Some users claim to have received multiple texts, emails, and calls way ahead of their due date. And these users have allegedly never made late payments before, giving UnaCash no reason to bombard them with reminders.
👉 The Cash Loan Feature is Locked
Many users have voiced their opinion about UnaCash limiting its cash loans in order to push its other products to customers.
Users prefer the cash loan feature over BNPL and other products despite the former's higher interest rate. With cash loans now requiring applicants to have almost a spotless credit history, many users have found that the app no longer supports their financial needs.
👉 Customer Service Needs Improvement
Some users have aired their grievances about UnaCash's customer support. Those users have outstanding concerns that they have raised to the customer service team to no avail.

What are the Requirements for an UnaCash Loan?
You don't need a bank account or credit card to use UnaCash. However, to be eligible for a loan, you must meet the following criteria:
Filipino citizen
21 to 60 years old
With a valid e-mail address and mobile number
With a valid government ID and proof of income
📌 Valid Government IDs
For faster UnaCash approval, make sure to have at least one of the following accepted IDs:
Driver's license
National ID
Passport
Improved postal ID
PRC ID
SSS
TIN
UMID
📌 Accepted Proofs of Income
To start using UnaCash, you must be able to present valid proof of income depending on your employment category. See the requirements below.
For Employed Users
Certificate of Employment
Payslip received within the last three months
For Remittance Receivers
Bank transaction history
Remittance slip received within the last three months
For Business Owners
If a small business: Barangay business permit
If a medium or large business: Mayor's permit, SEC permit, or Department of Trade and Industry (DTI) permit
How Do You Apply for a Loan in UnaCash?
Applying for an UnaCash loan? Below is a step-by-step guide to help you.
👉 How to Apply for Your First UnaCash Loan
If it's your first time applying for a loan, just follow these steps.
1. Download the UnaCash loan app from the Google Play Store.
2. Open the app and create an account by filling out the registration form.
3. Provide your personal information, contact references, work information, and income documents.
4. Take a selfie and upload a photo of one valid government ID.
5. Your data will be validated within 24 hours.
6. Once validated, you can start applying for a loan. Your credit limit will be based on UnaCash's assessment of your profile.


👉 How to Apply for a Reloan
You can apply for a loan again with UnaCash even if you have an existing loan with it. You only need to have good credit standing to be approved. Still, UnaCash encourages you to settle your existing loan before applying for another one.
To apply for a reloan, just email UnaCash at care@unacash.com.ph. Include the following details:
Your full name
Email address
Previous promissory note (PN) number
Loan amount (up to ₱50,000)
Loan term (up to six months)
How to Pay Your UnaCash Loan
💸 How to Repay Through Online Banks
Download and open the UnaCash app.
Under Products, click Loan.
Select Make a Payment.
Click Cash In via Bank Account.
Select your preferred bank. UnaCash's partner banks include UnionBank, BPI, Metrobank, PNB, and RCBC, among others.
Key in the installment amount. Click Next.
Review the payment amount and fees. Click Next.
You'll be redirected to Brankas, a third-party fintech provider that links UnaCash with your bank. Click Approve.
Log into your online banking account.
Choose the account where your payment will be deducted.
Double-check the amount, including the transaction fees. Click Confirm.
💸 How to Repay Through Gcash
You also have the option to make repayments through GCash.
Using a Reference Code
Download and open the UnaCash app.
Under Products, click Loan.
Select Make a Payment.
Click Cash In via Bank Account.
Select Gcash.
Enter the amount you want to repay.
Generate a reference code.
Open the GCash app and go to Pay Bills > Loans > Dragon Loan.
Enter the following details: reference code, contact number, exact amount, and email address.
After filling out all fields, click Next, then Confirm.
You will receive proof of your payment.
Using Bank Transfer
Open your Gcash app.
Go to Send Money > Send Money to Partners > Bank Transfer.
Key in your bank details, i.e., bank name, account name, account number.
Click Send Money.
Download a copy or take a screenshot of your proof of successful fund transfer.
Email the proof to accounting@unapay.com.ph. The subject line must be "Loan Payment," and the body of the email must contain your name, promissory note number (which you can find in your amortization schedule), the amount you paid, and the screenshot or PDF copy of your proof of payment.
💸 How to Repay Through Over-the-Counter Partners
You can pay offline through over-the-counter stores.
Using a Reference Code
Download and open the UnaCash app.
Under Products, click Loan.
Select Make a Payment.
Click Cash In via Partner Outlets.
Select your preferred partner outlet.
Key in the installment amount. Click Next.
Save the reference code that will automatically be generated for you.
Go to your selected partner store and present the reference code. UnaCash's partner stores include 7-11, Bayad Center, Cebuana Lhuillier, M Lhuillier, and The SM Store.
Pay the amount due.
Using Your Lifetime ID
Your Lifetime ID is a reference code that you can use repeatedly to make payments through over-the-counter channels.
To get your Lifetime ID number, open the UnaCash app and go to the Profile section. Your Lifetime ID should be immediately visible.
Go to any over-the-counter partner store and inform them that you'll be making a bills payment to Dragonpay.
Receive your transaction slip from the cashier and fill it out with your account details.
Under Control No., Account No., or Reference No., just enter your Lifetime ID number.
Wait for the store to process your transaction.
Save the receipt or proof of payment.
Through 7-Eleven
Go to your preferred 7-Eleven outlet.
Find the Cliqq touchscreen machine.
Go to Bills Payment > More Bills > Loans > Bills Payment > Dragonloans.
Key in your Lifetime ID, contact number, and the exact payment amount.
Wait for your machine-generated receipt, which you should present at the counter.
Pay the amount due.
Save your payment receipt.
UnaCash Loan App FAQs
Below are some frequently asked questions about UnaCash loans, as documented within the mobile app itself.
1. Can I reapply if my first application has been denied?
Yes, as long as you meet UnaCash's requirements—i.e., you have all the proper documentation as well as a good credit standing. It's possible that your first application was denied due to an error in the system.
The next time you fill out the registration form, make sure you provide the correct personal data to increase the chance of your application getting approved.
2. Can I change my amortization schedule?
No. Your amortization schedule is provided by UnaCash based on the approval date of your application. It's final and can't be revised.
3. What are the consequences of paying late?
If you miss a payment, you'll be charged additional fees. You'll also be constantly barraged with reminders to pay your balance.
Moreover, your failure to honor your payment agreement with UnaCash will entitle them to employ the services of third-party debt collectors, which are notorious for their more aggressive approach. UnaCash can also report your non-payment to the credit bureau, thus tarnishing your record.
However, what UnaCash and third-party debt collectors can't do is harass or threaten you. Check out this guide on what to do when threatened by lenders, as advised by a lawyer.
Final Thoughts
If you still have reservations about UnaCash, check out other UnaCash loan reviews on its website and social media pages. Just make sure to exercise critical judgment when going through the reviews. Take both the positives and the negatives and form your opinion based on the full picture.
You may also check out other reputable personal loan providers in the Philippines. Compare your options and apply easily through Moneymax.
| Personal Loan | Minimum Loan Amount | Maximum Loan Amount | Monthly Add-on Rate | Minimum Annual Income | Approval Time |
| --- | --- | --- | --- | --- | --- |
| UNO Digital Bank Personal Loan | | | | | |
| Metrobank Personal Loan | | | | | |
| UnionBank Personal Loan | | | | | |
| BPI Personal Loan | | | | | |
| RFC Loan | | | | | |
| Tonik Flex Loan | | | | | |
| Tonik Quick Loan | | | | | As fast as 1 hour |
| Tonik Big Loan | | | | | 7 days |
| Tala Loan | | | | | 24 hours |
| HSBC Personal Loan | | | | | |
| CIMB Personal Loan | | | | | |
| Maybank Personal Loan | | | | | |
| RCBC Bank Personal Loan | | | | | |
| SB Finance Personal Loan | | | | | |
| CTBC Bank Personal Loan | | | | | |
| PSBank Personal Loan | | | | | |
Sources: