Running your own business is hard enough as it is—what more if you're doing so in the middle of a pandemic? A lot of successful entrepreneurs in the Philippines had to learn how to operate a business in a limited capacity, but they became stronger and better entrepreneurs because of it.
Ask the most successful entrepreneurs in the Philippines who started from the ground up, and they'd say that navigating challenges builds a solid foundation for aspiring entrepreneurs.
Successful Entrepreneurs in the Philippines Who Rose to the Challenge
Dreaming of becoming an entrepreneur in the Philippines? Anyone can do it with plenty of hard work and maybe a little bit of luck. Read on to get inspired by successful Filipino entrepreneurs and their businesses below.
Luilyn Abapo, Owner of Lulu Blue Cakes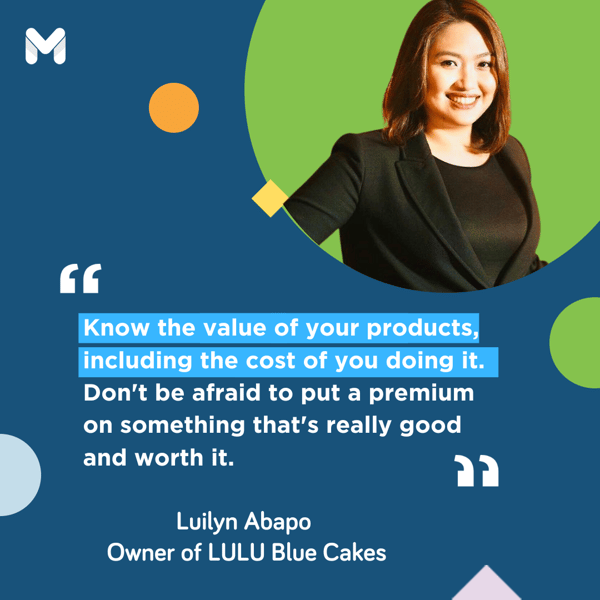 From Passion Project to Thriving Business
Baking has always been a passion for Luilyn Abapo, the woman behind Lulu Blue Cakes.[1] She loves her job as an HR practitioner but sees the kitchen as her refuge. She started her small business as a passion project and a therapeutic activity of sorts on weekends.
"With the opportunity to work from home during the pandemic, my sisters urged me to make it an official business and offer our goodies to the general public. Baking on weekends became our bonding," Luilyn shared.
With families who enjoy sweet treats as her target customers, Luilyn began with the Blueberry Cheesecake Cups. They became an instant hit with her family and friends. Buoyed by her love for baking and the support of her loved ones, she began experimenting with new recipes and eventually started selling the Tres Leches series, Banana Loaf, and Triple Chocolate Brownies.
Related articles:
Operating in a Pandemic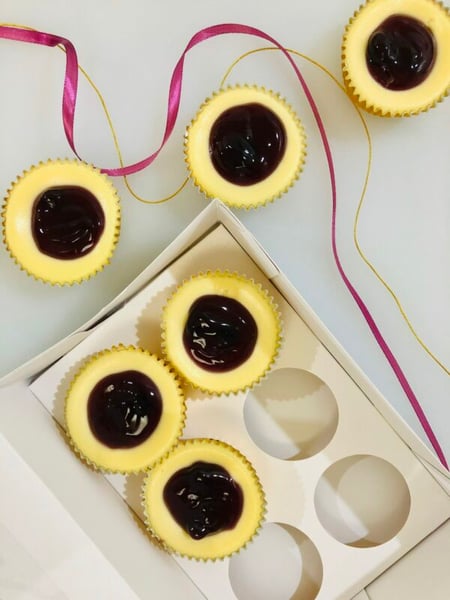 When the pandemic hit, one of the biggest challenges Luilyn faced was transporting her products to customers. "The cakes, especially the cheesecakes, are delicate. Sometimes, when they get to the customer, they're no longer in their best state."
To address this problem, she tried different packaging options and thought of smart ways to ensure the cheesecakes survive the transit. She also reminded delivery riders to handle the packages with care.
Read more: Best Business K-Drama List: 6 K-Dramas That Will Inspire You to be an Entrepreneur
Rice for Riders
Because of issues with cake deliveries, Lulu Blue Cakes came up with an incentive program—free 1 kilo of rice for every rider who picked up an order—to show appreciation for riders who go the extra mile to deliver the cakes in a perfect state.
"The riders are among the heroes of the pandemic and they help our small business thrive. So we thought that if they help us provide food on the tables of our clients, we can give back by ensuring that the riders and their families have food on their table, too."
Indeed, riders who receive the free rice appreciate this incentive and continue to improve their service. Customers of Lulu Blue Cakes also happily place orders knowing they're helping the riders out.
Proud Moments
A successful business, especially one that started out as just a hobby, is a big deal. And Luilyn has so much to be proud of.
"I'm proud of how a small business like Lulu Blue can make a difference to the community by helping riders even with just a kilo of rice."
The hours may be long, tiring, and hectic, but there are also lots of rewards. "The most rewarding aspect of running the business is being acknowledged by the clients, receiving good feedback, and being featured by food bloggers and food critics. These signify that we're doing a good job, and that Lulu Blue became part of their best moments."
Know the Value of Your Products
Businesses, both big and small, truly felt the impact of this pandemic. But it also taught business owners a lot.
"The biggest financial lesson I learned is to know the value of your products, including the cost of you doing it. Don't be afraid to put a premium on something that's really good and worth it. When clients know the quality you put into what you sell, they won't hesitate to pay for a really good cake because they get value for their money," Luilyn said.
Surviving Hard Times
As the pandemic continues to wreak havoc on businesses, Luilyn has this to say to fellow Filipino entrepreneurs: "Do a quality check of your items and ensure that you're serving nothing less than your best. Your product will speak for itself."
Leslie Rabinovich, Owner of Esencia Day Spa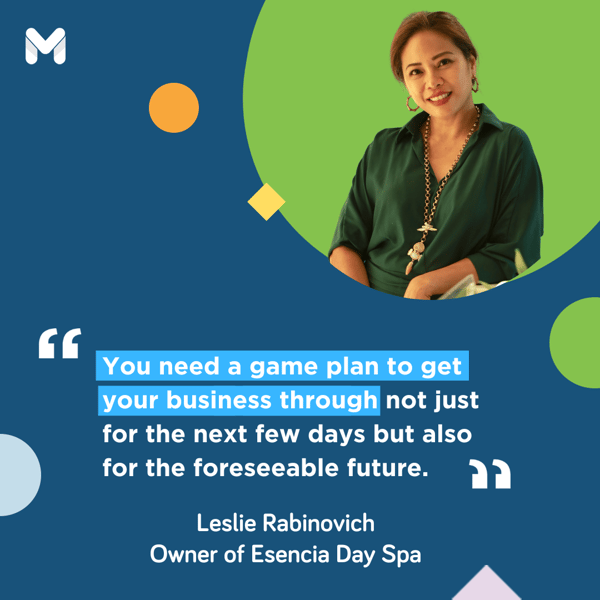 Before she became a successful entrepreneur, Les Rabinovich worked as a flight attendant in a major airline company for many years. She always looked forward to a full pampering treatment after every long-haul flight because she found massage therapies relaxing and beneficial.
When Les decided to put up Esencia Day Spa,[2] she had busy working parents and young professionals in mind. "I want them to feel that they're our special guests when they come to Esencia Day Spa," she said.
"We Filipinos are naturally nurturing and empathetic. We're very genuine and congenial in the way we provide service. I want to highlight this in the service that we provide in our spas. When I opened Esencia, I wanted it to be an extension of that enactment of service," she added.
Esencia Day Spa is a boutique spa offering hotel-quality spa service and treatments with a personal touch. Les opened her first branch in Nuvali, Santa Rosa, Laguna in November 2015. Then she launched another branch in Forbestown at The Fort, Taguig in December 2017. Even with its luxurious services, Esencia maintains its affordability and its organic, sophisticated, and holistic experience for its guests.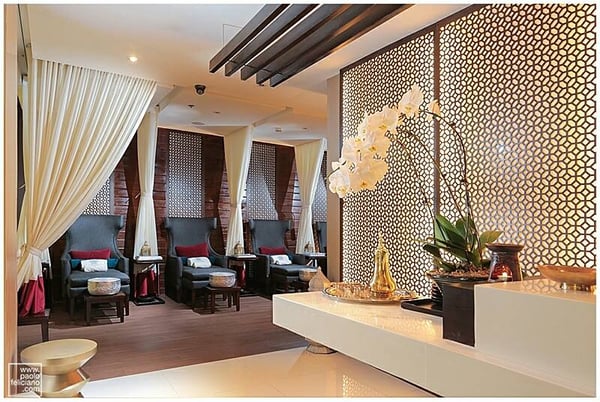 The Business of Caring
The wellness industry is one of the hardest-hit industries during the pandemic. Every time there's a new community quarantine announcement, wellness spas are among the first to close and the last to open.
"Spas are all about personal service and human touch, so it's really a challenge for us when we closed for eight months, especially for my staff. "
Still, Les is very thankful to have such a loyal and well-trained team. She made sure they were all taken care of during the lockdown. "We offered help to our staff financially and opened our own home to some of them where they can stay and provide home massage services in our area—while following strict safety protocols, of course. With this, I can truly say that we're in the business of caring."
Halted Plans
Before the pandemic hit, Les was already geared to open her third Esencia Spa branch. Construction was about to start, but then the lockdowns were implemented. "It didn't push through, but we're able to save time and money, and it made us reconsider where to invest next."
The Most Rewarding Thing
The effects of this pandemic are different for every person. When Les reopened Esencia, she noticed an immense transformation in her clients. Loneliness, isolation, and anxiety levels are at an all-time high. With all the changes and uncertainties, people want to feel good. Now more than ever, they want to reward themselves after overcoming their own struggles.
"For me, the most rewarding aspect of operating this business is that our clients consider a spa treatment at Esencia a reward for themselves. That they miss our place and their favorite therapists giving them a pampering session," Les shared.
After all, therapeutic touch in reflexology, as well as shoulder, head, and body massages, are just some of the most effective ways to alleviate depression, stress, and anxiety.
Advice for Fellow Entrepreneurs
For Les, all business owners should learn to quickly adapt to the new normal. This pandemic is an extreme event that forced everyone to be tougher, more resilient, more adaptive, and more creative. "You need a game plan to get your business through not just for the next few days but also for the foreseeable future."
Despite the everyday struggles, Les remains hopeful. She looks forward to the future and hopes people will focus more on their health and wellness and realize the importance of self-care. She's also hopeful that the spa industry will boom post-COVID-19.
See also: DTI Loans for Small Business: How to Apply for P3 CARES 2 Program
Mariel Bitanga, Founder of Simply Finance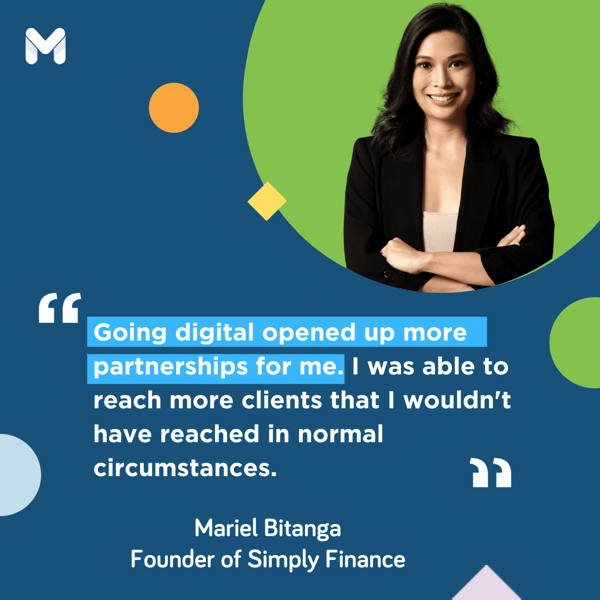 Mariel works with startups and as a financial planner and coach on the side. She's the founder of Simply Finance,[3] a boutique financial planning firm that provides financial solutions to Filipinas. But more people have approached Mariel for financial advice, mostly young professionals and newly married couples.
When not speaking with clients regarding financial planning, Mariel runs things at Kumu where she's Vice President for Partnerships and Acquisitions.
For several years now, she has been helping clients with their money and finances. "I learn their money stories, their current situation, their money beliefs, and what they want to achieve. From this information, I help create a plan for them, complete with actionable steps," Mariel said.
Like how a fitness coach or nutritionist creates a meal plan, Mariel creates a budgeting or investing plan for her clients that will help them achieve their financial goals.
Blessing in Disguise
When the pandemic hit, Mariel couldn't conduct face-to-face workshops and seminars with her clients anymore. She had to move all her meetings and sessions online.
But it turned out that going digital had more advantages than disadvantages. "Going digital opened up more partnerships for me. I was able to reach more clients that I wouldn't have reached in normal circumstances."
But according to Mariel, since the whole process is digital these days, there's also a lack of connection. "Sometimes, clients will book a call, but they're not that committed. Sometimes they just don't show up for the call at all."
Lasting Relationships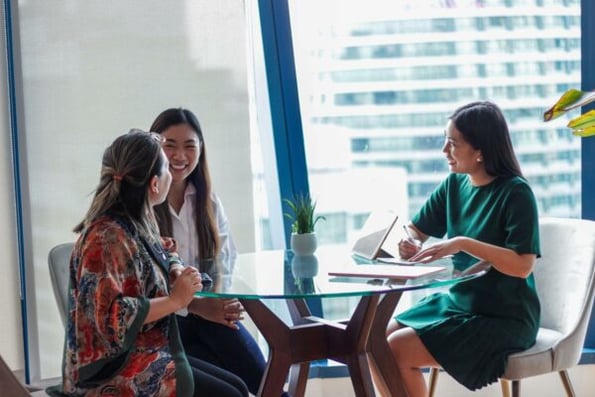 The biggest payoff is building genuine relationships with her clients over the years. They may start out as clients, but they often end up being good friends as well.
According to Mariel, clients usually refer her to their friends and relatives. Pretty soon, almost everyone in the family or friend circle is her client, too. For her, it's rewarding to know that she's able to help not just one client but their loved ones as well.
She also loves receiving messages from clients thanking her for her help or just updating her on their lives. "I'm really just thankful for their trust."
Back to Basics
When the pandemic started, everything was uncertain, especially for businesses. In this current economic climate, Mariel advises Filipinos to go back to the basics. "Make sure your finances are strong. Use this time to learn how to strengthen your finances."
During the pandemic, a lot of people realized the importance of savings, investments, and insurance. Mariel remains motivated to help people plan for their future and put their money in the right place. "I'll continue what I'm doing now. I'll keep working to attract new partners and clients. And I look forward to meeting my clients and holding our sessions in person soon."
Karren Seña, Kihyan Chua Yap, and Koleen Chua Yap, Co-Owners of Aegyo Cakes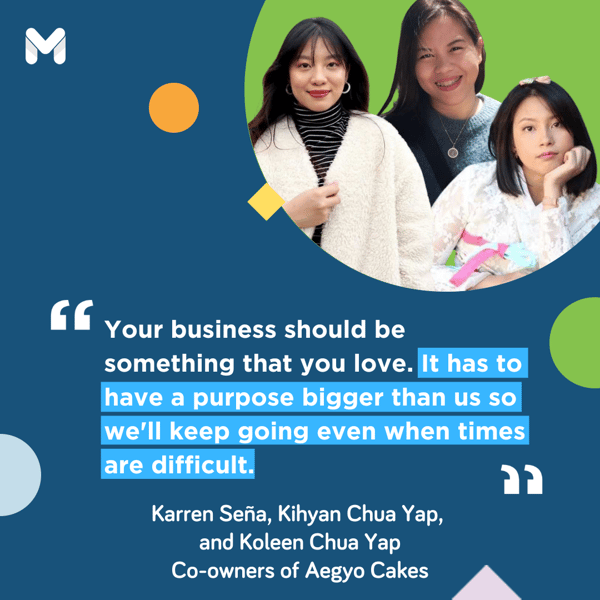 Business truly runs in their blood. Before siblings Karren, Kihyan, and Koleen started the widely successful Aegyo Cakes,[4] they were all helping their mom run the family's office uniform manufacturing business. But then the pandemic happened, so they had to pause their business operations and pivot to producing face masks and PPEs for medical frontliners.
But as an artistic bunch, staying at home for several months and sewing face masks by hand was tough on them.
One night, while sewing masks, Koleen asked Kihyan what kind of business she wanted to do. Kihyan thought of food. They both loved watching baking and cooking shows on Netflix, so they thought it was something they could venture into.
When they found themselves unable to celebrate a relative's birthday due to restrictions, they sent them a cake instead. They thought they could offer the service to other families as well.
"Hindi kami makapag-celebrate as a family, what more 'yung ibang mga tao? We wanted to give other people a way to celebrate with their loved ones even if they can't be there. Dun nabuo 'yung concept ng Aegyo Cakes: 'Send love with Aegyo Cakes,'" Karren said.
On a Hallyu High
It's surprising to learn that the siblings behind Aegyo Cakes are not professional bakers. When they were starting out the business, they had to learn everything on their own by trying a lot of recipes. There was definitely a lot of trial and error.
But they knew their target customers. Everyone in the family loves K-culture―from K-drama to K-pop. And they knew there are legions of Pinoys who love Korean pop culture as well.
Their timing couldn't have been more perfect. Their small online cake business was able to ride the first wave of Korean minimalist trends in the country, and they were one of the first online shops to sell cute minimalist cakes. "It may have started from a trend, but it very quickly became more than that," Karren said.
Biggest Struggles
Starting a business in the middle of a pandemic was truly challenging. It was more difficult to look for suppliers or go on supply runs. They also couldn't hire people even if there was a sudden increase in demand.
Their priority was everyone's safety. Before they expanded their operations, the family made sure they could protect and keep each other safe.
With a lot of careful planning, Aegyo Cakes was able to move out of their home kitchen to a new one and hire more staff early this year. They also built their own website to accommodate orders apart from their social media accounts.
All the Good Feels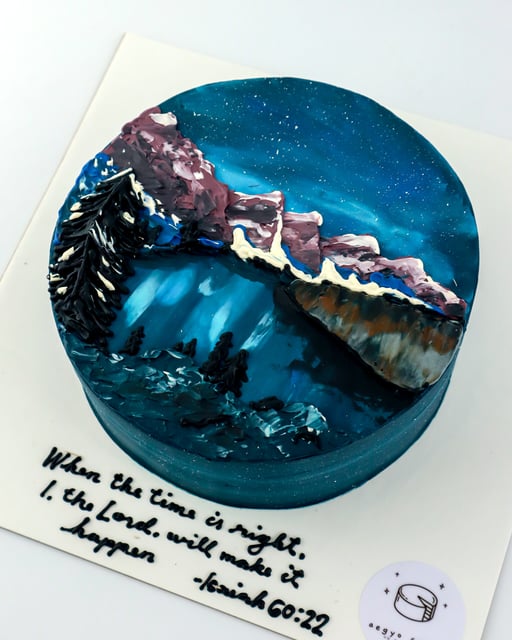 The siblings truly feel the love people have for Aegyo Cakes. They've gained more than 100,000 followers on Instagram. But more than the numbers, it's the fact that people choose Aegyo Cakes to send love to their loved ones.
"What gives our cakes more purpose and more meaning are the stories behind them. Every time they buy cakes from us, every time they send love with Aegyo Cakes, they really make our kitchen the happiest place on earth. Nakakapag-contribute kami sa pag-ikot ng pagmamahal sa Metro Manila."
Just Go Ahead and Do It
Everything the sisters know about business, they learned from their mother, the master negosyante. Whenever they had a business idea, their mother would tell them to just go ahead and do it. "Yes, you have to plan. Yes, you have to think about it. But you really just have to jump out there and learn along the way."
There are no limits to what you can do. Even if you're pushed back into a corner, use that to think of other ways you can earn money. For the sisters, there are lots of ways to earn, especially if your purpose is to serve and give value to other people.
"Your business should be something that you love," the siblings added. "It has to have a purpose bigger than us so that we'll keep going even when times are difficult."
Keep It in the Business
"If the business starts earning, put the money back into the business," they advised. This is what the sisters did when Aegyo Cakes hit their first ₱1 million in sales just on their third month (or 100th day, which happens to be a special milestone in Korean culture). They didn't splurge but decided to invest it in the business.
"Our business growth may be considered exponential, but we really put a lot of thought into it. We'll just keep sending more love, and we're in it for the long term."
Final Thoughts
Kudos to these successful local entrepreneurs in the Philippines who prove that anyone can overcome challenges with grit and grace. Let their stories inspire you to hustle harder with your 9 to 5, so you can put up your own business, too.
If you're cash-strapped, don't be disheartened. You can still start a business just like these successful Pinoy entrepreneurs did. There are many options you can avail of to get the funding you need for your business, like applying for a personal loan or a business loan.
But it doesn't stop there. To be a successful entrepreneur in the Philippines, you should keep hustling, learning, and adapting to change. For Filipino entrepreneurs going through tough times, just keep going!

Sources: