For a lot of people, freelancing sounds like the dream career―work at the beach or at a café, no fixed schedule, no bosses, and unlimited earning potential. That's all true. And it is a dream career, which is why I did it for six years.
But I recently went from freelance to full-time employee. In December 2020, I joined Moneymax as a full-time finance writer. I thought it would be a big adjustment on my part, and that I would regret leaving the freelance life. But it's been a smooth, exciting, and financially rewarding ride.
How I Began My Freelance Career
Before I became a freelance writer, I worked at a small call center in Singapore. The job paid well, and my colleagues were a fun and friendly bunch. But it was a stressful job that gave me no joy. There was also this restlessness stirring inside me. I felt stuck in the corporate world when all I really wanted was to write.
When my employment contract ended in 2014, I went back to the Philippines for good. I had no plans about what I wanted to do next. I wasn't keen on getting a new office job again, and I didn't have the money to start my own business.
So I just went right ahead and took the plunge―I decided to give freelance writing a shot. And I was going to write for a whole year and see where it would take me.
I bought a really good laptop and got an internet connection at home. And then I opened an account on oDesk, now Upwork, and started applying for writing jobs.
It didn't matter how much the clients were offering for the writing gig. At the time, I just wanted to experience getting hired to write, hone my writing skills, and build a writing portfolio.
Like that famous line from the movie "Field of Dreams" goes, "If you build it, they will come." So I built my writing portfolio, and the work started to come.
From Freelance to Full-Time Employee: Why I Went Back to Full Time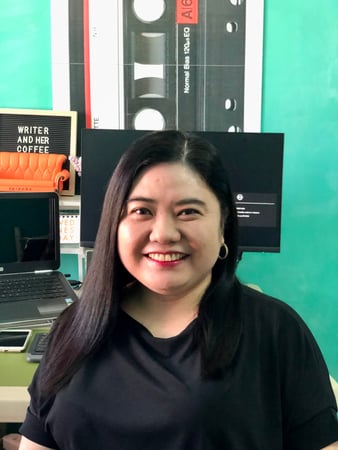 I was perfectly happy being a freelance writer. There's been a steady stream of writing projects for me over the years. But then the pandemic happened, putting everything in the balance.
Even if my clients reassured me that there would still be work coming in for me, I really couldn't take that risk. The pandemic has affected businesses all over the world, even the biggest and most established ones, so I didn't want to be complacent.
The uncertainty of life in this pandemic is what made me decide to switch from freelance to full-time work. Although I never really experienced not having writing jobs, I wanted to have more financial stability during a scary and financially challenging time.
Finding the Right Full-Time Job
It was mid-2020 when I seriously started applying for full-time jobs online. When I decided that I wanted to be a full-time employee again, it had to be as a full-time writer, of course.
But because I also had extensive experience in customer service (I worked in a call center for over 13 years), most of the jobs I was getting were for customer service roles.
So I overhauled my resume to highlight my writing experiences. I also looked for a free online portfolio website where I could put all the links to my published articles so that they looked more professional. Before long, I started to receive emails and referrals.
Rolling with the Changes
The transition from working as a freelance to full-time writer wasn't really that difficult. There was no major adjustment stage because it's still a work-from-home set-up during the pandemic. Maybe when it's time to go back to the office and work on-site, that's when I'll truly feel the change and make bigger adjustments.
During my first few weeks with Moneymax, logging in at 9 a.m., attending regular online meetings, and speaking virtually with my team took some getting used to.
When I was a freelance writer, I worked on my own all the time. I could start writing anytime I wanted, as long as I submitted my articles before my deadlines. Online meetings were also practically non-existent because I communicated with my clients through WhatsApp, Slack, or email messages.
Now that I'm working full-time, I'm part of a much bigger team that I collaborate and communicate with on a daily basis.

It's Good to be Back
After spending almost six years freelancing, being a full-time employee again feels really exciting. It's so good to be back because I'm legitimately part of something now, and I have people to call teammates again!
Also, even if it's a remote set-up, I know just how hard all of us are working. We don't share an office space, but we're all laser-focused on what we're doing.
It's been a really productive time for me, and I've learned so much from my team. Everyone's just ready to help, answer questions, and crack a joke.
At first, all I really wanted was just a stable, full-time writing job. Then weeks turned into months, I grew into my role as a finance writer and got promoted to content editor just in my first year with Moneymax. That was such a great bonus for me.
It's true what they say―when you love what you do, it won't feel like work, and time will fly by so quickly.
Freelance vs Full-Time Job Pros and Cons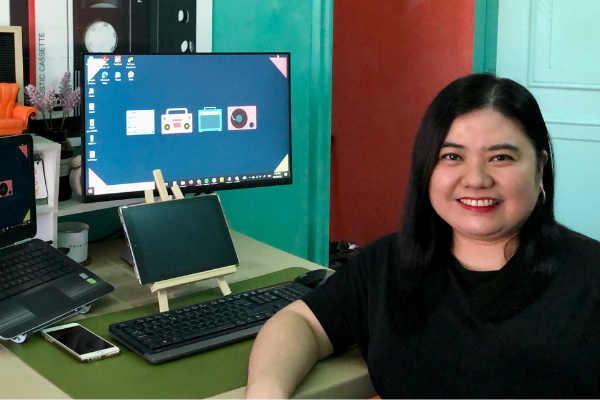 The Perks and Pains of Freelancing
It was hard to leave freelance writing because I had the freedom to choose the projects I wanted to work on and the people I wanted to work with. I could set my own timelines for projects and decide how much I want to be paid for them.
I was my own boss, which meant there was little to no micromanaging going on. As long as I was able to work independently and deliver good results, that was good enough for my clients.
There's also no cap on what I could earn per month, especially if I had several clients at the same time. Opportunities for growth were limitless, too, because my clients also expected me to do more than just write for them. So there were plenty of opportunities to earn and learn more.
But freelancing is no bed of roses. Getting my freelance writing career off the ground didn't happen overnight. It took several months before I landed a major writing project on Upwork that paid really well.
Everything's out of pocket, too. I bought my own laptop and paid for all my work tools and resources and government contributions, too. And unlike being a full-time employee with HMO coverage, I could afford only the prepaid HMO cards back then.
It also wasn't uncommon to have lean months. There were times when no new jobs were coming in. I also had clients who paid late, just stopped being responsive, or ended the contract with no warning.
Full-Time Employee Benefits and Drawbacks
I'm working full-time now, so there's less flexibility in my schedule. It's a 9-to-6 job, so I can't work at night just because it's more productive and convenient for me.
And right now, we're all working from home because of the pandemic. In the future, I'll have to travel and work in a real office.
But the biggest advantage of being a full-time employee is financial stability. There's steady work, which means a steady income even if I'm on vacation or sick leave. Unlike when I was still freelancing, no work meant no pay. So working full-time means being financially stable.
Aside from this, there are also the company perks and full-time employee benefits. I have a laptop provided by the company, and I enjoy a comprehensive HMO package. We get company gifts and freebies, too.
More importantly, I don't need to remit my taxes and SSS, PhilHealth, and Pag-IBIG contributions on my own. We have our HR department to do that.
There are also lots of professional training, mentorship, and job advancement opportunities that I can't get when doing only freelance work. Moneymax is investing in me and in my growth as an employee.
And I found a new family in my teammates even though I've never seen them face to face! I'm surrounded every day by smart, experienced, and generous people.
Read more:
My Financial Life So Far as a Full-Time Employee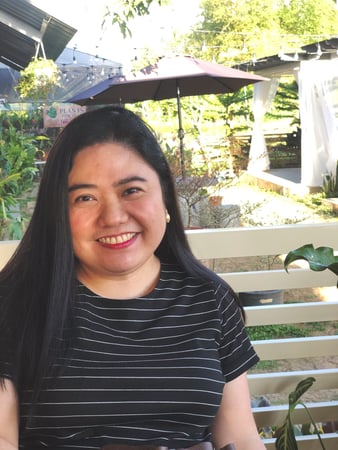 Since I went back to full-time employment, my finances have definitely improved. First, I'm not worried about a freelance contract ending abruptly anymore, so I'm more confident about paying my bills on time, buying the things I want, and saving for the future. I was able to boost my financial stability fund.
I was also able to get a VUL insurance policy with a higher and more comprehensive coverage and another health insurance plan aside from the one provided by the company.
When I was a freelancer, updating my taxes and SSS, Pag-IBIG, and PhilHealth contributions were such a pain for me. Now, all my contributions are up-to-date with little effort on my part.
I noticed that I also receive more offers now for personal loans and car loans. After not using credit cards for over 10 years, I got approved for a credit card again early this year.
If I apply for a loan today, it would be easier to submit the requirements for a bank loan application or a credit card application. I have pay slips now, not just bank statements and proof of remittances.
Related reading: Top Occupations Often Rejected by Banks
Final Thoughts
If you're planning to leave freelancing to work as a full-time employee, make sure the job is something that you're really interested in or passionate about. When you love what you're doing, it's easier to overcome challenges that come with a full-time job, such as fixed schedules, traveling to work, stress, burnout, and so on.
Because you enjoy what you do and have fun with the people you work with, you'll get that extra drive and energy when you really need it.
With a full-time job, what you earn may be the same every month, but it's a steady income. You know how much you're going to get and when you're going to get it. You don't need to chase clients for payments. That's one less thing to worry about in these financially uncertain and challenging times.
Lastly, it's important to have financial stability. If you're having a hard time finding good clients or long-term projects that will sustain you financially, then consider going from freelance to full-time employee. You can still take on freelance projects while fully employed, anyway. It's just a matter of organization and time management.
Editor's note: This is the second article in our Women's Month series featuring boss ladies who take charge of their finances. Stay tuned for more inspiring stories of financially empowered women here on the Moneymax blog!

Source: [1] Field of Dreams Movie Clip (YouTube)