Is your employer remitting the SSS, Pag-IBIG, and PhilHealth government contributions being deducted from your salary?
If your answer is "I don't know" or "I'm not sure," then it's time to start monitoring your government contributions. You need to confirm if your company is up to date in remitting the correct amount of your premium payments to SSS, Pag-IBIG, and PhilHealth.
These government agencies require all employers in the Philippines to remit their employees' contribution payments every month or quarter. However, some employers don't remit the mandatory government contributions in the Philippines.[1] Even if payroll deductions are reflected on your monthly payslip, they aren't an assurance that your employer actually pays your contributions.
Check your SSS, PhilHealth, and Pag-IBIG contributions regularly. Yours should be up-to-date and remitted correctly, so you can qualify for housing and salary loans from SSS or Pag-IBIG anytime you need to borrow money for your short-term needs. This will also prevent delays in your government benefit availment and loan processing.
Is Your Employer Remitting Your Government Contributions? Here are the Ways to Check
How to Check Your PhilHealth Contribution Records
There are two ways to verify your posted PhilHealth contributions. Either you check the PhilHealth website or call the agency's hotline.
1. View Your Contributions Online via PhilHealth Member Portal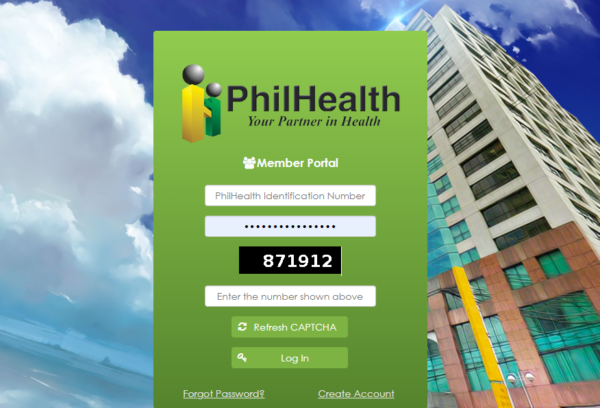 The easiest and fastest way to know your PhilHealth contribution remittance status is to use the PhilHealth Member Portal, the online facility for viewing your membership and contribution records.
To access PhilHealth's online facility, you have to register for an account first. Simply go to the PhilHealth Member Portal (memberinquiry.philhealth.gov.ph/member) and click on "Create Account."
Next, fill out the Member Portal Account Creation form with your basic information (including your PhilHealth number), assign a password, type the security code, and click the Create Account button. Then you'll need to activate your account by clicking on the link in the email from the PhilHealth Member Information System.
Once you've activated your online account, you can already check your PhilHealth contributions using the member portal.
How to Check Contribution in PhilHealth Online
Go to the PhilHealth Member Portal.[2]
Log in to your account by entering your PhilHealth Identification Number and password (from the activation email).
Key in the CAPTCHA code, and then click the Log In button.
The Member Information page will appear. Click on "Premium Contribution" on the left panel.
The Premium Contribution page shows the following information on your PhilHealth contribution payments:
Member Contribution Payment Summary. This table shows your total contribution (total member share + total employer share) and the total number of monthly payments.
Member Contribution Payment History. This table shows all your posted monthly government contributions since you started paying your PhilHealth contributions.
2. Make a PhilHealth Contribution Inquiry via the Action Center Hotline
This is a 24/7 landline telephone-based service that can handle multiple calls from PhilHealth members regarding their contribution status, membership, benefits, and other related concerns. Just dial 8-441-7442 and follow the instructions from the voice prompt.
Alternative: Try other PhilHealth Action Center channels
Can't make a Philhealth Contribution inquiry using the online portal and the call center hotline? You may try getting in touch with PhilHealth through any of these communication channels:
Email: actioncenter@philhealth.gov.ph
Facebook: /PhilHealthofficial
Twitter: @teamphilhealth
Callback channel: 0917-898-7442 (Text "PHICcallback [space] mobile number or Metro Manila landline [space] details of your concern." PhilHealth will call you during office hours on weekdays only.
How to Check Your SSS Contribution Payments
If you're an employee, you have four options for checking your posted SSS contribution: through the My.SSS portal, SSS text messaging service, SSS mobile app, or any SSS branch.
1. View Your SSS Contributions Online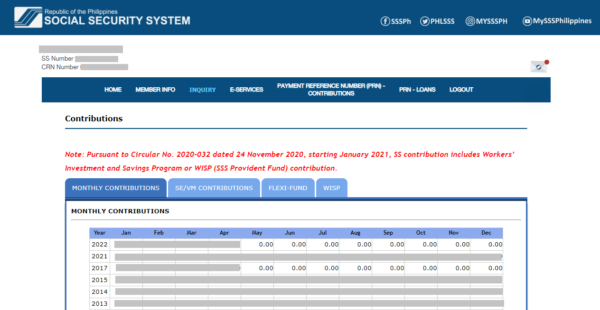 Checking your SSS contributions can take less than 5 minutes if you do it online using the My.SSS service portal of the SSS website. You need to register online for a My.SSS account before you can access this facility.
How to Check Your SSS Contribution Online
Log in to your My.SSS account by entering your user ID and password.
Hover your mouse to the Inquiry menu, and then click on "Contributions."
You'll then be directed to a page where you can check all your paid SSS monthly government contributions since the start of your membership.
Check out this article for the full step-by-step instructions on checking your SSS contributions online.

2. Send an SMS via the Text-SSS facility
Another convenient way to check your SSS contributions is through the Text-SSS facility,[3] an SMS-based service that allows SSS members to inquire about their government contributions, loan status and balance, and other information.
To use Text-SSS, you first have to register via SMS. Text your SSS number and birth date to 2600 using this format: SSS<space>REG<space>10-digit SSS number<space>MM/DD/YYYY
Example: SSS REG 3375003981 10/26/1979
You'll then receive a text message with a four-digit PIN, which you'll use in all your inquiries using Text-SSS.
How to Check SSS Contributions via Text
Simply send this message to 2600: SSS<space>CONTRIB<space>10-digit SSS number<space>4-digit PIN
Example: SSS CONTRIB 3375003981 1026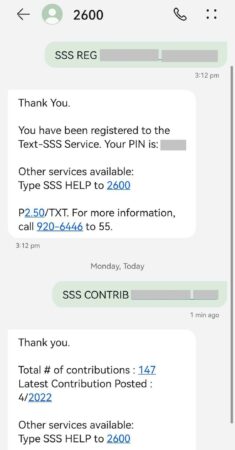 The Text-SSS service costs ₱2.50 per text message for Globe, Smart, and Sun Cellular subscribers.
3. Verify via SSS Mobile App
Another way to check your SSS contribution records with your smartphone is to use the SSS Mobile App.
How to Check SSS Contribution Online Using a Mobile Phone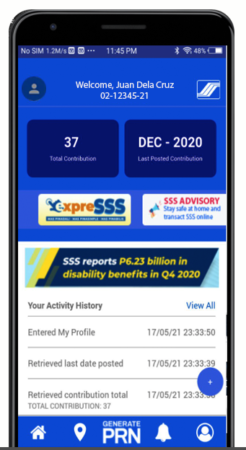 Download the SSS Mobile App via Google Play Store, Apple App Store, or Huawei App Gallery.
Log in to your account by entering your user ID and password (If you don't have an account yet, you need to enroll in My.SSS first).
Tap "Total Contribution" or "Last Posted Contribution" and select OK when you see the pop-up question, "Do you want to see the Actual Premiums?"
View the following information on the screen:

Total number of posted contributions
Total contribution amount
Monthly contribution table starting from the most recent year (To view the data for previous years, simply slide or swipe to the left).
4. Inquire at the SSS office
When the three options above don't work, you can verify your SSS contributions at any SSS branch near you. To avoid the long queues, set an appointment online using My.SSS.
How to Verify Your Contribution in Pag-IBIG
Pag-IBIG members can verify their paid government contributions via different channels: via email, Facebook, phone, or personal inquiry.
1. Send an Inquiry via Email or Facebook
You can check your Pag-IBIG contributions online by sending an email to contactus@pagibigfund.gov.ph or by sending a message on the Pag-IBIG Fund Facebook page at facebook.com/PagIBIGFundOfficialPage.
When doing so, make sure that you have the following details ready:
Full name
Birthdate
Name of your past and present employers
The call center agent will ask you for such information to validate your identity before sharing details on your Pag-IBIG contributions.
2. Call the Pag-IBIG Fund Hotline
You may also call the Pag-IBIG fund 24/7 hotline at 8-724-4244 to check your Pag-IBIG contributions. You also have to provide your full name, birth date, and name of your past and present employers when making a phone inquiry.
3. View Your Pag-IBIG Contributions Online via Virtual Pag-IBIG
With a Virtual Pag-IBIG account, you can access Pag-IBIG services conveniently anytime, anywhere, including verification of contributions online.
To check your Pag-IBIG contribution online, register for a Virtual Pag-IBIG[4] account first. Go to www.pagibigfundservices.com/virtualpagibig and then click the Create Account button.
How to Check Pag-IBIG Contribution Online
Access Virtual Pag-IBIG and sign in to your account.
Tap the menu on the upper left corner and tap "Regular Savings (Mandatory Contributions)."
View your Pag-IBIG contribution details:

Initial and last remittance dates
Total employer share and employee share
Total number of contribution, total dividends, and total savings

To check your posted monthly contributions for a specific year, just enter the year at the bottom of the page and click the View Contributions button.
Final Thoughts
When you check your Pag-IBIG, PhilHealth, and SSS government contributions, you'll see if there are years or months without posted contribution payments. In that case, notify your employer about it and ask about the discrepancies. Your company should be able to take action immediately; otherwise, it will have to face penalties for violating the law.[5]
If your employer takes too long to resolve the issue on your contribution remittances, you can report it to the concerned agency (Pag-IBIG, PhilHealth, or SSS).
See also:

Sources: