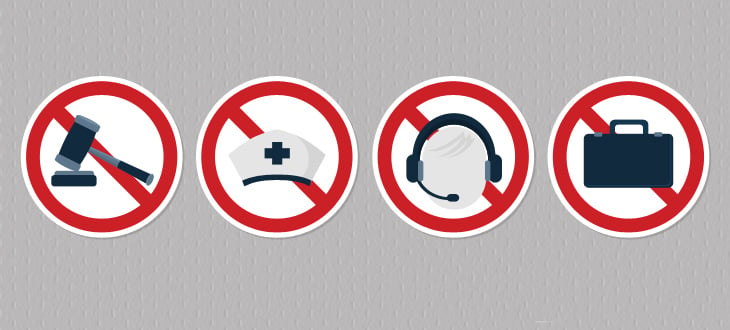 When applying for financial products such as credit cards and loans, banks require its applicants to submit documents that prove their re-paying capacity. From your documents, they determine the approval of the application; gauge your credit limit or loan amount and overall agreement between you and your bank.
According to an ex-banker we talked to, banks' customers are considered risks and you will be measured if you're a high risk or low risk. If you're the former, there is a slimmer chance you'd get approved. As stereotyping as it may sound, applicants are classified by financial institutions according to their financial status and how banks perceive them as risks according to history.
Have you ever applied for a credit card or loan and got rejected? You may be part of one of these groups:
BPO Employees
There was a time when the call center industry boomed. There was a high demand for call center jobs especially agents for Business Processing Outsourcing (BPO). People got hired, applied for credit cards and loans, and according to a bank insider, majority failed to repay and thus fell under delinquent payers. Since then, majority of applicants from the BPO field are in restriction to avail financial products from banks because of their repayment history.
Lawyers
Lawyers know the law – professionally. Historically, just like the peeps from the BPO industry, most lawyers are said to be delinquent payers because they know how to defend themselves legally. They know the ins and outs of banking. Because of this, most lawyers are banned from getting financial services.
Nurses
Though the demand of nurses slightly went down this year, the volume of requirement from abroad is still high. Nurse applicants are not preferred to be clients of the banks because most of them opt to go abroad.
OFWs
Same as nurses, don't expect financial institutions to approve applications from OFWs. There is no way banks can chase OFWs once they go back to their respective greener lands. Yes, there might be ways but banks choose not to loan money to these group as they are really high risk.
Freelancers / Contractors / Business Owners
Whether you earn more than an employee, banks will still choose an employee with small salary than these groups. Employees, even low-income ones, receive income on a regular basis. This can be the reason some people are considering going from freelancing to full-time work. Applicants under these categories need more documents to prove the stability of their income as they will be gone in a blink.
Are you part of any of these professional groups? Did you have a terrible experience when you got your application declined? Tell us what you think!