Women in the Philippines have broken gender stereotypes and glass ceilings across industries. They've proven themselves to be as capable as men—and in some cases, even more so.[1]
According to Grant Thornton International's 2022 Women in Business report,[2] the Philippines ranks third globally for the number of women in leadership, with 39% of Filipino women in senior management positions. While that percentage is certainly disappointing, it's still encouraging for future female leaders to see women take the lead in traditionally male-dominated sectors.
Moneymax, too, has women leading the organization. In honor of Women's Month, we asked three of our managers to share their thoughts on what is female leadership.
Moneymax's Women in Leadership: Meet Maria, Jessica, and Rina
Maria Iniego is Moneymax's Senior HR Business Partner Manager. She held SEO, sales, and marketing roles in KMC MAG Group and Easy Taxi Philippines before transitioning to HR. Maria works with stakeholders across the entire organization, covering Business Ops and Development in several countries in Asia.
Jessica Faye Tan is Moneymax's Head of Marketing. After graduating from the Ateneo de Manila University with a Major in Management and a Minor in Chinese Studies, she worked in digital, publishing, and public relations. Jessica brings strategy and innovation to Moneymax's marketing operations.
Rina Ballesteros is Moneymax's Head of Telesales. She has over 15 years of sales and call center management experience, with stints at HSBC and iMoney. She currently leads the entire contact center function at Moneymax. She oversees and manages customer support processes.
What are the Qualities of a Great Leader? 5 Tips from Women in Leadership
They say leadership is not a state but a journey. Whether you're currently working as a manager or still hoping to lead your own team someday, keep these tips in mind:

👉 Have Your Own Role Models
As a leader, you've got people looking up to you. But before you serve as a role model to other people, look for other leaders to emulate. You don't have to look far—sometimes, you can find the best ones right at home.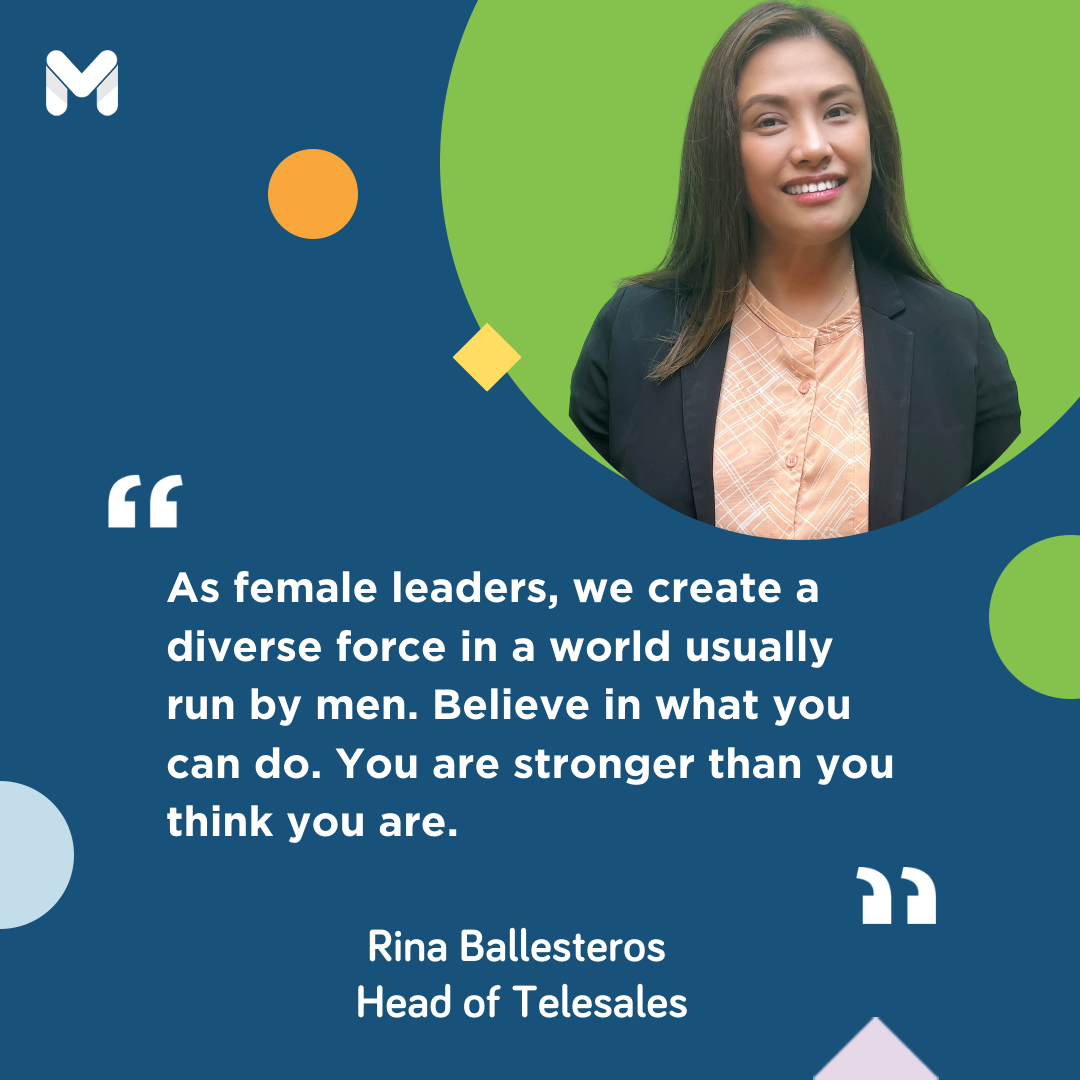 Rina, whose uncle was her sole father figure growing up, says, "He taught me that doing the right thing isn't always easy. It's usually taking the long and difficult road that will lead you to success. If you want to inspire, stand by your values even if it's the hardest thing you've ever had to do."
Jessica looks up to her mom, calling her the most selfless and generous person she has ever known. "She does everything to support not just her own family but also her siblings and their families. I can safely say that my mom has influenced 90% of my values, principles, and even work ethic. I am who I am today because of her."
Maria also sees her late mother as the standard for leadership. "She was passionate in everything she did as a medical practitioner and as a mom. She served other people and led her team with heart. People admired her work ethic, dedication, and the way she balanced work and family."
👉 Know That Emotional Intelligence Goes a Long Way
Time and again, women are perceived as too soft and emotional. But for these women in leadership, a combination of both EQ and IQ is what makes them better leaders.
For Maria, empathy is not a weakness. "Women leaders are good communicators. They're empathetic but also strong," she says.
Rina agrees, adding that women constantly stand up for themselves to prove that they can get things done.
"As a leader, I want to make sure I embody resilience and courage. I don't need to be known as a leader who is perfect—rather, I want to be one who'd go every mile, despite all the difficulties, just to succeed."

Rina Ballesteros
Jessica tries to build a culture that fosters openness and creativity. "I always strive to be as empathetic, transparent, and communicative as I can. This builds good relationships within the team and creates a psychologically safe environment where members are encouraged to take calculated risks."
👉 Find at Least One Thing You're Passionate About at Work
Let's face it—work feels humdrum at times, and that's normal! However, during such times, you might feel like you're on autopilot. How can you support and encourage your team to do their best if you're just going through the motions yourself?
Find at least one thing that drives you. On days when everything feels particularly banal, remember it and try to reignite your enthusiasm.
Rina, for instance, has always been dedicated to helping others. "When I was young, people would usually say I was born to be a leader. I've always been passionate about motivating and inspiring people to achieve their goals and dreams in life."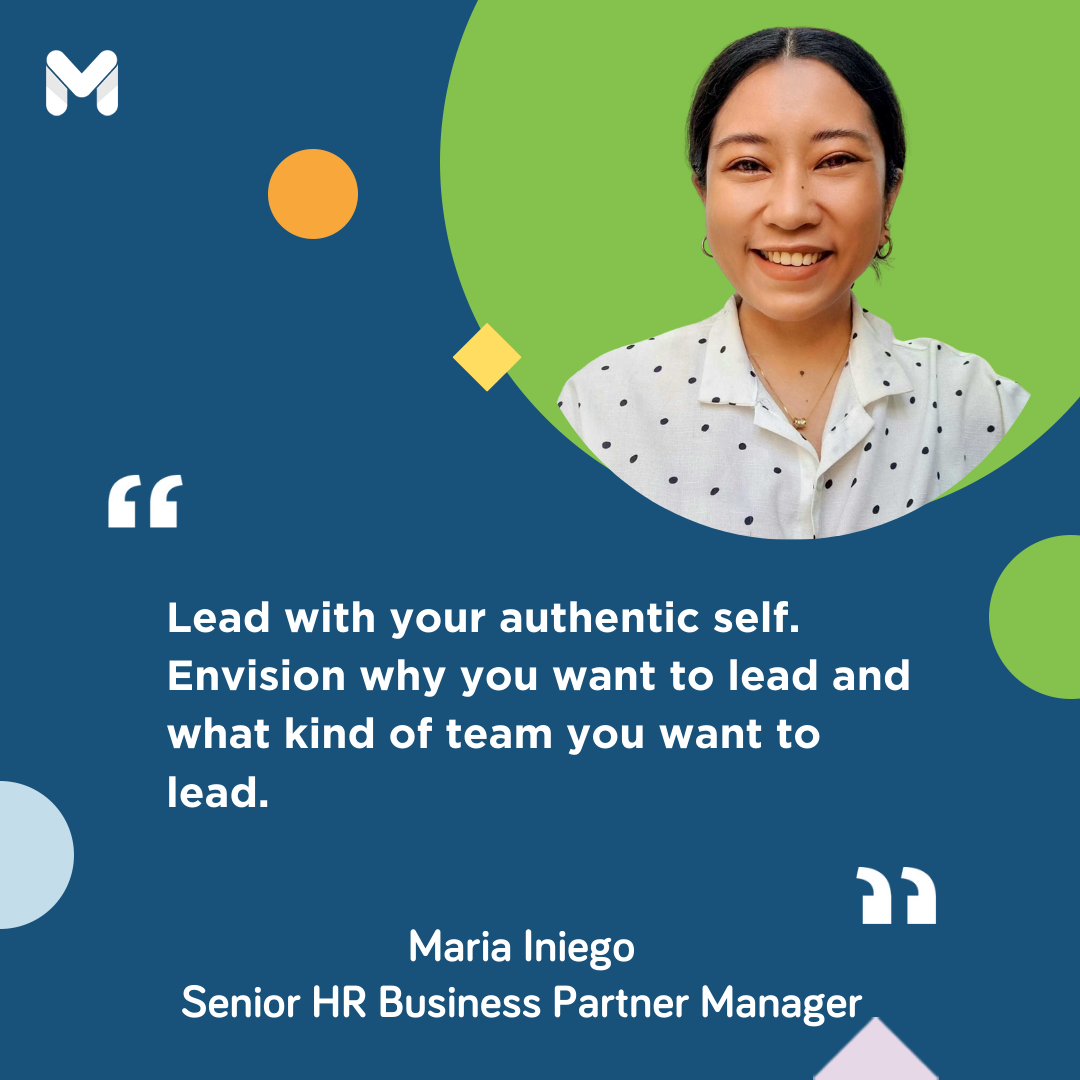 Maria enjoys the challenge of working with a wide range of people from different countries and cultures. "I have a real passion for bringing people together and getting everybody on the same page to move toward the same goal. Being able to work together to make a difference is so rewarding."
Meanwhile, Jessica is a critical thinker who finds fulfillment in solving problems and finding the most efficient way to do things. "I don't take things at face value. I challenge why we do things a certain way and think of how we can do things better. This helps free up the team in the long run. They're able to do more things without straining their bandwidth."
See also:
👉 Don't Let Work Consume You
Everyone has a life outside of work—but for leaders who juggle multiple responsibilities and manage other people, it gets tricky. How can a woman in leadership prioritize her job without putting her mental health on the back burner and vice versa?
For Maria, the trick is to set priorities for the day and identify the level of urgency for each item.
"I also remind myself that there's always a tomorrow. I don't need to get everything done right away. I also need to focus on my family and church responsibilities. Lastly, I try to treat myself kindly and tell myself it is okay to say no, so I don't over-commit."

Maria Iniego
This was something Jessica learned the hard way. Early in her career, Jessica was so passionate about work that it became her whole personality. Now, she recognizes the importance of prioritizing herself.
"You can't pour from an empty cup. I started taking leaves to rest or work on my hobbies, muting notifications when I'm on leave, and leaving my laptop behind when I travel. Take a leave to play that game that's about to be released, build that keyboard you just bought, or read that book you never got around to reading! Not everything you do has to be productive," Jessica says.
Working mom Rina also knows that enough rest is key to giving a hundred percent to both work and family. "Though I value work, I keep my well-being a priority for my kids and family. When I'm efficient and on track with my deliverables, I can rest on my days off. This allows me to be refreshed and become a better leader the moment I get back."
👉 Cultivate Your Team and Let Them Thrive
It may sound obvious, but being a leader entails caring about your team. Is there a better indicator of stellar leadership than helping your subordinates find their own success?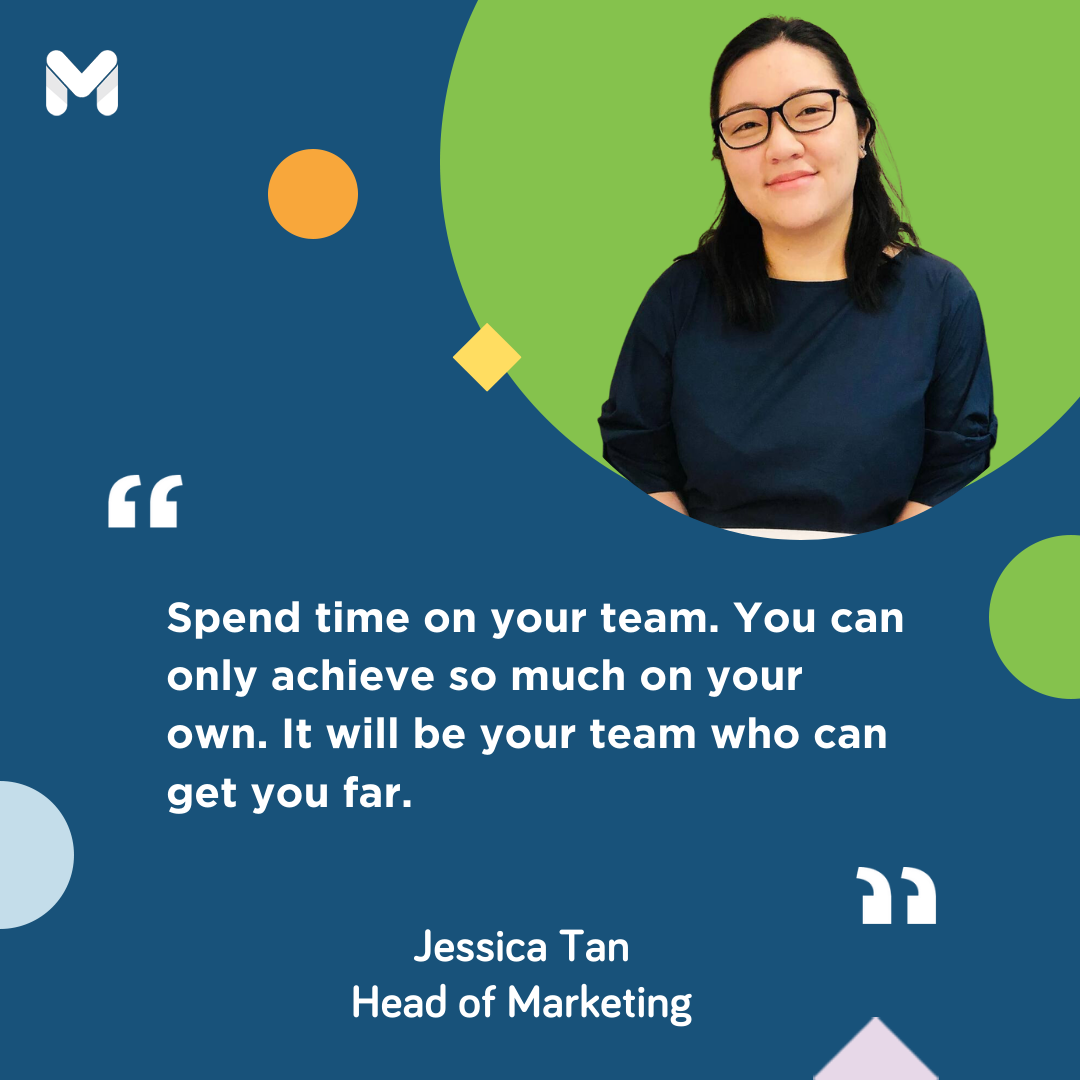 More than anything, Jessica takes pride in seeing her team grow.
"Seeing my team succeed is the most fulfilling thing in the world. I always spend as much time as I can training my team, so seeing them succeed in their role and show willingness and eagerness to grow further really makes me think that the journey is well worth it."

Jessica Tan
As Rina puts it, leaders have the power to either make or break a life. "I take pride in seeing people achieve things through my guidance and empowerment. Individuals would come up to me and express their appreciation for what I taught them, which helped them find their own success. My greatest success is the opportunity to share the experience of reaching the peak with someone else."
Related reading:
Final Thoughts
Why is women's leadership important in our world? Women in leadership break gender stereotypes—they aren't too weak or too emotional to lead and revolutionize their workplace. They offer different perspectives and their own brand of strength.
The Philippines has a long way to go in terms of gender disparity, but if you're a woman in leadership, remember this: you wield the power to become an agent of change! Teach your team to do the same.

Sources: