Some of the most important money lessons we'll ever learn come from our fathers. As our main provider growing up and our first financial advisor when we were starting out in our careers, our dads have plenty of sound financial advice. How we earn, spend, save, and invest―money lessons from dad guide us in our own financial journey.
To celebrate and honor the main men in our lives this Father's Day, we recently had a chat with our colleagues at Moneymax and asked the biggest financial wisdom they learned from their dads. Some of these you've probably heard from your own father, too, so read and be inspired.
Money Lessons from a Father to His Son
A son's relationship with his father is one of the most important, if not the most important, relationships he'll ever have. It evolves over time, filled with many lessons imparted and experiences shared. Furthermore, sons model themselves after their father's character.[1]
For Jeron, Ras, and Ricky, here are some money lessons they've learned from their dads.
Invest and Save Up for Your Own Business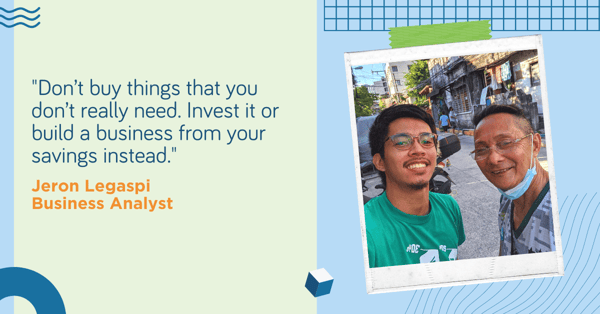 Moneymax's Business Analyst, Jeron Legaspi, is a man of few words, much like his dad whom he describes as a quiet man. "My father is deaf, so we don't really talk too much. We don't really talk about how we're feeling―we just keep our problems to ourselves."
Still, Jeron values his dad's nuggets of wisdom and life experiences, especially when it comes to money. "Don't buy things that you don't really need. Invest it or build a business from your savings instead," Jeron shared.
Buy Only What You Need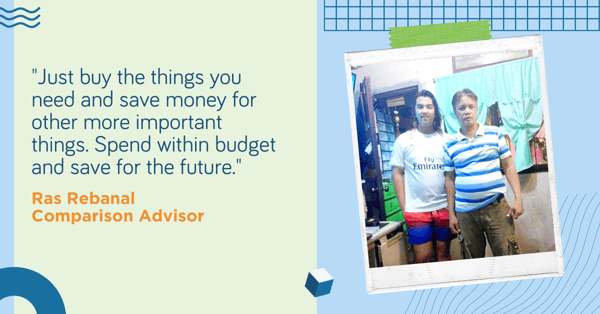 Wouldn't it be great if dads were as cool as our friends? Or if our friends were as cool as our dads? This is exactly how Ras Rebanal, Comparison Advisor at Moneymax, describes his relationship with his dad.
His father and his siblings are his "tropa," but he loves and respects his dad much more than that. His dad is a man he looks up to because of his deep respect for everyone.
Ras and his father also have a shared love for fixing things around the house. They love to do all sorts of DIY stuff with random materials available to them.
When it comes to finances, his dad advises Ras to buy only the things he needs and to save his money for more important things. His dad also never fails to remind him to spend within his budget and to save for the future.
See also: 9 Helpful Family Budgeting Tips in the New Normal
Don't be Afraid to Take Risks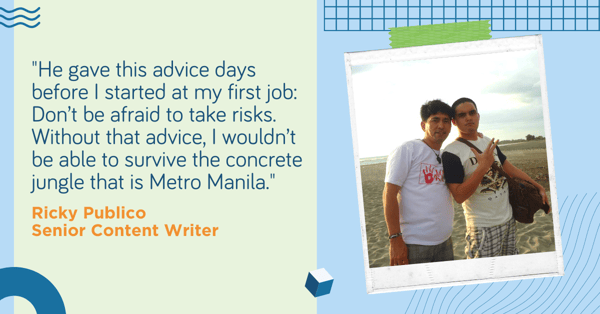 There are fathers and sons who don't have a very close relationship, but there's plenty of love and respect for one another. This is how Ricky Publico, Moneymax's Senior Content Writer, describes his relationship with his dad. They may not treat each other as best friends, but they are each other's biggest fans.
Aside from the fact that they're mirror images of each other when they were kids, Ricky and his dad both have a great sense of humor. He attributes his innate urge to make something funny and his overall love for comedy to his dad.
Just before Ricky started with his first job, his dad gave him this piece of advice: Don't be afraid to take risks. "Without this advice from my dad, I, a stereotypical promdi, wouldn't be able to survive the concrete jungle that is Metro Manila."
His dad also loves sharing stories of his struggles when he was younger, which inspires Ricky to work hard and find more side hustles through freelancing. Thanks to his dad's wise words, Ricky is bold and wise enough now to explore other ways to earn money through investments as well.

Life Lessons from a Father to His Daughter
When a father is present in his daughter's life, she grows up having a healthy sense of who she is, who she wants to become, and what she wants in life.
Here are some money lessons that our colleagues Bianca, Yna, and Janine learned from their dads that they'll cherish forever.
Prepare for Life's Emergencies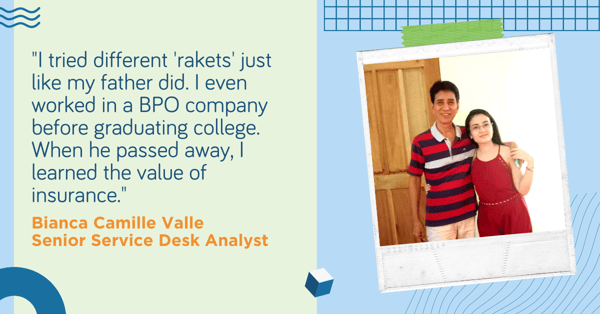 Just like many daughters out there, Bianca Camille Valle, Senior Service Desk Analyst at Moneymax, had a very close relationship with her dad. In fact, she considers him her first love and best friend. Most likely because they're like two peas in a pod, and they both loved meeting and mingling with people from all walks of life.
Bianca also attributes her being a "raketera" to her dad who took on different jobs in the past. When her father was diagnosed with cancer a few years ago, she realized the importance of preparing for life's emergencies. Before her dad got sick, she thought it was enough to hold a job, put food on the table, and pay the bills. She learned a very valuable financial lesson when her dad passed away in 2019.
"If my father had life insurance, it would have been very helpful," Bianca said. "So I decided to get myself insured. I'm trying to save for myself now, little by little, for emergency purposes, while still helping my family, of course."
There's Value in Delayed Gratification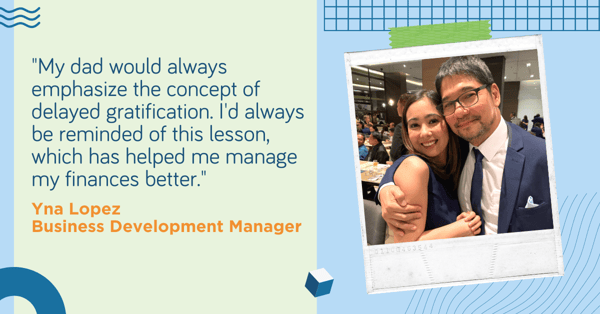 Yna Lopez, Moneymax's Business Development Manager, is a big daddy's girl, and a very proud one at that. She considers her relationship with her dad one of her most meaningful―he's simply a man she can depend on anytime.
They share so many things in common, and they're alike in so many ways. A funny girl herself, Yna says she got her funny genes from her dad. She is resilient and always has a positive outlook in life also because of her dad.
From a young age, Yna learned the concept of delayed gratification from her father. "I wanted to buy things immediately and give in to my urges. But throughout the years, I'd be reminded of this lesson. It helped me manage my finances better because I learned to save and be more calculated in my spending habits."
Related reading: What to Tell Your Kids about Finances
Save Up to Buy What You Want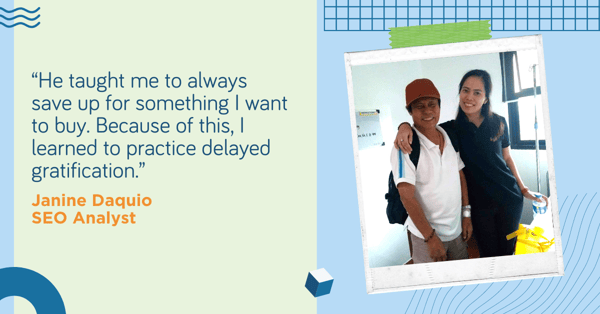 As Moneymax's SEO Analyst, Janine Daquio thrives on organization and structure at work and in other aspects of her life. This is something that she got from her dad, who also liked order and having a system.
They thought alike and often shared the same perspectives on things. Janine and her dad also had the same hobbies, such as collecting and taking care of plants. When they weren't busy tending to their garden, they usually stayed up late at night having movie marathons.
In the past, her dad would often tease her about how total opposites they were. He was a perfectionist while Janine is not. Still, their many similarities bonded them and made their father-daughter relationship really great.
Janine's dad truly was her teacher in life and her partner in crime. He also had great wisdom to impart when it came to money. "He taught me to always save up for something I want to buy. Because of this, I learned to practice delayed gratification," Janine shared.
Final Thoughts
Every moment spent with our fathers is a learning moment. We may not always see eye to eye, and our relationships may not always be easy and happy. But dads will always be dads. At the end of the day, they only want to see us happy and successful. So let's celebrate and honor our dads not just on Father's Day but also every chance we can get. And take those financial lessons from dad seriously―they know a thing or two about money and success!

Source: [1] The Importance of a Father in a Child's Life (Pediatric Associates of Franklin)