The rainy season in the Philippines has officially started, which means rains associated with the Southwest monsoon or habagat will start to affect the country.[1]
With that, it's important to prepare the necessary emergency kit items should there be flash floods or emergencies that will arise because of the non-stop rains. Typhoon season is also fast approaching, so there's really no better time to get ready than now.
How prepared are you for the rainy season? Will you have enough food and supplies, as well as battery sources to power up small household appliances and gadgets? If you don't have a typhoon emergency plan yet, get started by preparing these typhoon emergency kit items.
What Emergency Kit Items Should You Prepare for a Typhoon?
🛄 Roadside Emergency Kit Items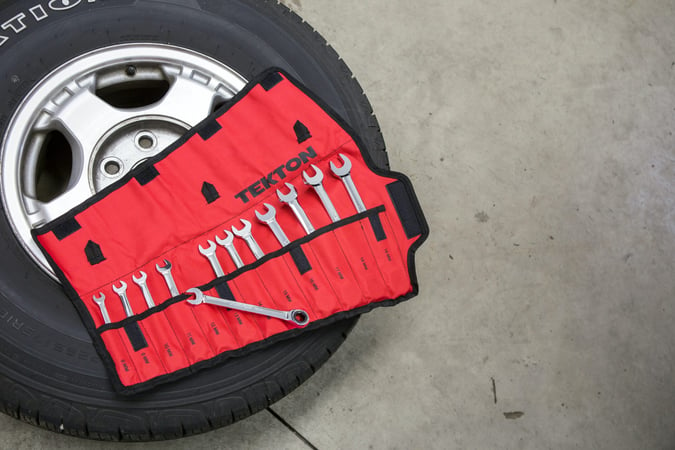 The rainy season won't treat your vehicle that lightly. That's why you need a roadside emergency kit to help you fix your car wherever you are, especially if you get stranded on the road.
In fact, you can just keep it in the trunk of your car, regardless of the season. Get a storage box from surplus stores for ₱88 to ₱400, depending on the size you need. It can be as simple or as complex as you want, but you need to have the necessities.
Extra car battery and jumper cables
Supply of coolant and motor oil
A small tool kit with pliers, wrenches, and multi-tool
A flashlight and spare batteries
Protective work gloves
Extra umbrellas or raincoats
Hand sanitizer or disinfectant wipes
A basic first-aid kit
Bottled water
Also, make sure you have other emergency kit items like a portable charger for mobile phones, battery-powered warning lights, and a tire gauge with a properly inflated tire.
More importantly, your car should also have a good car insurance package. You may spend at least ₱10,000 a year on motor vehicle insurance. But this also means that you can save more on potential repairs and services if your car gets flooded or damaged during a typhoon.
🚨 Some Things to Remember
Before you get all these emergency kit items in your car, make sure you know how to use them. Get familiar with their basic purpose. A car tool repair kit may come with screwdrivers, pliers, and wrenches. You don't need to master the uses of each. Just take some time to understand how they work and how to use them when there's an emergency on the road.
Read more: Driving in the Rain? 17 Car Care Tips for the Rainy Season

🛄 Typhoon Emergency Kit Items
Typhoons are so common in the Philippines that every home should have a typhoon emergency kit at their disposal. Expect power outages, city-wide evacuations, and other inconveniences once the heavy rains start pouring.
You can survive worst-case scenarios with a typhoon emergency kit. There's really no telling when the next Ondoy will hit, so it's best to know which items to prepare for a typhoon.
Your survival kit for a typhoon should include the following necessities:
Non-perishable food items
Bottled drinking water
Hygiene essentials (soap, toothbrushes, toothpaste, alcohol, etc.)
Extra umbrellas and raincoats
Waterproof bags for your wallet and gadgets
A spare dumbphone for emergencies
Flashlight with extra batteries
Matches or lighters and candles
A basic first-aid kit
Portable radio with extra batteries
Extra clothing and towels
Copies of important documents
Rescue whistle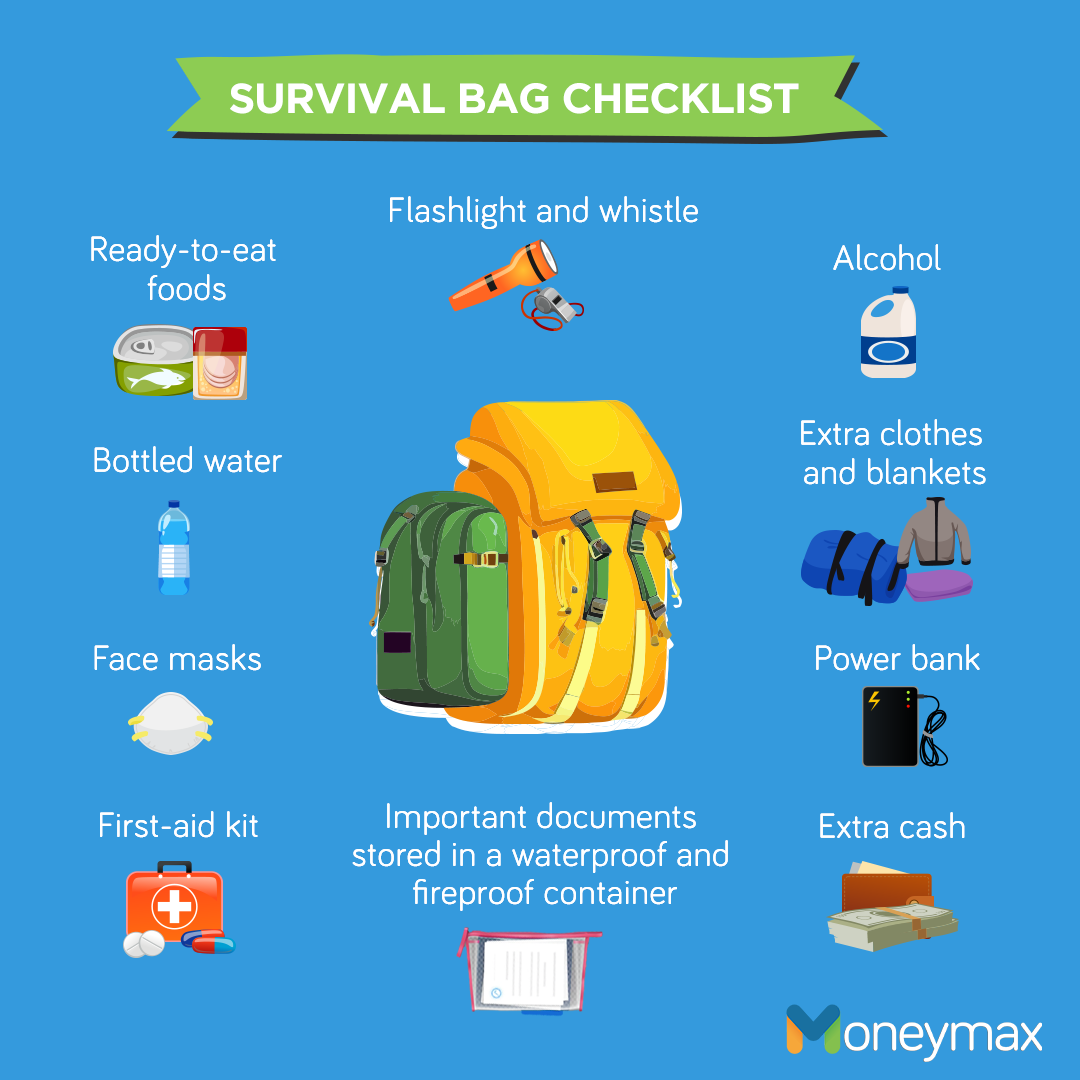 🚨 Why Do You Need a Typhoon Emergency Kit?
During bad weather, you can't get medical or emergency assistance as quickly and as easily. When there's a typhoon in the Philippines, you're dealing with not only strong winds and rains but also rising floodwaters. These situations may prevent you from getting immediately rescued during an emergency.
Emergency kit items for a typhoon provide basic remedies and relief. Portable radios don't seem so important these days, especially with the accessibility of online news sources. However, during typhoons, a portable radio will be your most reliable source of information since your internet connection and electricity can be affected by bad weather.
Moreover, a rescue whistle may seem an odd thing to have. But it's very useful to alert someone to your location or send signals for help. Just think of Rose blowing the whistle to be rescued by the passing boat in the movie "Titanic"!
🚨 What You Should Remember
Collecting all these emergency kit items for typhoon preparedness is not enough. Properly store them as well to ensure the supplies are dry and easily accessible.
Also, remember to keep enough emergency kit items we've listed. Consider how many members of the household may need them at the same time, so add more as needed. For instance, one flashlight may not be enough for a family of four.
Read more: A Natural Disaster Will Happen Sooner or Later― How Prepared Are You?
🛄 Basic First-Aid Kit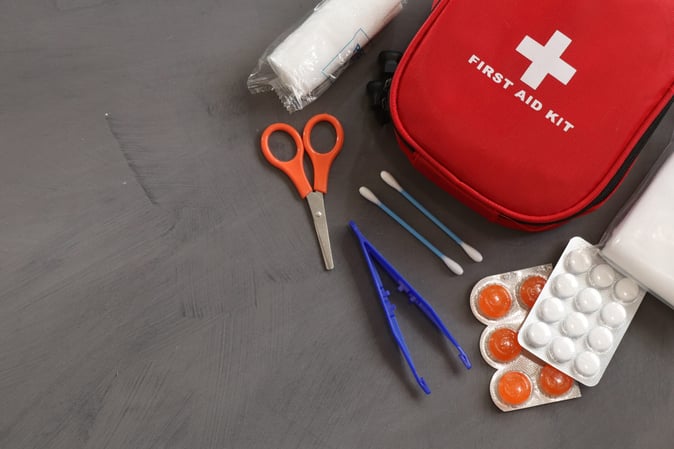 Consider this a kit within a kit. You can never go wrong with preparing a basic first-aid kit since you can use it anytime. But the rainy season comes with a higher chance of catching a common cold, fever, and other illnesses brought on by the cold weather.
Flood water also brings tons of bacteria that will definitely make their way inside of you if you frequently walk through a flooded area. Prepare your very own first aid kit for a typhoon with these emergency kit items:
Ibuprofen, paracetamol, and other common medicines
First aid reference guide
Disposable gloves
Assorted band-aid strips
At least 5 cm conforming bandages
Wound dressing and cotton balls
Scissors and tweezers
Alcohol or other antiseptic liquid
Digital thermometer
Medical tape
🚨 Important Things to Remember
Aside from storing your emergency kit items properly, you should also know a few basic but important things about how to use your first-aid kit.
Here are a few tips on what to do and use during some specific emergencies:
Bleeding - When someone is bleeding, rinse the wound and cover it with gauze or a piece of clean cloth. Apply pressure and elevate the bleeding body part. Don't remove the cloth or gauze if it becomes soaked through. Add more layers instead. When the bleeding stops, change with a clean bandage.
Burns - Flush the burned area with running water, but don't use ice. Afterward, wrap it with a light gauze bandage. Don't apply ointments on the burn. Take ibuprofen to relieve the pain.
Blisters - Blisters that don't burst open on their own should be punctured to let the fluid out. Before poking a small hole, make sure you wash and sterilize your hands with alcohol. When the fluid is out, apply some ointment then cover the area with a bandage.
🛄 COVID-19 Emergency Kit Items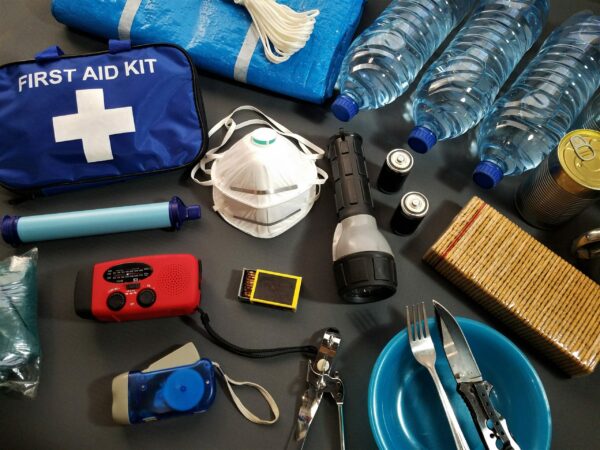 Although COVID-19 cases in the country have substantially decreased, the pandemic is not over yet. This is why it's important to still have a COVID emergency pack and have it readily available not just during the rainy months but all year round.
What should your COVID emergency pack contain? Check this list:
Hygiene items (alcohol, tissue paper, toothbrush, toothpaste, soap, shampoo, deodorant, and feminine products)
Communication devices (cellphones, laptops, chargers, batteries, power banks)
Important documents (medical insurance cards, valid IDs, birth certificates, marriage certificates, proof of address, copies of credit cards, and a list of emergency contact numbers and financial accounts)
Basic medicines (ibuprofen, paracetamol, pain relievers, antihistamines, decongestants, cough syrups, and antibiotics)
Baby essentials (milk, vitamins, diapers, extra clothes, wet tissues, and wipes)
Hand gloves
Face masks and face shields
Plastic bags for trash and segregation
Cash (small bills as much as possible)
Food and drinks with a long shelf life
🚨 A Few Reminders
Your COVID-19 emergency kit items for a typhoon should last for 14 days or more. Every member of the household should understand the need for cooperation in implementing health protocols.
Having these COVID emergency kit items will not prevent you from contracting the virus. But they can help reduce the possibility of you or members of your household being exposed to the virus.
🛄 Rain Barrel System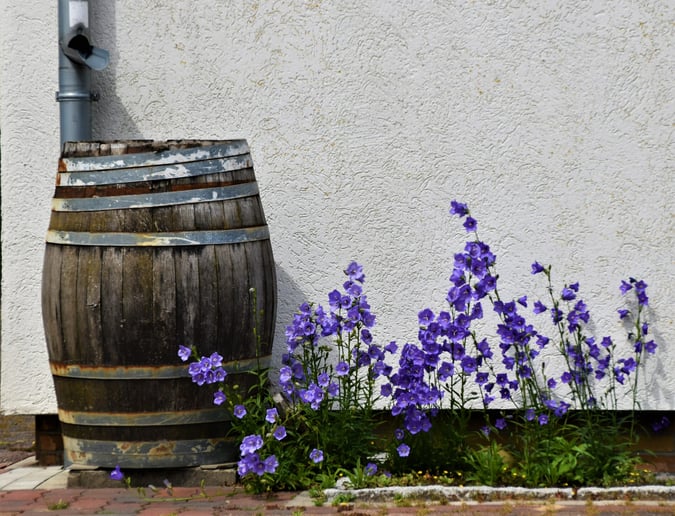 While not necessarily a kit, a rain barrel can be useful this rainy season. The daily downpours present a unique opportunity to cut back on your water bills. This is where the rain barrel comes in. It primarily collects rainwater and filters it for use in your home.
You can assemble your very own rain barrel system in the comfort of your home. It's relatively easy to make, and there are a lot of instructions online on how to build a rain barrel.[2]
Here are the basic materials you'll need:
1 large plastic garbage can (the larger it is, the more water you can collect)
1 tube of watertight sealant or roll of Teflon tape for plumbing
2 rubber washers
2 metal washers
1 hose clamp
1 spigot
A drill
Landscaping fabric
The barrel should be placed under your home's downspout or rain gutter, so it can collect rainwater effectively. The filtered water can then be used to tend to your garden or wash your car. Since it's DIY, this rain barrel won't be able to produce drinkable water. You'll need a more sophisticated form of a rain barrel for that.
Final Thoughts
While can never beat the forces of nature, we can always adapt by preparing typhoon emergency kit items. They're fairly easy to throw together and need to be checked only once every six months.
Preparing these kits yourself ensures that you'll get precisely what you need in an emergency. Besides, when did it ever hurt to be ready for anything?
Aside from having an emergency kit for typhoons in the Philippines, also follow the latest NDRRMC alerts and PAGASA updates,[3] so you'll always be one step ahead.

Sources: