Have you been receiving a lot of NDRRMC text alerts lately? Did the ringtone almost trigger a heart attack? You might even wonder what the meaning of NDRRMC is.
That's the NDRRMC (National Disaster Risk Reduction and Management Council) doing its function as the government's disaster preparedness arm.
Whenever the country is about to experience a typhoon or a heavier than usual rainfall, the NDRRMC sends out these weather updates to all mobile phone users in the Philippines.
But every time Filipinos receive an NDRRMC alert, there's also no shortage of social media posts and hugot reactions online, ranging from amused and grateful to annoyed.
Here's the thing: regardless of what you feel about the unwelcome barrage of text messages, there's no stopping the NDRRMC from doing its job of notifying the public about the rainfall warning system in the Philippines. Better safe than sorry, right?
Read more: Top 10 Strongest Typhoons in the Philippines That Caused a Lot of Damage
Why You're Receiving an NDRRMC Emergency Alert Today
The SMS alerts you've been receiving are part of the NDRMMC's early rainfall warning system to ensure public safety and preparedness during disasters, especially in flood-prone areas. Through these text messages, the NDRRMC keeps everyone informed about an upcoming typhoon, heavy rainfall, flooding, or earthquake.
When PAGASA (Philippine Atmospheric, Geophysical and Astronomical Services Administration) issues a rainfall warning advisory, the NDRRMC translates it into a short, easy-to-understand message in Filipino and then forwards it to telecommunications providers for dissemination to the public.
The Free Mobile Disaster Alerts Act (Republic Act 10369)[1] requires telcos to send out alerts from the NDRRMC and other relevant government agencies at no cost to mobile phone subscribers.
Why do the alerts on the rainfall warning system in the Philippines have to be so loud and panic-inducing, you might wonder. Well, that's intentional on the NDRRMC's part—it has to create a sense of urgency. Your phone will ring and vibrate non-stop until you read the messages.
The NDRRMC wants you to pay close attention to its warnings, so you can immediately prepare for any disaster, like evacuating your family and parking your car in a safer area so that it won't get flooded.
The PAGASA Rainfall Warning System in the Philippines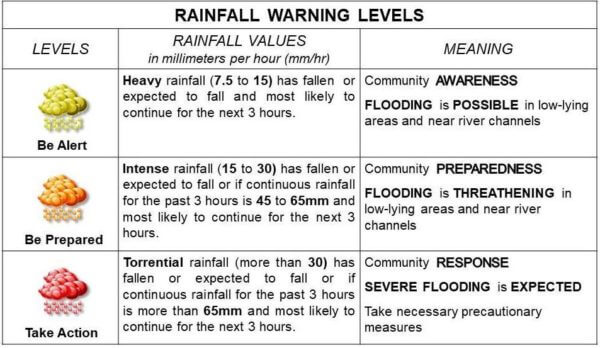 The rainfall warning advisories from the NDRRMC are simple enough to grasp, but what does the yellow, orange, or red rainfall warning mean?
These are color codes that PAGASA uses in its rainfall warning system in the Philippines. They describe how strong the rains are and how likely flooding would happen. These color codes also stand for what actions must be taken by the community.
Yellow - Community Awareness
Orange - Community Alert/Preparedness
Red - Community Response
Just remember that the darker the color, the more dangerous the situation in an affected area.
Read more: DIY Emergency Kits You Need to Prepare for the Rainy Season
🌧️ Yellow Rainfall Warning Meaning
When PAGASA issues a yellow rainfall warning, it means that heavy rains have fallen and will continue for the next three hours. Flooding is possible in low-lying areas and near river channels.
Everyone in the affected areas should stay alert and monitor weather updates.
🌧️ Orange Rainfall Advisory Meaning
What does an orange rainfall warning mean? When you receive this NDRRMC alert, it means that intense rains have fallen and will continue for the next three hours. Flooding is threatening in low-lying areas and near river channels.
So be prepared. Residents in affected areas must be ready for a possible evacuation due to threats of a flood.
🌧️ Red Rainfall Warning Meaning
What is red rainfall warning, you might ask. When you receive a red rainfall warning, it means torrential rains have fallen and will continue for the next three hours.
Since severe flooding is to be expected, you must quickly take action. Residents in affected areas must start evacuating as soon as possible.
Why It's Important to Know the Rainfall Warning System in the Philippines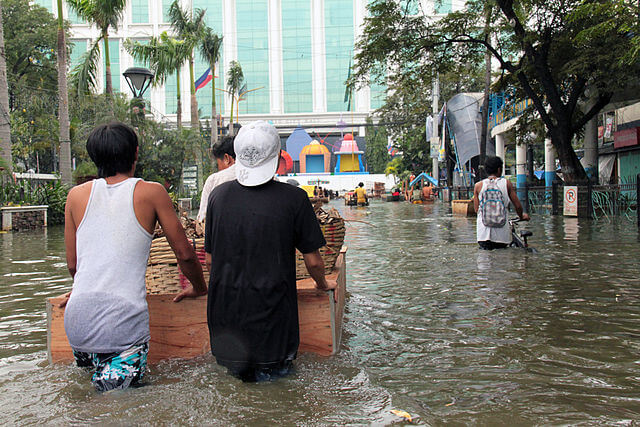 The NDRRMC text alerts, no matter how annoying and disturbing they can be, should be taken seriously. Remember how Metro Manila and other affected provinces were caught unprepared during the onslaught of Tropical Storm Ondoy in 2009? Had families received early warnings back then, more lives and properties would've been saved.
While it may be more convenient to just disregard the emergency alerts on your phone, consider what would happen if you aren't aware and prepared enough for flooding and other calamities. Will you just wait until your home gets flooded before you take your family to a safer place?
If you're receiving delayed messages from the NDRRMC or none at all, be proactive and updated by following the PAGASA Facebook page[2] and Twitter account.[3]
Final Thoughts
Filipinos are known—and admired—for resiliency in times of disaster. If we can withstand typhoons that batter our country, do we really have good reasons to complain about simple inconveniences like waking up to a loud NDRRMC alert?
A warning like this during natural calamities can save lives and properties. Heavy rainfall can happen even without bad weather. If you're a car owner, make sure your car is insured. You can always get a car insurance quotation in the Philippines and insure your car through Moneymax if you want a quick and convenient process.

Sources: