Even if you do everything to avoid driving errors, drive carefully, and prevent car problems before they get worse, there's no telling if and when you'll figure in a road crash.
Vehicular collision statistics prove how dangerous Philippine roads can be, especially in Metro Manila with its many accident-prone areas. Metro Manila recorded 65,032 accidents that led to deaths, injuries, and damage to property in 2020, based on the latest Metropolitan Manila Development Authority's (MMDA) data.[1]
Of course, you don't want to be part of the statistics, but accidents can happen anytime. This is why it's crucial to know what to do after a car accident before it occurs. Properly handling the aftermath of an accident will keep you safe, prevent the situation from getting worse, and help you make a successful car insurance claim.
Keep reading to know the steps to take and how to go about a car accident settlement in the Philippines after getting into a collission.
What to Do in Case of a Car Accident in the Philippines

1. Don't Drive Away From the Accident Scene
When you figure in a collision, just stay put. Stop your car and never leave until everything has been resolved, even if it's a minor incident.
Don't move your car to the roadside just yet, as you need to document later the exact positions of the vehicles involved in the accident.
2. Check If It's Safe to Get Out of the Car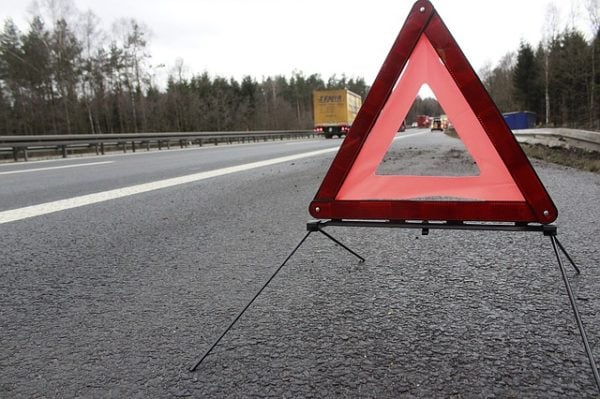 Assess the situation first before you alight from your car, especially if you're on an expressway where vehicles are speeding through.
Once you're sure you can get out safely from your vehicle, put it in Park and pull the handbrake to prevent your car from moving. Also, turn on the hazard lights to make your vehicle more visible and place a warning triangle to alert oncoming motorists.
3. See If Anyone is Hurt
After a road accident, Do a thorough self-check. Also, check your companions to know if someone has been injured or needs immediate medical care. Check the people in the other car, too; they may also need immediate help.
Wondering about what to do if you hit someone with your car? If anyone needs medical assistance, call the national emergency hotline (911) or MMDA hotline (136) to ask for it. Keep a copy of the emergency hotline numbers[2] in your car. It will come in handy in case of a car accident.
4. Take Photos of the Car Accident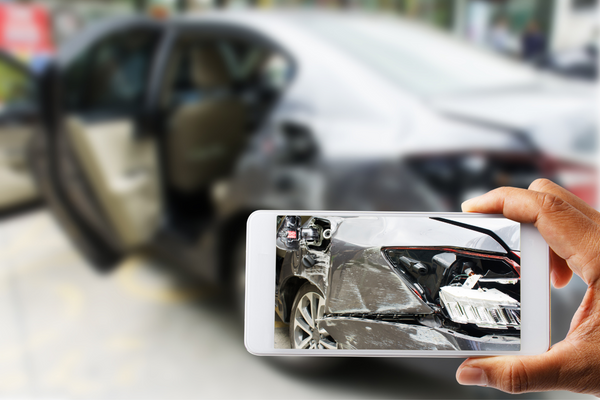 You need an accurate record of the incident, so be sure to take as many pictures of the accident scene from multiple angles. The images will be useful for deciding who is at fault and backing up your auto insurance claim or any lawsuit.
Make sure to get the following kinds of shots:
The entire scene of the car accident, including the position of both vehicles on the street
The surrounding area of the accident scene
Close-ups of damage to your car and any other property
License plates of the vehicles involved

5. Move Your Car to the Roadside
So that you won't cause another accident and traffic jam, drive your car to the side of the road. If your car broke down and can't be moved, remain in the spot of the accident until investigators arrive.
6. Exchange Information with the Other Party
Approach the other driver and get their details:
Name
Address
Contact information
Vehicle description, year, make, and model
Driver's license number
Vehicle registration information
License plate number
Car insurance provider
Insurance policy number
If the driver has no car insurance, his or her driver's license number and contact details will suffice.
Also, write down the exact location of the collision and how it happened. If there are any witnesses, try to get their contact information to help you with your future dispute.
What if the other party doesn't want to cooperate with you? If the other driver is difficult to deal with (e.g., having a temper flareup, refusing to provide information, etc.) or you're a victim of a hit and run, take any information you can, such as the description of the vehicle and plate number. Then contact the police immediately.
Share your own details with the other driver, too. This is why it's important to always carry your car insurance policy, driver's license, and other important documents for cases like this. Having a digital copy of your car insurance, or an e-policy, can be really helpful in such times.
Refrain from admitting fault to anyone even if you feel you did something wrong. At this point, you're still in a state of shock and confusion, and you're not fully aware of what really has happened. It's the police's job to investigate and determine who's liable for the car accident.
7. Call the Authorities If There's No Agreement to Car Accident Settlement
Try to reach an amicable car settlement agreement with the other party.
If neither of the involved parties agrees, call the MMDA hotline to request traffic enforcers or investigators to come to the car accident scene immediately and make a record of it.
8. Contact Your Car Insurance Provider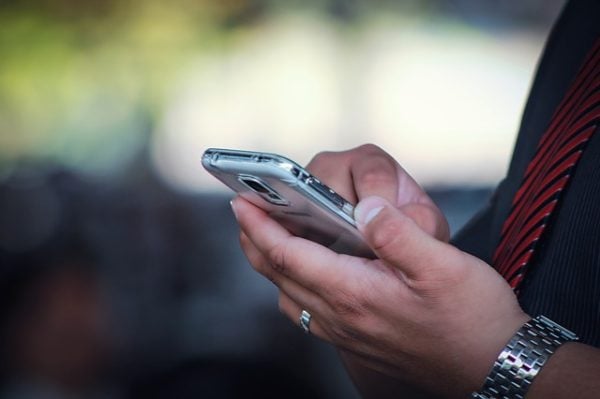 While you're still at the accident scene, call your insurance company or agent immediately regardless of who's at fault, the extent of damage to your vehicle, and whether somebody has been injured or not.
Doing so will protect you in case the other driver files a claim against you or when you find out later on that you're injured or your car has incurred more damage from the accident.
Report the incident to your insurance provider, making sure to provide accurate details. Ask about the requirements for claims processing and how your policy can possibly reduce any repair costs. The agent will explain to you the next steps to take and how to make a claim.
9. File a Car Accident Report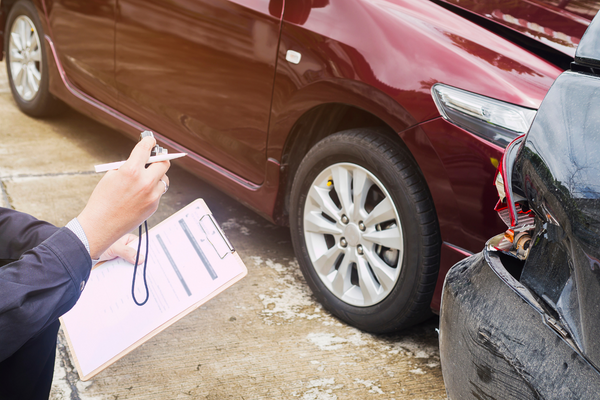 Let the traffic investigators handle the situation when they arrive at the accident scene. Get their name so that you can get back to them later when you review the details of the accident. Remain in the area until the investigators allow you to go.
Stay in touch with the investigators. If they ask for it, file a car accident report at the local police station. Present your vehicle documents and fill out a form to narrate your account of the incident.
In some cases, drivers involved in a car accident are asked to stay in the police station while the investigators are gathering evidence for the police report and still determining who's at fault. You might be held by the police for investigation purposes, but this doesn't mean you're being detained or imprisoned.
Get the car accident report from the police—this will help speed up the processing of your insurance claim.
10. Make a Car Insurance Claim
Lastly, after doing all the steps above, you can now file a claim with your car insurance company. But before you proceed with it, consider if making a claim makes more financial sense than paying for the repair cost by yourself. Compute your participation fee (the amount you'll pay out of pocket when filing a claim)—if it's higher than your repair bill, you can save more money if you shoulder the cost on your own.
Final Thoughts
After a car accident, you'd naturally panic and get scared. Remember to stay calm and collected. Getting into an accident is stressful as it is, and losing your temper won't improve the situation. Deal with it in a levelheaded manner to avoid complicating things, especially when you're trying to reach a car accident settlement in the Philippines with the other driver.
Find the Best Auto Insurance Coverage for Your Vehicle
Considering switching to another car insurance provider soon? Don't settle for anything less. Compare coverage and rates from reputable motor insurance companies in the Philippines. Check your options below and get a free quote from Moneymax!
| | | | | | |
| --- | --- | --- | --- | --- | --- |
| Car Insurance Company | Maximum Total Sum Insured | CTPL Coverage | Own Damage & Theft Coverage | Acts of Nature Coverage | Death or Disablement Coverage |
| FPG Insurance | ₱4 million | ✔️ | ✔️ | ✔️ | |
| Malayan Insurance | ₱7.5 million | ✔️ | ✔️ | ✔️ | |
| The Mercantile Insurance Corporation | ₱5 million | | ✔️ | ✔️ | |
| OONA Insurance (formerly MAPFRE) | ₱5 million | ✔️ | ✔️ | ✔️ | ✔️ |
| PGA Insurance | ₱3 million | | | | ✔️ |
| SGI Philippines | ₱5 million | ✔️ | | ✔️ | ✔️ |
| Standard Insurance | ₱5 million | ✔️ | ✔️ | ✔️ | ✔️ |
| Stronghold Insurance | ₱3 million | | ✔️ | | |
Sources: