Roughly 20 typhoons visit the Philippines every year. How prepared are you for the typhoon season?
Good thing that weather bureaus have sophisticated systems that track the formation of low-pressure areas (LPAs) and movements of typhoons. The updates that you get from them should be more than enough to help you prepare for the rainy days.
Taking care of your car is just as crucial as protecting lives and your home during a typhoon. After all, it's your means of mobility and maybe even your source of livelihood. Having your car repaired or getting a new one is undoubtedly expensive. So, it's much better to be proactive rather than reactive.
Here are things you should remember to protect your car from the rain, especially during a typhoon in the Philippines.
How to Protect Your Car from the Rain: 17 Car Care Tips This Typhoon Season
1. Drive Safely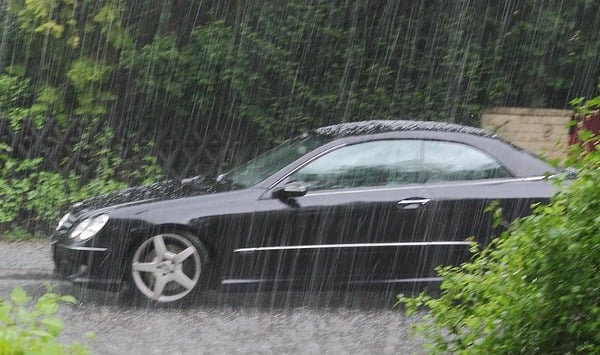 The importance of careful driving can't be stressed enough during the rainy season. It isn't just for your safety but also for the longevity of your car.
When driving in the rain, keep these precautions in mind:
Remain calm and don't make sudden motions. Keep in mind that the road is already slippery, and any unnecessary car movements can endanger you and your passengers.
Avoid any distractions while driving. Keep a 360-degree vision of everything around you from your mirrors. Tracking movements in the rain will prove to be a challenge for you since you're focused on driving mindfully. So if you have a shotgun passenger, let them become your second pair of eyes.
Keep a safe distance from the car in front of you.
Drive at a speed limit that you're comfortable with to make better driving decisions.
Do not follow trucks and buses. Water splashed from their large tires will impair your vision. If you must pass, do so quickly and safely. However, don't attempt to overtake them, especially if the road is narrow and slippery and your field of vision is limited.
Read more: Road Safety Tips to Remember When Driving This Rainy Season
2. Make Parking in Your Garage a Habit
If you have a covered garage, park your car inside. Sheltering your vehicle from the rain will keep the water from seeping in between your auto's bodywork, engines, and other parts. If the water reaches your car's parts where it takes longer to evaporate, corrosion may happen.
3. Pick a Safer Parking Spot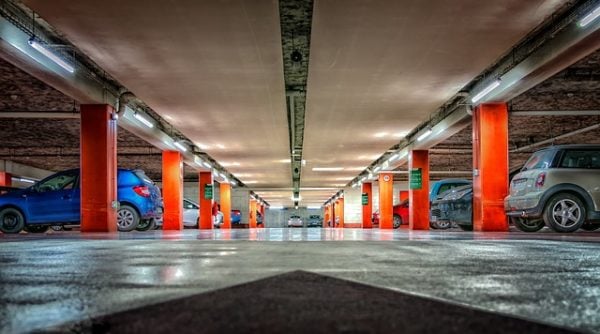 In case you live in a flood-prone area, you should park your car on higher ground. Malls and offices are the best parking venues if you're in a low-lying area. It's better to pay a parking fee than purchase a new car. You may also consider parking your car at your relative's or friend's place should they still have a parking spot.
Also, avoid parking under large trees and electrical posts. Strong winds can blow them down and cause them to hit your car.
4. Invest in a High-Quality Car Cover
Do car covers protect a vehicle from the rain? Yes, they do—plain and simple.
If your garage doesn't have a roof, you'll need to protect your car from the rain with a waterproof cover. See to it that the cover is thick, durable, and specifically designed for your auto model. Moreover, the rain cover for your car should be snug (but not too tight). That way, your cover will not be blown away by strong gusts of wind on rainy days.
As much as possible, avoid using thick tarpaulin covers. This is because this type of material may leave small scratches on your car's surface when it gets ruffled by the wind.
5. Avoid Flood-Prone or Flooded Roads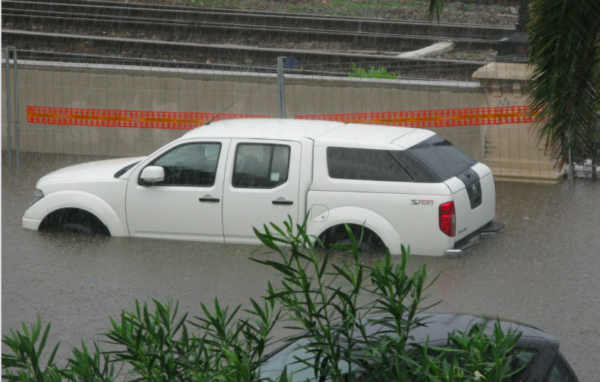 Knowing what roads to avoid should be easy these days since you can get news and updates from navigation apps, such as Waze. Take a different route even if it doubles your travel time.
Risking your car just to get through a flooded road is never going to be worth it. Once your car gets flooded, expect a series of unfortunate events: engine stalling, electrical troubles, faulty brakes, and more. So don't risk it.
Read more: Flood-Prone Areas to Avoid in Metro Manila
6. Keep Electrical Parts Dry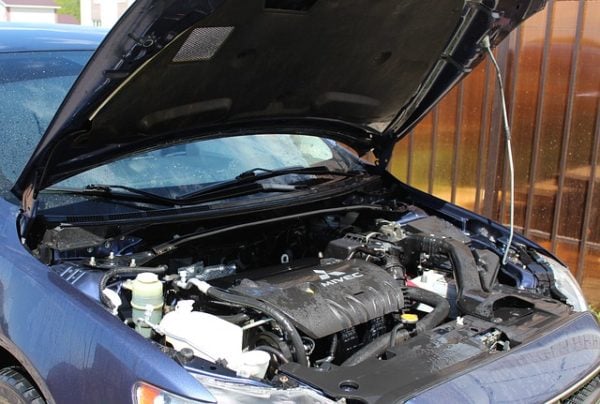 Protect your car from the effect of getting soaked in the rain. When you're stuck in the flood (or your car is parked but floodwater starts to rise), disconnect the battery terminals to prevent an electronic shortage. Keep the integrated circuitry and modules under the carpet and alongside the front interior. The engine bay should be kept dry as well.
7. Get Car Insurance Coverage
Get a car insurance policy that not just covers loss and damage or when your car is involved in a collision. Make sure to include an Acts of God/Acts of Nature add-on—particularly with coverage for typhoons and flooding—in your comprehensive car insurance plan.
Why Should You Insure Your Car?
We've always talked about the importance of getting a car insurance policy, but discussing it again during the rainy season surely has its own merits. Some people, especially first-time car owners, need some reminding.
Here's what you need to remember:
Car insurance covers damage caused by disasters. This is an important feature, knowing that around 20 storms enter the country every year.
You'll be able to avoid high upfront expenses, meaning you don't have to worry about immediate repairs.
You get peace of mind. For many, this will always be a priceless benefit.
Related articles:

8. Check All Rubber Seals
Check the rubber seals around the trunk, hood, windows, and doors for water leaks. Puddles on the floor mats and a weird smell in your car are obvious signs of a leak.
While you're at it, remove any debris around the seals. If the seals are worn-out or loose, they won't be able to prevent water from entering your car and causing corrosion. Fix water leaks in your car before they cause further damage.
9. Protect Your Car's Exterior Paint
Although your auto's exteriors are designed to withstand water, that doesn't mean that you'll just leave your car in the rain. If you want to protect your car from the effects of rainwater, don't just simply wash it after the downpour. Wax your car to keep the integrity and quality of its paint job. Doing so also protects your car from unwarranted scratches.
10. Get Your Car Some Mudguards
The motion of your car's wheels is enough to send mud, dirt, pebbles, and debris flying onto your car's body and other sensitive parts. To keep that from happening, install some high-quality mudguards. There's no excuse not to get them since they're available at your local car shop and even online.
11. Replace and Clean the Windshield Wipers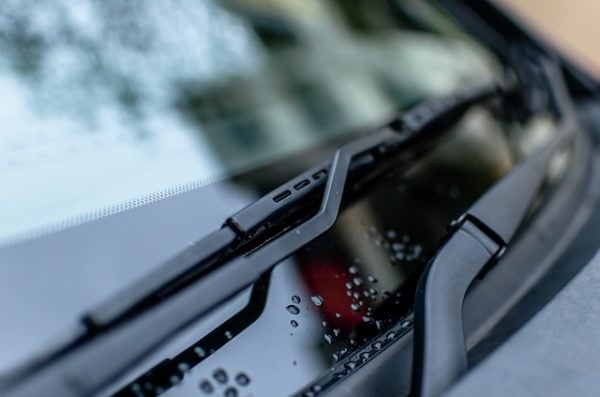 Change your wipers at least once a year. Once they become cracked, brittle, or dry, wipers can leave streaks on the windshield as they move, reducing the visibility of the road ahead while driving in the rain.
When the nozzles of your windshield waters get clogged with water, they won't be able to perform their function properly. Clean the washers using a fine needle or old toothbrush with warm water.
12. Wash Your Car Before and After the Rain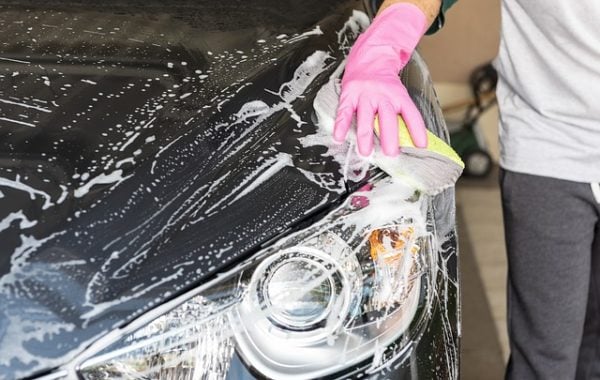 Just because it's raining, doesn't mean it should save you a trip to the car wash.
You can't depend on rainwater to do the cleaning—it actually collects pollutants and contaminants from the air and can transfer them to your car. When rainwater dries up, it leaves hard-to-remove marks that are most visible on the windows, windshield, and headlights. Rainwater can also reach the metal parts and cause rusting.
Mud and grime can also accumulate on your wheels and tires if you fail to protect your car through a car wash after driving in the rain.
Washing your car gets rid of dirt and debris that can damage its paint.
Don't forget to have your car waxed before the rain, too. Waxing will help repel the rainwater off your vehicle's body and prevent it from causing exterior damage.
13. Apply Some Windshield Repellent
Some car owners usually ignore water repellents, believing that their cars can easily weather the rain. However, a seemingly trivial product like them will not only protect your windshield from damage but also promote driving safety.
A windshield repellent helps keep water off your windshield, thus giving you a much clearer view while driving. Here's how to use it:
Apply windshield repellent before driving. Make sure to follow the instructions of the manufacturer. Apply the repellent in circular motions for even coating.
Let the repellent sit for a few hours.
Rinse the windshield and wipe the surface with a microfiber towel.
14. Protect Your Car's Interiors
Even if you have set up preventive measures in place, sometimes rainwater will still get inside your car. To protect your car from moisture caused by the rain, avoid using rubber floor mats, as they will just create a pool of water. Instead, place some fabric mats to absorb the water. Don't forget to bring some extra ones, especially if you're anticipating heavy rains.
In case the seats get wet, keep the window open when your car is already parked in the garage. This will prevent mildew growth in your car. Otherwise, your car will end up becoming smelly and stuffy. If the bad odor sticks around, get rid of it by opening a bottle of essential oils or using the prescribed car freshener.
15. Inspect Your Car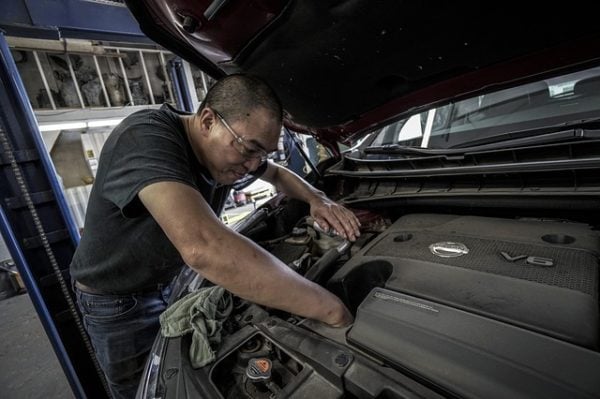 As soon as the typhoon is over, check your vehicle's condition and assess whether it's safe to drive. Look for any sign of damage and being flooded. If you suspect that it's flooded, don't attempt to start your car, as it will cause more problems. Have it towed to the car repair shop for a more detailed inspection.
16. Drive Only When It's Necessary
The convenience of driving is something that you'll never let go of. But you may want to avoid getting your car in the rain, especially if you're just traveling short distances. As such, go for a drive only when it's necessary. Otherwise, just wait it out or just walk to your destination if it's possible at all. Soon enough, you'll realize that your patience will be worth it.
17. Monitor Weather Updates
Be equipped with the latest information on the weather, so you can plan your trips and protect your car accordingly. Check the PAGASA website[1] or Facebook page[2] for weather updates. Follow precautionary instructions from your local authorities.
If you don't have electricity, keep a battery-operated radio to remain informed on weather updates.
Read more: Check for These Common Problems If Your Car Gets Flooded
What to Do When Your Car Gets Soaked in the Rain
You might have driven through a deep, messy puddle, or you have left your windows open during the rain. Your seals may be problematic when rainwater starts to seep in. Or your car might have been flooded.
On some serious occasions, your car may sustain water damage. When that happens, there are some things that you need to do:
If your car is flooded, don't attempt to start it again. Otherwise, your engine will be seriously damaged.
Start moving quickly and remove the water from your car's interiors. This will reduce the chances of rainwater getting into the internal parts of the car. You can use a wet vacuum cleaner to hasten the process.
Once the initial steps are done, have an accredited mechanic come over to check your car. You may also check with your car insurance provider if the repairs will be covered.
Final Thoughts
The rain can seem harmless to your car, but it can cause serious damage if you don't prepare it for the typhoon season. While you can't prevent a typhoon in a disaster-prone country like the Philippines, you can prevent your car from becoming a huge, useless piece of junk. Protect your car and make it last longer with the car care tips listed above.
Find the Right Car Insurance for You Now!
If you want to compare car insurance or you're planning to get a policy, you can visit the Moneymax website. Getting a quote is free and easy!
| | | | | | |
| --- | --- | --- | --- | --- | --- |
| Car Insurance Company | Maximum Total Sum Insured | CTPL Coverage | Own Damage & Theft Coverage | Acts of Nature Coverage | Death or Disablement Coverage |
| FPG Insurance | ₱4 million | ✔️ | ✔️ | ✔️ | |
| Malayan Insurance | ₱7.5 million | ✔️ | ✔️ | ✔️ | |
| The Mercantile Insurance Corporation | ₱5 million | | ✔️ | ✔️ | |
| OONA Insurance (formerly MAPFRE) | ₱5 million | ✔️ | ✔️ | ✔️ | ✔️ |
| PGA Insurance | ₱3 million | | | | ✔️ |
| SGI Philippines | ₱5 million | ✔️ | | ✔️ | ✔️ |
| Standard Insurance | ₱5 million | ✔️ | ✔️ | ✔️ | ✔️ |
| Stronghold Insurance | ₱3 million | | ✔️ | | |
Sources: