Cars equal convenience—it's common knowledge. When you have your own vehicle you can take with you anywhere, you get access to a lot of things that public transportation just can't provide.
But having your own car also comes with great responsibility. You need to follow a car maintenance checklist to make sure that your vehicle is always free from common car problems.
One way to increase the value of your car is to equip it with accessories. Sure, these may not be entirely necessary (that's what "accessory means," after all). But they're still nice to have, as they can enhance the look and feel of your car and improve its functionality. Accessories are also a good way to customize your car and make it uniquely yours.
If you're up for a quick upgrade, head out to a car accessories shop. So you can easily find one, we've compiled a list of the best car accessories stores in the Philippines.
Car Accessories Shops in the Philippines
Where to buy cheap car accessories? Whether you're looking for big car accessories brands or smaller ones, check them out below.
Big Brands Offering Car Accessories in the Philippines
It can be daunting to look for high-quality car accessories in Manila, especially when you don't know where to look. But don't be intimidated. The four car accessories shops below are easily accessible in malls.
📌 Ace Hardware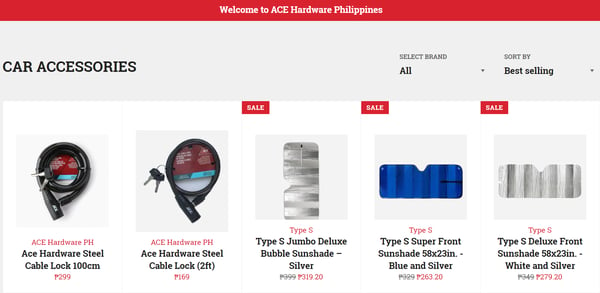 Ace Hardware has an exceptional line of imported car accessories and products, including audio systems, tools, oils and fluids, and cleaning supplies. Since the brand is present in almost every SM Supermall, Ace Hardware car accessories are hard to miss.
What's great about shopping at Ace Hardware is the rewards system. When purchasing goods, you can use the Ace Rewards card to earn points and enjoy exclusive discounts. You can also use your SM Advantage card as Ace Hardware is an affiliate of the SM Group of Companies.
📌 Blade

Blade is undoubtedly one of the biggest names when it comes to car accessories in the Philippines. Established in 1994, the company offers a wide selection of car products, including auto electronics, cleaning materials, oils and fluids, and interior and exterior accessories. It also offers performance parts, wheels, and tires, making it a one-stop shop for car owners in the country.
If there's one thing that sets Blade apart, it's the unique line of car accessory products that the brand offers. Blade car accessories like waxes, cleaning cloths, dehumidifiers, car covers, and seat cushions are everywhere in malls. You can shop at any of Blade's 20+ stores nationwide or browse online on the company's website.
📌 Concorde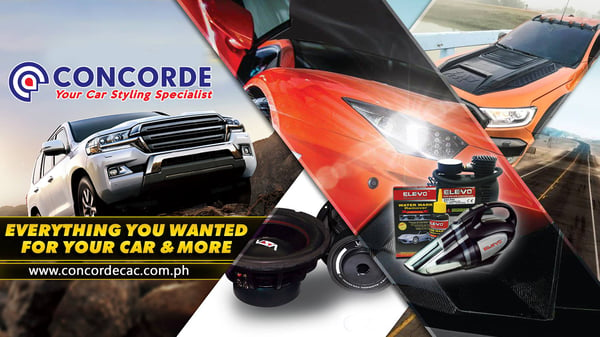 Concorde may not be as big as Blade. But it sure is another familiar name in the auto accessories industry. You'll find Concorde car accessories nationwide as the brand is now present in more than 20 locations, mostly in malls.
Apart from car accessories, Concorde also offers car appliances, car care products, alarm systems, and household items. Some of the brands under it include Elevo, Cyclo, Mitsuba, Car All, Formula 1, and Pocky Poda.
📌 True Value
This brand is one of Ace Hardware's biggest competitors, so it's no surprise that True Value car accessories are also hot in the market. If you're looking for imported and unique car products, True Value is the store for you.
Items like car mats, car fresheners, engine oils, car covers, and interior and exterior car accessories are available in-store. Some of the brands under True Value are 3M, Mothers, Glade, and Turtle Wax.
Just note that the products here are pricier compared to other brands. Check the prices before purchasing to get your money's worth.
Small Businesses Selling Car Accessories in the Philippines
Several other stores also deserve a spot on this list. If you're looking for the best car accessories shop in Manila or near Banawe, the following can surely meet your needs.
You can even consider them as some of the best shops for car customization in the Philippines, as they provide a more personal style of service that you just can't get from bigger brands. Visit these shops if you live near or frequent their areas.
📌 Audionel Car Accessories
Address: 345 Real St. cor. 5th St., Talon 1, Las Piñas City
Facebook: /AudionelCarAccessories
This automotive parts store is trusted by many car owners when it comes to car accessories. Check out Audionel's social media to see some of its completed projects.[1]
📌 Autoline Motorsports Accessories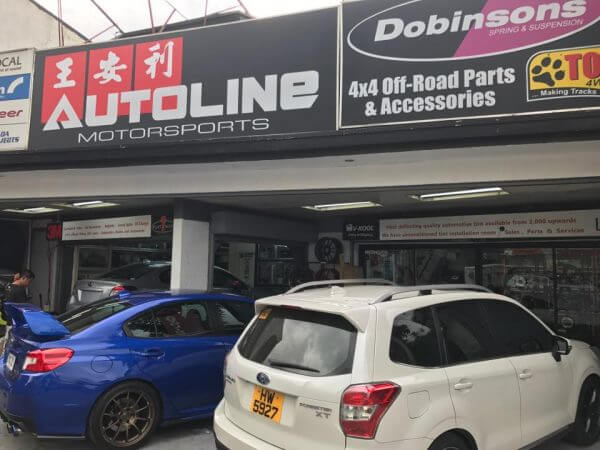 Photo: Autoline (Facebook)
Address: 2679 Trinidad Ayala St. cor. Zobel Roxas Ave., Manila City
Contact: 285243697
Facebook: /AutolineMotorsports
This shop has been operating for over two decades now, and it's known among car enthusiasts for its top-quality services. It's been dubbed the "performance mecca of Manila" by Super Street Magazine, a popular media channel that features everything car-related. Autoline has also won multiple Best of Show Awards all over Manila.[2]

📌 Copperblue Car Accessories Center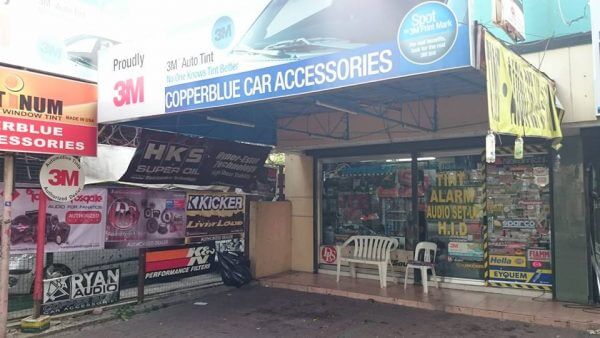 Address: 12 President's Ave., Tahanan Village, Parañaque City
Facebook: /copperblueautoconcepts
This shop in Metro Manila offers various products and services, including audio setup, tint, alarm, and electrical solutions. Check out Copperblue's social media for more info.[3]
📌 KM Car Accessories
Address: Borol 2nd Balagtas, Bulacan
Contact: 09059289555
Facebook: /KMCarAccessories2020
If you're looking for a car accessories shop near the metro, give this one in Bulacan a try. KM car accessories range from tints and horns to alarms and reverse cameras. Check out its full range of products and services on its Facebook page.
Also, before visiting the shop, call first to confirm the availability of your desired products.[4]
📌 L.A. Car Accessories and Tint Room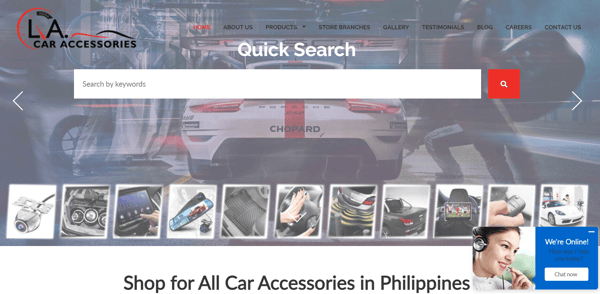 Address: GMAD Tower 7610 Guijo Street, San Antonio Village, Makati, Philippines
Contact: 288178617
Website: lacaraccessories.com
Facebook: /lacaraccessories
This brand has one of the largest selections of car accessories across locations nationwide. Head to the Makati and Parañaque branches for your car accessory needs. One of the features you'll find in this shop is a sophisticated Tint Room that's air-conditioned and dust- and pollution-free.[5]
📌 Racing R Car Accessories
Address: 1658A Evangelista St., Bangkal, Makati City
Contact: 09693006829
Facebook: /caraccessoriesracingr
Racing R accessories offers a wide range of decorative items for car exteriors, including grilles, deflectors and shades, emblems, auto exterior kits and covers, body armors, license plate covers and trims, fancy wheel rims and decorations, and spoilers and wings.
It also has accessories for car interiors, including floor mats, cargo liners, winches, interior covers, lug nuts, and auto cameras. More importantly, items are available at competitive prices.[6]
📌 Shark Philippines Car Accessories
Address: 14 Aramismis, Project 7, Quezon City
Contact: 23743636
Website: sharkphil.com
Facebook: /sharkphil
Some of the car accessories offered by Shark are floor liners, roller lids, LED bars, smart racks, dash cams, and seat skins. If you're all about car cleaning and sanitation, they also offer essentials like sanimaps, mist spray pumps, and car air purifiers.[7]
Read more: 10 Auto Repair Shop Options for Your Next Car Tune-Up
Final Thoughts
With so many car accessories shops out there, you'll never run out of places to visit any time you need to get a little trinket for your car. Whether you get your goods from the mall or from a small shop along the street, what's important is that you get good value for your money from a trusted car accessories store.
Owning a car is costly enough as it is, so make sure you always check and compare prices to get the best deal when buying car accessories.

Sources: