Cars are an expensive necessity. As a car owner, it's your responsibility to keep it in top condition and clean it on a regular basis. With COVID-19 still around and a volcanic eruption looming, every car owner should learn how to safely clean and sanitize the car for the protection of everyone who will ride it.
Check out this guide if you want to know how to effectively clean your car inside and out, and even how to remove ash on car paint.
Ways to Effectively Clean and Sanitize Your Car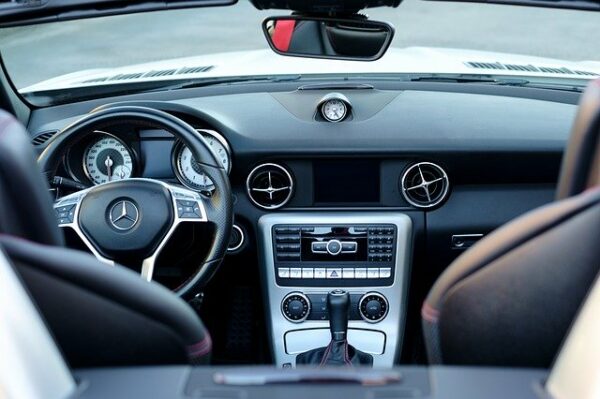 Cleaning your car is important especially if you want to protect yourself and your loved ones from viruses, and if you want to keep its original glam. While viruses are spread unknowingly through surfaces and objects, they won't harm your vehicle. But volcanic ash that gets wet due to mist or dew can damage your car's exterior.
There are so many things to take note of when it comes to cleaning your car. Whether you want to get rid of the dirt inside or remove ash on its exterior, some things need to be clearly defined to achieve your purpose. Here are some things to remember, plus tips to effectively maintain the pristine look of your vehicle.
Sanitizing, Cleaning, and Disinfecting: What's the Difference?
These terms are often used interchangeably. Cleaning refers to getting rid of dirt, stains, marks, dust, soil, and other visible elements on the surface, but it may not necessarily remove bacteria or viruses.
Sanitizing is a way of removing bacteria and viruses on the surface without killing them, while disinfecting is the process of killing bacteria and viruses on the surface.
Read more: BLOWBAGETS Checklist: Why and What You Should Check Before Driving
Essentials for Car Cleaning
Planning to clean your car? It starts with knowing the car cleaning essentials.
1. Car Wash Soap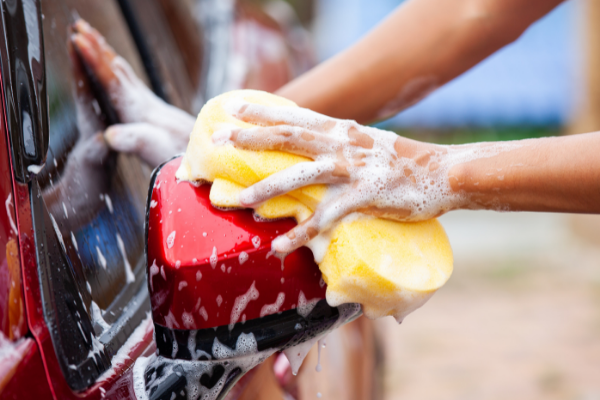 Why you need it: Using ordinary dish soap or laundry soap can wipe off the dirt from the surfaces. However, these products may strip off the protectant or wax on the surface. Using soap dedicated to car interiors and exteriors is formulated to protect clear coats and paint finishes.
What to look for: There's no particular brand of car wash soap that you should look for. Generic car soaps won't strip away your car's wax or protectant, and they can leave your car clean and shiny. Wash and wax can clean and protect your car if you want to remove ash from car paint. But this will not be ideal if you want to fully detail it. You can use strip if you want to get rid of your car exterior's imperfections then apply a new coat.
2. Car Wash Mitts
Why you need it: You need car wash mitts instead of towels. Although you can also use sponges, mitts are constructed with soft material that's perfect to retain your car's original coat.
What to look for: Look for car wash mitts that are made with microfiber or any material that's gentle and easy to use, wash, and rinse. You can also opt for different colors to know which are to be used inside and outside your vehicle.
3. Pressure Washer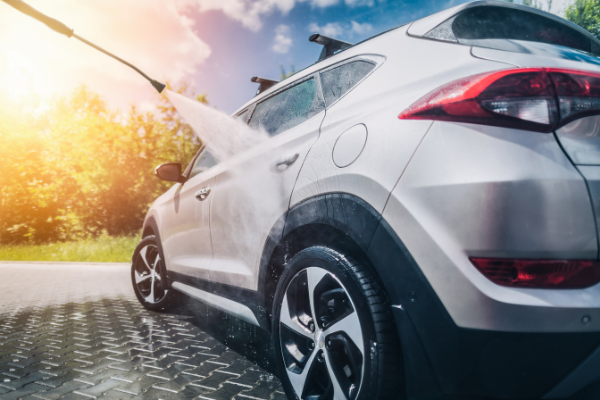 Why you need it: Pressure washers make your job easier and guarantee a thorough cleaning of your car. If you want to remove ash on car paint effectively, pressure washers can be handy.
What to look for: Consider the weight, cord length, warranty, and accessories.
4. High-Pressure Hose Nozzle
Why you need it: A high-pressure nozzle is important if you want to get rid of grime and dirt or if you want to remove ash on car paint easily.
What to look for: A high-pressure hose nozzle with a flow control knob will help adjust the water flow according to your needs.
5. Towels
Why you need them: You'll need towels for wiping your car dry. You also might need to store several microfiber towels for drying detailed features of your car.
What to look for: Microfiber towels are recommended but you can choose something that is machine washable for easy cleaning.
How to Clean Your Car Interior
Cleaning your car interior may seem pretty straightforward. But you have to make sure you start with the following steps:
Take out the trash - Grab a couple of trash bags where you can put the rubbish and clutter in your car. Use a vacuum to suck out debris, dust, and dirt in hard-to-reach surfaces.
Clean the car ventilation system - Blast the dust out of your car's ventilation system. Start by closing all air vents, turning on the ignition, and setting the fan at high speeds.
Clean the dashboard - Dashboards are vulnerable to fingerprints and dust that contribute to the interior's faded look. Make sure you use cloth, water, and soap to do the job.
Focus on the high touch points - The steering wheel, buttons on the dash, cup holders, touch screen, and sun visor are a few of the places you might want to clean with wet wipes and a soft cloth.

How to Clean Different Car Parts
The following car parts need special attention. Cleaning them the right way can make them more durable and efficient:
Fabric car seats - Vacuum fabric car seats before washing them. Scrub the seats with a sponge soaked in warm soap and water solution. But make sure they don't get too wet when scrubbing off the dirt.
Leather or faux leather seats - Vacuum the leather or faux leather seats before applying car upholstery cleaner. Use a moist chamois to wipe off the cleaning agents then let the seats dry naturally.
Tinted car windows - A tinted car window is made with several layers of film. To care for this car part, don't use ammonia-based glass cleaners. Instead, try using a damp cloth dipped in soap and water solution. Spray foam can also do the job.
Engine - Cleaning the car's engine starts with cooling it down and removing dirt and debris. Then you need to remove the negative terminal cable followed by the positive. Make sure all exposed electrical components are covered using plastic wrap. Apply an engine degreaser then scrub the grease and dirt off. Rinse and wipe the engine then allow it to dry.
Tires - The car's wheels and tires should be washed separately. A feather-bristled brush will remove all dirt that accumulated on the wheels to prevent rusting.
How to Remove Ash on Car Paint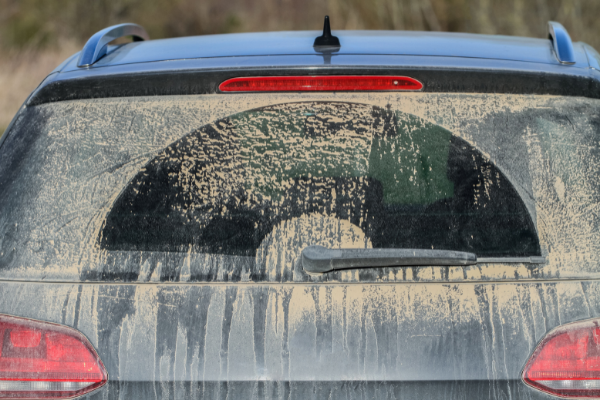 If you want to remove ash on car paint and secure your car paint at the same time, then you have to do it the right way.
Clean your car immediately after ash collects on its exterior. Right after your car gets covered with ash, clean it right away with a pressure washer or garden hose. Avoid removing ash on car paint with a cloth or towel. Ash is abrasive[1] and corrosive and scraping it off with a towel might damage the paint.
Use car soap or shampoo - Car soaps and shampoos are made to neutralize the acid from the ash. You can apply the soap or shampoo using a foam gun.
Don't use the wipers without a washer fluid - Wipers might scratch the windshield surface if used without enough washer fluid. The dry silicone blades of your wipers can pick up the ash and may scratch and leave unwanted marks.
Use two-bucket car wash - One bucket is to contain the shampoo or soap solution and the other is to rinse the car mitts. Clean the vehicle from top to bottom while working on small sections. Rinse off the car mitts from one bucket then load them with soap and shampoo solution from the other bucket.
Wipe your car interior to dry using microfiber towels - Gently wipe the water and moist off your car exterior with microfiber towels. Make sure to use different towels for the different portions of your car.
Read more: 5 Tips to Save on Car Repairs
DIY Car Sanitation Tips
Car interior cleaning is simpler than it sounds, which means you can do it yourself. Here are four tips to keep in mind before sanitizing your car.
1. Use Soap and Water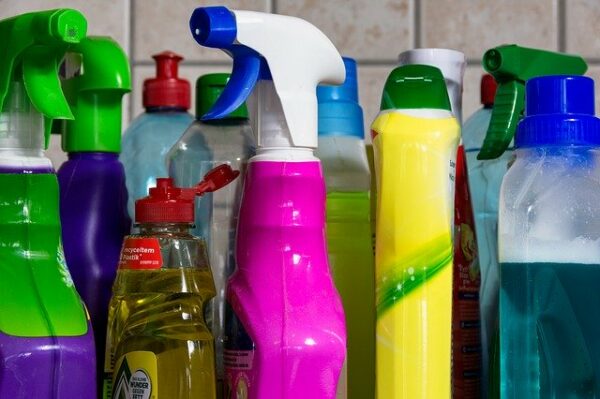 The good old tandem of soap and water is your vehicle's best defense against viruses. Soap destroys viruses by breaking them down, like how it does to oils.
No need to get an antibacterial car disinfectant. Household soaps, in general, will work and are safe to use on leather and fabric surfaces (Read the product label just to be sure!). Don't forget to wear disposable gloves while cleaning your car interior as well.
2. Don't Use Harsh Chemicals
As much as you want to eliminate viruses and other germs in your car, you don't want its interior surfaces to get damaged.
When cleaning your car, avoid using disinfectants and cleaning products that contain any of the following harsh chemicals:
Bleach
Hydrogen peroxide
Ammonia
Acetone
Alcohols
Kerosene
Other solvents
With the exception of bleach and hydrogen peroxide, these chemicals don't really harm viruses. Again, using soap for disinfecting your car will suffice.
3. Wash Surfaces Vigorously
You might be familiar with the handwashing technique of singing "Happy Birthday" twice before rinsing off. It gives soap enough time—at least 20 seconds—to destroy the virus.
The same goes for when you disinfect your car interior. Well, it doesn't necessarily require the same amount of time. But you have to scrub surfaces with a microfiber cloth. Vigorous washing allows soap and water to surround a virus's protective envelope. Friction caused by scrubbing breaks the virus down.
Don't scrub too hard, though. You don't want to end up with faded, torn, or tattered car seats.
4. Clean Frequently Touched Surfaces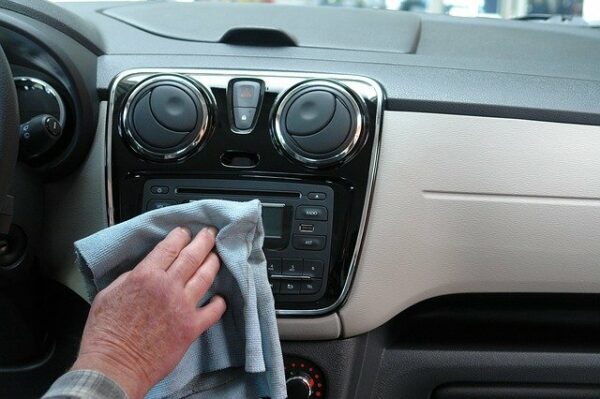 Clean thoroughly the surfaces that are most often touched, including these parts:
Exterior and interior door handles
Dashboard
Steering wheel
Gear shifter
Key fob
Buttons and switches
Seatbelts
Seatbelt knuckles
Touchscreens
Armrests
Seat adjusters
Rearview mirror
These auto components are potential sources of infection, so pay special attention to them when disinfecting your car.[2]
Read more: Car Expenses List: The Cost of Owning a Car in the Philippines
Professional Car Sanitation Service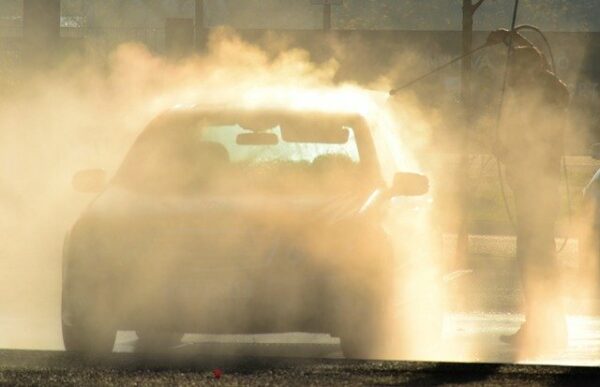 Not confident about cleaning your car by yourself? Let a professional handle your car sanitation.
Drive your car to the nearest car wash shop for auto cleaning and detailing. For your peace of mind, watch while the car wash guys clean your car and make sure they're doing it right.
Another option is to book a car sanitation service. There are providers in Metro Manila that offer steam cleaning in the car interior that destroy viruses and bacteria. They usually do home service in which they visit their client's home and perform car sanitation and auto detailing in the garage. If you don't have a garage at home, you can drive your car to the provider's office.
The entire car sanitation process lasts for two to three hours and costs around ₱1,000, depending on the vehicle type. You can find car sanitation service providers in your area through a simple Google or Facebook search.
Related: 10 Best Shops for Car Customization in the Philippines
Final Thoughts
Maintaining the cleanliness of your car is important to make it more aesthetically presentable and keep everything in working order. If you plan on DIY cleaning and sanitizing it to eliminate viruses or remove ash on car paint, then you should know how to do it properly.
Car sanitization and disinfection require more thorough cleaning and the use of the right products to prevent bacteria and viruses from lurking. On the other hand, a proper car cleaning process will ensure no damage will be caused when you remove ash on car paint.
Amid the pandemic and a possible volcanic eruption that may compromise or damage your car, make sure you clean and sanitize regularly. It will benefit not just your car, but you and your passengers, too!

Sources: