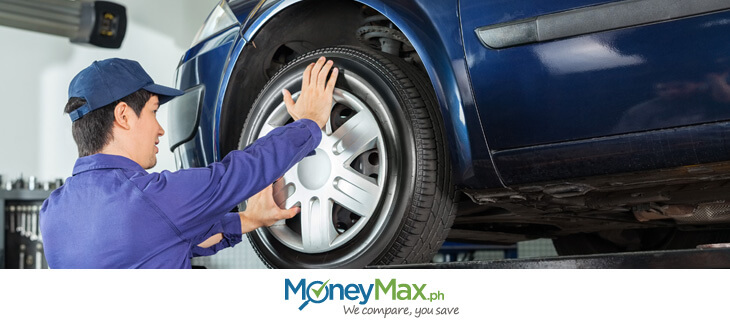 Owning a car is a huge responsibility. You need to have it cleaned (or do it yourself) on a regular basis; you need to make sure the parts are working properly; you need to be responsible enough and know how to drive defensively to avoid road accidents; and of course, you need to take note of your car expenses and budget for it and prepare for situations that may require you to shell out money.
Car repair shops, depending on the service, is costly. Whilst driving, you may hear a weird sound you've never heard before because it's been a while since you had your car checked. Maybe you don't want to spend on repairs because you don't have the budget or you're just too busy and can't afford not having a car. Not only is it stressful not having a car to drive but you'd have to pay for the check-up; however, it's best to be preventive rather than corrective. If your car is making a sound or there's something that feels different when you drive, it's best to have it checked and repaired immediately. If you forego this because you don't want to spend or you don't have the time, you might end up spending more in the long run.
Read more: Car Won't Start? Troubleshooting Tips for Each Car Breakdown Symptom
5 Tips to Save on Car Repair
Shop around
If you don't have a trusted mechanic yet, it's best to shop around and ask for estimates. With this, you can compare different rates from various mechanics. In reality, there will be shops that will be more affordable and others that will be more expensive. Whether you go for the cheapest or mid-range option is up to you, but it's best to note that quality trumps quantity. You can ask the shops why their price is this and that. It could be that Shop A is cheaper because they use secondhand parts, and Shop B is much more expensive because they already have a trustworthy brand and reputation. It's always best to look around and compare before you make a decision.
Just with the MoneyMax.ph car insurance comparison portal, the platform lets you compare insurance rates from different providers instead of giving just one price. That is the main benefit of shopping around and comparing.
Read more: 8 Driving Tips to Save Gas and Improve Your Fuel Economy
Find a place you trust
Having a go-to mechanic or casa not only saves you time but money as well. It's important to build rapport and a long-lasting relationship. For your benefit, this ensures that your car is in good hands and that the mechanic will treat your car as if it were his own. As for the mechanic or the shop, repeat business is always good business. Even if he gives you discounts on your repairs, he has the assurance and your trust that you'll go to him every time you need your car fixed.
Read more: Get Car Insurance Discounts for your Vehicle
Purchase the parts yourself
If you're a car enthusiast, why not take your hobby a step further and purchase the car parts yourself? Purchasing the parts yourself can save you a few bucks. This is because parts in a shop are already marked-up. Along with this, always scan the bill and ensure that they're only billing you for the service and not the parts since you bought them yourself.
Read more: Is It Better To Buy Car Parts Online?
Have regular preventive maintenance
Preventive not corrective – that is the motto when it comes to repairing your car. Have regular preventive maintenance to avoid costly complications in the future; however, not all maintenance services are required. To know what kind of routine check-up your car needs, always read the owner's manual. If you go to a shop and let them determine what kind of check-ups your car needs, they can charge you for additional yet unnecessary services. This is also the importance of having a mechanic or a shop you trust – to avoid spending more than necessary.
D-I-Y
Of course the easiest way to save on car repairs is to do it yourself. There are some check-ups that are easy enough and which you can do if you take the time to learn. These include changing the oil, checking your fluids, replacing air filters, and checking the air pressure in your tires. You can do these things on your own and not have to pay someone else to do it for you; however, for more complicated check-ups, replacements, and repairs, you can leave that to the experts.
Car repairs can rack up costs; however, they are necessary so you can avoid a large bill in the future. When it comes to your car, it pays to be diligent and have those routine preventive maintenance check-ups. Having your car checked regularly gives you the peace of mind that you're safe on the road and your car is in good shape.