6 Terrible Reasons to Take a Personal Loan
6 Terrible Reasons to Take a Personal Loan
Published: May 7, 2018 | Updated: September 14, 2021 | Posted by: Venus Zoleta | Personal Loan
---

Used for a variety of financial needs, a personal loan typically comes with a low interest rate. In fact, personal loan interest rates in the Philippines (ranging from 1.20% to 1.94%) are even lower than credit card rates (2.00% to 3.54%).
This is why it can be tempting for some Filipinos to apply for a personal loan. Borrowing money from a bank is actually a good idea to meet your financial goals—as long as you're doing it for the right reason.
Can you relate to one of these five awful reasons to get a personal loan? Think twice before you send your loan application to the bank.
1. You Need Money for Your Daily Expenses

It's still several days before payday, but you're already broke. You're desperate to find a way to make ends meet, and the idea of getting a personal loan is becoming irresistible. Guess what—that's just a band-aid solution to a serious financial injury.
Borrowing money while living from paycheck to paycheck will quickly put you in a vicious debt cycle. When you take out a loan, you'll have to repay it in monthly installments. If your income can't cover your everyday living expenses, how much more paying off a loan every month?
What to do instead: Give your financial situation a reality check. Are you tracking and sticking to your budget? Look for a long-term solution. You definitely need to cut down your expenses. Find an extra source of income, too. You can sell your unused stuff online or start a small business with low capital.
2. You Want to Buy Your Dream [Insert expensive yet unnecessary purchase here]

Do you think getting that sleek yet pricey smartphone will make you happy? Think again.
A gadget, appliance, fashion item, or anything that costs more than twice or thrice your monthly salary isn't worth getting a personal loan for. If you can't afford something, better not splurge on it.
What to do instead: Prioritize your needs over your wants. Postpone borrowing money until a more important expense comes up, like paying for your child's college tuition or starting a business. If you really think you should buy an expensive item, just save up for it.
3. You'll Host a Lavish Event to Impress Your Family and Friends

You're in love with a celebrity couple's recent wedding in an exclusive island club. You want that same grand event for your own—you can already imagine how your wedding photos would look like on Instagram, and how your loved ones would be in awe of your wedding gown.
It can set you back millions of pesos, though. If you and your soon-to-be spouse can afford it, why not? But what if you can't?
What to do instead: It's only practical to keep your wedding costs reasonable. Getting a personal loan to fund your dream wedding is a smart option if you can afford the monthly loan repayments. You don't want to start your marriage in deep debt. The same goes for debuts, anniversaries, and other celebrations.
Spend only what you can afford. After all, marrying the love of your life is way more important than having a Pinterest-worthy wedding, right?
4. You Badly Need a Nose Job

No, we won't argue against enhancing one's looks for a confidence boost. Let's look at it from a financial standpoint: can you afford plastic surgery? Will it lead to a great money-making opportunity, like if you're going to earn income as a model or entertainer?
If it's something you can pay with your own money and will make a good investment, go for it. But getting a personal loan to fund an expensive procedure isn't a wise option.
What to do instead: Rethink your decision. Have your rhinoplasty, liposuction, or any cosmetic surgery only when you have the cash to pay for it.
5. You Need to Fund Your Gambling Habits

Gambling can be very addictive. Some people max out their credit card and borrow money from family, friends, and banks. Sustaining this habit is one of the worst reasons to get a personal loan.
What to do instead: Gambling addiction is a mental health issue. If a loved one is addicted to it, you may ask PAGCOR (Philippine Amusement and Gaming Corporation) to ban him from playing in the casinos. Consider having him join a support group and undergo therapy sessions to overcome his gambling impulses.
6. You're Borrowing on Behalf of Someone Else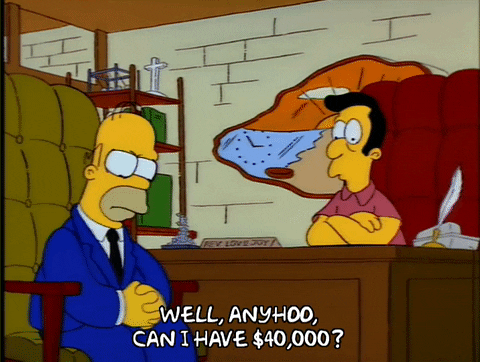 Are friends and family your reason to take personal loans? Often people resort to borrowing on other's behalf such as their relatives.
You might feel bad for their circumstance and want to help them. If relatives ask for help, lend them on your own capacity. But never borrow on their behalf. After all, it is you who will bear the burden of repayment.
Money can also cause misunderstandings among friends or relatives. Hence avoid getting into complicated financial transactions among family.
Final Thoughts
Planning to get a personal loan? Here's a list of the best personal loan available in the Philippines. Consider if your purpose really justifies taking out a loan. Otherwise, you'll end up getting drowned in debt and regretting your decision.

Venus is the Head of Content at Moneymax, with 15+ years of experience in digital marketing, corporate communications, PR, and journalism. She invests in stocks, mutual funds, VUL, and Pag-IBIG MP2. Outside of work, she's crazy about cats and Korean dramas. Follow Venus on LinkedIn.