Financial snags happen from time to time: you borrowed from a friend, used a portion of your emergency fund, or even pawned some of your jewelry pieces. Nevertheless, past experiences assure you that you'll get past these hitches.
However, the pandemic has tested everyone's financial readiness and tolerance to risks and uncertainties. Maybe you've lost your job, or one of your family members has been battling a health condition. And what's putting you on edge is the fact that your resources have been exhausted and you need help. In these situations, the bank may be the best place to visit as it offers low-interest personal loans.
As such, one of the best and most reliable banks to visit is the Bank of the Philippine Islands (BPI). Its loan products have some of the lowest interest rates in the market, and it usually offers reduced rate promos that you may avail.
Here's what you need to know about the BPI Personal Loan. We've also come up with a BPI Personal Loan application guide in case you want to apply.
What is BPI Personal Loan?
The BPI Personal Loan is a non-collateral cash loan that you can avail for your cash needs. And because it doesn't require any collateral, you won't have to pledge anything valuable as a form of repayment.
What Can I Use a BPI Personal Loan For?
The BPI Personal Loan can be used for a variety of purposes. Here are some of them:
1. Your Child's Education
Avoid promissory notes by paying your child's tuition on time. You can use the proceeds of your BPI personal loan to cover education-related expenses, from matriculation to school supplies and even gadgets.
2. Home Renovation
Maybe you've been dreaming of turning your home into a Scandinavian-inspired space or converting one of your properties into an Airbnb rental. You can cover the costs of renovation by borrowing money from BPI. Moreover, a BPI Personal Loan can be used for massive repairs after your property has been hit by a disaster.
3. Dream Vacation
Raring to go on a much-deserved vacation? Start planning your trip and initiate the plan by having early funding. The money you'll receive from your successful BPI Personal Loan application can be used for booking plane tickets and hotel rooms or buying travel essentials, such as luggage or shoes.
4. Memorable Occasions
Your parents' 25th wedding anniversary deserves a festive party. Or maybe you just want to give yourself an electric scooter on your birthday. Whatever the special occasion is, you can make it more memorable with the help of a BPI Personal Loan.
5. Other Emergency Expenses
In case one of your family members gets sick and hospitalized, you can use the loan's proceeds to pay for hospital expenses. Likewise, you can use the money to buy yourself a new laptop for freelance work in case your old one is already broken.
Why Should I Get a BPI Personal Loan?

BPI's personal loan offers the ability to take out a loan up to three times your gross monthly income up to ₱2 million. Remember, though, that these loan values are subject to BPI's approval.
Apart from this, monthly installments can be split into 12, 18, 24, 30, or 36 months and at a fixed interest rate of 1.20%. Monthly repayments are automatically subtracted from the BPI account you nominate upon application.
Lastly, borrowers can make payments in advance with no fees involved. If you miss paying on your due date, however, there will be a BPI Personal Loan late payment charge of 5%.
BPI Personal Loan Key Features
Here's a quick rundown of the features to expect when you borrow cash through a BPI Personal Loan:
Loan amount: ₱20,000 to ₱2 million
Annual contractual rate/Effective interest rate: 25.03% to 25.60%
Monthly interest rate: 1.20%
Loan terms: 12 to 36 months
BPI Personal Loan processing time: Within 5 to 7 working days upon submission of complete requirements
Disbursement time: Within 1 to 2 banking days from the date of signing the loan documents
Processing fee:₱1,500 (deducted from the loan proceeds)
Documentary stamp tax: ₱1.50 per ₱200 of the loan amount (applicable to BPI loans above ₱250,000 or those for business purposes)
Late payment penalty fee: 5% of the amount due
No-collateral loan
No pre-termination fee
What are the Requirements for BPI Personal Loan Application?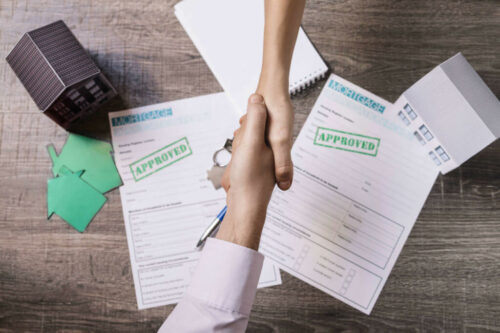 Eligibility Requirements
You can apply for a personal loan from BPI if you meet all these qualifying criteria:
Filipino citizen
At least 21 years old and not more than 60 years old when the loan matures
Living or working within 30 km from the nearest BPI branch
Required Documents for BPI Personal Loan Application
The requirements vary for employees/professionals, self-employed individuals, and overseas workers.
For Employees/Professionals, BPI requires the following documents:
One government-issued ID bearing your picture
Three months' worth of pay slips (original copy) and/or your latest Income Tax Return or bank stamp (BIR Form 2316)
Self-Employed Individuals, on the other hand, should prepare the following:
One government-issued ID bearing your picture
Audited financial statements for the last three years
Latest Income Tax Return (BIR Form 1700 / 1701)
A copy of your DTI Business Registration or SEC Registration Certificate
And for Overseas Filipino Workers:
One government-issued ID bearing your picture
POEA contract or an employment contract with boarding date (for agency hires)
Proof of remittance, POEA OFW Information Sheet or POEA Overseas Employment Certificate, employment contract, and consularized Certificate of Employment (for direct hires)
Make sure to secure all the requirements to avoid having your loan rejected.
Below is a list of other best personal loan companies and their loan features. Compare your options and apply through Moneymax!
Personal Loan Providers
Minimum Loan Amount
Minimum Annual Income
Approval Time

Citibank Personal Loan
(This product is sold by Union Bank of the Philippines, using certain trademarks temporarily under license from Citigroup Inc. and related group entities.)

₱

100,000

₱

250,000

Fast approval time in as fast as 24 hours

Maybank Personal Loan



₱

50,000

₱

300,000

Apply for a loan online in just a few clicks

RCBC Bank Personal Loan



₱

50,000

₱

360,000

Get approved within 5 to 7 banking days

PBCOM Personal Loan



₱40,000

₱420,000

Get approved within 3 banking days

SB Finance Personal Loan




₱30,000

₱360,000

Get approved within five banking days

CIMB Bank Personal Loan



₱

30,000

₱

180,000

Apply within 10 minutes and get approved in 24 hours

HSBC Personal Loan



₱

30,000

₱

168,000

Get approved within 5 to 7 banking days

EastWest Bank Personal Loan



₱25,000

₱180,000

Get approved within five to seven banking days

BPI Personal Loan



₱

20,000

₱

300,000

Get approved within 5-7 banking days

CTBC Bank Personal Loan



₱

10,000

₱

180,000

Get approved within 3 to 5 banking days

EasyRFC Multi-Purpose Loan




₱

10,000

₱

120,000

Fast approval time in as fast as 24 hours
How Will I Know If I'm Ready to Apply for a BPI Personal Loan?
BPI employs a test to make sure that you can actually carry the responsibility of loan repayment. If you choose to apply online, you'll have to take the BPI Loan Readiness Test.[1]
You'll be asked about your lifestyle and how you're going to use the loan proceeds. The result of the test will give you an overview of how much your monthly payment will be based on your chosen loan tenor.
A similar tool that you can find on BPI's Personal Loan website is the loan calculator. Use this to estimate your monthly installment and to get an idea of how you should manage your finances in case your BPI Personal Loan application is approved.
See also: Why and How to Get a Security Bank Personal Loan in the Philippines
How to Apply for a BPI Personal Loan
Borrowers have three ways to avail of a personal loan from BPI: through the BPI Personal Loan website, a phone call with a sales agent, or in-person at any BPI branch.
Here's a walkthrough of the BPI loan application procedures through each channel.
Online BPI Personal Loan Application Steps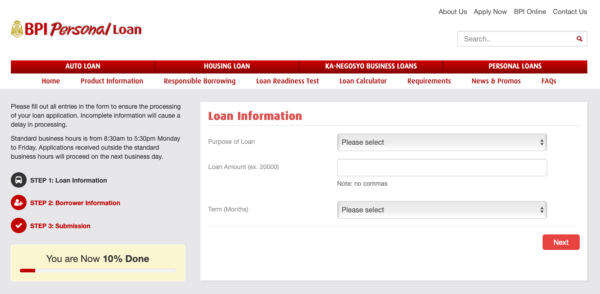 The online BPI Personal Loan application takes only three steps.
1. Complete your personal loan application online.
a. Go to the BPI's online facility for personal loan applications.[2]
b. Fill out the online BPI Personal Loan application form with your loan details and personal data. Make sure to provide all the required information. Otherwise, the system won't allow you to proceed to the next step.
c. Click the Submit button.
2. Submit the BPI Personal Loan requirements.
Send a copy of your documents via email to personal_loan@bpi.com.ph.
3. Wait for the results of your BPI Personal Loan application.
Check your email for a confirmation message from BPI that it has received your personal loan application. How long does it take to process a BPI Personal Loan, though? If you submit complete requirements, it usually takes 5 to 7 working days.
Regarding how to know if your BPI Personal Loan is approved, updates on your BPI personal loan status will be sent to you through text messages. To follow up on your application, you may also call the BPI hotline at 8891-0000.
Read more:
BPI Personal Loan Application via Sales Agent Steps
This is an alternative application method for borrowers who don't have internet access and don't want to go to the bank. Qualified clients with a BPI or BPI Family Savings Bank account may apply for a personal loan through BPI's inbound or outbound channels.
To use the inbound channel to apply for a BPI loan, simply call any of the following numbers:
(0918) 891-1000
(02) 8-89100-55
A sales representative will assist you with your BPI Personal Loan application.
On the other hand, qualified BPI clients receive an outbound call from a sales agent with an offer to facilitate your personal loan application with the bank. If you get a call from any of these numbers, it means the agent is a legitimate caller that represents BPI:
(02) 7795-2500
(02) 8459-2200
In-Branch BPI Personal Loan Application Steps
If the other two application methods don't work for you, your last resort is to visit the nearest BPI branch to apply for a personal loan. Fill out the BPI Personal Loan Application Form and submit it with the other BPI loan requirements when you file your application at the nearest branch.
Read more: Everything You Must Know About Getting a Citi Personal Loan

FAQs on BPI Personal Loan Application and Payment
1. I don't have a BPI account. Will my BPI Personal Loan application be accepted?
Yes, you can push through with your BPI Personal Loan application! Once your application is queued for approval, the bank will ask you to open a BPI account. That way, the loan proceeds will be easily directed to this account. Your monthly installment will also be deducted from the same account.
2. When is the due date of my monthly installment?
If you're wondering how to pay your BPI Personal Loan, you need to know your due date first. Your monthly due date will be equivalent to the date of your loan's booking. For instance, if your loan was booked on May 10, the due date will be every 10th of the month.
BPI also informs regular personal loan clients that the first installment will start 30 days after the loan's booking date. On the other hand, seafarer loan clients will start paying the installment 60 days after the loan is booked.
3. How do I pay for my BPI Personal Loan online?
An automatic debit arrangement (ADA) is the only way to pay the monthly installments of your BPI Personal Loan.
Once you get approved for a loan, you'll be asked to open a BPI deposit account (if you don't have one yet) where your loan amount will be credited and your monthly repayment will be deducted. You'll then be required to enroll in the ADA facility. Afterward, your monthly payment will be automatically debited from your BPI account on your due date.
So no need to pay online or over the counter or issue post-dated checks. You just have to ensure that your BPI deposit account has a sufficient balance before the due date.
However, when you want to pay off your BPI loan, you'll have to do your early repayment personally at a BPI branch. Before you make full repayment, inquire through the BPI hotline 8891-0000 about the exact amount you have to pay.
4. I want to pay off my loan. What's the procedure?
That's great! You're actually shortening the payment period of your interest. Early loan repayment can be done at a BPI branch. BPI encourages clients to check their pay-off amount via their Personal Loan Account Portfolio on BPIExpressOnline.com. You may also contact 8891-0000 to get the details that you need.
Remember that your loan's interest is computed daily. This means that your pay-off amount is valid for the same day only.
5. I'm planning to apply for another BPI Personal Loan. Is this allowed?
Yes, you may apply for a second loan account even if you have an existing personal loan. However, BPI highly recommends that you apply only if you've already paid at least half of your outstanding personal loan.
6. Can I make a BPI Personal Loan renewal?
Yes, but BPI doesn't renew personal loans automatically. You'll have to reapply for a new account. The documents that you'll submit must also be updated. Moreover, the application will still undergo regular credit assessment.
Read more: PSBank Flexi Personal Loan Application
Final Thoughts
Because BPI is one of the most established banks in the country, you can easily count on its personal loan products. If you want to increase your application's chances of getting approved, prepare and complete the requirements and know the ins and outs of its screening process.
If you need to look for another personal loan online, you can browse and compare through Moneymax. Feel free to browse our articles, too, to enrich yourself with useful and practical financial knowledge.

Sources: