Electronic or digital transactions have become a part of the new normal. The pandemic has led to the increase in digital transactions, with businesses offering goods and services online and consumers paying for them through bank transfers, mobile wallets, and scanning a QR code in the Philippines.
Thus, buying and selling transactions are slowly moving away from cash payments and gradually being replaced by QR code payment (also called scan to pay), which is considered faster, easier, and a lot more accurate. In fact, the value of QR code transactions in the Philippines has reached almost PHP 1 billion as of May 2021.[1]
Whether you're already doing QR code transactions or not, it's worth knowing more about QR code in the Philippines and how it works.
What is a QR Code in the Philippines?
The meaning of QR is Quick Response. A Quick Response or QR code is a printed barcode composed of square-shaped grids[2] scanned through a smartphone or any computer system.
Initially, QR codes were developed by a subsidiary of Toyota to track manufactured cars. Today, QR codes are also used to send and receive money in the Philippines.
What is QR Ph?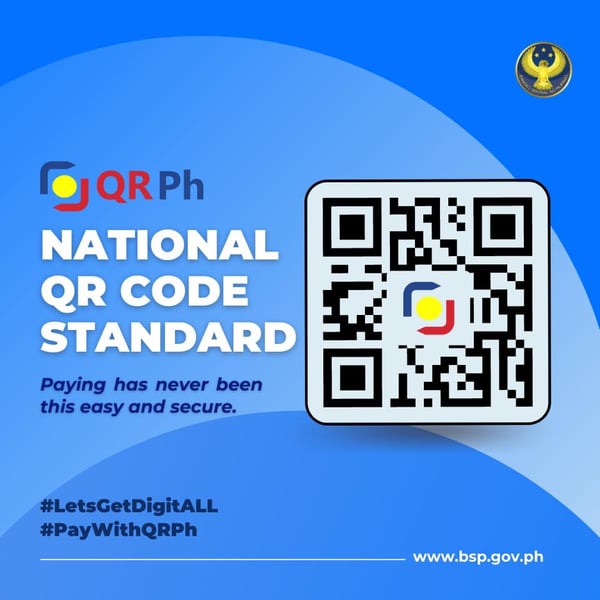 QR Ph is the national standard that uses quick response technology and code scanning for payments.[3] Through QR Ph, Filipino business owners and customers can enjoy cheaper, faster, and safer payment transactions.
This payment system using the QR code was launched by the Bangko Sentral ng Pilipinas (BSP) in November 2019, initially for person-to-person transactions (P2P) such as payments and remittances. The ultimate goal of QR Ph P2P is allowing "interoperability of payments."
Now, the QR Ph P2M (person-to-merchant) is also operational after being launched in October 2021.
What is QR Ph P2P?
QR Ph P2P (or QR Ph for person-to-person) allows transfer of funds from one person to another. To use the P2P facility, you should have an Electronic Money Issuer (EMI) using InstaPay.[4]
What is QR Ph P2M?
QR Ph P2M (or QR Ph for person-to-merchant) enables unbanked Filipinos to send payments digitally to different establishments like supermarkets, restaurants, department stores, drug stores, and even wet markets.
It extends the QR code payment facility to eliminate the need for both customers and business owners to use cash, a point-of-sale system, or a credit or debit card.
How Does QR Ph P2M Work?
Through a mobile phone, customers can generate their QR code from their electronic account to make a payment. Merchants, on the other hand, can either provide their store's QR code to be scanned by the customer's mobile phone.
What Do You Need to Make a QR Ph P2M Payment?
Just like QR Ph P2P, you'll need the following to make a QR code payment:
Electronic payment account (bank or e-wallet) that uses InstaPay
Mobile phone with a camera
Data or internet connection
QR Code image
Which Businesses Can Use QR Ph P2M?
The following businesses can use QR Ph P2M:
Supermarkets
Department stores
Sari-sari stores
Restaurants
Small retailers
Any consumer or informal merchant with an EMI account under InstaPay
Additionally, consumers with accounts with the following banks can use QR Ph P2M:
Asia United Bank (AUB)
China Banking Corporation (Chinabank)
USSC Money Services Inc. (UMSI)
LANDBANK
Cebuana Lhuillier Rural Bank, Inc.
RCBC
Starpay Corp. (Starpay)
AllBank (A Thrift Bank), Inc.
UnionBank
Merchants that have accounts with the following banks can also receive payments from their customers through the QR Ph P2M facility:
Cebuana Lhuillier Rural Bank
AllBank (A Thrift Bank), Inc.
RCBC
AUB
Metrobank
Starpay
UnionBank
USSC Money Services Inc. (UMSI)
Read more: Quick Guide on How to Load Your PayMaya Account
Pros and Cons of QR Ph for Consumers and Merchants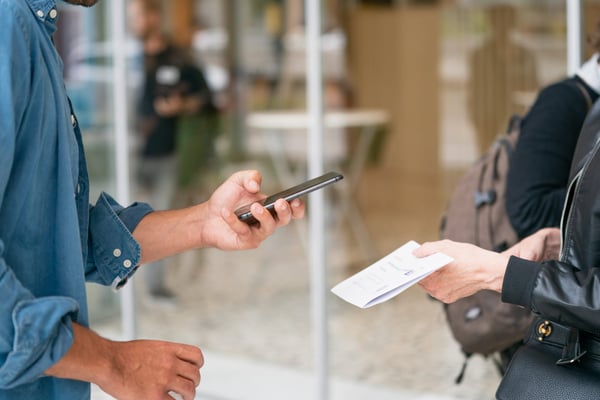 The BSP has intensified its promotion of digital payments in the Philippines by launching the QR Ph P2P and P2M programs. QR Ph essentially interconnects QR codes in the country for an easier and safer mode of payment for Filipinos.
Just like any other technological advancements, QR Ph also has its advantages and disadvantages.
QR Ph Pros
If you'll use a QR code in the Philippines either as a consumer or a merchant, here are the benefits that you can enjoy:
Informal merchants (like tricycle drivers and sari-sari store owners) don't need to invest in and operate point-of-sale equipment.
Unbanked vendors can use QR code payments through their EMI accounts.
Payments to merchants are free of charge.
Sending and receiving cashless payments are more convenient.
Consumers and merchants don't need to count coins and bills when paying or giving change.
QR Ph Cons
Of course, there's also a downside to using a QR code system like QR Ph. Here are some of the most obvious ones:
You need to have at least a mid-range mobile phone, data internet connection, and an EMI account.
If you're not familiar with EMI accounts, you may have a hard time cashing in and out.
You also need to shoulder the cash in and cash out fees charged by your EMIs.
Since you'll be using a digital mode of payment, you'll also need to learn about enhanced security measures to protect your money and digital accounts.
Guide to Using QR Ph for Digital Payments in the Philippines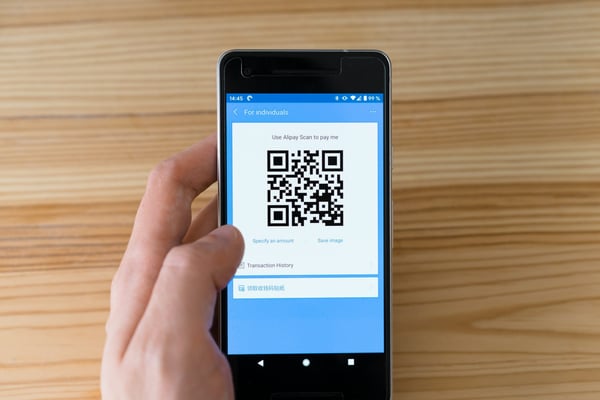 You don't have to be a tech savvy to start using a QR code in the Philippines for sending and receiving payments digitally. Here are the easy steps to make the most of the QR Ph services.
How to Receive Payment Using QR Ph P2P
Using your mobile device, generate a QR code from the app of your bank, e-wallet, or any electronic payment provider.
Send a screenshot or image of your account QR Code to the person you're transacting with.
They can use the image to transfer funds by scanning the QR code image or by uploading the image to their electronic account's QR code payment facility. Once the image is uploaded, your account details should be visible to them.
Afterwards, they must key in the amount to be paid or sent and confirm the fund transfer/payment.
You'll then be notified via SMS or email that the money has been successfully transferred to your account.
How to Send Payment Using QR Ph P2P
Ask the person you're transacting with to generate a QR code from their electronic payment provider. This should be a downloadable image with the QR Code or a clear screenshot of it.
From your payment facility app, choose "Fund Transfer."
Use the QR Code image or screenshot by scanning or importing it from your mobile device.
Enter the amount and confirm the payment.
Wait for the acknowledgment SMS or email that your payment has been successfully sent. It will contain all the transaction reference details, so make sure to keep it in your records as proof of payment.
How to Send Payment Using QR Ph P2M
Making a payment using QR Ph P2M works just like QR Ph P2P, except that you're now making a fund transfer to a merchant account.
Log in to your mobile banking app or e-wallet account on your mobile phone.
Choose the "Payment," "Pay Via QR," or "Transfer Fund" option.
Point your camera to the merchant's QR Code. Scan to pay.
Fill out other information as required.
Confirm the payment.
Final Thoughts
Being a part of the digital economy is a way to adapt to the new normal. Setting up an account with a bank or non-bank electronic money issuer can be overwhelming or confusing at first. But if it means enjoying quicker, easier, and safer payment transactions, it's truly worth exploring and getting on board with. The use of a QR code in the Philippines can certainly make online payments and purchases easily accessible to everyone.
Read more:

Sources: