Gone are the days when you had to fish your wallet from your bag or rummage through your pockets to pay for your dinner or groceries. We're now in an era where cashless and contactless payments are the way to go—all thanks to e-wallets in the Philippines.
New to mobile wallets? Don't worry! We've prepared a comprehensive guide on these handy applications and the top e-wallets in the Philippines you may want to check out. Let's get started!
What is an E-Wallet?
Also called a mobile wallet, an e-wallet is a term for any online solution or application that allows you to store money, pay for your online and in-store purchases, send money, and even settle bills. Think of it as the digital counterpart of a physical wallet or coin purse, only with more capabilities.
E-wallets normally take the form of a smartphone app. But depending on the app, you may also be able to access them via your desktop computer.
To top up your e-wallet, all you need to do is connect your bank or debit account to it. You can also load your mobile wallet by depositing cash at the wallet's partner physical merchants and shops.
Benefits of Using E-Wallets in the Philippines
E-wallets in the Philippines possess a lot of features to make your everyday financial transactions easier and more efficient. With a mobile wallet, you get to enjoy the following benefits:
👍 It's Convenient
This is the main reason you need one. Imagine not having to carry cash to buy goods, pay bills, or send money to your loved ones. Since everything's online, it only makes sense to use an online mode of payment, too.
👍 It Encourages Contactless Payments
There was a time when we all practiced social distancing, so downloading a mobile wallet for contactless payments made sense. While life has somehow gone back to normal these days, it's still safer—not to mention more convenient—to continue using e-wallets. All it takes is just a few taps on your smartphone.
👍 It Helps You
Monitor Your Spending
With an e-wallet, you won't have to count your cash just to check how much is left. Just log in to your app to see the remaining balance right away. Your mobile wallet also records your previous transactions, allowing you to track your spending.
👍 It Lets You Invest
The best e-wallets in the Philippines don't just store your money—they also let you grow it through investment products and cryptocurrencies. Accessing the investment money is a breeze since it's already in your mobile wallet.
👍 It Gives Access to Exclusive Promos
Most mobile wallets offer exclusive deals and discounts to their users. So don't ignore those notifications. You might just end up saving on your online purchases!
Top 10 E-Wallets in the Philippines
The industry of mobile wallets in the Philippines is thriving, which means you have a lot of options to choose from. Below is a list of the best e-wallets in the Philippines and their key features.
GCash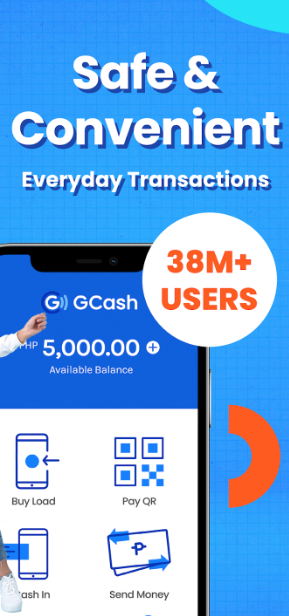 Ideal for: People looking for an all-in-one wallet
GCash Key Features:
Express Send - Send and receive money instantly

GSave - Open a savings account right from your phone

GCredit - Qualify for a credit line of up to ₱30,000

GFunds - Invest in various investment funds to grow your money

GCrypto - Trade cryptocurrencies through this upcoming feature

GInsure - Buy an insurance policy

Pay bills with a QR code
If you're opening a mobile wallet for the first time, GCash is a good place to start. Currently, it's the most versatile online wallet app out there. From paying bills to investing money, you can do most of your online transactions in just one app.
And just to be clear, you don't need a Globe number to open an account. Registration is open to all networks!
Maya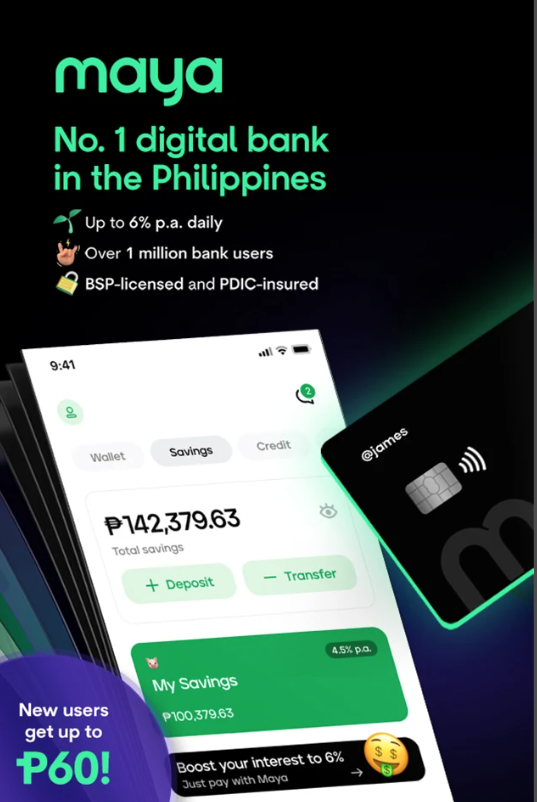 Ideal for: People looking for a high-interest savings account
Maya Key Features:
Open a savings account with up to 6% interest

Personalize fund transfers and requests with a username

Settle bills with 1,500 billers and cash in for free at 90,000+ partners

Pay bills with a QR code

Get a Maya card (Visa and Mastercard) for cash withdrawals and in-store and online shopping

Invest in cryptocurrencies with beginner-friendly features
Formerly PayMaya, Maya is more than just a digital bank.[1] It also doubles as a mobile wallet app in the Philippines that you can use in your everyday transactions. With this GCash alternative, you can open a savings account that yields up to 6% interest, thus growing your money faster than in traditional bank accounts.
Dabbling in crypto? Invest in popular virtual currencies, such as Bitcoin, through Maya's separate crypto wallet. Its features are beginner-friendly, so you won't have to struggle with a steep learning curve when figuring out how to use it.
Coins.ph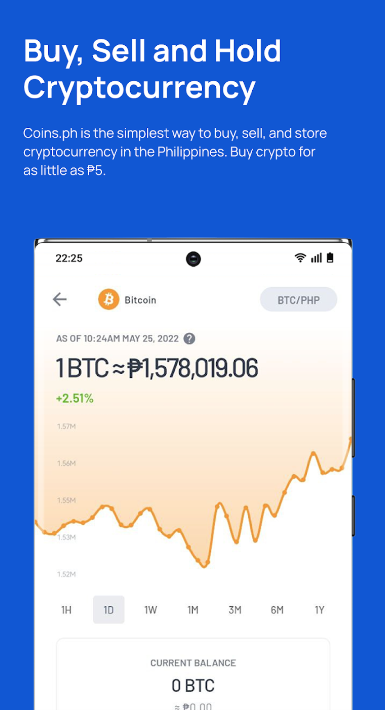 Ideal for: People looking to dabble in cryptocurrencies
Coins.ph Key Features:
Buy bitcoin and other cryptocurrencies

Reload your Beep card and EasyTrip account

Buy game credits and get exclusive discounts and deals

Receive cash rebates by paying bills and buying prepaid load
Interested in dealing with cryptocurrencies? Get a head start by downloading the Coins.ph app, another Gcash alternative. It's a mobile wallet in the Philippines that's powered by blockchain technology.
That aside, you can perform all your usual online transactions with Coins.ph. You can also reload your Beep card and EasyTrip account in just a few taps.
The best thing about Coins.ph? You don't need to have a bank account or a credit card to use its services. This makes it an ideal and inclusive option for many unbanked Filipinos.
GrabPay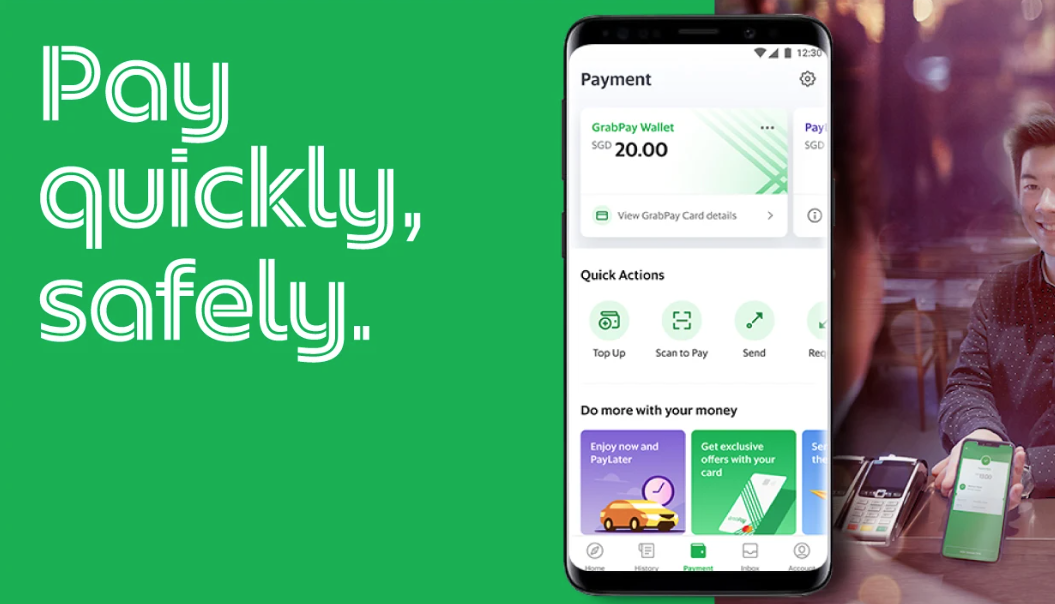 Ideal for: People who use Grab services a lot
GrabPay Key Features:
Book Grab rides, GrabFood, and other Grab services seamlessly

Pay for online purchases and in-store purchases

Pay bills from a wide range of billers nationwide

Enjoy exclusive deals and discounts from Grab
If you enjoy using Grab services on a regular basis, then you should upgrade to their GrabPay payment option. Aside from booking Grab rides and other Grab services easily, you can use your Grab digital wallet to pay for online and in-store purchases, monthly bills, and prepaid load, among others. Enjoy frequent Grab rewards and promos as well.
Moneygment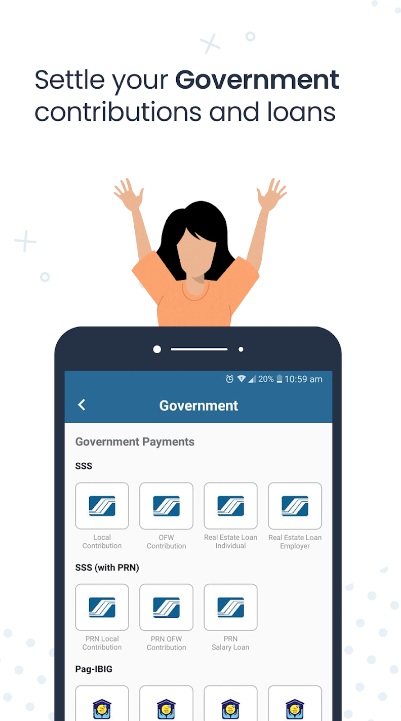 Ideal for: People who regularly transact with government agencies
Moneygment Key Features:
Easily pay for tax filings and government contributions,

such as Pag-IBIG, PhilHealth, and SSS

Send and receive money from loved ones abroad.

Buy an insurance policy

Pay loans and investments

Settle bills with a wide range of billers nationwide

Access its user-friendly interface easily
Looking for a new way to pay government dues or receive money from abroad? Check out the Moneygment app. Aside from the usual digital wallet functions, Moneygment offers an alternative way to pay taxes, loan payments, government contributions, and others.
Moneygment is primarily designed for self-employed individuals, homemakers, OFWs, small to medium enterprises, and unbanked Filipinos.[2] It has a friendly user interface (UI), so even the less tech-savvy people can start managing their finances better.
7-Eleven CLiQQ Rewards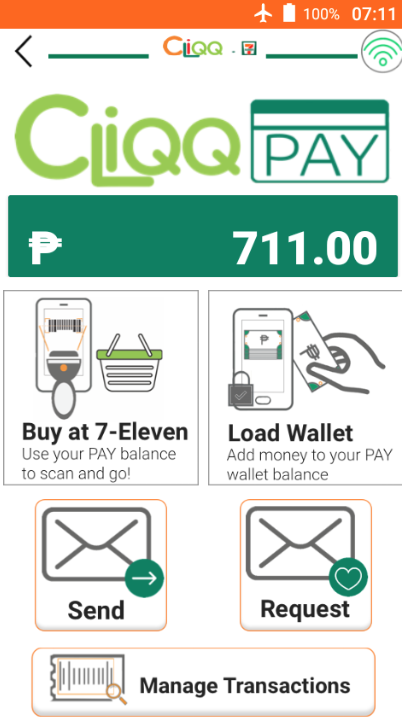 Ideal for: People who constantly shop at 7-Eleven
7-Eleven CLiQQ Rewards Key Features:
Earn rewards points for any purchase at 7-Eleven stores

Pay bills, government fees, and other types of payments

Enjoy exclusive discounts and promos from 7-Eleven

Convert your points to free meals and other items

Send points to loved ones
Is shopping at the nearest 7-Eleven store part of your daily routine? Then you should have the 7-Eleven CLiQQ Rewards app installed on your phone already. Earn points for every purchase by presenting your QR code and score discounts, free meals, and other freebies.
You can also purchase grocery essentials online at much lower prices through CLiQQ. Then just pick them up 24/7 at a 7-Eleven branch near you.
toktokwallet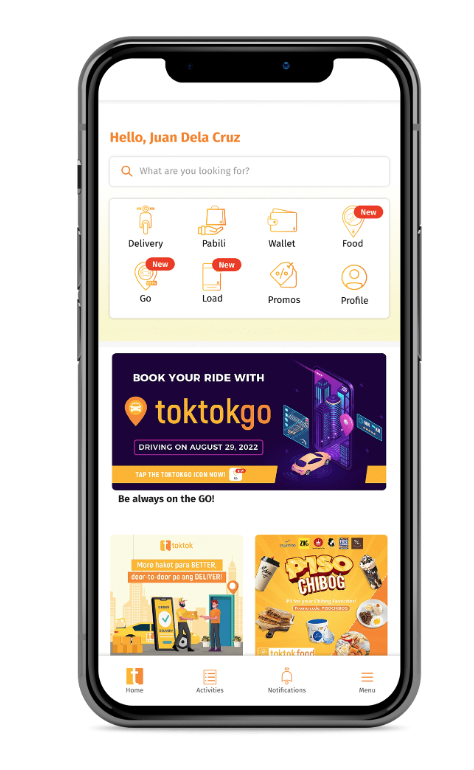 Ideal for: People who frequently use toktok services
toktokwallet Features:
Enjoy cashless and contactless payments for toktok services

Enjoy secure transactions, as every transaction requires a PIN

Send money with minimal fees

Cash in and cash out at reputable partner banks, such as Metrobank, LANDBANK, PNB, RCBC, and Security Bank, among others
toktokwallet is one of the e-wallets in the Philippines produced by a delivery service brand. This app is designed to make payments for toktok services easier. As long as you top up this mobile wallet with enough money, you can easily and seamlessly avail of the following services: toktokdelivery, toktokpabili, toktokmall, and toktokfood.
PayPal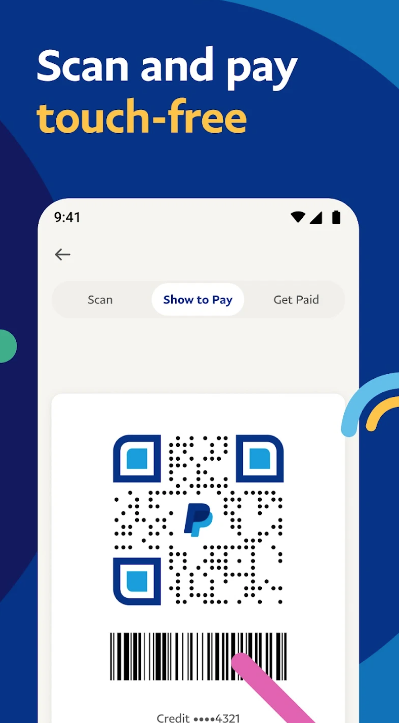 Ideal for: People mostly dealing with overseas transactions
PayPal Key Features:
Send and receive money from anywhere in the world

Link your local credit or debit card for overseas purchases

Request money and get paid easily with PayPal.me links

Split bills

Trade cryptocurrencies

Pay with a QR code
There's plenty of reasons why PayPal has always been a freelancing essential. For one, it's one of the most trusted e-wallets in the Philippines and globally since it's easy to receive payments from clients abroad. You can also use it to send and receive money from your loved ones abroad. More importantly, it makes paying for international purchases and subscriptions more convenient.
Investing in crypto? PayPal also lets you buy, hold, and sell cryptocurrencies.
Lazada Wallet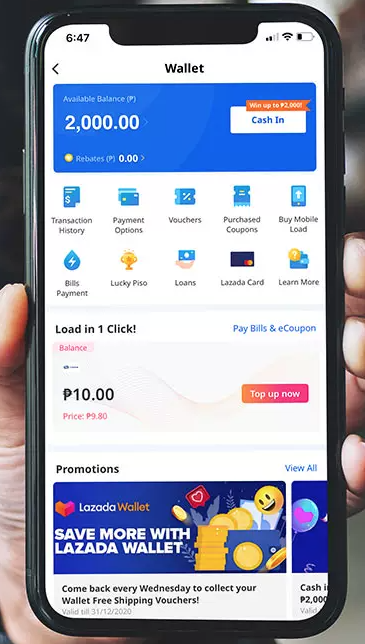 Ideal for: People who constantly shop at Lazada
Lazada Wallet Features:
Make order payments from Lazada a lot more convenient

Shop more, pay later with Lazada Loans

Pay bills from a wide range of billers nationwide

Enjoy exclusive deals and discounts from Lazada
Even Lazada online shoppers can now have their own e-Wallet. Say goodbye to finding spare change when your delivery arrives. Just order, pay using your Lazada Wallet,[3] and receive your package.
Plus, activating your Lazada Wallet gives you access to Lazada Loans so you can shop now and pay later.
ShopeePay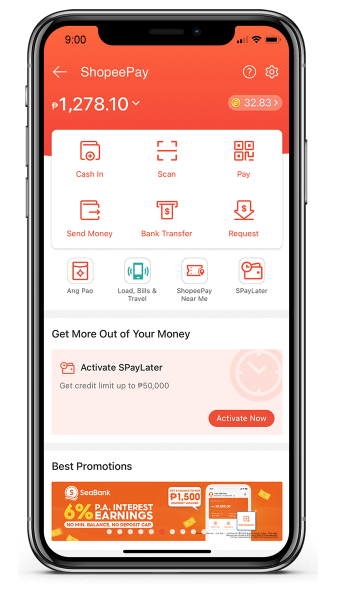 Ideal for: People who constantly shop at Shopee
ShopeePay Features:
Enjoy exclusive discount vouchers and mobile load offers

Settle bills with more than 200 billers nationwide. Bills payment comes with an automatic reminder feature

Pay online transactions and loans

Scan to pay for your purchases at stores, restaurants, gas stations, and other establishments that accept ShopeePay

Send money to ShopeeyPay accounts and other e-wallets in the Philippines
If you're more of a Shopee user, ShopeePay makes a practical payment option for your hauls. This digital wallet in the Philippines helps you save on your shopping by giving you access to exclusive discount vouchers, merchant discounts, and free shipping.
Are you a gamer who uses Garena Shells? Top up using ShopeePay and get cashback worth 10 coins.
Final Thoughts
Isn't it amazing that all it takes to pay is just a few taps on your smartphone? Thanks to e-wallets in the Philippines, you can keep your money safe and complete various transactions without whipping out wads of cash.
The best digital wallets in the Philippines each have their own specific and unique functions. As such, it would be wise to use more than one mobile wallet. For example, you can use GCash as your primary wallet and then download a GCash alternative to access features your main wallet doesn't have.

Sources: