From a mobile wallet app, Maya has evolved into an all-in-one money app that empowers users to save, spend, and grow their money.
The Maya app, which is similar to mobile wallets such as GCash and Coins.ph, can be used to conveniently pay bills, make online purchases, send money, and avail of other financial services without using cash—anytime, anywhere.
This finance app also has plenty of other useful features. Check out this guide on how to use the Maya app.
What Can You Use the Maya App for?
But before you learn how to use the Maya app, check out the Maya benefits and features:[1]
👉 Money Transfer
You can instantly send or receive money through the Maya app using your mobile number or QR code.
👉 Digital Banking
Maya Bank, Maya's digital bank, attracts new users with an easy application process—all you need is at least one valid ID to open an account! In case you're wondering, there's no Maya card maintaining balance.
But what truly makes Maya Bank a game-changer is its high-yield savings account. You can enjoy up to 10% interest per annum.[2] Don't worry—it's regulated by the Bangko Sentral ng Pilipinas (BSP).
👉 Credit Access
With Maya, you can open your own virtual credit line and get access to instant credit of up to ₱18,000 in a matter of seconds. Use the money you borrowed to pay your bills, top up your load, or even buy a new phone.[3] Note that the Maya credit interest rate is 0.17% of the unpaid principal or balance if you don't pay after the due date.
👉 Crypto Exchange

Grow your money with the cryptocurrency exchange feature of the Maya app. Trade, hold, save, and spend crypto for as low as ₱1 all in one platform. If you're new to crypto trading, you can even learn through the Maya app![4]
👉 Online Shopping
There's no shortage of verified merchants and sellers who accept payment through the Maya app. Whether you're shopping online or in-store, don't hesitate to pay for your goods using your Maya card—both the physical and virtual ones are accepted.
👉 Bills and Merchants Payment
No need to go out and wait in line to pay your bills. The Maya app makes it easy and convenient to send your payment to billers.
👉 Load Purchase
You can purchase mobile data through the Maya app. You can even send data packages to other users.
Read more: [Battle of the Brands] Maya vs GCash: Which Mobile Wallet App is Right for You?
How to Use the Maya App: Start With Creating a Maya Account
To enjoy all the features of the Maya app outlined above, you need to sign up. Below are steps on how to open a Maya account.
👉 For Old PayMaya Users
No need to reinstall the app. Just update your existing PayMaya app from the App Store, Google Play Store, or Huawei App Gallery to automatically access the Maya app and its new features.
👉 For New Maya Users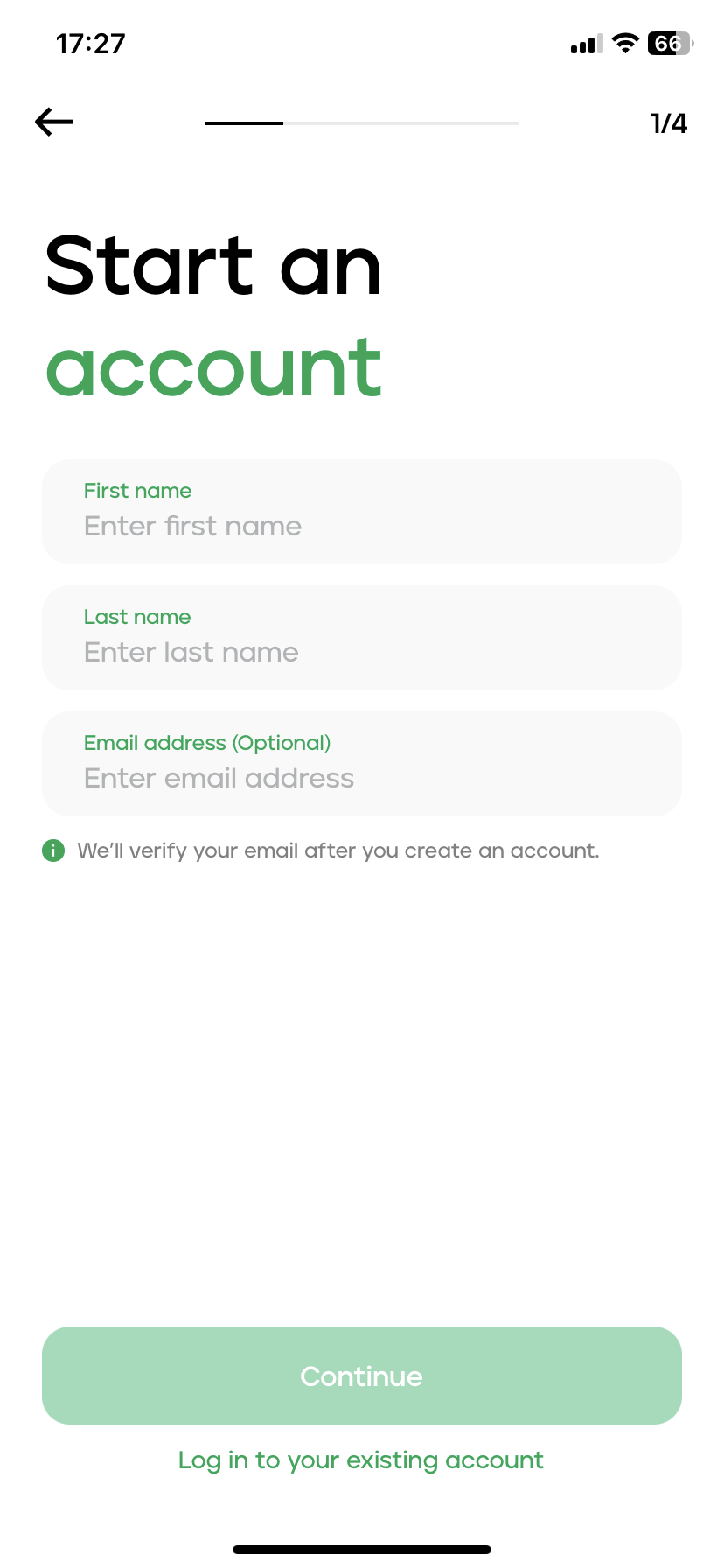 Follow the steps below if you're a newbie:
Download the Maya mobile app from the App Store, Google Play Store, or Huawei App Gallery.
Click Start an Account.
Fill out the online form by entering your personal information. Click Continue.
Input your number and nominate a password. Click Continue.
Read the Data Privacy page and tap Continue.
Customize your data personalization preferences.
Maya will send you a verification code via SMS. Enter the code in the app and tap Verify.
And just like that, you already have a basic account. You can now further learn how to use the Maya app! Just remember that the mobile number you provided is also now your official Maya account number.
🎁 Maya Perks for New Users
Enjoy the following perks when you join and create an account:
Sign-Up Bonus - Get ₱20 outright upon joining. Enjoy ₱40 more when you send money and upgrade your account.
Referral Program - Get up to ₱2,000 when someone you referred opens an account, upgrades their profile, and completes a transaction.
How to Upgrade Your Maya Account
Upgrading your Maya account will allow you to unlock features that aren't accessible to basic account holders. Some of these features include opening a savings account and bumping your wallet limit.[5] Follow the steps below to start learning how to use the Maya app to its full potential.
Go to your profile on the Maya app and select Upgrade Your Account.
Provide the necessary information and documents. You need at least one valid primary ID or two valid secondary IDs. Make sure that the name and birthday you provided in your account upgrade application are the same as the ones reflected in the ID/s you'll be uploading.
Record and submit a video selfie, making sure to follow the instructions on-screen.
You can monitor the status of your upgrade application by going to the Check Status section on the menu page of the app.
Once your application is approved, expect an SMS confirmation within 24 hours. The change will also reflect on your profile in the form of a green checkmark beside your profile icon and name.
With an upgraded Maya account, you can start enjoying more exclusive features!

How Cash In to Your Maya Account

Cashing in is simple and free of charge. You can Just follow these steps on how to load your Maya account:
👉 Through Banks
Open your Maya app. Make sure your account has already been upgraded.
Tap the Cash In icon.
Select Bank Account, then choose your bank from the list.
Enter the amount you want to top up. Click Continue.
Log in to your bank account.
Click the source account you want to link to Maya and tap Authorize.
Once your bank account is linked, the amount you wish to cash into your Maya account will automatically be transferred.
👉 Through Debit/Credit Card
To cash in to Maya using your credit card, Cash In.
Choose Using Credit or Debit Card or Using New Card, whichever applies.
Fill out the required information.
Confirm details, then click Submit.
Key in your One-Time-PIN (OTP).
Wait for an SMS confirmation.
👉 Through Partner Merchants
Go to any partner merchant.
Tell the staff that you want to add funds to your Maya account.
You'll receive a corresponding transaction form. Fill it out.
Give the staff the amount of money you want to load to your account. Fees may apply.
Present your ID for verification.
Wait for an SMS notification confirming that the transaction is complete.
👉 Through TouchPay Kiosks
Open the Maya app and select the TouchPay icon.
Enter and confirm your cash-in amount.
Wait for the seven-digit code that will be sent to you via SMS.
Go to any TouchPay kiosk. Tap e-money, then Maya.
Enter the seven-digit code you received, along with the cash-in amount.
Wait for an SMS notification confirming that the transaction is complete.
Maya Cash-In Partners
You can top up your Maya account balance through the following banks, partner merchants, and TouchPay kiosks:
| Mobile and Online Bank Transfer via InstaPay | Mobile and Online Bank Transfer via PESONet |
| --- | --- |
| AUB | Bank of China |
| BanKo | CTBC Bank |
| Bank of Commerce | Development Bank of the Philippines |
| BPI | Hana Bank |
| Cebuana Lhuillier Rural Bank | Hong Kong and Shanghai Banking Corporation (HSBC) |
| China Bank Savings | Philippine National Bank (PNB) |
| CIMB Bank Philippines | PSBank |
| Equicom | Robinsons Bank |
| LANDBANK | Shinhan Bank |
| Maybank Philippines | UnionBank |
| Metrobank | |
| PBCom | |
| Philippine National Bank (PNB) | |
| PSBank | |
| Rizal Commercial Banking Corporation (RCBC) | |
| Robinsons Bank | |
| Security Bank | |
| Sterling Bank of Asia | |
| UnionBank | |
You can also cash in via these convenience stores, malls, and remittance centers:
| Convenience Stores | Malls/Supermarket/Department Stores | Remittance Centers | Pay & Go Self-Service Kiosks |
| --- | --- | --- | --- |
| 7-Eleven | All Day Mart | Cebuana Lhuillier | Alfamart |
| Alfamart | All Day Supermarket | DA5 | eTap |
| Family Mart | Ever Supermarket | Palawan Express | Family Mart |
| Uncle John's | Landers | Pera Hub | Pay&Go |
| Southstar Drug | No Brand | RD Pawnshop | Robinson's Supermarket |
| | Robinsons Department Store | Tambunting Pawnshop | Touchpay |
| | Robinsons Easymart | TrueMoney | ZoomPay |
| | Robinsons Supermarket | Villarica | |
| | Shopwise | | |
| | Super 8 | | |
| | The Marketplace | | |
| | The SM Store | | |
| | Waltermart | | |
Maya Cash-In Fee
The Maya cash-in feature is free of charge in select channels as long as it's within the ₱8,000 monthly threshold. When you exceed your monthly threshold, a processing fee of 2% will be deducted from your credited balance.
However, take note that Maya will only charge the 2% processing fee when you add funds via over-the-counter channels. Use digital channels instead to avoid such Maya transaction fees and ensure a safer cash-in experience.
How to Cash Out from Maya

You can withdraw funds directly from your Maya account via any Bancnet ATM in the Philippines. Note that different banks impose different charges.
Here's how to cash out from Maya:
Request the 16-digit Maya Center number from where you'll be cashing out.
Tap Send Money on your app.
Enter the Maya Center number and the amount. Tap Continue.
Double-check all info. Click Send.
Wait for the confirmation.
How to Get a Maya Card
What is a Maya card? Maya cards work similarly to debit cards. Use them to easily access the money in your Maya account balance.
There are two kinds: the physical and the virtual card. Curious to learn how to use the Maya cards? Learn more below.
💳 Maya Physical Card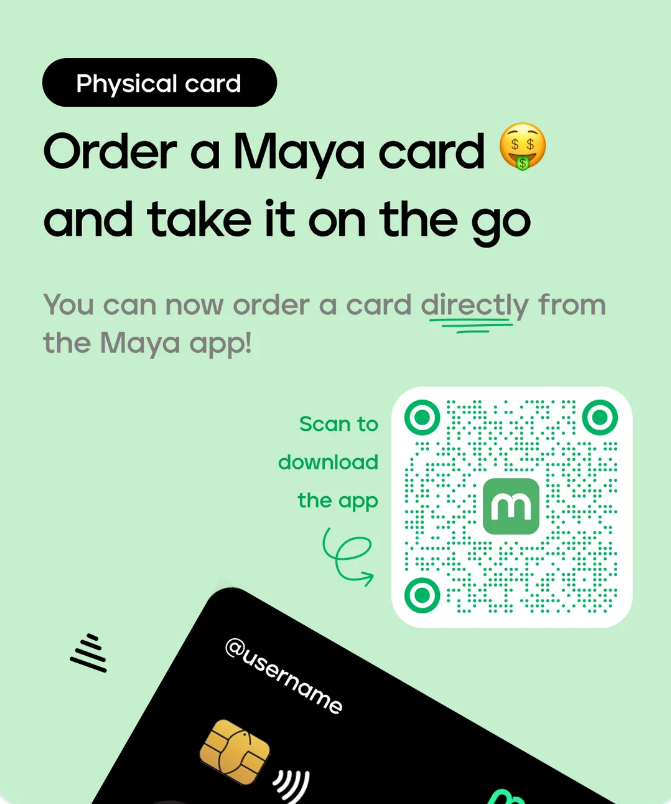 Use the physical card as you would your debit card at restaurants, department stores, and other establishments. But that's just one of the Maya card benefits—with a physical Maya card, you can also withdraw from ATMs anywhere.
Get a physical card by purchasing directly from the app.[6]
How to Link a Physical Card to the Maya App
Before anything else, link your physical card to the app. This way, you can view your transaction history and track how your card is used.[7] Follow these steps to link your physical card to the app:
Log in to your Maya account.
Go to the Cards tab from the dashboard.
Click on Link Your Maya Card.
Enter your Maya card details such as your card number, expiry date, and security code.
Provide a six-digit PIN that you'll use for ATM withdrawals from your Maya account.
View your linked card in the Card Carousel.
How to Withdraw Using the Maya Card
Go to a domestic or international ATM accepting VISA or Mastercard.
Insert your physical Maya card.
Choose Savings.
Choose your desired amount.
Enter your PIN.
Claim your cash and receipt.
Note that there's an ATM withdrawal fee for your Maya card, depending on your chosen bank. It ranges from ₱15 to ₱18.
Wondering where to withdraw using your Maya card without a fee? Unfortunately, there's no way to avoid the withdrawal fee at ATM terminals.
💳 Maya Virtual Card
If you're wondering about how to use Maya without a physical card, it's easy. Maya offers a virtual card that can be accessed via the app. Use the virtual card to shop online and do other cashless transactions.[8]
How to Activate a Virtual Card
First, make sure you have an upgraded account and at least ₱100 in your balance to proceed.
Go to the Cards tab from the dashboard.
Click Order a Virtual Card.
Tap Get a Free Card. Tap Get a Virtual Card.
View the Terms and Conditions and Privacy Policy.
Tap the Card Carousel to see the details of your virtual card.
How to Buy Load, Gaming Credits, or Subscriptions

Conveniently buy prepaid call, text, and data packages for Globe, Smart, TNT, TM, PLDT Home, and Dito, among others, through the Maya app. You can also buy gaming credits for Garena, Steam, and other games, as well as a prepaid cable subscription for Cignal.
Here's how to buy load via Maya:
From the Maya app homepage, tap More.
Select Shop.
Open your desired tab from the different categories: Load, Games, Entertainment, etc.
Choose the specific package you want to buy.
Enter your number or the recipient's mobile number.
If you'll be sending mobile load or any data package to others, toggle the Send as Gift button.
Add a message (optional). Tap Continue.
Verify your purchase details. Tap Buy.
Wait for Maya's confirmation of your purchase.
How to Pay Bills
Maya has a service that allows you to pay your electricity, water, telco, and cable bills with just a few taps. You can also pay for government transactions such as Pag-IBIG contributions and housing loans, NBI clearance, and PSA documents (e.g., birth certificate, marriage certificate, etc.).
To pay your bills via the Maya app, follow these steps:
Log in to your Maya account.
Select Pay Bills from the homepage.
Choose the biller from the list.
Input your account number and other details.
Enter the payment amount.
Review and confirm your payment details.
Wait for an SMS notification to confirm your transaction.
There's no need to enroll a biller to pay bills through the Maya mobile app. The app doesn't issue an official receipt, but it provides a reference number for tracking your payment.
For recurring payments, you can save the details of a transaction to easily access it the next time around.
How to Pay Using Maya QR
The Maya QR is a handy feature on the Maya mobile app that allows users to pay for their purchases in any partner store using only their smartphone. Using a QR code for digital payments in the Philippines is highly convenient as you simply need to scan and pay.
It's also widely accepted by many establishments. The SM Store, Jollibee, and McDonald's are some of the merchants that accept payments via Maya QR.
Maya's in-app service is free and quick to use. Just make sure you have a reliable internet connection. Follow the steps below:
Log in to your Maya account.
Tap Scan to Pay at the lower part of your home screen.
Align the small square on your phone's screen with the merchant's QR code to scan it.
Enter the payment amount.
Verify your payment details. Click Pay or Send Payment.
Wait for an SMS confirmation that your transaction is successful.
Show the merchant the confirmation message.
How to Send Money to a Maya Account
If your Maya account is upgraded, you can transfer money from your account to another person's Maya wallet.
You can even transfer money from Maya to GCash and Maya to Coins.ph, but you'll have to use the Bank Transfer feature for this. Maya's Send Money service is free. Follow these steps to use this feature:
Log in to your Maya account.
Tap Send Money to transfer cash to another Maya wallet.
Key in the recipient's mobile number or username. If it's saved in your phone contact list, just press the contacts symbol and search for the number.
Enter the amount.
Tap Continue.
Confirm your transaction details. Click Send.
Wait for the SMS confirmation.
How to Link Maya to PayPal
Are you among the entrepreneurs or freelancers who receive payments via PayPal? You can transfer your PayPal balance to your Maya account. But first, you have to link Maya to PayPal. Follow the steps below:
Log in to your PayPal account.
Go to Banks and Cards and choose Link a Card.
Enter your Maya card information. Make sure your PayPal address matches the one you used for Maya.
Note that you need to have at least ₱100 in your Maya balance to link to PayPal. This will be refunded once PayPal verifies that the Maya card is valid.
👉 How to Transfer Your PayPal Balance to Your Maya Account
You can withdraw your PayPal balance to your Maya account by following these steps:
Log in to your PayPal account.
From the homepage, click on your wallet balance.
Click Withdraw Funds.
Enter the amount. Choose your Maya card.
Review your transfer details and confirm the transfer of funds.
Wait for a notification confirming that your transaction was a success.
Fees and charges may apply.
How to View Maya Deals and Discount Offers
Maya posts about its latest promos and discounts via its social media channels. It also allows Maya app users to access such information through the app. To access Maya deals and discount mechanics via the app, do this:
Log in to your Maya account.
Tap More from the homepage.
Select Deals.
Choose among the different promo offers from Maya.
Final Thoughts
Once you know how to use the Maya app, you'll see just how handy a tool it is for anything money-related.
But just like other mobile apps, Maya can still be prone to security risks. So be careful when using the app to avoid losing your money to scammers.

Sources: