From a mobile wallet app, PayMaya has evolved into an all-in-one money app called Maya that empowers users to save, spend, and grow their money.
It's still one of the best reloadable prepaid cards in the Philippines—that much hasn't changed. So it still enables several financial transactions without the need for a credit card.
The Maya app, which is similar to mobile wallets such as GCash and Coins.ph, can be used to conveniently pay bills, make online purchases, send money, and avail other financial services without using cash anytime and anywhere.
But Maya's reach is no longer limited to these transactions. The renewed finance app now has plenty of other features to flaunt. Check out this comprehensive guide on how to use Maya for beginners.
Features of the Maya App
Make the most out of the new Maya app by using its upgraded features[1]:
Money Transfer
You can instantly send or receive money through the Maya app using your mobile number or QR code.
Digital Banking
Maya has launched a digital bank that's regulated by the Bangko Sentral ng Pilipinas (BSP). The Maya Bank attracts new users with an easy application process—all you need is at least one valid ID to open an account! You also need no maintaining balance to keep your account open.
But what truly makes Maya Bank a game-changer is its high-yield savings account. You can enjoy a 6% interest rate if you open an account on or before August 31, 2022.[2]
Credit Access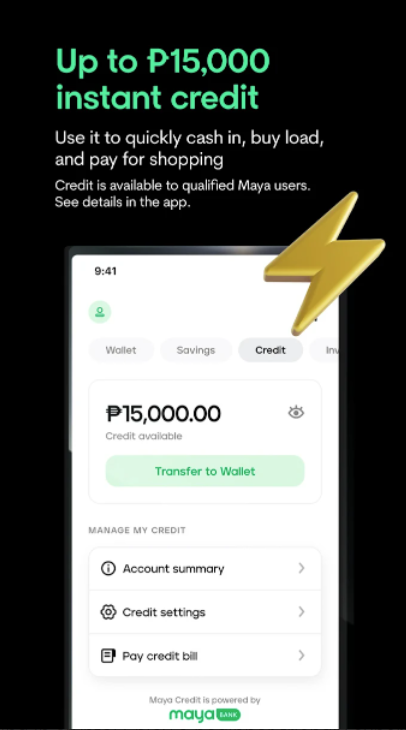 With Maya, you can open your own virtual credit line and get access to instant credit of up to ₱15,000 in a matter of seconds. Use the money you borrowed to pay your bills, top up your load or gaming credits, or even buy a new phone.[3]
Crypto Exchange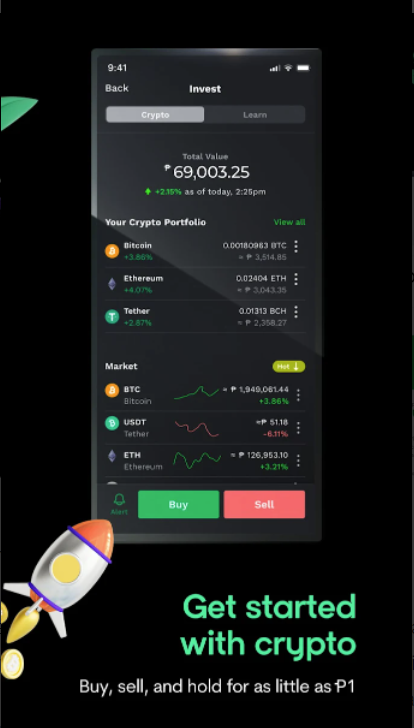 Grow your money with the cryptocurrency exchange feature of the Maya app. Trade, hold, save, and spend crypto for as low as ₱1 all in one platform. If you're new to crypto trading, you can even learn through the Maya app![4]
Online Shopping
There isn't a shortage of verified merchants and sellers who accept payment through the Maya app. So, whether you're shopping online or in-store, don't hesitate to pay for your goods using your Maya card—both the physical and virtual ones are accepted.
Read more:
Bills and Merchants Payment
No need to go out and wait in line to pay your bills. The Maya app makes it easy and convenient to send your payment to billers.
Load Purchase
You can purchase mobile data through the Maya app to always stay online. Moreover, you can even send data packages to other users.
Maya Perks for New Users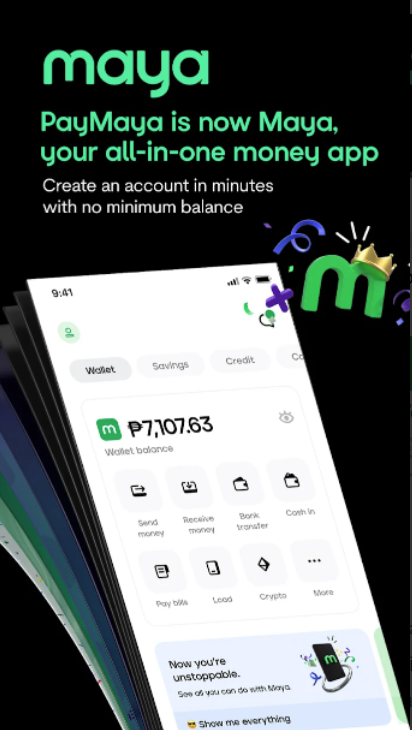 Enjoy the following perks when you join and create an account:
Sign-Up Bonus - Get ₱20 outright upon joining. Enjoy ₱80 more when you send money and upgrade your account.
Referral Program - Get up to ₱100 when someone you referred opens an account, upgrades their profile, and completes a transaction.
Load Cashback - Enjoy 100% cashback when you purchase your first mobile load or data. As a basic user, you're entitled to up to ₱50 of load cashback. If you've already upgraded your account, you can get up to ₱200 of your money back.
How to Create a Maya Account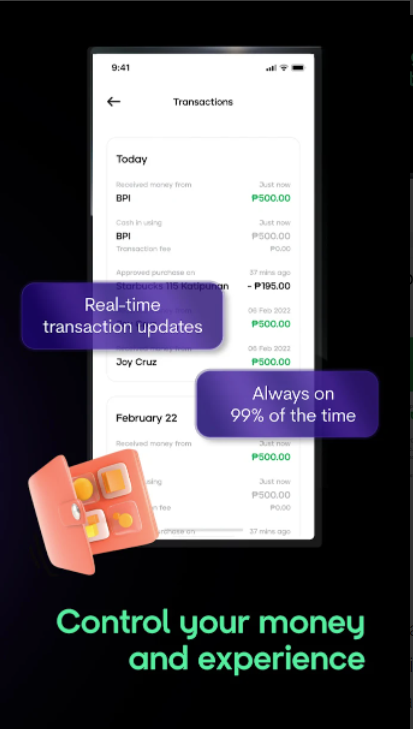 To enjoy all the features of the Maya app outlined above, you need to first sign up. Below are steps on how to open a Maya account.
For Old PayMaya Users
No need to reinstall the app. Just update your existing PayMaya app from the App Store, Google Play Store, or Huawei App Gallery to automatically access the Maya app and its new features.
For New Maya Users
Follow the steps below on how to get Maya if you're a newbie:
Download the Maya mobile app from the App Store, Google Play Store, or Huawei App Gallery.
Fill out the online form by entering your personal information.
Read the Data Privacy Policy page and tap the 'Agree' button.
Maya will send you a verification code via SMS. Enter the code in the app and tap 'Proceed.'
For additional rewards, you can input an invite code.
And just like that, you already have a basic account. Just remember that the mobile number you provided is also now your official Maya account number.
How to Upgrade Your Maya Account
Upgrading your Maya account will allow you to unlock features that aren't accessible to basic account holders. Some of these features include opening a savings account and bumping your wallet limit.[5] Follow the steps below to start learning how to use the Maya app to its full potential.
Go to the menu section of your Maya app and select 'Upgrade Your Account.'
Provide the necessary information and documents. You need at least one valid primary ID or two valid secondary IDs. Make sure that the name and birthday you provided in your account upgrade application are the same as the ones reflected in the ID/s you'll be uploading.
Record and submit a five-second video of yourself, making sure to follow the instructions on-screen.
You can monitor the status of your upgrade application by going to the 'Click My Upgrade Status' section on the menu page of the app.
Once your application is approved, expect an SMS confirmation within 24 hours. The change will also reflect on your profile in the form of a green checkmark beside your profile icon and name.
With an upgraded Maya account, you can start enjoying more exclusive features!

How to Add Money to Your Maya Account
Cashing in is simple and free of charge. Just follow these steps on how to load your Maya account:
Through Banks
Open your Maya app. Make sure your account has already been upgraded.
Tap the 'Cash In' icon.
Select 'Bank Account,' then choose your bank from the list.
Enter the amount you want to top up. Click 'Continue.'
Log in to your bank account.
Click the source account you want to link to Maya and tap 'Authorize.'
Once your bank account is linked, the amount you wish to cash into your Maya account will automatically be transferred.
Through Partner Merchants
Go to any partner merchant.
Tell the staff that you want to add funds to your Maya account.
You'll receive a corresponding transaction form. Fill it out.
Give the staff the amount of money you want to load to your account. Fees may apply.
Present your ID for verification.
Wait for an SMS notification confirming that the transaction is complete.
Through TouchPay Kiosks
Open the Maya app and select the 'TouchPay' icon.
Enter and confirm your cash-in amount.
Wait for the seven-digit code that will be sent to you via SMS.
Go to any TouchPay kiosk. Tap 'e-money,' then 'Maya.'
Enter the seven-digit code you received, along with the cash-in amount.
Wait for an SMS notification confirming that the transaction is complete.
Maya Cash-In Partners
You can top up your Maya account balance through the following banks, partner merchants, and TouchPay kiosks:
| Mobile and Online Bank Transfer via InstaPay | Mobile and Online Bank Transfer via PESONet |
| --- | --- |
| AUB | Bank of China |
| BanKo | BDO |
| Bank of Commerce | Citibank |
| BPI and BPI Family Savings Bank (via linked account) | CTBC Bank |
| BDO | Development Bank of the Philippines |
| Cebuana Lhuillier Rural Bank | EastWest Bank |
| China Bank | Hana Bank |
| China Bank Savings | Hong Kong and Shanghai Banking Corporation (HSBC) |
| CIMB Bank Philippines | Philippine National Bank (PNB) |
| EastWest Bank | PSBank |
| Equicom | Robinsons Bank |
| Land Bank | Shinhan Bank |
| Maybank Philippines | United Coconut Planters Bank (UCPB) |
| Metrobank | UnionBank (via linked account) |
| PBCom | |
| Philippine National Bank (PNB) | |
| PSBank | |
| Rizal Commercial Banking Corporation (RCBC) | |
| Robinsons Bank | |
| Security Bank | |
| Sterling Bank of Asia | |
| United Coconut Planters Bank (UCPB) | |
| UnionBank (via linked account) | |
Maya Cash In via Convenience Stores, Malls, and Remittance Centers
| Convenience Stores | Malls/Supermarket/Department Stores | Remittance Centers | Pay & Go Self-Service Kiosks |
| --- | --- | --- | --- |
| 7-Eleven | Ever Supermarket | Palawan Express | eTap |
| Alfamart (via ZoomPay) | Gaisano Capital | Pera Hub | Landers Superstore |
| Family Mart (via ZoomPay) | No Brand | RD Pawnshop | Lawson (via Pay&Go) |
| Ministop (via Pay & Go) | Robinsons Department Store | Tambunting Pawnshop | Mercury Drug (via Pay&Go) |
| Southstar Drug | Robinsons Easymart | | Pay & Go |
| | Robinsons Supermarket | | Super8 (via Pay&Go) |
| | Shopwise | | Touchpay |
| | The Marketplace | | ZoomPay |
| | The SM Store | | |
| | Waltermart | | |
Read more: Top Remittance Centers and Money Transfer Services in the Philippines
Maya Cash-In Fee
The Maya cash-in feature is free of charge in select Add Money channels as long as it's within the ₱10,000 monthly threshold. When you exceed your monthly threshold, a processing fee of 2% will be deducted from your credited balance. However, take note that Maya will only charge the 2% processing fee when you add funds via over-the-counter channels. Use digital channels instead to avoid such fees and ensure a safer cash-in experience.
How to Get a Physical Maya Card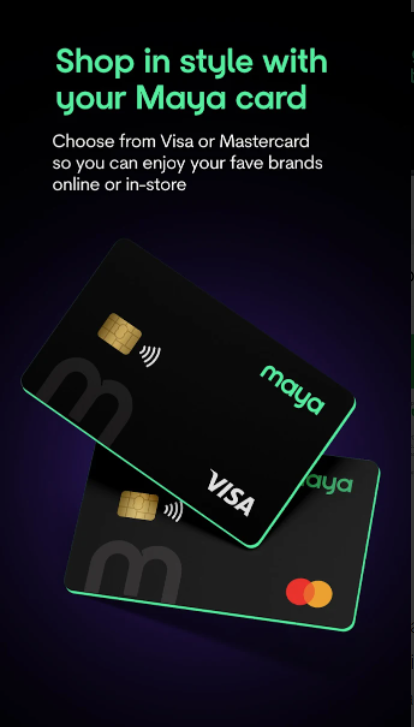 With a physical Maya card, you can withdraw from ATMs anywhere when you need cash. You can get a physical card by purchasing from the online Maya store. Each card costs ₱200, but you can get one on sale for ₱150. You have the option to buy just one card, or get two or three cards.[6]
How to Get a Virtual Maya Card
If you're wondering about how to use Maya without a card, it's easy. Maya offers a virtual card that can be accessed via the app. You can use the virtual card to shop online and do other cashless transactions.[7] To activate your virtual card, follow these simple steps:
Log in to your Maya upgraded account.
To start, make sure you have at least ₱100 in your wallet.
Go to the 'Cards' tab from the dashboard.
Tap 'Online Payment Card, then 'Activate Now.'
Enter your date of birth and address (home or office). Click 'Next.'
Tap 'View Card' to see the details of your virtual card.
How to Link a Maya Physical Card to the Maya App
By linking your physical card to the app, you can view your transaction history and track how your card is used.[8] Follow these steps to link your physical card to the app:
Log in to your Maya account.
Go to the 'Cards' tab from the dashboard.
Click on 'Link PayMaya Card.'
Enter your Maya card details such as your card number, expiry date, and CVV. Also provide a six-digit PIN that you'll use for ATM withdrawals from your Maya account.
Tap 'Link Card,' then 'Done.'
How to Pay Using Maya QR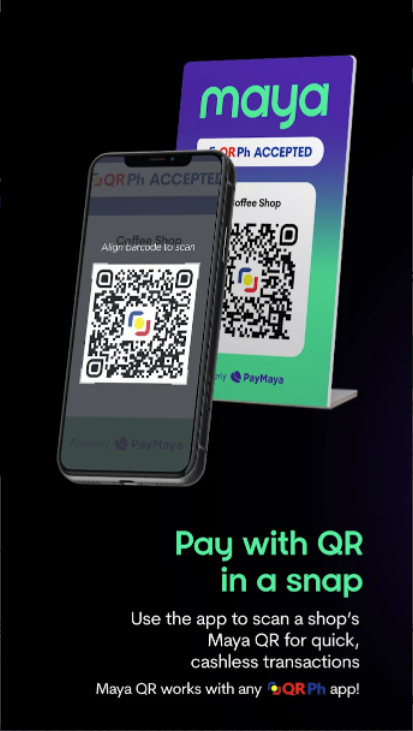 The Maya QR is a handy feature on the Maya mobile app that allows users to pay for their purchases in any partner store[9] without cash using only their smartphone. As you may know, using a QR code for digital payments in the Philippines is highly convenient as you simply need to scan and pay. It's also widely accepted by many establishments.
The SM Store, Jollibee, and McDonald's are some of the merchants that accept payments via Maya QR. Maya's in-app service is free and quick to use. Just be sure you have a reliable internet connection. Follow the steps below on how to pay using Maya QR:
Log in to your Maya account.
Tap 'Pay with QR' at the lower part of your home screen.
Align the small square on your phone's screen with the merchant's QR code to scan it.
Enter the payment amount.
Verify your payment details, then click 'Pay' or 'Send Payment.'
Wait for an SMS confirmation that your transaction is successful.
Show the merchant the confirmation message.
How to Buy Load Using the Maya App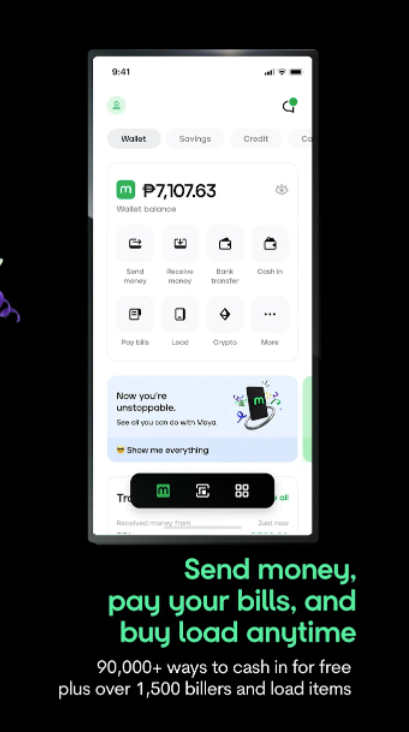 It's convenient to buy prepaid call, text, and data packages for Globe, Smart, TNT, TM, PLDT Home, and Dito, among others, through the Maya app. You can also buy gaming credits for Garena, Steam, and other games, as well as a prepaid cable subscription for Cignal. Here's how:
From the Maya app homepage, tap 'More.'
Select 'Shop.'
Open your desired tab from the different categories: Load, Games, Entertainment, etc.
Choose the specific package you want to buy.
Enter your number or the recipient's mobile number.
If you'll be sending mobile load or any data package to others, toggle the 'Send as Gift' button.
Add a message (optional). Tap 'Continue.'
Verify your purchase details. Tap 'Buy.'
Wait for Maya's confirmation of your purchase.
How to Pay Bills With Maya App
Maya has a Pay Bills service that allows you to pay your electricity, water, telco, and cable bills with just a few smartphone taps.
It has also extended its bills payment feature to accept payments for government transactions such as Pag-IBIG contribution and housing loan, NBI clearance, and PSA documents (e.g., birth certificate, marriage certificate, etc.). To pay your bills via the Maya app, follow these steps:
Log in to your Maya account.
Select 'Bills' from the homepage.
Choose the biller from the list.
Input your account number and other details.
Enter the payment amount.
Review and confirm your payment details. Tap 'Pay.'
Wait for an SMS notification to confirm your transaction.
There's no need to enroll a biller to pay bills through the Maya mobile app. The app doesn't issue an official receipt, but it provides a reference number for tracking your payment.
For recurring payments, you can save the details of a transaction to your Favorites to easily access it the next time around.
How to Link Maya to PayPal
Are you among the entrepreneurs or freelancers who receive payments via PayPal? You can transfer your PayPal balance to your Maya account. But first, you have to link Maya to PayPal. Follow the steps below:
Log in to your PayPal account.
Go to the 'Wallet' tab.
Tap the plus sign next to 'Banks and cards.'
Select 'Debit and credit cards.'
Enter your Maya card information, i.e., your 16-digit card number, card expiry date, and security code or CVV.
Enter your billing address.
Click 'Add card.'
How to Transfer Your PayPal Balance to Your Maya Account
You can withdraw your PayPal balance to your Maya account by following these steps:
Log in to your PayPal account.
From the homepage, click on your wallet balance.
You should see an option to 'Transfer Money.' Select that.
Choose your Maya card. You have an option to select an instant transfer or a standard transfer. Choose your preference, then click 'Next.'
Enter the amount to transfer. Click 'Next.'
Review your transfer details and confirm the transfer of funds.
Wait for a notification confirming that your transaction was a success.
If you selected instant transfer, you should see the money reflected on your Maya app within minutes. But you'll be charged a 1% fee in exchange. If you opted for the standard transfer, expect to receive your funds within one to four business days. Fees and charges may apply.
How to View Maya Deals and Discount Offers
Maya posts about its latest promos and discounts via its social media channels. It also allows Maya app users to access such information through the app. To access Maya deals and discount mechanics via the app, do this:
Log in to your Maya account.
Tap 'More' from the homepage or Wallet tab.
Select 'Deals' under rewards. This will take you to the Maya site.
Choose among the different promo offers from Maya.
How to Send Money to a Maya Account
Once your Maya account is upgraded, you can transfer money from your account to another person's Maya wallet.
You can even transfer money from Maya to GCash and Maya to Coins.ph, but you'll have to use the Bank Transfer feature for this. Maya's Send Money service is free. Follow these steps to use this feature:
Log in to your Maya account.
Tap 'Send Money' to transfer cash to another Maya wallet.
Key in the recipient's mobile number. If it's saved in your phone contact list, just press the Contacts symbol and search for the number in your Contacts list.
Input the amount to send.
Write a message (optional). You can even further personalize your message by adding a GIF or theme.
Tap 'Continue.'
Review your Send Money transaction details. Tap 'Send.'
Wait for Maya's confirmation via SMS.
How to Cash Out from Maya
You can withdraw funds from your Maya account via any Bancnet ATM in the Philippines. There's no definite Maya ATM withdrawal fee, as banks impose different charges.
Below are tips on how to cash out in Maya.[10] Take note that you need to ensure the following first before attempting to withdraw your funds:
Your Maya account is upgraded (see "How to Upgrade Your Maya Account" above).
You have a physical Maya card with an EMV chip.
You've linked your card to your Maya account and have set up your six-digit ATM PIN (see "How to Link a Maya Physical Card to the Maya App" above).
Final Thoughts
The new Maya app is a handy tool to use for anything money-related. Its new features make it all the more convenient to use as an all-in-one platform. But just like other mobile apps, Maya can still be prone to security risks. So be careful when using the app to avoid losing your money to scammers.

Sources: