It's faster and more convenient than ever to transfer money using a smartphone, thanks to mobile wallets and banking apps. However, most of them don't allow you to transfer money to accounts maintained by other e-wallet apps or banks. Enter InstaPay Philippines, an electronic fund transfer (EFT) service by the Bangko Sentral ng Pilipinas (BSP).
Launched in 2018, InstaPay enables you to transfer money to another bank or a non-bank institution that carries the facility. Read on to learn how InstaPay works and how much InstaPay fees cost.
What is InstaPay?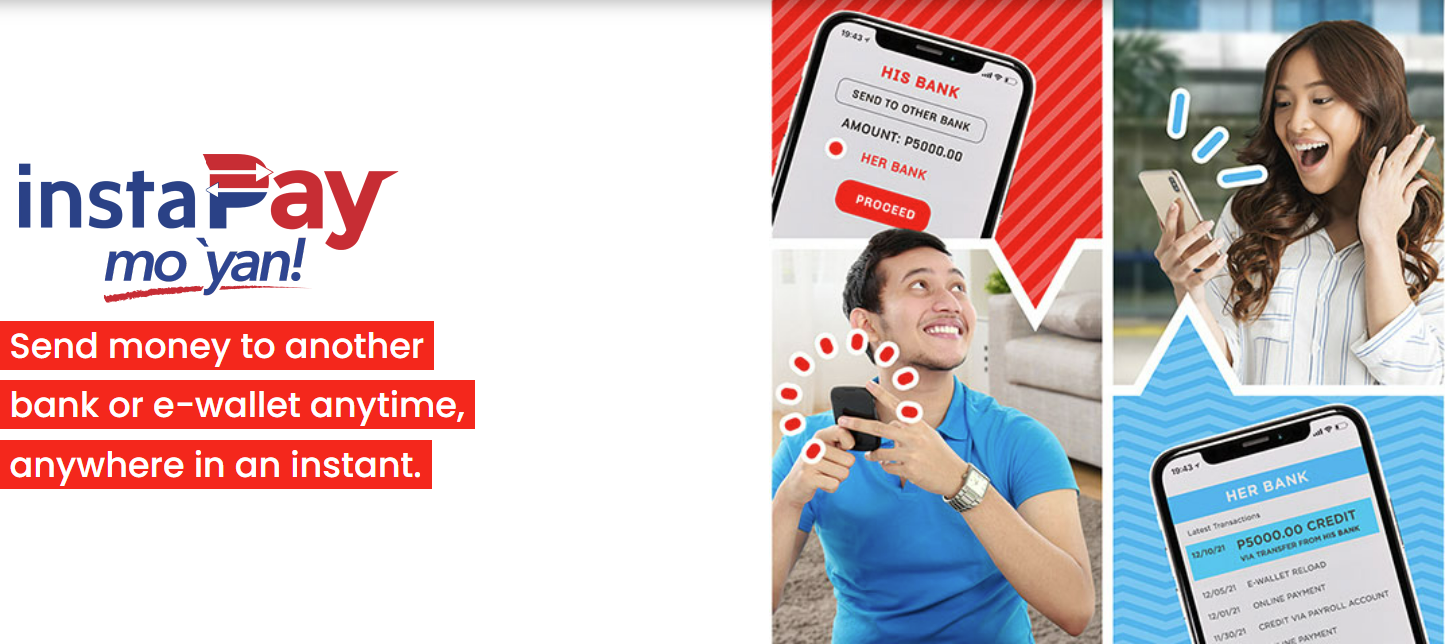 InstaPay is an electronic service that lets you instantly transfer money from your bank or e-wallet to another. It's readily available in partner banks and e-wallets' mobile apps. It's a safe and reliable retail payment system, especially for real-time, low-value fund transfer transactions.
According to the BSP, the value of InstaPay transactions ballooned to ₱1.45 trillion from January to April 2023, a 39.4% increase versus last year's ₱1.04 trillion. Meanwhile, volume increased by 31.2% from last year's 166.41 million to this year's 218.33 million.[1]
This tremendous growth of InstaPay is attributed mainly to Filipinos' increased usage of online banking and e-money transactions when shopping online, paying bills, sending domestic remittances, and making other low-value payments. Suffice it to say, more and more Filipinos now use InstaPay for their daily financial transactions.
See also: Top Remittance Centers and Money Transfer Services in the Philippines
How Does InstaPay Work?
Instapay interconnects banks and non-bank electronic money issuers (EMIs) in the Philippines. Furthermore, the rules and service levels that govern InstaPay are defined, agreed upon, and observed by the Automated Clearing House (ACH) participants.[2]
All settlements are done via PhilPasSS, BSP's real-time gross settlement system. Participating institutions need to pre-fund the settlement of all net clearing obligations through their demand deposit accounts (DDAs) maintained by the BSP. This is to mitigate credit risk and to give small and large institutions the opportunity to participate in the InstaPay ACH.
InstaPay's Participating Banks and Non-Bank E-Money Issuers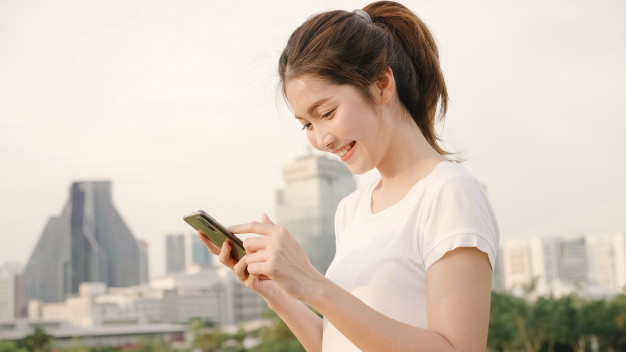 Check out some of the participating InstaPay banks and financial institutions below:
📌 InstaPay Senders and Receivers
AllBank
AUB
Bank of Commerce
BPI / BPI Direct BanKO
Camalig Bank
Card Bank / Card SME Bank
Cebuana Lhuillier Rural Bank
China Banking Corporation
China Bank Savings
CIMB
CIS Bayad Center
CTBC
Development Bank of the Philippines
DCPay Philippines
Equicom Savings Bank
Land Bank of the Philippines
Malayan Savings Bank
Maybank Philippines
Metrobank
PBCom
Philippine Trust Company
Philippine National Bank
Producers Savings Bank Corporation
Philippine Savings Bank
Rizal Commerical Banking Corporation
Robinsons Bank Corporation
SeaBank Philippines
Security Bank
ShopeePay Philippines
Standard Chartered Bank
Sterling Bank of Asia
USSC Money Services
Union Bank of the Philippines

📌 InstaPay Receiver Only
Alipay
Bangko Mabuhay
ISLA Bank
Omnipay
Philippine Business Bank
Quezon Capital Rural Bank
UCPB Savings Bank
For the full list, visit the BSP website.[3]
Related reading: SWIFT Code and Bank Code Lists for Overseas Money Transfers
How Much Do InstaPay Fees Cost in the Philippines?
The receiver will not be charged any fees. However, InstaPay fees may apply to the sender.
Here are the InstaPay transfer or transaction fees for some of the top banks and e-wallets in the country:
| Bank/e-Wallet | InstaPay Transfer Fee |
| --- | --- |
| AllBank | ₱15 |
| AUB | ₱8 |
| Bank of Commerce | ₱15 |
| BPI | ₱0 to ₱25 |
| Cebuana Lhuillier Rural Bank, Inc. | ₱15 |
| China Bank Savings, Inc. | ₱10 |
| China Banking Corporation | ₱10 to ₱15 |
| CIMB | Free |
| CTBC Bank | ₱15 |
| Equicom Savings Bank | ₱15 |
| G-Xchange (GCash) | ₱15 |
| Land Bank of the Philippines | ₱15 |
| Metrobank | ₱0 to ₱25 |
| Maya Philippines | ₱15 |
| PBCom | ₱20 |
| PNB | ₱20 |
| PSBank | ₱15 |
| RCBC | ₱8 to ₱25 |
| Robinsons Bank | ₱10 |
| Security Bank | ₱25 |
| Sterling Bank of Asia | ₱15 |
| Tonik Digital Bank | Free |
| Union Bank of the Philippines | ₱10 |
What Banks Offer Free InstaPay Transfers?
Only digital banks CIMB and Tonik allow free transfers via InstaPay in the Philippines as of this writing.
Some banks currently offer waived InstaPay fees depending on the transfer amount and within a limited period or number of transactions. Check them out:
BPI - Waived fees for transfers worth ₱1,000 and below using the BPI App or BPI Mobile App until September 30, 2023 only
Metrobank - Waived fees for transfers worth ₱1,000 and below using the Metrobank App until September 30, 2023 only
SeaBank - Waived fees for first 15 transfers per week (PESONet and InstaPay combined); ₱15 thereafter
UnionBank - Waived fees for transfers worth ₱1,000 and below until November 11, 2023 only
How to Use InstaPay for Fund Transfers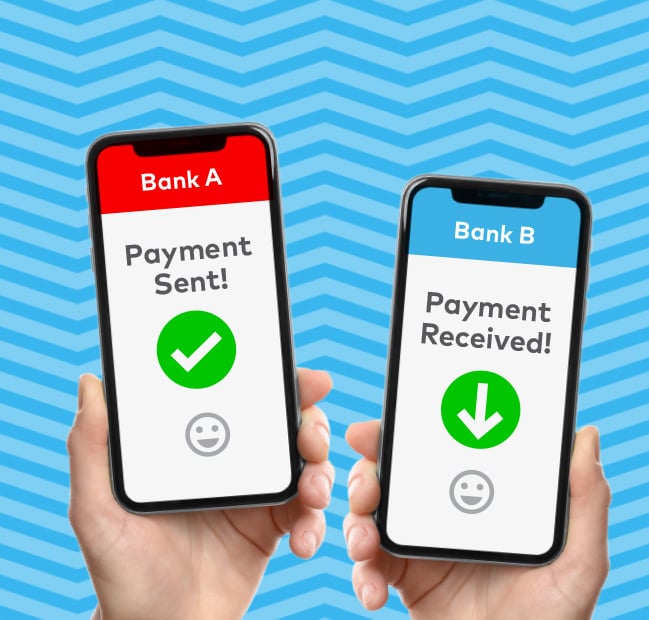 Using InstaPay is pretty straightforward, so you can safely and conveniently use it via your mobile device or computer.
👉 Sending Money via InstaPay
To transfer money via InstaPay, you need to log in to your online/mobile banking or e-wallet account.
Choose Send or Transfer Money. Select the bank or e-wallet to which you'll send money.
Select the account you're sending from. Enter the amount and the recipient's details. It can be a bank account number, mobile number, or QR code.
Confirm and then submit.
Enter the one-time pin to finalize the transfer. You'll receive an SMS or email notification once your transaction is successful.
👉 Receiving Money via InstaPay
You don't have to do anything to receive money via InstaPay. Just wait for the sender to verify that the amount has been credited to your account. Then simply log in to your e-wallet, bank app, or facility to check whether you've already received the money.
FAQs on InstaPay
1. Who owns InstaPay?
The stand-alone, self-governing regulatory structure Philippine Payment Management Inc. (PPMI) governs InstaPay, and the BSP directly oversees and supervises it.
InstaPay is part of the BSP's National Retail Payment System and is powered by BancNet, which acts as the clearing switch operator.
2. Is InstaPay legit and safe?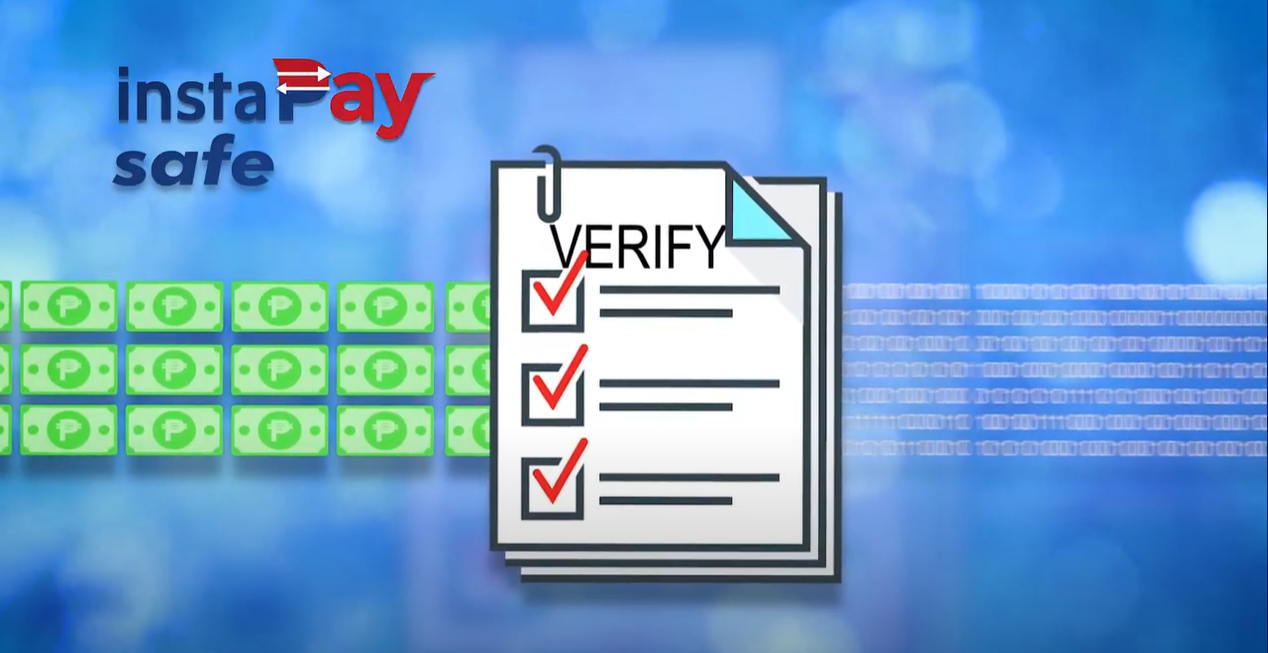 Yes, InstaPay is the fastest and safest way to send and receive money nationwide. It's guarded by a strict verification process and follows global security standards. All transactions are protected and data encrypted.
3. What is the InstaPay limit for transfers?
You can transfer funds up to ₱50,000 per transaction as often as you like daily. However, some banks and other non-bank e-money issuers have a minimum daily limit for sending via InstaPay.
4. What are the advantages and disadvantages of using InstaPay?
Here are the most notable advantages:
Safe and legitimate way to send and receive money electronically
Real-time transactions
Fast and no waiting time
The amount is received in full (no deductions and charges to the receiver)
Minimal transaction charges
Available 24/7 and all year round
Can also be used for in-store or online payment via a QR code
Here are some of the disadvantages:
InstaPay transfer fees can cost up to ₱25 per transaction
Costly if you have to do several InstaPay transfers in a day
Transfer limit of ₱50,000; suitable for low-value payments and remittances only
5. Is there an InstaPay Philippines app?
No, InstaPay doesn't have its own app. But you can access InstaPay when you send money via the participating e-wallet, bank's mobile app, or website.
6. Is money transfer via InstaPay real-time?
Yes, it is! If you're wondering how long InstaPay takes, you'll be glad to know that the receiver will instantly receive the funds after a successful transaction.
7. Can I transfer money to an overseas bank account using InstaPay?
Unfortunately, you can't use InstaPay to transfer money to an international bank or a bank account created overseas. InstaPay is only for Philippine peso fund transfers between savings accounts maintained in the country and participating institutions.
8. Can I transfer money to a non-participating financial institution?
No, you can't. InstaPay operates only between banks and non-bank e-money issuers affiliated with the service.
9. I got a transaction error while using InstaPay. What should I do?
Wondering why InstaPay is not working? Encountered any InstaPay delays? Or perhaps you did not receive the money via InstaPay?
Report any errors and issues to your bank or e-wallet service provider immediately.
Receivers who also encounter an issue with receiving funds via InstaPay Philippines should contact their bank or e-wallet service provider and request for the fund to be returned to the sender.
10. What is the InstaPay Philippines hotline?
Wondering how to contact InstaPay Philippines' customer service? You can do so through BSP. For any InstaPay concerns, reach out to BSP's Online Buddy (BOB) via the following:
Webchat: www.bsp.gov.ph (click the BOB icon on the lower right of the page)
Facebook: www.facebook.com/BangkoSentralngPilipinas
SMS: Globe subscribers can send an SMS to 21582277
You can also send your inquiries and clarifications about InstaPay to psod@bsp.gov.ph.
11. Which is better, InstaPay or PESONet?
Both are reliable when it comes to making online fund transfers. But if you want to transfer funds immediately, InstaPay is the better option. With InstaPay, you can also transfer funds any time, all year round, even on holidays. There are no transaction cut-offs.
Check out this comparison as seen on BSP's InstaPay FAQ Sheet:[2]
Payment Type

Funds Availability

Maximum Transaction Limit

Mode

Service Availability

Charges Applied

InstaPay
Almost immediate
Max of ₱50,000
Electronic
24/7, all year round
Sender may bear charges; receiver is not charged and gets full amount
PESONet
Same day
No limit
Electronic
24/7, all year round
Sender may bear charges; receiver is not charged and gets full amount
Checks
Next day
No limit
Over-the-counter
Banking hours
only
Charges may vary; receiver gets full amount on check
Money Transfer Agent
Same day
No limit
Over-the-counter
Business hours only
Both sender and receiver may bear charges
Final Thoughts
InstaPay offers a fast and reliable way to transfer funds. With just a few clicks on your computer or mobile device and a minimal fee, you can send funds to loved ones and pay for various expenses.
If you haven't discovered the convenience of InstaPay yet, this is the best time to start using it for your daily transactions. Make sure you know how much InstaPay fees cost to avoid any unwelcome surprises!

Sources: