Don't you just hate getting shocked by how much your electricity bill has increased compared to previous months? Now that it's summer once again, your electric consumption is probably higher than before. Here's a guide on how to compute your Meralco bill to avoid bill shock.
Breaking Down Your Meralco Bill Payment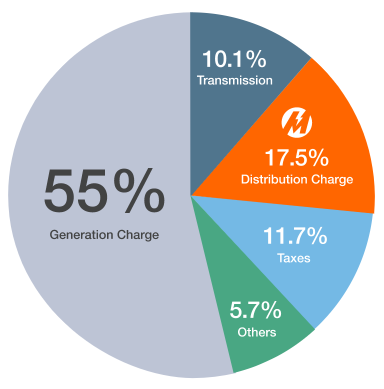 Photo: Meralco website
According to Meralco, only 17.5% of your total bill[1] goes to the company. This means that if your total bill for March 2023 is ₱3,000, only ₱510 of this amount goes to Meralco.
So where does the rest of your payment go? Here is Meralco's breakdown of charges.
📌 Generation Charge: 55%
The Generation Charge goes to paying Meralco's electricity suppliers, like the Independent Power Producers (IPPs) and other power producers.
📌 Transmission Charge: 10.1%
The transmission charge is also known as the delivery charge. When Meralco buys electricity from its power suppliers, it pays 10.1% for the cost of delivery for the electricity to reach Meralco's distribution system. The transmission charge goes to the National Grid Corporation of the Philippines (NGCP), which is the provider of transmission services.
📌 Distribution Charge: 17.5%
Meralco takes 17.5% of your monthly bill to cover the cost of distribution, which pays for the construction, development, operation, and maintenance of the distribution system. This distribution system is used in delivering electricity from high-voltage transmission grids to end-users.
📌 Taxes: 11.7%
This covers local franchise tax, Value Added Tax, Tax Recovery Adjustment Charge (TRAC), and Missionary Electrification Charge, just to name a few.
📌 Other Charges: 5.7%
System loss and Feed-in-Tariff Allowance compose other payables covered by your Meralco bill. A portion of your payment also goes to subsidies provided as a lifeline for low-income customers and senior citizens through a discount of 5% on their bills.
3 Factors Affecting Your Electricity Bill
According to Meralco, a lot of factors contribute to the increased power rates. Below are other factors you should be aware of.
👉 High Heat Index and Increased Demand
Heat index, also known as the apparent temperature, is what the temperature feels like to the human body when relative humidity is combined with the air temperature.[2] The highest heat index recorded so far this year is 47°C in San Jose, Occidental Mindoro and Butuan City, Agusan del Norte.[3]
When the heat index is high, appliances at home are forced to work harder and longer to cope with the temperature. In contrast, during rainy months, the temperature is colder. You won't feel the need to use the air conditioner or electric fan as much, resulting in lower electricity consumption.
👉 Month-on-Month Rate and Consumption Increase
If you hate surprises like a sudden and significant spike in your Meralco bill, then you need to prepare your budget. Before your next Meralco bill arrives, know how to compute your electric consumption for the month based on Meralco's announced rate increase. This will help you correctly compute your potential bill for the month.
Meralco raised its overall rate by ₱0.55 per kilowatt hour (kWh) for March 2023, bringing it to ₱11.43/kWh. This means a typical household consuming 200 kWh per month could expect an increase of about ₱109 in its electric bill.[4]
👉 Type of Appliance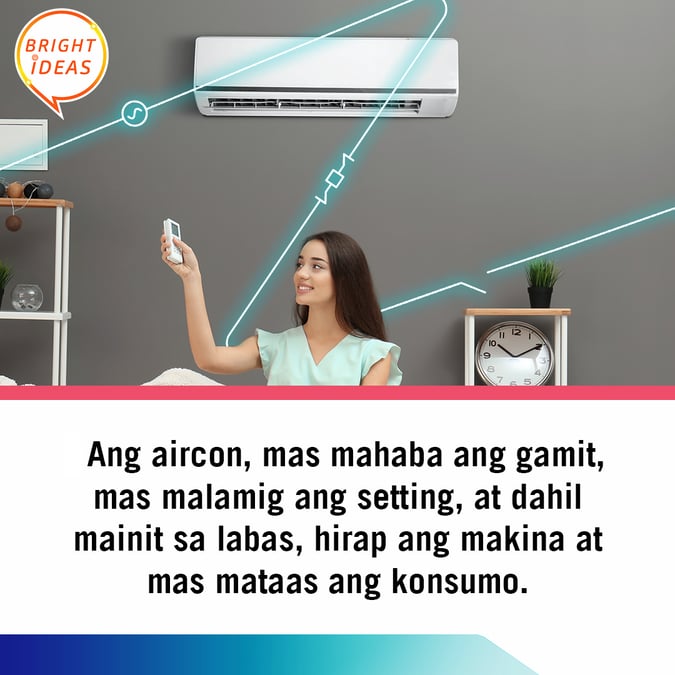 If you want to learn how to compute your Meralco bill, you should know that the type, quantity, and quality of your appliances can greatly affect your consumption rates.
How to Compute Electric Consumption of an Appliance
To compute how many kWh an appliance uses, follow this formula:
kWh per appliance = Wattage/1,000 x number of hours the appliance is used
For a 1HP, 950-watt, non-inverter air conditioner, here's a sample computation.
950 watts /1,000 = 0.95 x 10 hours = 9.5 kWh
9.5 kWh x ₱8.9071/kWh = ₱84.5595
Appliance

Wattage

Cost Per Hour

Cost Per Day if 10 Hrs/Day

Cost Per Week

Rate Per Month

Air Conditioner (Non-Inverter, Window Type, 1HP)
950

₱

8.46

₱

84.60

₱

592.20

₱

2,368.80
Regular Stand Fan
150

₱

1.50

₱

15.00

₱

105.00

₱

42.00
Quantity and Duration of Use
If you're using air conditioners instead of electric fans, your electric consumption will be higher. However, if you're using more than one electric fan for extended hours, then your electricity consumption will be the same as when you're using an aircon.
Quality of Appliances in Use
Did you know that an older refrigerator consumes 66% more electricity[5] than a newer model? Every appliance loses its energy efficiency as it ages.
If you know which appliances you're using the most at home and their condition, you'll have a good idea of how much your bill would be each month.
If you're a Taylor Swift fan (or your kids are), you've surely heard the iconic song "All Too Well." While Taylor makes "dancing around the kitchen in the refrigerator light" sound romantic, Meralco also reminded us that doing so would cost ₱9.79/day.
Learn How to Read Your Electric Meter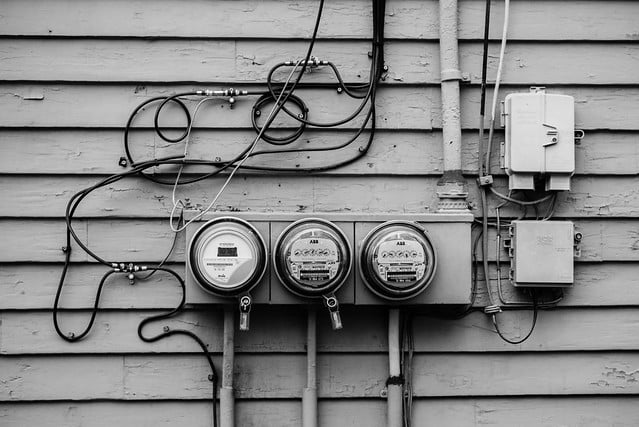 Your electric meter plays a critical role in learning how to compute Meralco bill. Meralco uses your meter readings for the previous month and the present month to determine your total electricity usage in kilowatts per hour (kWh), which is the basis for computing your monthly bill.
Why bother reading your meter yourself? Even if Meralco has trained meter readers who can do the job accurately, being able to read your electric meter lets you keep track of your power consumption to ensure that your household isn't consuming too much electricity.
If your electric meter has a small digital screen display, finding out your electricity consumption is pretty simple and straightforward. Just read the numbers from left to right.
You have an electromechanical meter if it has four dials instead of a digital numerical display. It looks more complicated than a digital meter because its dials move in opposite directions (two moving clockwise and the other two moving counter-clockwise).
But it's actually easy to read. Simply take note of the number that each dial is pointing at, beginning from the rightmost dial to the leftmost dial.
Record your reading this month and subtract it from your reading for the following month. The resulting kWh may not match the actual kWh reflected on your next Meralco bill (as Meralco's meter reading date may be different from yours), but it at least gives you an estimate of your monthly power consumption.
How to Compute Meralco Bill
Many factors affect electricity prices, and they change from time to time. Also, the monthly bill consists of several electricity charges that Meralco calculates using various percentages. A Meralco bill might be too complicated for an average consumer to comprehend.
So if you're trying to figure out how to compute Meralco bill, know that it's impossible to do on your own. You won't know in advance the exact amount to pay for a particular month until your bill arrives.
However, if you're aiming to save on your electric bill, you can compute the cost of using each appliance and electronic device in your home.
Read more: A Guide to Paying Electricity Bills with Meralco Online
How to Compute Electric Consumption in the Philippines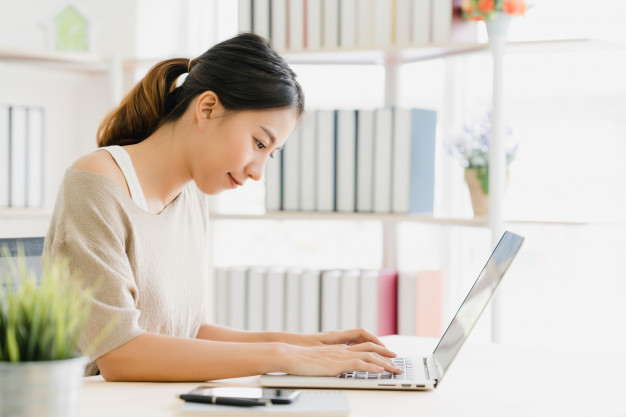 👉 Manual Computation
Follow these steps to manually estimate the electricity consumption of a specific device:
Get your device's wattage. Find this information at the bottom or back of the device, or in the owner's manual. You may also try searching for the device's technical specs online.
Compute the watts the device consumes daily. Multiply the wattage by the average number of hours the device is used per day. Let's say you use a 100-watt electric fan for 10 hours per day. Multiplying 100 watts by 10 hours will result in 1,000 watt-hours—that's how much your electric fan consumes in a day.
Convert watt-hours to kilowatts. Divide the device's watt-hours by 1,000 to convert it to kilowatts, which is the unit of measurement used in a Meralco bill. In the example above, 1,000 watt-hours divided by 1,000 is equal to 1 kWh consumption per day.
Compute the device's monthly power consumption. Multiply your device's daily kWh by 30 days to determine how much it consumes per month. The monthly usage for an electric fan consuming 1 kWh daily is 30 kWh.
List down the monthly electricity usage of your appliances and devices and rank them from highest to lowest. This will let you know which ones consume the most electricity and should be used less and unplugged more often.
👉 Online Computation Using the Meralco Calculator
The formula discussed above is a just simplified approach to estimating your monthly electricity consumption. If you want to know the cost of using your home appliances and devices, use an online calculator that will compute it for you. You may use either the Meralco Appliance Calculator or Wattmatters Calculator.
How to Use Meralco Appliance Calculator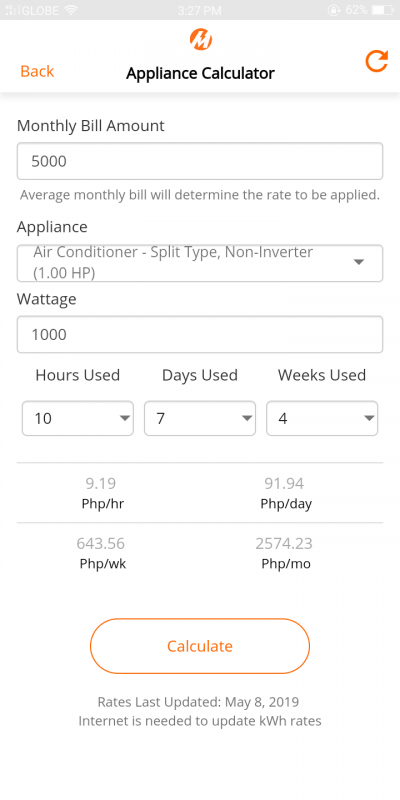 The best way to compute electric consumption is to use the Meralco calculator, which is currently available on the Meralco Mobile app. You may access the Meralco Appliance Calculator without having to register for an account or logging in (if you already have an account).
After installing the Meralco mobile app, you can start computing the electricity cost of your appliances. Here's how:
Tap on the Appliance Calculator icon.
Enter your average monthly bill amount. Just estimate the average based on your latest Meralco billing statements.
Pick an appliance from the drop-down menu. Tap the Set button. The app will show you the appliance's wattage.
Choose the number of hours you use the appliance in a day. Select also the number of days in a week and weeks in a month the appliance is used.
Tap the Calculate button. You'll see the electricity cost per hour, day, week, and month of your appliance.
Using the Meralco Mobile app, you can compute only one appliance at a time. You have to repeat the entire procedure if you want to compute your electricity cost for other appliances.
👉 Online Computation Using the Wattmatters Calculator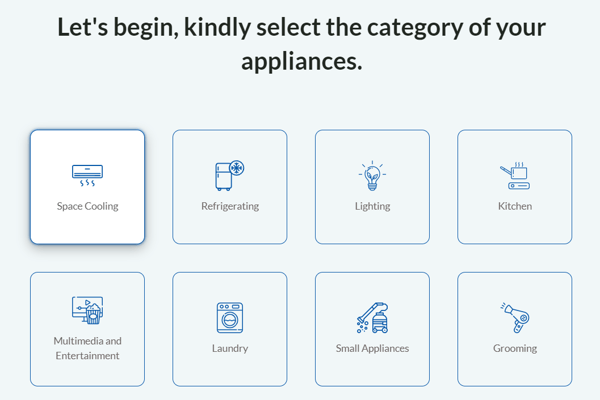 A project by the Department of Energy that promotes energy efficiency, Wattmatters.org.ph has an online consumption calculator that lets you find out how much each of your appliances contributes to your monthly Meralco bill.
Unlike the Meralco Appliance Calculator, the Wattmatter Calculator allows computing for two or more appliances simultaneously to get your total monthly bill.
How to Compute your Meralco Bill Using the Wattmatters Calculator
Go to Wattmatter's Consumption Calculator page.[6]
Click the Let's Start button.
Select the category of appliances and the brand and model you have at home.
Choose the number of hours you use the appliance per day and the unit cost.
Click the Calculate button to see the electricity cost of the appliance per day.
Keep adding other appliances to the Meralco bill computation by repeating all the previous steps per appliance.
When you're done adding all your appliances, check your monthly bill at the bottom of the table.
Read more: Pay Bills Online with These Convenient E-Payment Services
How to File a Complaint for Meralco Bill Disputes
Do you have concerns about your Meralco bill? Is your electric bill way higher than last month's? For such concerns, you can contact Meralco through the following:
Residential Hotline: 16211
Business Hotline: 16210
Email: customercare@meralco.com.ph
You can also use the Meralco Mobile app and the Meralco Online website to file a complaint. Just head to the Contact Us page for both the app and website.
FAQs on How to Compute Meralco Bill
1. How much is the Meralco rate per kWh in 2023?
Meralco had a power rate hike of ₱0.55 per kilowatt-hour in March 2023, bringing it to ₱11.43/kWh.
2. How do you compute electric consumption using a submeter?
It's the same as computing through the main Meralco meter. The rate, however, will depend on your agreement with the primary owner of the Meralco account.
3. How do you pay your Meralco bill using a credit card?
You can pay your Meralco bill via credit card in three ways:
Auto Payment Arrangement - Set up Auto Credit via Meralco Online and your card will be charged every Meralco due date.
Meralco app - On the official Meralco app, enter your credit card details and the amount due. A payment gateway will process your payment with a minimum service charge of ₱15.
Online/Mobile banking - Log in to your credit card account on a mobile app or a web browser. Just take note of your Customer Account Number.
Here are a few credit cards you can use to pay Meralco bills and your other utilities. With the following cards, you can earn rebates on utility payments, earn cash back, enjoy hassle-free auto-charge payments, and more:
💳 BPI Amore Cashback

Minimum monthly income requirement: ₱30,000
Bills payment perks:


1% cash back on utility payments
Auto-Charge – Charge your utility bills automatically
💳 HSBC Red Mastercard

Minimum monthly income requirement:

₱16,667
Bills payment perks:


4x reward points on online, shopping, dining, and overseas spend
HSBC AutoCharge – Pay multiple utility bills automatically
1 reward point for every ₱20 spend
---
🎁

Free Gift from Moneymax:

₱2,500 eGift, ₱2,500 SM Gift Pass, or Dolce Gusto Coffee Machine

Eligible cards: HSBC Red Mastercard, Gold Visa Cash Back, and Platinum Visa Rebate

Promo period: Until September 30, 2023

Not an HSBC credit cardholder yet? Apply for an HSBC card through Moneymax during the promo period (and get approved subsequently) to receive an exciting free welcome gift! Choose from a free eGift voucher worth ₱2,500, SM Gift Pass worth ₱2,500, or a Nescafé Dolce Gusto Piccolo XS coffee machine (worth ₱5,199).
Per DTI Fair Trade Permit No. FTEB-173270 Series of 2023. Terms and conditions apply. This Moneymax HSBC Giftaway/SM Gift Pass/Dolce Gusto promo runs until September 30 only. So hurry and apply now!
---
💳 Metrobank Rewards Plus Visa

Minimum monthly income requirement: ₱29,167
Bills payment perk:


2 rewards points per ₱20 spend on telecom bills
1 rewards point per ₱20 spend on utilities charged to Bills2Pay
Bills2Pay Auto-Charge Program – Charge your monthly utility bills automatically
💳 Security Bank Complete Cashback Platinum Mastercard

Minimum monthly income requirement:

₱65,000


Bills payment perk:




3% rebate on bills payment
SimplyPay – Use your credit card to pay for utilities that require a bank
deposit
Security Bank Bills Assist Program – Settle your monthly bills automatically
Read more related articles:
Final Thoughts
Knowing how to compute your Meralco bill can save you a lot of stress come bills payment time. Understanding the factors that affect your monthly bill can help you cut down on electricity usage as well.
Just like paying for your Meralco bill, computing it in advance is somewhat painful but necessary to ensure your household electricity consumption is under control.

Sources: