Business reopening in more industries has now been allowed along with the gradual relaxing of quarantine restrictions in the Philippines.
Getting back to business after a long lockdown-induced hiatus? "Business as usual" has taken on a whole new meaning during the COVID-19 pandemic. Essentially, it now means observing government-mandated minimum health protocols and doing your part in containing the spread of coronavirus in your community.
How do you restart your business in the new normal? Here are the guidelines business owners should follow, plus a few tips on resuming your operations.
IATF Business Reopening Guidelines
Businesses Authorized to Reopen Under Quarantine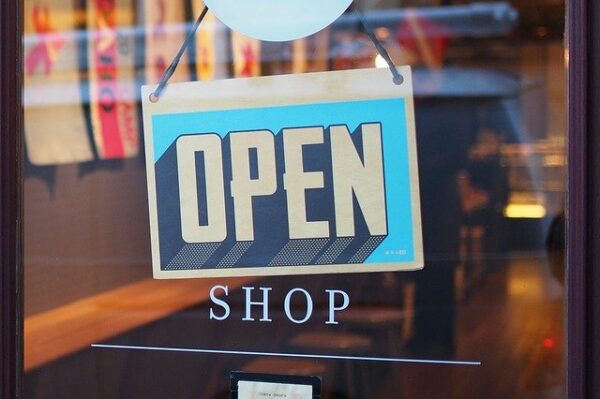 Your business may be allowed to fully or partially operate depending on its nature and whether you're located in an area under the enhanced community quarantine (ECQ), modified enhanced community quarantine (MECQ), general community quarantine (GCQ), or modified general community quarantine (MGCQ).
Before you reopen your business, make sure it's allowed by the government to operate. Check the DTI guidelines on business reopening under community quarantine[1] for the complete list of industries allowed to resume operations under different quarantine levels.
Business Reopening Guidelines for Restaurants
The Inter-Agency Task Force for the Management of Emerging Infectious Diseases (IATF) has authorized food establishments under GCQ to offer dine-in services at up to 30% capacity starting June 15, 2020.
Under MGCQ, dine-in operations in restaurants and food retail establishments are allowed at 50% seating capacity.
In ECQ and MECQ areas, dine-in operations are prohibited. Only delivery and take-out services can operate at half capacity.
Business Reopening Guidelines for Salons and Barbershops
If you own a salon or barbershop in a GCQ or MGQC area, you can resume your business operations but only up to a limited capacity as allowed by the IATF.
Under GCQ, barbershops, salons, and personal care establishments can reopen but only up to 30% capacity. The operational capacity of salons and barbershops can be gradually increased every two weeks after June 7.
Similar establishments in areas under MGCQ may operate at up to 50% venue capacity. After three weeks, these businesses can operate at 100% capacity.
Whether your establishment is located in a GCQ or MGCQ area, you can offer only basic haircutting services. Other salon services such as manicure and pedicure are still prohibited because it's hard to implement physical distancing when providing these services.
Meanwhile, salons and barbershops in ECQ and MECQ areas should remain closed, based on DTI guidelines on business reopening.
Business Reopening Guidelines for Non-Essential Establishments
Non-essential businesses that are banned to operate under ECQ, MECQ, and GCQ may reopen at half capacity under MGCQ. These establishments include gyms, sports facilities, internet shops, karaoke bars, travel agencies, tour operators, spa and wellness centers, and pet grooming services.
Minimum Health Standards for Reopening a Business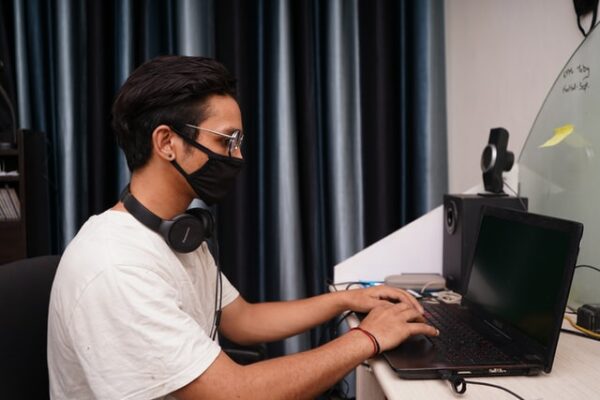 The government requires all reopening businesses in the Philippines to comply with minimum public health standards, including strict social distancing, frequent disinfection, and wearing face masks.
The Department of Trade and Industry (DTI) and Department of Labor and Employment (DOLE) issued guidelines on health and safety protocols[2] that employers must implement to prevent COVID-19 transmission in their workplace.
Proper COVID-19 Protective Gear
Wearing face masks at all times
Providing face masks and personal protective equipment (PPE) for employees
Providing free vitamins and medicines for workers
Employee Health Monitoring
Checking and recording of employees' body temperature
Submission of a daily health symptoms questionnaire
Paying for employees' COVID-19 testing by employers (optional)
Sanitation and Disinfection Measures
Providing soaps, sanitizers, and disinfectants in the place of business
Cleaning and disinfection of frequently handled objects (doorknobs, handles, etc.) at least once every 2 hours
Regular cleaning and disinfection of canteens and kitchens
Disinfection for vehicles and equipment entering the operational area

Social Distancing Measures
Roving officers to check queues outside store premises, ensuring observance of physical distancing
One-meter space between workers and customers (front, side, and back)
Discouraging workers from eating in common areas
Alternative work arrangements such as work from home and working-hour shifts, where possible, on a rotational basis
Use of videoconferencing for long meetings
Discouraging prolonged face-to-face interaction between workers and clients
Limiting the number of people in an enclosed space
Enabling cashless payment modes, if possible
Designating a safety officer to monitor COVID-19 prevention and control measures
Health Protocols for Suspected COVID-19 Cases in the Workplace
When an employee is suspected of having COVID-19, the joint DTI and DOLE guidelines require employers to ensure the following:
Immediate isolation of the affected worker
Clinic personnel protected with PPEs
Having company protocol for transporting the affected worker to the nearest hospital for PCR testing
Disinfection of the work area
Requiring a 14-day home quarantine for workers exposed to the suspected COVID-19 case
Additional Minimum Health Protocols for Dine-in Restaurants
Because food establishments tend to get crowded without strict safety measures in place, those providing dine-in services are required to meet the following minimum health protocols[3] on top of the DTI-DOLE guidelines on COVID-19 prevention:
Disinfecting foot bath and easy-to-spray rubbing alcohol at the entrance
Proper sanitation of tables and chairs after each customer's use
One-meter distance on all sides between tables and chairs
Face-to-face seating allowed but with proper dividers
No buffet and self-service areas for utensils and condiments
Food menus per table
Contactless order-taking
Disinfection of high-risk areas (e.g., order and bar counters) every 30 minutes
Contactless payment (e.g., offering cashless payment options, use of small trays for accepting cash and giving change, etc.)
Additional Minimum Health Protocols for Salons and Barbershops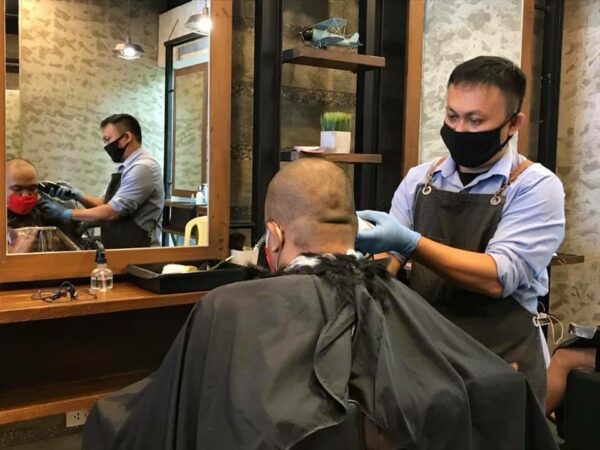 Businesses that provide personal care services must meet minimum health standards specific to their operations[4] before they're allowed to reopen. Some of these standards, like those related to disinfection and sanitation measures, are similar to those imposed in dine-in restaurants.
Here are additional protocols for salons and barbershops under GCQ and MGCQ:
Online or text-based appointment scheduling by clients (not accepting walk-in customers)
Prevent clients from bringing companions, unless absolutely necessary
Disinfection and storage of clients' personal belongings in secured sanitary plastic bags
Distribution of face shields to customers availing of shampoo services
Visible floor markings
Sterilization of workstations before and after each service
LGU Business Reopening Guidelines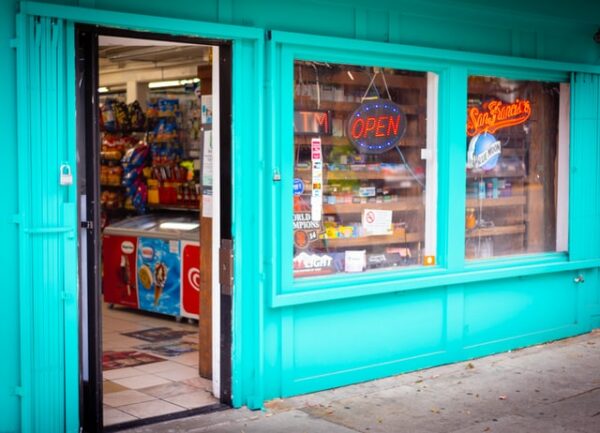 Local government units (LGUs) implement their own COVID-19 prevention measures for reopening businesses within their jurisdiction. Failure to comply could lead to suspension or cancellation of business permit.
Most of these rules are based on the IATF guidelines, though some are tailored specifically to their cities.
For example, if you operate in Quezon City, San Juan, or Parañaque, you're required to pay for the COVID-19 testing of your workers before they can report for work.
Although the IATF has already allowed dine-in restaurants to reopen, small restaurants in some barangays in Manila (where COVID-19 cases are rising) are accepting only take-out orders.
6 Tips for Reopening Your Business After Lockdown
Restarting your business after over two months of closure is tough, to say the least. It's like starting over again, and you're not even sure if customers would come back to you.
Still, you need to earn money (and help others earn income for themselves if you have workers). If you're reopening your business after the lockdown, here are some tips to help you bounce back.
1. Apply for Government Assistance
The government offers different financial assistance programs such as low-cost loans for micro and small businesses affected by the COVID-19 pandemic. Avail of a government loan if you need additional funding to get your business back in shape.
Related: 5 Ways to Save Your Small Business from a Pandemic
2. Announce Your Business Reopening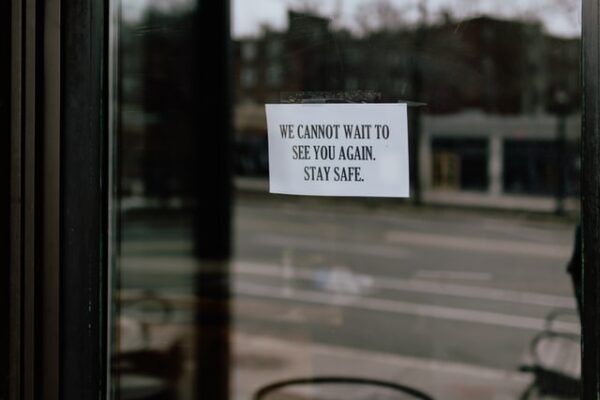 Your customers might still be staying at home, so they won't know your business has reopened unless you let them know.
Post an announcement about your business reopening on social media. Place banners outside your establishment, too, so passers-by can see them. Share details on when you'll reopen, your new operating hours, and other related information your customers need to know.
3. Be Ready to Do More with Less
To comply with social distancing regulations, business reopening in the time of COVID-19 means operating at a limited capacity. You're working with fewer workers and shrinking budgets.
Such a situation makes it necessary for you to increase the efficiency of your business operations. Find ways to streamline your day-to-day operations, so you can do more with less.
4. Boost Safety in Your Place of Business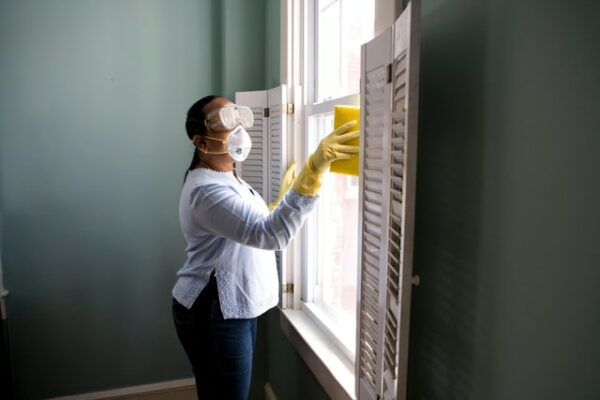 Go above and beyond the minimum health protocols. Think of innovative ways to make your establishment a safer place for your workers and customers. Research the best practices being implemented in your industry and see which ones can be adopted for your business.
5. Inform Customers About Your Health Protocols
Make your customers feel that their health and safety is your priority. Let them know what you've been doing to meet and go beyond the mandatory health standards. For this purpose, use your social media channels and post visible signages within your business premises.
Doing so not only encourages compliance. It also attracts more customers because they're assured that their safety won't get compromised when they do business with you.
6. Provide Customers with More Options
The COVID-19 pandemic has changed everyone's concept of normalcy. The same goes for business operations—customer expectations and needs have changed as well.
To encourage your customers to stay at home (while keeping their business with you), offer them more flexibility in terms of placing and receiving orders, payments, and after-sales support.
If you're just limited to doing things manually before, now is the perfect time to go digital. For example, consider building a website or joining e-commerce marketplaces that will enable customers to quickly and conveniently buy from you.
When it comes to order fulfillment, provide pick-up, drive-through, and/or delivery options to your customers. Using online delivery or pabili services such as Grab Express, Angkas Padala, and Lalamove can make things easier and safer for your customers.
As for payments, cashless transactions are slowly becoming the norm in the new normal. Offer your customers different online methods to pay for their purchases without using cash, such as bank transfers, PayPal, and mobile payments through e-wallets like GCash and PayMaya.
Final Thoughts
Operating your business after a lockdown will never be the same as it was before. With so many adjustments to make, it's like starting a new business. Although the future looks uncertain, you can steer your business in the right direction. Start with following the minimum health protocols and use out-of-the-box strategies to win back your customers.

Sources: