Thinking of setting up a home-based business? There's no better time than now.
As companies implement hybrid work arrangements that allow employees to work from home on certain days of the week, this is the perfect opportunity to start a small business on the side and earn income to supplement your salary.
In fact, as of 2020, 99.51% of business enterprises in the country are micro, small, and medium enterprises (MSMEs), according to the Philippine Statistics Authority (PSA).[1] It's time for you to start exploring business ideas at home in the Philippines!
Starting a small business from home can be challenging. You have to consider your skills, target market, and start-up costs. But if you want to jump-start your dream of becoming your own boss, you can start with these profitable and in-demand home-based business ideas in the Philippines.
What is a Home-Based Business?
The meaning of a home-based business is pretty self-explanatory—it's any business you fully operate from home. Regardless of the business type or the size, it's considered home-based if its primary office is located in a home you live in.[2]
Why Should You Consider Starting a Home-Based Business?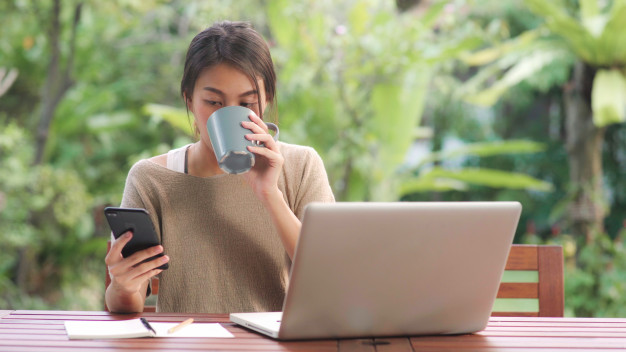 There are so many advantages to home-based businesses. To give you the motivation to run a profitable small business at home, here are reasons to start one in the Philippines.
👍 No Need to Commute or Drive to Work
Since your office is right at home, there's no need to wake up early to beat the morning traffic or catch the next bus. This saves a lot of time, which you can spend on more worthwhile things. Because you don't need to travel to get to work, you also save money on gas, toll fees, and fares.
👍 Lower Startup Costs
Since you're running your business from home, you don't need to put out a lot of money to get your business started. Compared to opening a brick-and-mortar store or office, you can start a home-based business with a low startup cost.
Some business ideas at home in the Philippines don't even require capital to start, especially if you already have the skills or equipment needed. When you have the equipment, furniture, phone lines, and internet connection, you can already start your business.
Read more: Where to Get Capital for Business: 8 Funding Sources to Look In
---
💸 Get a Loan to Launch Your Own Business with UNOBank
Want to become an entrepreneur? If you need a little help, get an #UNONow loan from UNOBank. Click the banner to get started.
---
👍 Lower Overhead
Unlike with a physical store, starting a business from home means paying only for your utility bills, rent, or mortgage. There's no separate office to manage, which means more savings on your operating expenses. You're using resources you already have to make money.
👍 Less Risky
Since a home-based business means lower startup capital, you don't need to shell out hundreds of thousands to get one running. There's no need to construct, rent, or manage a physical store, so your investment is also smaller.
👍 More Freedom and Flexibility
Another advantage of home-based businesses is more personal freedom. You can multitask during your downtime and set your own schedule. Since you're your own boss, you can take breaks or vacations whenever you want and make business decisions as you see fit. Moreover, there's no dress code or office politics!
👍 Do Something You Love
Your home-based business can be the start of a dream come true. It's an opportunity to discover other talents, hone your skills, and give birth to your passions. When you have the flexibility of running your own business in a place you love and feel safe, it can both be a great creative outlet and an income-generating opportunity.
👍 Opportunity for Self-Discovery and Self-Growth
As the boss of your business, you get to wear different hats. You learn many aspects of running a business, from selling and record-keeping to customer service and advertising.
With every customer you talk to or with every sale you close, you learn something new. Not every day will be a good day for business, so you'll also learn a lot of lessons personally and professionally.
Disadvantages of Having a Home-Based Business
If there are benefits to having a home-based business, there are also drawbacks that you should know.
👎 Uncertain Income
As income is directly proportional to the amount of work you put in, there may be times when you won't hit your target sales due to personal or professional reasons.
Maybe you're feeling sick or going through a bad case of burnout. Or there may be some issues with suppliers or your online store. These things can affect your business operations and ultimately your income.
👎 Reduced Benefits
Since you'll be running your own home-based business, you won't be getting the same benefits you did when you were still working a full-time job. Not only will you pay for it on your own, but you'll also need to provide employee benefits and pay mandatory government contributions if you hire your own staff.
👎 More Distractions
Unless you've set up a separate place in your home where you can tackle work-related stuff, running a business from home will be filled with distractions. You'll have to attend to your kids, cook food, wash dishes, and take care of many other household and family responsibilities.
👎 Can Interfere with Your Family Life
Home is where your work is, so it won't be so easy to switch from boss to mom or dad just like that—especially when there's just too much work to be done. You can end up working longer hours and taking away precious hours that should be spent on your family or on yourself.
👎 More Work
When you're just starting out your home-based business, it's usually just a one-man show. You'll perform all kinds of business-related tasks, maybe because you can't afford to hire people to do them. But as the boss, you should know how to do everything and do it well.
What is the Best Business to Start in the Philippines?
The best small home business ideas in the Philippines should enable you to do or achieve these things:
Earn good income
Enjoy flexible hours
Achieve a work-life balance
Have low startup and operating costs
Use your skills, knowledge, and experience
Do something you're passionate about or interested in
20 Most Profitable and In-Demand Business Ideas at Home in the Philippines for 2023
1. Sari-Sari Store
Starting capital: ₱3,000 to ₱5,000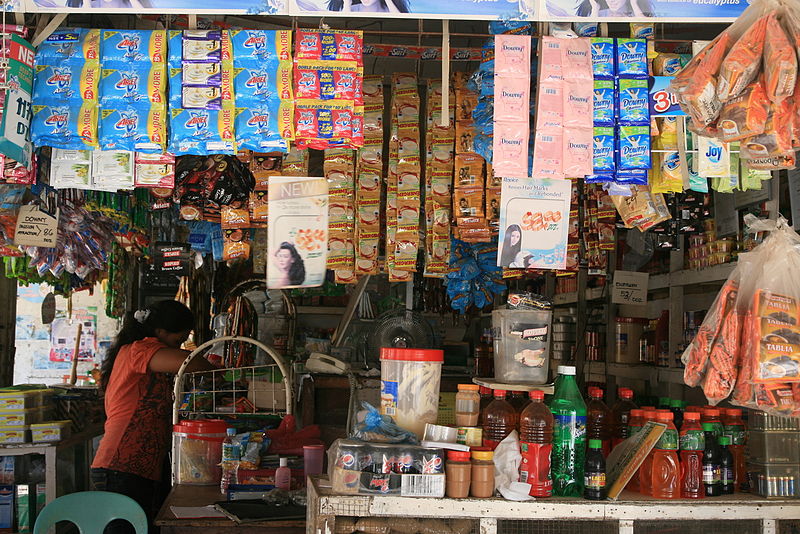 Photo: John Martin PERRY (Wikimedia Commons)
Opening a sari-sari store isn't a brand-new small business idea at home. This quaint shop that sells almost everything—from laundry detergents to favorite snacks—has been part of our daily lives for a long time. It's also one of the most profitable businesses in the Philippines. Consider opening one if you have the space for a small store in your home.
For only a few thousand pesos, you can get our sari-sari store up and running. You can also earn as much as ₱15,000 daily, depending on your location. If you manage your home-based sari-sari store well, you can grow it into a bigger grocery store and make a much bigger profit.
2. Merienda Business
Starting capital: ₱2,000 to ₱5,000
This home-based food business idea requires ₱2,000 to ₱5,000 as an investment. You can also set up shop just outside of your home, with your neighbors as your target market.
With a merienda business, you can sell a variety of food, ranging from almusal favorites to afternoon snacks. You can sell lugaw, palabok, puto, biko, fishballs, kwek-kwek, banana-cue, and other Pinoy favorites. If you're in a good location, this can definitely be a profitable business in the Philippines.
3. Online Selling
Starting capital: ₱5,000 to ₱10,000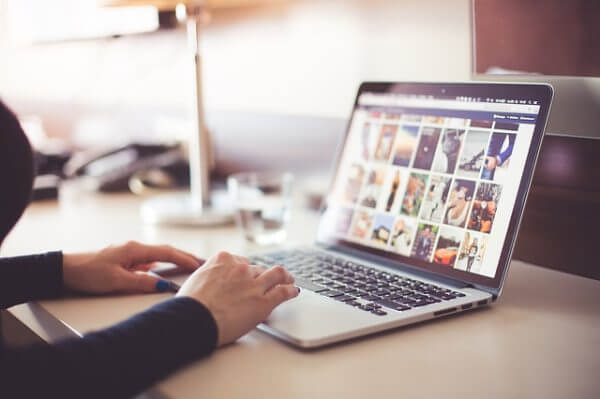 Thanks to the internet, you can make a profit even at home. It's easy to find customers and sell products online these days. You can sell anything from clothes to hair products on social media and e-commerce marketplaces such as Lazada, Shopee, and Carousell.
This business idea requires only a few thousand pesos as capital. It's easy to start an online business. You just need a computer, an internet connection, an online selling platform, and products to sell—all of which you can set up at home.
Online selling is a profitable home-based business idea that is perfect for first-time entrepreneurs. To maximize your profits, you can buy products in bulk at cheap prices from reliable and legitimate suppliers and then resell them online.
4. E-loading Business
Starting capital: ₱5,000 to ₱7,000
For as low as ₱5,000, you can start an e-loading business at your home. All you need is a basic phone, a retailer SIM card, and a starting balance of ₱5,000. Your e-loading business can also be paired up with other profitable home-based business ideas in the Philippines such as a sari-sari store or bills payment business.
As a load retailer, you'll earn commissions of around 3% to 13% per transaction. It may not be a lot, but it's a good business to start if you're not ready to quit your full-time job or if you already have an established or profitable home-based business.
5. Baking Business
Starting capital: ₱3,000 to ₱40,000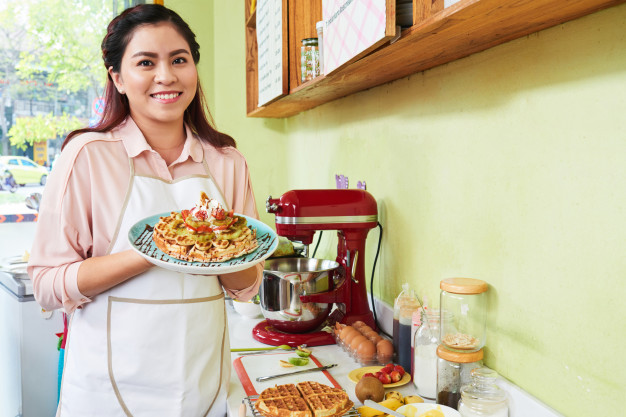 Do you have a sweet tooth and a love for pastries? You can turn this passion into a profitable business in the Philippines.
If you enjoy baking, start selling your best-tasting baked goodies. Assuming you already have the equipment, you can open shop for only ₱3,000 to ₱5,000. This capital can go as high as ₱50,000 if you still need to invest in baking equipment.
You can offer cupcakes, pandesal, cakes, and other pastry delights. You can also accept custom orders for various celebrations. Don't forget to set up a Facebook or Instagram page to advertise your business online.
6. Online Tutoring
Starting Capital: ₱2,000 to ₱25,000
Do you love kids and enjoy studying? Why not start an online tutoring service? If you already have a laptop and a trusty internet connection, you can give this business idea a go. All you need is a budget of ₱2,000 to start your online tutoring business.
This home-based business idea is not exclusive to just teaching kids or providing academic lessons. You can also offer music and art lessons for budding enthusiasts. As long as it's a teachable skill, you can offer lessons online.
Set up a Zoom or Skype account and advertise your business using social media groups to gain customers. If you're a licensed teacher, you can advertise your teaching services as well. Whether it's group classes or one-on-one instructions you'll offer, you can just charge accordingly.
7. Graphic Design Business
Starting Capital: ₱20,000 to ₱70,000
This business idea requires a budget of ₱70,000 for design software, a computer, and a graphic tablet. You can offer graphic design services to influencers and vloggers from the comfort of your home.
In addition, you can cater to local and foreign startup businesses that need graphic design services. You can also accept custom print orders or design commissions for clients who want a one-of-a-kind design.
Read more: How to Start an Art Business in the Philippines
8. Bills Payment Business
Starting Capital: ₱5,000 to ₱45,000
Most people don't like spending their entire day falling in line just to pay their electric and water bills. A bills payment center is one of the great business ideas to start at home in the Philippines. Not only does it offer a lot of profit but also solves customers' biggest woes.
The startup cost for this business ranges from ₱5,000 to ₱45,000. You also need to invest in a point-of-sale (POS) device. This type of home-based business can offer bills payments, remittance, and e-loading, and a potential income of up to ₱10,000 monthly.
9. Tailoring Services
Starting capital: ₱5,000 to ₱25,000
Armed with a sturdy sewing machine, you can start a tailoring services business at home. You can offer tailor-fit clothes and alteration services for fashion-savvy customers. Aside from clothes, you can also make bed sheets, curtains, and floor mats.
The capital for this business ranges from ₱5,000 to ₱25,000. You also need sewing skills for this home-based business to work. It requires a lot of patience and attention to detail. But this is one of the best business ideas at home in the Philippines for people who have an eye for fashion.
10. Digital Marketing Agency
Starting capital: ₱4,000 to ₱15,000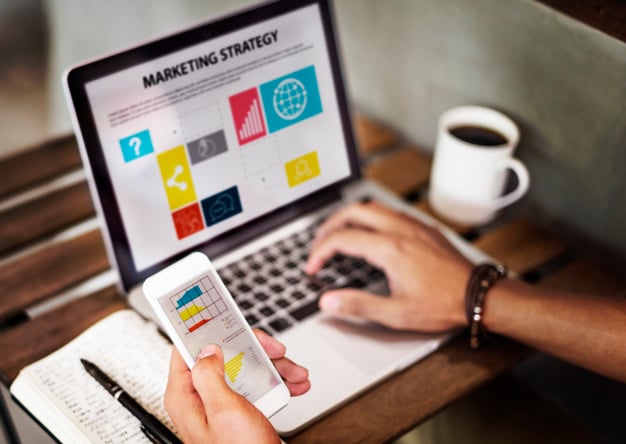 If you're a professional digital marketer who wants to quit your office job, you can start your own digital marketing business at home. These days, digital marketers are in demand because of the number of companies that need a good online marketing strategy.
If you have the skills and experience, you may only need a capital of about ₱4,000 and earn as much as ₱70,000 a month. Obviously, you'll need a computer and an internet connection for this business idea.
The great thing about starting a digital marketing business is you can do it all on your own. But once you get a steady stream of clients and more workload, you can tap other professionals to join your team. By expanding your service offerings to content marketing, SEM, and graphic design, you can enjoy bigger profits as well.
11. Homemade Products Business
Starting capital: ₱3,000 to ₱5,000
This is one of the most in-demand and unique home-based business ideas in the Philippines. Plus, it requires a capital of only ₱3,000 to ₱5,000. You can sell your famous kare-kare online or make homemade milk teas with different flavors. Meals good for two can be sold for up to ₱250, while homemade drinks can be sold for around ₱120 for a 500 ml bottle.
To ensure the food you make won't go to waste, cook meals on a made-to-order basis only. You can do this for drinks as well.
Other homemade products you can sell include soaps, candles, perfumes, sandwich spreads, pasta sauces, home decor, and many others. The starting capital for these products may vary, and you may need additional skills to make them.
12. Rice Retailing or Bigasan
Starting capital: ₱75,000 to ₱120,000
Being the staple food of the Philippines, having your own bigasan means always having customers. This business idea requires a capital of ₱75,000 to ₱120,000. You also need to get a license from the National Food Authority (NFA) and secure necessary government registrations and permits.
If you're located in an area with high foot traffic, you can earn as much as ₱5,000 a week from your bigasan. You can have a stand-alone bigasan at home or as part of your sari-sari store. However, you need to always monitor your rice supply as it can spoil easily and lose its quality within three months.
13. Blogging
Starting capital: ₱2,000 to ₱5,000
If you have a knack for writing and want to turn it into something profitable, why not consider becoming a professional blogger? It can be a profitable business idea and it's quite easy and affordable to start. It's also a good way to earn passive income.
For only ₱2,000, you can get a web hosting plan and a personal domain name for your blog. Monetize your blog through brand partnerships, sponsored posts, and Google Adsense.
However, it takes patience and time before you can make a profit from blogging. Aside from conducting research and honing excellent writing skills, you also need to have knowledge of building traffic, personal brand, and networking.
In short, your blog needs to stand out. With the many influencers and vloggers monetizing their reach and skills, you have to post your best work every time.
14. Fashion Accessories Business
Starting capital: ₱10,000 to ₱15,000
Earn money from your love for fashion and creativity with an accessories business. Sell handmade pieces such as earrings, necklaces, and bracelets. Other accessories you can offer are wallets, bags, and phone pouches.
For this in-demand business idea in the Philippines, ₱10,000 is a good starting capital, which covers materials, overhead costs, and website design for your online shop. But it can increase depending on factors, such as expensive materials. Using leather can raise your starting capital to ₱30,000.
15. Writing Services
Starting capital: ₱1,000 to ₱25,000
This is one of the most in-demand and profitable business ideas at home in the Philippines for budding and professional writers alike. Be it writing online articles or the next Harry Potter saga, there are numerous ways to generate income through writing. ₱20,000 will get you a standard laptop, and you can type away on Microsoft Word or Google Docs.
You can find clients on freelance platforms like Upwork or Freelancer, or through your own professional network. If you want to write your own full-length novel, you can be a ghostwriter or a self-publisher—all without having to leave your home.
Of course, if you want to self-publish, there are additional costs such as book design fees, marketing, promotional expenses, and editing services. But it's a good business to start in the Philippines for creative writers at home.
16. Home Salon Services
Starting capital: ₱50,000 to ₱70,000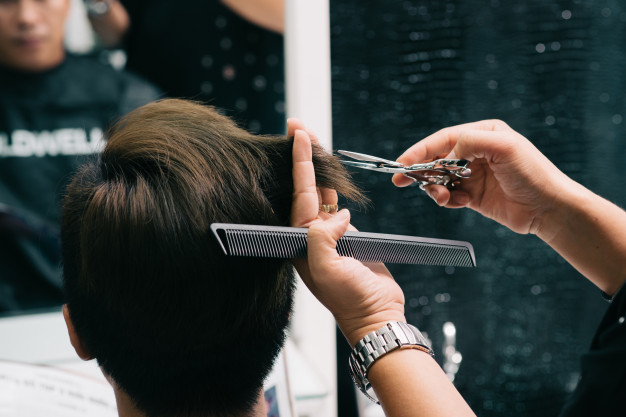 If you have mad hairstyling or haircutting skills, this is one of the excellent options for home-based business ideas in the Philippines. You can save money on setting up a home salon business if you already have complete tools and equipment. Just dedicate a space for your home salon and give it that real salon feel.
Starting the business from scratch? Invest in hairstyling and haircutting equipment and supplies. Salon chairs and shampoo chairs cost around ₱8,000. Prepare to shell out around ₱50,000 to get your home salon business started. Don't forget to keep yourself updated with the latest hairstyles and trends.
Read more: Exploring Beauty as an Entrepreneur: How to Start a Salon Business
17. Print on Demand
Starting capital: None
One of the unique home-based business ideas in the Philippines is print-on-demand. If you want to sell your own shirt designs, just upload your design to your online store and print it only when someone places an order. This eliminates the need to buy printing machines and hire staff.
With print-on-demand, you don't need to worry about capital, suppliers, physical inventory, and order fulfillment. Your print provider will take care of that for you.
Some of the popular print providers in the Philippines are Teespring, PrintDrop, and Printful. And yes, you don't need to shell out money to get your printing business started. You just need to set up an online store where your customers can buy your items.
Print providers will charge you only for the production cost. You also get to set the price for your product. Aside from shirts, you can print hoodies, sweatshirts, baseball caps, pillows, bags, mugs, phone cases, and notebooks.
18. Travel Agency
Starting capital: ₱15,000 to ₱20,000
You don't need to be a frequent traveler or a professional in the travel industry to start this small home-based business. Just familiarize yourself with the booking or ticketing process, know the travel requirements of each country, and answer customer inquiries professionally. For as little as ₱20,000, you can have your own home-based travel agency business.
To get your home-based travel agency running, you'll need a computer, a phone, a printer, and an internet connection. You should also register your business with the Department of Trade and Industry (DTI) so you can be a member of the International Air Transport Association (IATA), which is a requirement if you're going to issue airline tickets.
Depending on the travel agency you tie up with, you can enjoy benefits like exclusive access to booking portals, your own business website, a rewards plan, or a commission scheme. You can earn from booking airline tickets, hotel accommodations, and tour packages, or from your referrals.
Since you can run your travel agency from home, it's very sustainable. The bulk of the work will be in promoting your flights and travel packages online or through word of mouth. To find out more about this type of home-based business, you can check out ph.via.com or WCA Travel.
19. Coffee Shop
Starting Capital: ₱5,000 to ₱15,000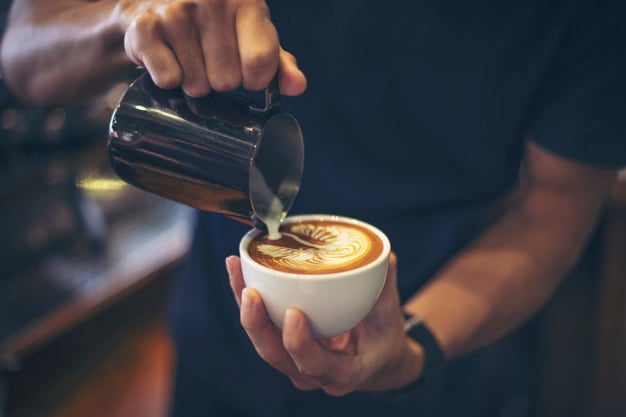 Take your love for coffee to the next level and make a business out of it. You can get one started for as low as ₱5,000. It's an easy and inexpensive way to turn your dreams of being a coffee shop owner into reality. Set up a coffee stand in front of your house, or build a coffee nook in your garage.
To get your home-based coffee shop started, you need a commercial espresso machine, ideally a semi-automatic one. It's the best for small coffee shops because it's not expensive (around ₱5,000). However, you still need a barista to operate it. A barista is important if you want that authentic coffee house vibe.
Want to grind your own coffee beans? You'll need an industrial grinder as well. Invest in an automatic drip coffee maker for customers who just want their coffee plain, dark, and strong.
Purchase the equipment brand new, or save money by buying second-hand ones online. There are many preowned coffee shop equipment and furniture products for sale online, so make sure to check those out.
20. Car Wash
Starting capital: ₱30,000
As more people buy cars, the demand for car wash services grows. Pinoy car owners like their cars to look shiny and new all the time, with that fresh out-of-the-dealership scent. They make it a point to bring their cars to the car wash regularly.
This home-based business idea is perfect for car lovers and car owners. As long as you have enough space in your garage to accommodate several cars at a time, you can set up your own home-based car wash.
You need to invest in a compact electric pressure washer. This costs around ₱7,000. You need a strong water supply as well. In case of water shortage, make sure you have a pressure tank with at least 340 liters capacity. This costs around ₱7,500.
Aside from this, you also need a vacuum cleaner with a blower (around ₱3,700), a water hose, and a stepladder. You also need cleaning supplies like pails, buckets, sponges, car shampoo, car wax, car polisher, scratch remover, and tire black.
As for the income potential, it depends on how many vehicles you wash per day and how strategic your location is. You can charge ₱150 for small cars and up to ₱250 for extra-large cars. You can offer interior and exterior detailing services, too, which usually range from ₱3,000 to ₱6,000 per vehicle.
Related article: What Small Business Ideas Can You Start in the Philippines?
Final Thoughts
Which of these home-based business ideas appeals to you the most? These are just a few business ideas at home in the Philippines if you want to start earning income on the side.
However, if you have a unique idea inspired by your passions and interests, explore and turn it into a money-making venture from home. At the end of the day, you know best what brings you fulfillment, happiness, success, and stability.
Find the Right Loan for Your Business at Moneymax!
Starting and running a home-based business involves certain costs. If your savings aren't enough, why not apply for a business loan to raise more funds for your business? You can also compare and apply for personal loans in the Philippines for free through Moneymax.
Personal Loan Provider

Minimum Loan Amount

Maximum Loan Amount

Minimum Annual Income

Approval Time

Metrobank

₱20,000

₱1 million

₱350,000

7 days

BPI



₱

20,000

₱2 million

₱

300,000

5 to 7 banking days

EasyRFC

₱

10,000

₱150,000

₱

120,000

As fast as 24 hours

Maybank



₱

50,000

₱1 million

₱

300,000

Apply online in just a few clicks

RCBC



₱

50,000

₱1 million

₱

360,000

5 to 7 banking days

SB Finance




₱30,000

₱2 million

₱180,000

5 banking days

CIMB



₱

30,000

₱1 million

₱

180,000

24 hours

HSBC



₱

30,000

₱500,000 or 3x gross monthly salary, whichever is lower

₱

168,000

5 to 7 banking days

CTBC



₱2

0,000

₱1 million

₱

180,000

3 to 5 banking days
Source: [1] BY THE NUMBERS: The rise of MSMEs (Malaya Business Insight, 2022)