Can't function without a caffeine shot? Does your house resemble a coffee shop because of all the coffee beans and equipment you own? Do you have dreams of becoming a barista and coffee shop owner?
If you answered yes to all three questions, then why aren't you running your own coffee shop yet?
Yes, it's easier said than done. We know that it's a major undertaking that requires a lot of planning, resources, and money. But if you're seriously considering it, read on and learn how to start a coffee shop business in the Philippines.
Why a Coffee Shop is a Good Business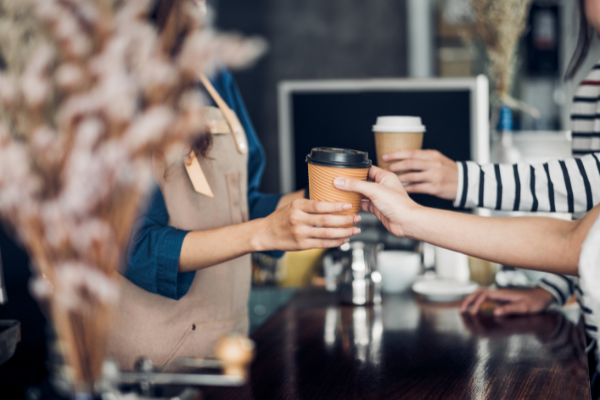 The Philippines is a country of coffee lovers. In fact, according to finance agency Fitch Solutions, each Filipino is estimated to drink 3.78 kilograms of coffee every year by 2025.[1]
For coffee lovers, any day is a good day for coffee. The rainy season is perfect for hot coffee, while the summer season is the peak season for iced coffee.
In short, coffee will always be in demand (and in style!). With a high-commodity product like coffee, you'll be guaranteed a high volume of customers.
Moreover, depending on the type or size of coffee shop that you plan to have, it's also an affordable business idea. There are many coffee shop business options depending on your business capital, and you can easily and quickly get yours running.
How to Start a Coffee Shop Business in 7 Steps
Want to know how to start a coffee shop in the Philippines? Here are the things you should do and the things you should prepare for.
1. Start with a Business Plan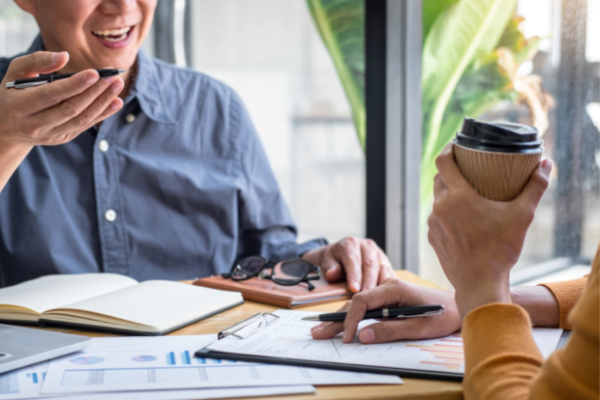 As with any business endeavor, creating a solid business plan is the first and most important step. If you want to know how to start a coffee shop business, you should have all your objectives, ideas, sales and marketing strategies, and projections all in one well-thought-out business plan. Check out this coffee shop business plan sample in the Philippines.[2]
Your coffee shop business plan should also include your business structure. What type of business is a coffee shop, you ask? The answer will depend on the scale of your coffee shop business.
In the Philippines, coffee shops fall under the service industry, which is the largest business sector. And the most common organization types for a coffee shop are sole proprietorship, partnership, and corporation.[3]
Sole proprietorship - Most basic organization type in the Philippines where a business is established by just one person (the sole proprietor). All assets and liabilities are also the assets and liabilities of the sole proprietor.
Partnership - Involves two or more people who contribute assets and divide profits among them
Corporation - Comprised of a maximum of 15 individuals acting as a single entity; can be non-stock or stock corporations
Cooperative - Individuals who have joined together on a voluntary basis to achieve social or economic goals
Once you decide on the business structure, also consider the tax and legal implications of your small coffee shop business plan in the Philippines, especially if you're going to franchise or start your own corporation.
More importantly, know how you're going to fund your coffee shop business and what options you have if you need outside capital for your business expansion down the road.
👉 How Much Capital for a Coffee Shop Should I Prepare?
Again, your coffee shop cost breakdown in the Philippines depends on the type of shop.[4] For example, if you're going to franchise a known coffee shop brand, your coffee shop capital can range from ₱6 million to ₱12 million.
But if you're going to open your own, a small 30-sqm shop without a kitchen in a bustling district can cost roughly ₱950,000 for the fit-out, equipment, and business permit; and approximately ₱245,000 for monthly operational expenses (rent, utilities, supplies, marketing, monthly staff cost, etc.).
A medium-sized coffee shop with a small kitchen (approximately 50 sqm that can seat 18 people and employ 10 staff) can require a capital of ₱1.5 million. Meanwhile, your coffee shop monthly expenses in the Philippines will cost approximately ₱493,000.
Planning to open a large coffee shop (150 sqm) with a full kitchen (12 staff and up to 60 seats)? Your startup cost for a coffee shop in the Philippines might cost ₱4.5 million. Meanwhile, your coffee shop budget in the Philippines for monthly operating expenses will cost around ₱997,500.
👉 How Much Money Does a Coffee Shop Make?
The income per day of a coffee shop in the Philippines really depends on the type of coffee shop you're operating, how many cups of coffee you sell, where your coffee shop is located, your price points, your operation costs, and many other factors. The expected daily sales of a coffee shop in the Philippines can range anywhere from ₱13,500 to ₱63,000.
A coffee shop business is definitely a sizable investment. But if you want to start small, you can always put up your own coffee shop on wheels or a pop-up coffee shop in your unused garage or garden. It costs significantly less, and it's quite a unique and cost-effective way to own a coffee shop.
2. Decide on What Type of Coffee Shop You Want to Open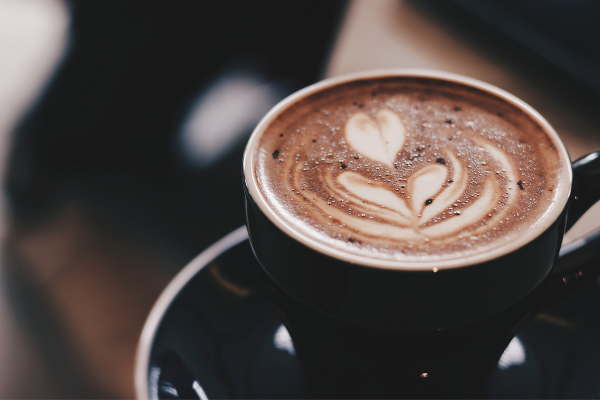 What is the coffee shop business you want to open? There are quite a few options available:
☕ Cafe
Cafes sell coffee drinks and offer breakfast, lunch, and dinner menus. These shops come very close to being full-service restaurants and cost more to operate.
☕ Coffee Shop Franchise
Franchising a popular coffee shop business such as Tim Horton's, UCC, or Coffee Bean and Tea Leaf is easy since you already have an established business model.
☕ Coffee Bar/Cart/Kiosk
These shops focus on selling brewed coffee and usually offer muffins, cookies, and cake slices to go with the coffee. Limited seating is available.
You can usually find them at high-traffic locations such as malls and public transportation hubs and stations. They're also potentially very profitable, even with just a small investment.
☕ Coffee Shop
These shops sell coffee drinks and sometimes light fare meals for coffee pairings. They're designed to be social hubs and make customers stay longer to talk, work, and hang out. A coffee shop works great both in busy cities and outside the metro.
☕ Drive-Thru Coffee Shop
The best locations for drive-thru coffee shops are on busy commuter roads.
☕ Pop-Up and Mobile Coffee Shops
These are the cheapest coffee shops to start. Plus, they offer the most flexibility. You can simply set up in busy and profitable locations such as events, festivals, trains, bus stations, or anywhere there's high foot traffic.
You'll also need to come up with a name for your coffee shop and decide on its products and services.
3. Determine Where You're Going to Put Up Your Coffee Shop
Next, pick the best location for your coffee shop. Remember: location is key. If you're opening a coffee shop, consider these things:
The size of your coffee shop - Your coffee shop should have enough space where the barista/s can prepare the drinks efficiently and where customers can enjoy their coffee. Nice and comfy seats are also a must.
Accessibility - Anyone should be able to go to your coffee shop. Your coffee shop should also be easy to find for food delivery riders. A parking space and a bike rack are also nice to have.
Rent - This will take up a huge portion of your operation costs, so make sure to pick the best location that's right for your budget.
4. Choose a Coffee Shop Theme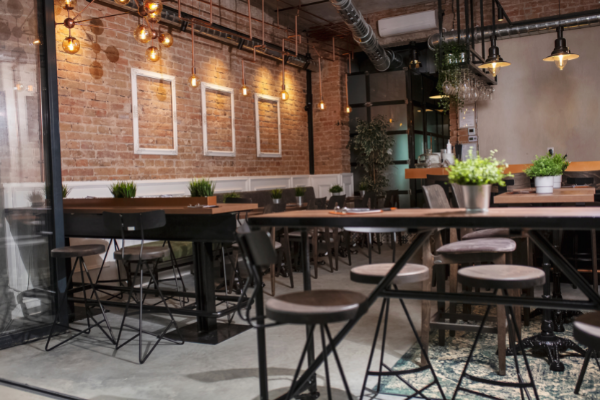 Notice how aesthetically pleasing coffee shops are sprouting everywhere in the country? Even non-coffee lovers go out of their way to visit and grab a cup (and maybe take a few photos and videos for Instagram and TikTok).
👉 What are the Benefits of a Themed Coffee Shop?
With a theme-based coffee shop, you can easily establish your coffee shop's brand and image, especially if you have a unique theme.
These days, it's not enough to serve really good coffee. You must give customers the complete experience―interior design, ambiance, menu, music, free Wi-Fi, and customer service, just to name a few. This also makes people excited to try what your coffee shop has to offer.
Lastly, you can easily make renovations or additions because you just need to work along the lines of your coffee shop's theme. No need to spend a lot of time on research and experimentation. You already know what's going to work with your theme.
👉 Top Coffee Shop Themes in the Philippines
You can let your personal tastes come into play when choosing a theme for your coffee shop. When you're setting up a coffee shop, consider some of these popular themes:
Rustic
A rustic-style coffee shop is perfect if you're a fan of old-school decor, plants, wood, and bricks. Use classic pieces and comfortable furniture that will evoke a kind of speakeasy, boutique-style vibe in a coffee shop setting.
Industrial
It's one of the most popular and sought-after themes these days. If you dig exposed ceiling beams, bricks, and pipes and warm lighting with modern elements, an industrial-style coffee shop is best.
Boho Chic
This is your best bet if you want something fun and vibrant. And it's so easy to achieve with just a few well-curated rugs, crochet curtains, fairy lights, and wooden furniture.
Indoor Garden
Entice all these plant-loving Pinoys to come out and get some coffee at your indoor garden-themed coffee shop.
Pop Culture-Themed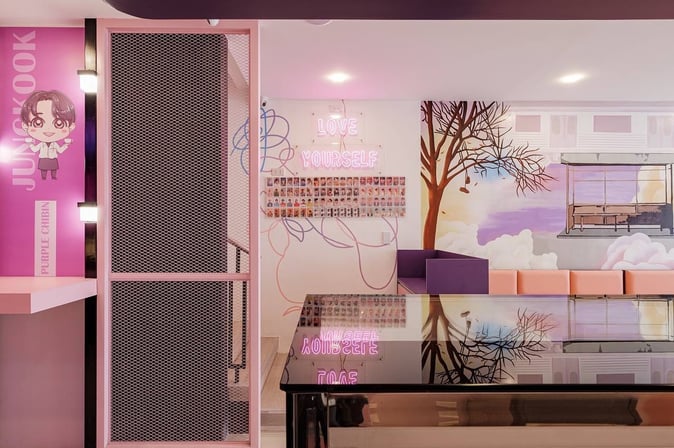 Consider a book, music, movie, or TV-inspired cafe to target its legions of fans, just like the BTS fan who opened a BTS-themed cafe[5] in Tomas Morato, Quezon City.
5. Register Your Coffee Shop Business
How to start a coffee shop business? If you don't have a business registration, you can't legally operate. Make sure to secure the following documents:
Barangay registration
Business permit (also known as Mayor's Permit)
DTI registration
BIR registration
6. Buy Your Coffee Equipment and Supplies
Of course, the most important thing your customers will be looking for is the coffee. You need to find suppliers who will provide you with consistent high-quality coffee and ingredients. Moreover, you need to purchase good quality and reliable coffee equipment.
If you're franchising a coffee shop, you don't have to worry because these will all be provided. But if you're starting your coffee shop from scratch, you'll have to do your own research, sourcing, and testing to find the right products at the best prices.
You can opt to buy second-hand coffee equipment as well. Check Facebook and Carousell for online sellers offering them at discounted prices. You can even rent coffee equipment if you don't want to make an outright purchase yet.
In case you're wondering what equipment you'll need for your coffee shop, here's a basic list:
Automatic drip coffee maker
Espresso machine
Industrial coffee grinder and blender
Oven toaster
Refrigerator
Freezer
---
💼 Launch or Expand Your Small Business With an #UNOnow Loan

Ready to start or grow your small business? If you're planning to secure funds to buy inventory, pay for a bigger space, or hire employees, check out what UNO Digital Bank has to offer.
With an #UNOnow Loan, you can borrow funds starting at ₱10,000 up to ₱200,000 with a low monthly interest rate of 1.79%. You can pay it back in six, 12, 18, 24, or 36 monthly installments.
Apply for an UNONow Loan via Moneymax now!
---
7. Recalculate Your Figures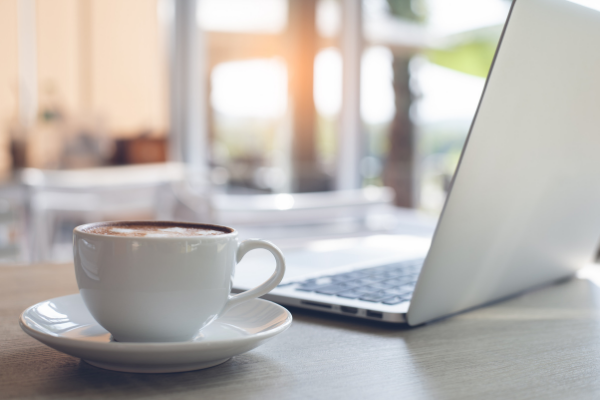 Once you start operating, it's highly recommended to recalculate the figures in your financial plan for a coffee shop in the Philippines. Doing so will help you make more accurate potential future projections. You can now see which aspects of your business operations need adjustments.
Here are some of the things that you'll need to take a look at:
Projections for the next three years
Marketing and advertising expenses
Space and coffee equipment maintenance
Utilities and rental cost
Prices of supplies and coffee equipment
Takeout/delivery costs
Franchise fee (if a franchise coffee shop)
Break-even point
Profit reinvestment plan
Related reading:
Final Thoughts
Nowadays, a coffee shop is not just about a good cup of coffee. A lot of people consider coffee shops as places where they can relax, work, catch up with friends, or just enjoy a solo date.
Now that you know how to start a coffee shop business in the Philippines, you're one step closer to turning those coffee shop business ideas into reality. Whether it's a small business coffee shop or a big retail coffee shop franchise, the type of coffee shop you choose will determine your startup costs and profits.
But at the end of the day, your skills, knowledge, and passion will spell your coffee shop business success!
To start your business, check out personal loan options and apply through Moneymax:
| Personal Loan | Loan Amount | Monthly Add-on Rate | Minimum Annual Income | Approval Time |
| --- | --- | --- | --- | --- |
| UnionBank Personal Loan | | | | |
| UNO Digital Bank Personal Loan | | | | As fast as 7 banking days |
| Metrobank Personal Loan | | | | |
| BPI Personal Loan | | | | |
| RFC Loan | | | | |
| Tonik Flex Loan | | | | |
| Tonik Quick Loan | | | | As fast as 1 hour |
| Tonik Big Loan | | | | 7 days |
| Tala Loan | | | | 24 hours |
| HSBC Personal Loan | | | | |
| CIMB Personal Loan | | | | |
| Maybank Personal Loan | | | | |
| RCBC Bank Personal Loan | | | | |
| SB Finance Personal Loan | | | | |
| CTBC Bank Personal Loan | | | | |
| PSBank Personal Loan | | | | |
Sources: