Peer to peer lending in the Philippines may be unfamiliar to many Filipinos. But it can be a good option for those who have a bit of money to invest or those who need a loan without going to traditional banks.
In this article, we'll discuss what peer to peer lending is, how it works, and its pros and cons.
What is Peer to Peer Lending?
Peer to peer lending, also known as P2P or crowd lending, is a money lending platform for both individuals and businesses without a financial institution acting as a middleman.
It's an online service that matches borrowers with lenders that offer their services, most of which are unsecured loans. As a result, lenders or investors earn from higher interest rates, and borrowers get quick, easy loans that they otherwise would not from traditional lenders.
Read more: Should I Borrow Money from Private Lenders?
How Does Peer to Peer Lending Work?
Peer to peer lending platforms need investors to lend the money and borrowers to take out a P2P loan.
Here's how peer to peer lending works for both borrowers and lenders.
For P2P Borrowers
If you need a quick loan without having to go to traditional banks or financial institutions, you can submit an online loan application on any P2P lending platform. But like traditional banks, there's a pre-qualification screening process, but it's not as strict as the screening process of banks.
After submitting your application, the P2P lending platform will assess your application and review your profile based on your creditworthiness. In short, they'll see whether you're a good fit for the lenders' investment needs.
If your application is approved, the investors will fund your loan and you'll be given several options to receive the loan proceeds—with the appropriate interest rates and repayment period, of course.
Related reading: Emergency Loans and Other Convenient Ways to Borrow Money
For P2P Lenders
If you're interested in investing in P2P lending, you don't need to have hundreds of thousands of pesos as an investment. You can be an investor or a lender for just PHP 5,000.
Find a P2P lending platform that's right for you. Sign up as a lender, which entails answering questions about how much you want to invest, how long you want to invest, and how much interest you want to receive.
Once you become a P2P investor, you can then fund your account and start receiving loan applications from borrowers. Simply choose which loans you want to fund or invest in.
You don't need to worry about administrative tasks like loan disbursement and payment collection. Payments to your loans will just be remitted to your P2P wallet or bank account.
Further reading:
The Rewards of Peer to Peer Lending in the Philippines
There are advantages to investing in peer to peer lending platforms. Here are just some of them.
1. Higher Rates of Return
In general, returns on P2P lending investments are high, even if you deduct management or administrative fees. P2P lending platform Blend.ph offers investment returns of 20% or even greater. But this will depend on how much and how long you invest.
Moreover, loans that have negative returns can be evened out by loans that have higher returns, which still counts as a win overall.
2. Option to Build or Diversify Portfolio
On peer to peer lending platforms, you enjoy more control over your investments. You can choose which loans to fund based on specific criteria, like loan term, loan amount, or credit score range. As a result, you're in control of different variables that can affect your investments.
3. Additional Passive Income Stream
Unlike putting your money into high-interest savings or time deposit accounts, the money you invest in peer to peer lending platforms will yield higher ROI in just months. And from these monthly payouts, you can create a source of passive income.
4. Affordable Investment Option
With just PHP 5,000, you can fund loans and grow your investment by reinvesting your earnings. It's a great option for first-time investors who are just looking for an uncomplicated investment vehicle.
5. Fast and Convenient Way to Get a Loan
Since loan applications are done online, you can quickly get feedback on your loan application. This is very helpful to borrowers who urgently need cash but don't want to go through the lengthy process of loan applications with banks.
6. No Hard Credit Checks
Although you still need to pass credit checks to ensure that you can pay off the loan, P2P lending platforms are not as strict as traditional banks and financial institutions. You can still get approved for a loan but with higher interest rates.
7. No Collateral Required
Because P2P loans are unsecured loans, you don't need collateral. No need to worry about tying personal properties to your loans and losing them in case you default on payments.
Read more: Online Loans in the Philippines: What Filipinos Need to Know

The Risks of Peer to Peer Lending in the Philippines
As with any kind of investment that promises high returns, there are disadvantages and risks to be considered. Peer to peer lending is not completely risk-free, so here are some things you should know about.
1. Borrowers with Bad Credit and Higher Default Risk
Most of the borrowers you'll find on P2P platforms have zero, limited, or bad credit histories. This means that their risk of defaulting on their loans is also higher.
Also, because P2P lenders mostly provide unsecured loans, there's no collateral that investors can go after in the event that a borrower can no longer pay for the loan.
2. Not a Liquid Investment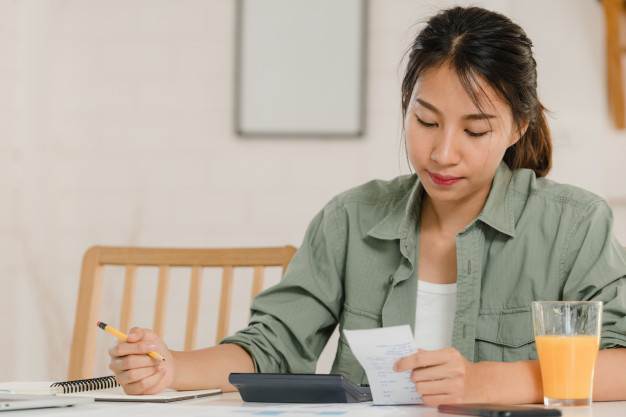 In case you want to take out your investment today, you can't. You need to wait until a borrower has fully paid off the loan. So consider your P2P investment as a long-term investment.
3. Possible Loss of Investment During Economic Downturns
During an economic recession, there can be major liquidity issues when investors withdraw their money at the same time. Widespread loan defaults can also result in diminished returns or even loss of your investment.
Read more: Tala Loan Guide: Everything About Borrowing from Tala Philippines
Peer to Peer Lending Companies in the Philippines
1. Vidalia Lending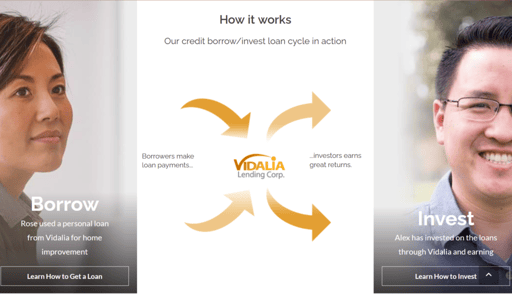 This P2P lending platform based in Manila offers personal loans, salary loans, and small business loans. According to its website, Vidalia loan investors typically earn 1% to 1.50% per month or roughly 18% per year.
Your capital is protected and secured by Vidalia Lending, and your monthly or quarterly earnings are deposited directly into your bank account.
Vidalia Loan Features
Minimum loan amount: PHP 5,000 (personal loan) / PHP 500,000 (business loan)
Repayment period: Three up to 12 months
Interest rate: 4% to 6%
Payment terms: Daily, weekly, semi-monthly, monthly
How to Invest Through Vidalia
Just open an account online and transfer a minimum of PHP 5,000.
You'll receive an email confirmation upon successful account activation.
Fund loans and get your capital plus your earnings in your bank account on the loan maturity date.
How to Apply for a Vidalia Loan
To apply for a loan, just go to the official website of Vidalia[1] and accomplish the online form.
Upon submission, Vidalia will conduct a credit evaluation.
You should get a response within 24 hours if you're qualified or not.
2. Kiva Philippines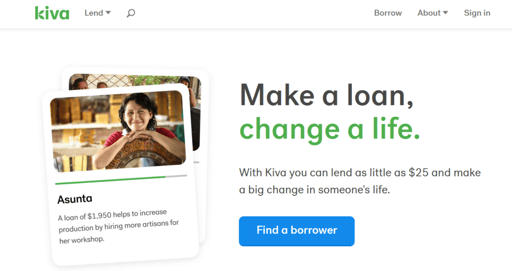 With Kiva Philippines, you can fund loans for just USD 25 and let other investors complete the rest of the amount. There are many other lenders that can contribute to reaching the goal, so you can stick to the USD 25 funding. But if you want to contribute more, you can do that, too.
Kiva is an international nonprofit founded in San Francisco in 2005. The organization's mission is to provide financial access to underserved communities.
As of date, Kiva is available in 77 countries, including the Philippines, with 1.9 million lenders and 3.8 million borrowers. It has also funded approximately USD 1.55 billion in loans. According to its official website, Kiva's historical repayment rate is 97%.[2]
How Kiva Works
The borrower can apply for a loan through a Kiva Field Partner (designated people who identify, vet, and screen borrowers, disburse loans, and collect payments) or directly on the Kiva website.
The loan then undergoes an underwriting and approval process.
For loans applied through Kiva Field Partners, the loan proceeds are pre-disbursed. But for loans applied through the Kiva website, there will be a fundraising period. Once the goal amount is reached, the money will be released to the borrower.
The borrower will then repay the loan, and the lenders will use the repayments to fund new loans, make donations, or withdraw their money.
3. Acudeen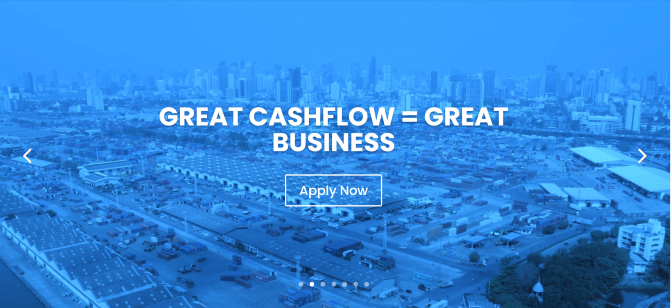 As a lender or funder in Acudeen, you'll have the opportunity to fund invoices of small to medium enterprises (SMEs) that are experiencing cash flow problems. This is called invoice discounting, a financing option for SMEs that have receivables but need to wait for a certain period before getting paid.
When you buy their receivables, these SME borrowers no longer need to wait for 30 or 90 days to be paid for products or services. Ultimately, you're helping them operate their businesses uninterrupted while reducing their financial worries.
All invoices that you can bid for on the Acudeen online marketplace have been verified by Acudeen. According to Acudeen's official website, its funders earn an average of 15% to 25% per annum.
How to Invest Through Acudeen
To sign up as a funder, fill out the Funder's Application Form,[3] submit the form, and verify your email address.
You also need to complete your Know Your Customer requirements,[4] whether you're a corporate or individual funder.
More importantly, you need at least PHP 1 million in your e-wallet as an initial deposit to activate your account.
How to Get Funding Through Acudeen
If you wish to sell your invoice, fill out the Seller's Application Form[5] and complete your Know Your Customer requirements.
Upload a copy of your invoice and receive cash in as quick as five days.
4. Blend.PH
The P2P lending platform Blend.PH prides itself as one of the P2P pioneers in the Philippines. It's managed by Inclusive Financial Technologies, which was founded in 2016. Blend.ph[6] connects lenders who want to grow their investments to borrowers who need money to fund their goals.
Blend.PH Loan Features
Minimum investment: PHP 5,000
Interest: 6% to 30% per annum
Fast Loan = PHP 10,000 to PHP 40,000
Interest Rate = 8% per month
Personal Loan = PHP 50,000 to PHP 2,000,000
Interest Rate = Depending on risk type
Seafarer Loan = PHP 50,000 to PHP 500,000
Interest Rate = 3.5% per month
Franchise Loan = PHP 50,000 to PHP 2,000,000
Interest Rate = 2% per month
Salary Loan = Equivalent to 1 month salary
Interest Rate= 3% per month
How to Invest Through Blend.PH
Create your Blend.PH lender account.
Fund your wallet by making a deposit to the designated bank account number. After which, you'll upload the screenshot of the bank transfer or a copy of the deposit slip.
The transaction will be verified and approved, and your deposit should reflect in your Blend Wallet.
How to Apply for a Loan Through Blend.PH
To apply for a loan, create your Blend.PH account and enter all the required information.
Submit all required documents so that your loan application will be evaluated and verified.
Once it's approved, it will be auctioned within Blend.PH so that lenders can start funding it.
When it's funded, you'll then receive your loan proceeds.
5. SeedIn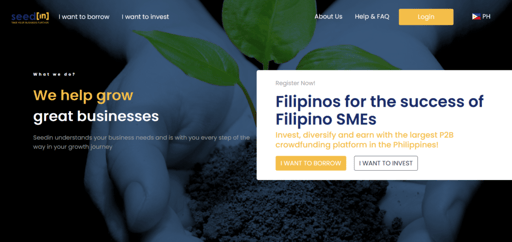 This company was launched in 2014 and is Southeast Asia's largest business financing platform. It connects local businesses that need short-term financing with businesses or individuals who are looking for short-term investments. Since its launch, it has facilitated over PHP 10 billion in funds.
SeedIn Features for Investors
Short tenure of 1 to 12 months
Annualized returns from 7%
Monthly interest rates payout
SeedIn Features for Borrowers
Fast approval in just 7 days
Approval based on a business's growth potential
Dedicated Client Advisor
Flexible financing options
Fixed interest rate, no hidden fees
Over $260 million funded businesses
FAQs on Peer to Peer Lending in the Philippines
1. Is peer to peer lending safe?
Any investment carries a risk, including P2P lending. But you can make money safely on P2P lending platforms if you determine which P2P lenders are reputable and understand how this type of investment works. It also helps to know the risks involved and how you can manage these risks.
2. Is P2P lending a good investment?
Yes, it's a good investment with competitive returns. But during economic downturns, like this COVID-19 pandemic, you can limit your investment in P2P platforms to reduce your risk.
3. Can you make money with peer to peer lending?
Yes, it's a great way to earn passive income. You can start investing for just PHP 5,000 with an average interest of 2% per month or 24% per year.
4. I've read mixed FundKo reviews online. Is it a P2P lender?
Yes, it is. But its lending activities are on hold until they get their crowdfunding license application from the Securities and Exchange Commission (SEC). If you wish to be a lender on this platform, you can join its waitlist.
Final Thoughts
If you wish to invest in peer to peer lending in the Philippines, take it nice and slow. Don't get too excited about the high returns. Start slow and start small, and learn everything you can about how it works.
And if you're a borrower who needs access to loans, consider taking out a personal loan from the best companies. They may be more stringent when it comes to requirements, but they're safer and more stable.
Read more personal loan application guides:

Sources: